Last updated on June 7th, 2023
WELCOME TO OUR NEWEST FAMILY MEMBER
Soul of Travel Podcast
"Soul of Travel" Podcast and JourneyWoman Amplify Women's Voices in Travel
The award-winning podcast "Soul of Travel", hosted by Christine Winebrenner Irick, has joined the JourneyWoman family, creating a powerful forum for women to share their wisdom and inspire meaningful change in travel. (Read the official announcement and watch our video here). 
Created in 2020, Soul of Travel honors the passion and dedication of people making a positive impact in the tourism industry. Each episode features the stories of women who are industry professionals, seasoned travelers, entrepreneurs and community leaders. Now in its fourth season, Soul of Travel has over 120 episodes with guests such as Celine Cousteau, Norie Quintos, Nikki Vargas and Lola Åkerström and Sara Mansouri.
Soul of Travel honors the passion and dedication of women making a positive impact in tourism. In each episode, you'll hear the story of industry professionals, seasoned travelers, and community leaders who know travel is more than a vacation. It is an opportunity for personal awareness, and it is a vehicle for change. We are thought leaders, action-takers, and heart-centered change makers.
You can expect to hear tips and tricks to make sustainable travel easy, how best to travel the world, and learn about the types of travel experiences you can have to improve your mental health and spiritual wellbeing.
As we evolved, we began to focus on ways we can empower women by sharing our personal journeys and travel stories. As guests share their often winding road in their career journey, we can see that life is, in fact, more about the journey than the destination. We find that each piece is crucial in shaping the woman we will become and in achieving our dreams.
Whether you want to explore the world full-time, plan a road trip or hear some of our sustainable or meaningful travel tips we are confident you will find value in this women's empowerment podcast.
Carolyn Ray and Christine Winebrenner Irick
Support us: Subscribe now to the Soul of Travel Podcast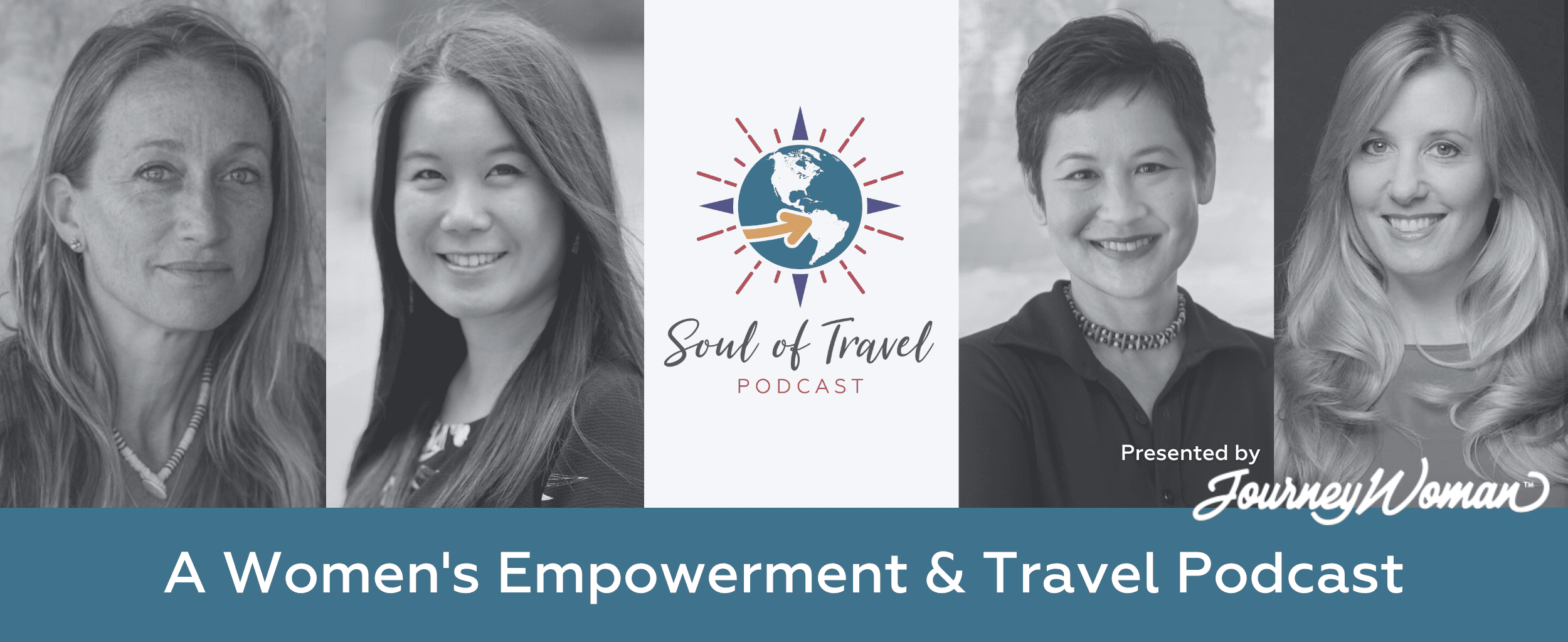 About the Host, Christine Winebrenner Irick
Christine Winebrenner Irick was recently named one of "2023's Most Influential Women in Travel" by TravelPulse. She received a Bessie Award from Wanderful in 2022 for her work on Soul of Travel, being recognized as a brand that has gone above and beyond to support, empower, and represent women in the past year.
She has spoken with over 100 women in many countries who are working to create a positive impact around the world. Some of these past guests include Vincie Ho, Paula Vlamings, Malia Asfour, Norie Quintos, Celine Cousteau, Kinga Philipps, and Jessica Blotter.
She is also the Founder of Lotus Sojourns, where she creates and guides transformational journeys for women that support gender equity.
Christine has three daughters she loves to explore with and plans to spend a year traveling the globe with them from June 2023-June 2024.  She loves to read and considers that an extension of inner and outer journeys.  She grew up in Montana and is happiest when she finds herself sitting near crystal clear water at the base of a mountain with sunshine on her face.