Join JourneyWoman Editor Amanda Burgess on Sunday, February 21 from 3 pm to 5 pm EST for a creative, fun session creating your TravelReady Vision, Vision Board and Action Plan for 2021.
TravelReady is our commitment to empower women and help us prepare for the future of travel. Through our editorial and events, we hope to elevate your confidence, sustain your enthusiasm and desire to travel, and create opportunities for positive, constructive conversations.
Spain holds a special place in my heart, always inviting deeper exploration into its history and culture. I'm hoping these virtual tours by Context Travel satisfy my wanderlust until I can return!
In January 2021, the JourneyWoman Book Club explores nomad life, with "Tales of a Female Nomad", the memoir of Rita Golden Gelman. Bring your backpack and join us s we head to Bali, Mexico, Nicaragua and Israel.
FEATURE ARTICLES TO HELP YOU TRAVEL SAFELY + WELL
The ethos of living simply has become my way of life as I prepare for travel in the future. When I downsized two years ago, my vision was to travel. To be free. As I move into an even smaller space, I found some soul sisters in Kate and Christine, who didn't want to be constrained by their material possessions either!
read more
Looking for physical healing post knee surgery, Maria S. booked a wellness retreat – and walked away with a 'prescription' for a lifetime of health in mind, body and spirit.
read more
How one woman went from rock bottom to the top, burned herself out, and found rejuvenation in the healing mineral springs of New Mexico.
read more
Solo traveller Magali heals decades-old grief and changes her view of death and dying while exploring the funeral pyres of Varanasi, India.
read more
On June 7, we published our Commitment to Anti-Racism. Here's an update on what we've been doing to bring this to life, starting with examining our own thoughts and behaviours.
The Bata Shoe Museum in Toronto has accepted the iconic red boots of Evelyn Hannon, the Original JourneyWoman, into its permanent collection. A symbol of women's empowerment, the boots remind us that when we find the courage to take that first step forward, amazing things can happen.
Research shows that women – particularly Gen Xers and Baby Boomers – are powerful influencers in travel. Post-pandemic, how can women help the travel industry rebuild trust?
FROM THE ARCHIVES: CELEBRATING EVELYN HANNON, THE ORIGINAL JOURNEYWOMAN
In honour of Evelyn Hannon, we asked our JW community to share their favourite Evy stories with us.
It gives me great joy to continue Evelyn's legacy, in partnership with her family. In her final days, I had the opportunity to talk to her about my plans for JourneyWoman, and I'd like to think that gave her comfort and solace.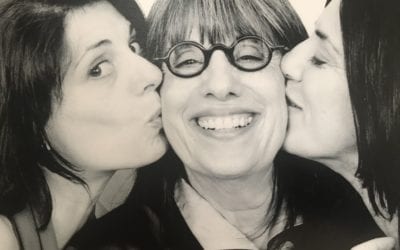 Dear JourneyWomen: The past few months have been difficult for our family. In April, our mother, Evelyn Hannon, founder of JourneyWoman,...