The Bata Shoe Museum in Toronto has accepted the iconic red boots of Evelyn Hannon, the Original JourneyWoman, into its permanent collection. A symbol of women's empowerment, the boots remind us that when we find the courage to take that first step forward, amazing things can happen.
Over 30 years ago, Evelyn Hannon took the first step as a female solo traveller. Let's take the first step together into a new future.
Authentic travel is the experience that is created when you connect and engage in the world with curiosity as your compass.
To help women travellers continue to build knowledge and feed their curiosity, JourneyWoman has announced a new partnership with Context Travel to offer online seminars, courses and special classes through 'Context Conversations'.
What will the new way to travel look like for mature, independent women? We think these five criteria will help us, as women, lead the way.
Air travel isn't what it used to be. Neither are we as travellers. Read on for a summary of experiences and some confidence-boosting recommendations from seasoned women travellers for airports and airlines.
FEATURE ARTICLES TO HELP YOU TRAVEL SAFELY + WELL
Join JourneyWoman Editor Amanda Burgess as she takes you behind the scenes of our September issue on INSPIRATION; to meet the special women who shared their stories with us.
read more
Why do women buy travel insurance? If the cost of travel insurance gives you heartburn, consider these cautionary tales.
read more
Travel Tips from an Octogenarian By Diana Eden, Guest Writer When my handsome 39-year-old financial advisor said to me, "Well, you probably won't be traveling much anymore," I wondered if he had some premonition of a worldwide pandemic that would end my traveling...
read more
The music we experience while travelling touches us on a deeper level. It transports us to a higher plane of being – one where all of our manmade worldly divides fade away and we tap into the ancient drumbeat that connects and moves us all. Feel the beat?
read more
FROM THE ARCHIVES: CELEBRATING EVELYN HANNON, THE ORIGINAL JOURNEYWOMAN
In honour of Evelyn Hannon, we asked our JW community to share their favourite Evy stories with us.
It gives me great joy to continue Evelyn's legacy, in partnership with her family. In her final days, I had the opportunity to talk to her about my plans for JourneyWoman, and I'd like to think that gave her comfort and solace.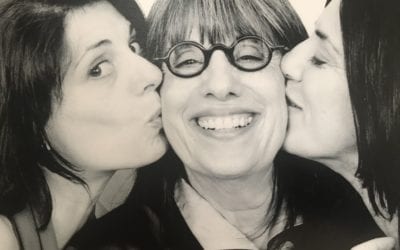 Dear JourneyWomen: The past few months have been difficult for our family. In April, our mother, Evelyn Hannon, founder of JourneyWoman,...