Get your shopping list ready! Our 2021 Book Club list is out, and it includes incredible books recommended by JourneyWomen. it's time to dust off your dreams and start planning your next journey.
 On April 15, we published an article called "How Will COVID-19 Change Travel? with predictions from top travel writers. Were we right? What have we learned and what's next for travel in the future? 
To help women travellers continue to build knowledge and feed their curiosity, JourneyWoman has announced a new partnership with Context Travel to offer online seminars, courses and special classes through 'Context Conversations'.
The JourneyWoman Book Club escapes to Ireland for"By the Lake That They May Face the Rising Sun" by John McGahern, one of the country's most eminent writers of his generation.
The JourneyWoman Book Club visits the Amazon Rainforest for a journey from darkness to light in Ann Patchett's novel "State of Wonder", set in Brazil.
You may be a solo travel expert, but have you ever hiked Colombia on your own? Contributor Samantha Glauser shares what she learned on her solo adventure through the Colombian rainforest.
FEATURE ARTICLES TO HELP YOU TRAVEL SAFELY + WELL
The scents, the flavours, the textures of food are all time capsules that evoke memories of travel and spirit us away to another time and place
read more
We know that women – the key decision-makers in travel – will shape its future. Our choices, our demands, where we put our dollars will influence how the industry rebuilds and reinvents itself. JourneyWomen pen postcards to places they plan to revisit post-pandemic.
read more
Tita Manice has travelled to over 68 countries, including India, New Zealand, Bhutan and Morocco. Her passion for the uncharted path is equaled only by her passion for small insects – bees – that inspires her to seek out beekeepers and honey around the world.
read more
On June 7, we published our Commitment to Anti-Racism. Here's an update on what we've been doing to bring this to life, starting with examining our own thoughts and behaviours.
The Bata Shoe Museum in Toronto has accepted the iconic red boots of Evelyn Hannon, the Original JourneyWoman, into its permanent collection. A symbol of women's empowerment, the boots remind us that when we find the courage to take that first step forward, amazing things can happen.
Over 30 years ago, Evelyn Hannon took the first step as a female solo traveller. Let's take the first step together into a new future.
FROM THE ARCHIVES: CELEBRATING EVELYN HANNON, THE ORIGINAL JOURNEYWOMAN
In honour of Evelyn Hannon, we asked our JW community to share their favourite Evy stories with us.
It gives me great joy to continue Evelyn's legacy, in partnership with her family. In her final days, I had the opportunity to talk to her about my plans for JourneyWoman, and I'd like to think that gave her comfort and solace.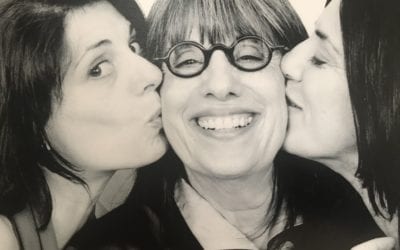 Dear JourneyWomen: The past few months have been difficult for our family. In April, our mother, Evelyn Hannon, founder of JourneyWoman,...