Last updated on February 20th, 2023
Featured image: The accessibility platform at Peggy's Cove, Nova Scotia | Photo by shaunl from iStock
Picture-perfect views make Peggy's Cove a must-see in Nova Scotia
by Carolyn Ray, Editor, JourneyWoman
Located in the quaint fishing village of Peggy's Cove along the South Shore of Nova Scotia, Peggy's Point Lighthouse draws nearly 700,000 tourists a year. It's just an hour's drive from Halifax and is known as one of the most iconic symbols of Canada, so I was thrilled to visit it with JourneyWoman reader Carolyn Marshall, who wanted to see its new accessible viewing platform.
The village is likely named after St. Margaret's Bay (Peggy being a nickname for Margaret), which Samuel de Champlain named after his mother Marguerite Le Roy. (Source: Wikipedia) Carolyn, who lives in Halifax,  told me that many of the fishermen in the village rescued people from Swissair flight 11, which crashed 8 km from here.  Sadly, all 229 people on board perished. There is a Swissair Memorial site and walking trail on the other side of the bay that leads to a monument in memory of the people who lost their lives.
Peggy's Point lighthouse was built in 1915, over 100 years ago. Nova Scotia archives has photographs taken by Clara Dennis (1881-1958), who was known as one of the province's first native-born travel writers, and the first woman to write extensively about Nova Scotia from a personal perspective.  According to the Archives, Dennis was "determined "to seek and find Nova Scotia," and began touring the province with car and camera, sometime around 1930. Three books resulted, now completely forgotten — Down in Nova Scotia (1934); More about Nova Scotia (1937); and Cape Breton Over (1942). An intrepid tourist with a lively curiosity, her work emphasized the province's traditional values and maritime charm, but also showed Nova Scotians as tough, determined and progressive." Read more about Clara here.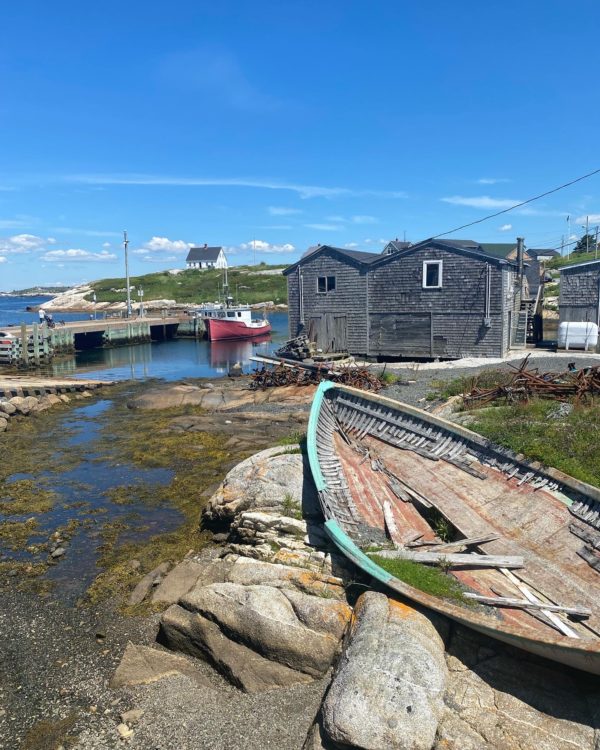 The scenic fishing village of Peggy's Cove / Photo by Carolyn Ray
Taken from behind the Buoy Shop in Peggy's Cove / Photo by Carolyn Ray
A new viewing deck makes Peggy's Point safe and accessible
Peggy's Point is now fully accessible thanks to a new viewing deck that opened in October 2021, which provides visitors with safe and accessible views of the lighthouse, waves, and rocks. This is particularly important because the rocks themselves can be very slippery, and rogue waves can appear out of nowhere, sweeping unsuspecting tourists off the rocks.
The deck, which is designed by Omar Gandhi, recently won Azure Magazine's "2022 AZ Award in Urban Design Interventions", and is constructed of eastern white cedar, with open netted guardrails.
According to Azure Magazine, "With climate change front of mind, the firm also undertook extensive wave modelling, considering the effects of rising sea levels to determine the optimal placement and elevation for the viewing platform. Intentionally nestled within the landscape, the structure is designed to fade into the background so as not to interfere with the site's stunning vistas."
While you're in Nova Scotia, why not pop over to visit Prince Edward Island? 
Travel Tips for Peggy's Cove
If you fly: Halifax International Airport is less than an hour away. There are flights from most major cities to Halifax. I spotted several new airlines on the tarmac, including Lynx, Swoop and Flair. I flew Air Canada on points for a travel media conference in Yarmouth.
If you drive: This is an easy drive from Halifax. You can drive along one road and circle back the other way to form a loop around this point of Nova Scotia, which is very rocky and scenic.
Get there early. There is a free parking lot but it's fairly small.  There are newly built accessible bathrooms near the parking lot and also along the walkway. There is no charge to visit Peggy's Point.
Food tip: While there are several restaurants in the village, the locals prefer to eat further along the shore. Carolyn and I had a lovely lunch at nearby Rhubarb afterwards, which also offers accommodations on the water (recommended by Carolyn M.) Reservations aren't required but the patio is small so you might want to call ahead. I admit to eating my fourth lobster roll in a week and even enjoyed some dessert.
Safety tip: Even on sunny days like this, rogue waves (unpredictable, rough waves) can come over the rocks, so you're advised not to walk on the darker-coloured rocks and wear comfortable shoes (sneakers, not flip-flops). Four people have drowned at Peggy's Cove, the last most recently in April. There are no railings along the rocks and some areas are very steep and slippery.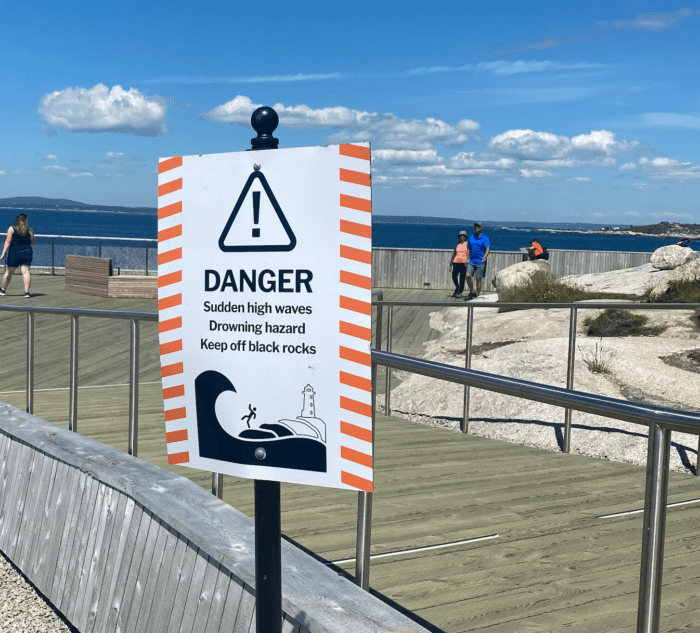 The new platform and safety warnings in Peggy's Cove / Photo provided by Carolyn Ray
Shopping:
There are several shops where you can purchase the typical tourist items, but I found joy in
Amos Pewter
because I was able to replace a beautiful sand dollar pewter necklace I recently lost on a trip.
The Buoy Shop, run by retired fisherman R.H. Crooks, has – you guessed it – fishing ropes and buoys of every shape and colour and is a wonderful place to take photographs from its back deck.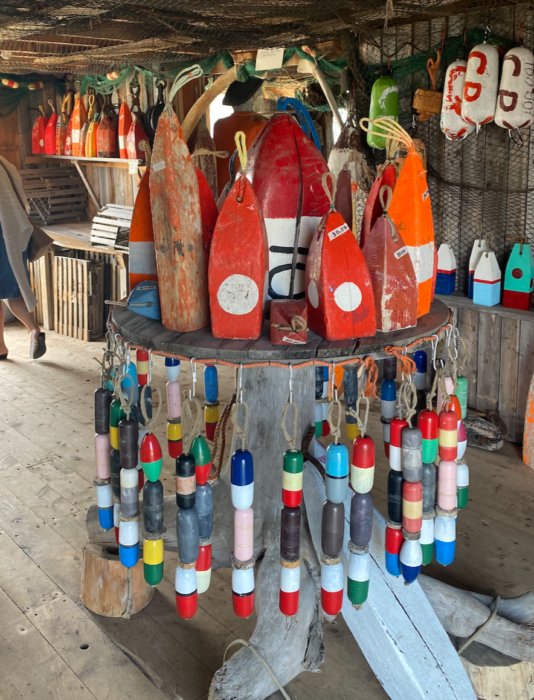 The Buoy Shop in Peggy's Cove / Photo provided by Carolyn Ray
Enjoying the views on a sunny day
There are lots of places to sit and enjoy the views on the rocks, and muskoka chairs scattered throughout. We wandered around the rocks and enjoyed all the different views of the ocean and lighthouse.  It was crowded but not overwhelmingly so. Make sure you wear flat, comfortable shoes that give you traction on the rocks.
The iconic Peggy's Cove lighthouse, taken from the viewing deck / Photo provided by Carolyn Ray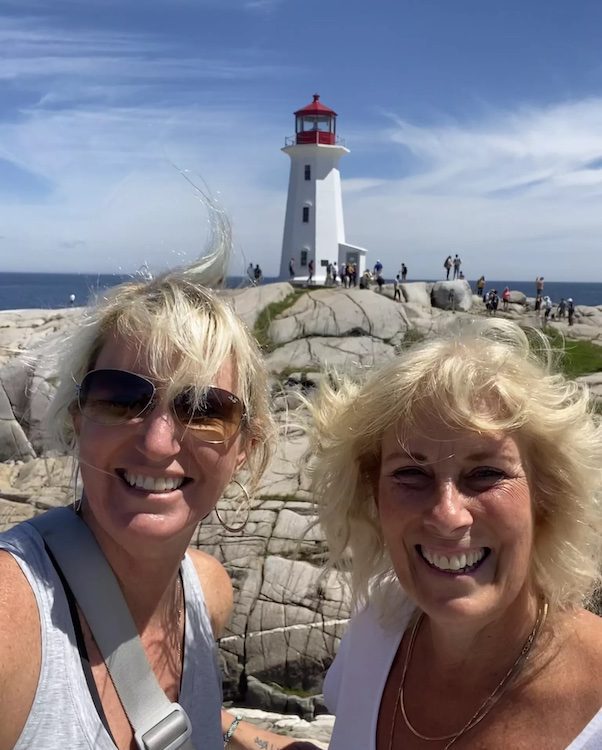 Carolyn and Carolyn, taken from the viewing platform in front of Peggy's Cove Lighthouse / Photo provided by Carolyn Ray
Don't miss the Fisherman's Monument
In 1977, at the age of 70, artist William E. deGarthe carved this "lasting monument to Nova Scotian fishermen" to 'release the figures sleeping in the rock for the last 10 million years.' The first figure carved was a fisherman braving the harsh North Atlantic wind. Over the next six years, he added 31 fishermen, their wives and children, St. Elmo with wings spread, and the legendary Peggy of Peggy's Cove on the 30-metre (100-feet) long granite rock outcropping behind his house in Peggy's Cove. Read more here.
The William E. deGarthe Memorial Monument / Photo provided by Carolyn Ray
Plan Your Trip to Nova Scotia
Get started with resources recommended by the JourneyWoman community
Book Your Flights
Use tools like Expedia or Google Flights to look up the best flight prices. Being flexible with dates can save you even more money. To get to Peggy's Cove, you'll want to rent a car (or connect with a JourneyWoman reader!)
Find Somewhere to Stay
Find a hotel in nearby Halifax on Expedia (the Westin is lovely and central to downtown). Hotels.com offers a free night stay for every 10 nights booked. Or find accommodations close to Peggy's Cove on  VRBO.  (I stayed at the Westin in Halifax and had a beautiful view of the harbour).
Insure Your Trip
Travel insurance is more important than ever. Compare plans and policies for the best coverage for your trip using Insure My Trip. Traveling for an extended amount of time? SafetyWing offers ongoing coverage on a month-to-month basis, and World Nomads offers coverage for extended trips.
More to Explore in Canada
Sandra Phinney's journey through Nova Scotia's UNESCO Cliffs of Fundy Geopark, is a reminder that travel is often about letting things unfold.
Contributor Sandra Phinney recalls her times spent visiting folk artist Maud Lewis with her mother, and her continued legacy in Nova Scotia.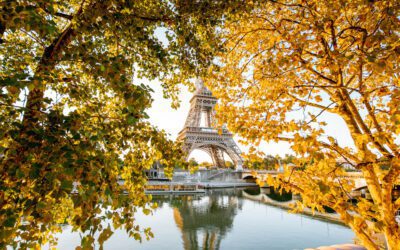 Five shoulder season travel destinations recommended by women that offer lower costs, less crowds, and unique experiences.