Last updated on April 23rd, 2022
Featured Image: Boats passing by the old town in Split, Croatia / Photo by Photo by Spencer Davis from Pexels
Wanderer Wendy Brooke feeds her curiosity by volunteering at digs
By Amanda Burgess, Editor, JourneyWoman
Wendy Brooke doesn't think of herself as a traveller, but more so a wanderer – something she learned from her father. Growing up in Missouri, her family took a month-long vacation every year. Her father would gather the kids and ask where they wanted to go.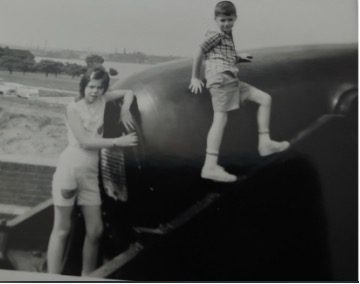 Wendy and her brother wandering on a family vacation at Ft McHenry historical site in Baltimore, USA.
"We would pick a direction – say north, northeast – and then all of us kids had to choose something we wanted to see along the way. We'd go to the library and look at pictures to find it," says Brooke. "We didn't go to a place. We rambled, and we explored. So, that's always been my inspiration for travel: Explore and see what's there."
Brooke's father loved history and art, which meant that their family trips included elements of both. On their rambling journeys, the family would stop at archeological dig sites all over the US, igniting a life-long love of archeology in Brooke. 
"It became a real interest of mine. Once, there was a dig about 30 miles from our home. We used to go up and watch them work. My brother was 16 at the time, and he was allowed to work for a couple of days on the site. I was so jealous because I was only 11," she says. "Ever since then, I've wanted to be an archaeologist."
While she didn't become an archaeologist, Brooke's interest in the study of the past has led her to pursue citizen science – the practice of public participation and collaboration in scientific research – all over the US, with her sights set internationally in the future. How exactly does one get involved in archaeological digs as a layperson?
"There are a lot of places that allow for volunteers, and most of them have a charge to do so because you're going to be trained and work in the field for at least a week. I go online and search for volunteer opportunities," says Brooke. "I was in South Florida for a while, and I joined a group of archaeologists, and we did a lot of testing for new neighbourhoods going in. I did a trip up into the upper Wisconsin area and worked on some Indigenous sites. If I can incorporate it into my travels for work or pleasure, that's always a good thing."
Holding history in her hands
Connecting to the past through touch is something that Brooke seeks on all of her travels, not only the digs she participates in. From Rome to Jerusalem to Dubrovnik, there's something about old fortresses and buildings that speaks to her.
"I've spent a lot of time on my travels observing ruins and learning about the culture. For example, in Dubrovnik, walking the city walls, I touched the wall – one that has been touched over and over again by people throughout time. It's that connection that I feel," she says. "I'm a very tactile person. To touch a church door or the side of a building is to get that sensation of 'I am here and someone else was here too' and I can get that easily when I'm out touring."
Still, for Brooke, nothing beats the feeling of literally holding history in her hands, in the field or the lab. There's a sense of discovery that doesn't hit the same way when touring a site whose history is well-documented. 
"When I'm actually digging it, it's a different type of sensation because I'm unearthing and analyzing the past. I'm the first person to have seen or felt this artifact in years," she says. "You're digging in a pitch, usually 5×5, an inch at a time. You want to scrape, to get the edge of it and then work around it versus going straight down where you could break fragile artifacts. All of a sudden, your trowel hits something. Oh, what is it? A piece of pottery? A bit of glass? A bone? Then you're taking it out and looking at it. Thinking about what it is and how it would have been used. Thrilling."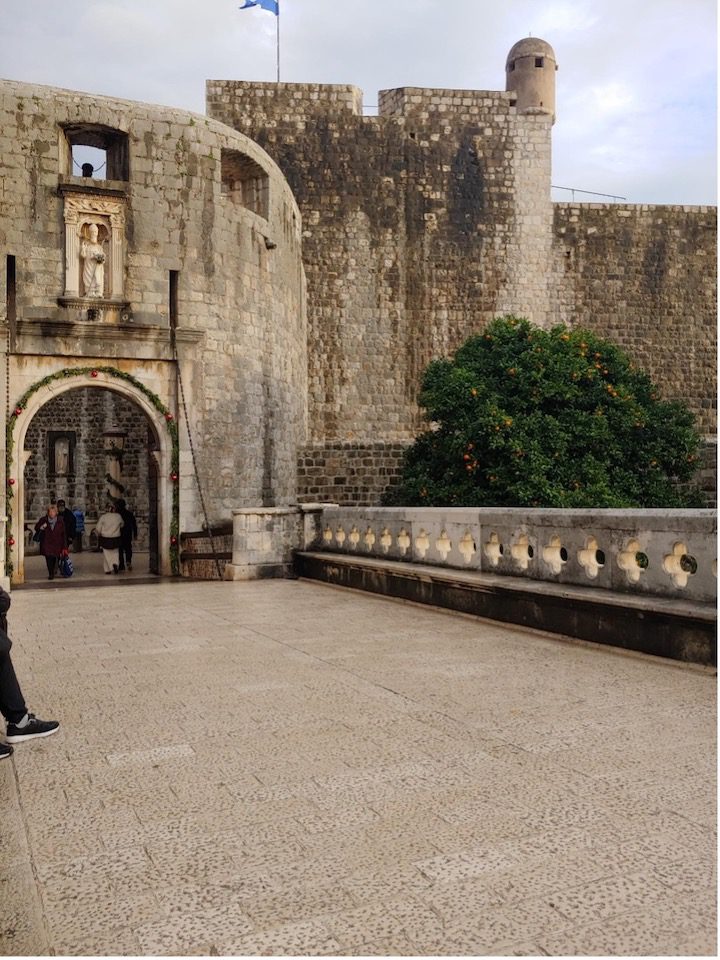 Entrance to the old city of Dubrovnik, taken by Wendy on a trip there in 2019
How do you mend a broken heart? For JourneyWoman reader Joy, it took a trip to Italy and a man named Luigi. Here is her story, as told by JW editor Amanda.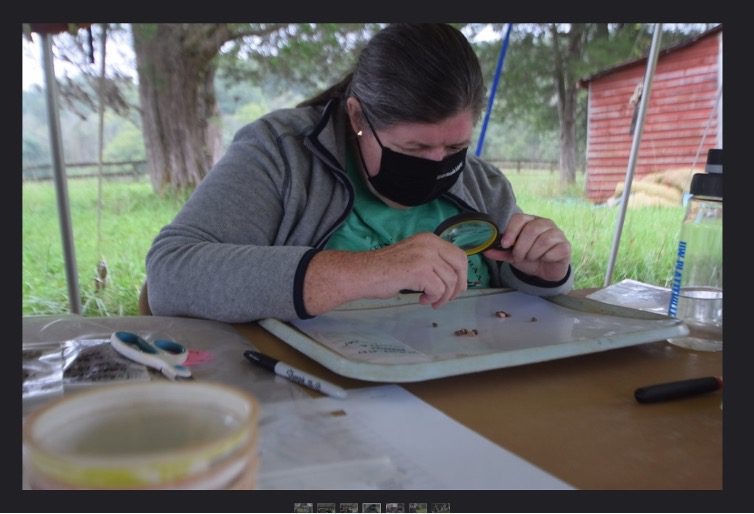 Wendy cleaning and sorting through artifacts at Montpelier, September 2020
On one of Brooke's last digs at Montpelier – the home of 4th President James Madison in Virginia – she was working in what may have been the overseer's cottage, and someone unearthed seven buttons. Immediately, the team worked to reconstruct the story behind them. The buttons were all the same, so were they from the same coat? Was the coat left in the house before it got destroyed?
"It's about taking the clues and putting them together like a jigsaw puzzle. You learn a lot when you're working with people who are trained and know what they're looking at," she says. "If we'd found seven or eight buttons in one area and they were all different types and sizes, that might indicate that the seamstress worked there. You try to piece together the stories, and with each piece of each artifact that you uncover, you're putting more credence to the story. Every dig I've ever been on, even if I'm working in the lab, I feel like I'm a part of being able to share that history with the world."
Taking her interest in archaeology global
While Brooke has yet to work on any digs outside of the US, she's visited a few, and has earmarked a couple of opportunities to explore when her hectic work schedule allows. One site is in the small town of Yassıhöyük, Turkey. This site, the capital city of ancient Phrygia – tied to the legend of King Midas – has been excavated by the University of Pennsylvania since the 1950's. 
"You can spend a day walking around the active site and talking with the archaeologists. You can watch them dig, you can ask questions, you can sometimes hold artifacts. That was an amazing site to visit because it's so old," she says. "I had talked to them about perhaps coming back and working in their lab, but my work situation prevented me from doing that."
She has her eye on two citizen science opportunities in labs in Bulgaria and Romania focused on broken pottery from Pompeii, a moment in history that has always fascinated her. 
What's next
Brooke's career in supply chain management has seen her travel the world. Between work and pleasure travel, she's been to more than 47 countries. 
"Whenever I have to go somewhere for work, I incorporate a little bit of exploration time. I've been lucky enough in my business career to have a lot of international travel," says Brooke. "I went to Spain to look at a factory that we were considering purchasing materials from and planned three or four days before to just run around exploring. I did that in France, in Italy – all over the world."
Wendy working at Montpelier, with Matt Reeves, Director of Archaeology
For the next year and a half, her job will keep her tied to North America. 
"I'm going to be travelling the US and Canada to 29 manufacturing plans with my work, every month rolling out to a different place. I've never done this in North America, only internationally. That will keep my travel bug at bay," she says. 
Taking a page from her father's playbook, she'll be investigating things do see and do within an hour's drive of each plant's location – checking out local restaurants, craft markets, fairs, art and archeology. 
A fan of Buffy Sainte-Marie, there's one song in particular – Many a Mile – whose lyrics have always spoken to Brooke, encapsulating her travel spirit:
Oh, it's many a mile
I have spent on this road
It's many a mile I have gone
I've seen your towns, they're all the same
The only difference is in a name
And the only home I have ever known
Was a suitcase and the open road
"There are different ways you can look at travel. One is that travel is something you do, and the other is that travel is part of who you are. I don't necessarily plan travel – sometimes I simply jump in the car. I stop along the way. I add a few days. I like to drive criss-crossing over the country, seeing the different trees and architecture," she says. "It's all part of who I am. I'm a wanderer."
For Jo Anne, the sound of David Bowie brings back fond memories from 1967 when she met her first love on a ship from England to the USSR.
A couple of ways to get involved in citizen science: Two of Brooke's favourites
1. James Madison's Montpelier | Orange County, Virginia
A memorial to 4th US President James Madison and the Enslaved Community, a museum of American History and a centre for constitutional education. Montpelier hosts the public for multiple immersive expedition programs that see participants working alongside archaeologists and museum staff for an entire week, with the expedition season running March to November. Check out the opportunities here.
Citizen science makes a person hungry! Wendy taking a cookie break from her meticulous work at Montpelier
"Montpelier has a great program. You're digging in the dirt, and they usually have at least one that's working in the lab. I'm now more of a laboratory person because it's harder for me to get down on my knees in the dirt. It's really great to be able to work in a lab and hold the past in your hands," says Brooke. "I'm very interested in the treatment of the enslaved community and how the stories are told in the US. Montpelier in an example of how it can be done well."
Missed our Book Club chat on The Kitchen House by Kathleen Grissom? We had a special guest join us for the discussion: Mary Furlong-Minkoff PhD, Curator of Archaeological Collections at Montpelier. You can watch the recording here.
2. Arksansas Archaeological Society | Fayetteville, Arkansas
Founded in 1960, the Society's purpose is to unite all people interested in the archaeology of Arkansas, to recognize and preserve the state's cultural heritage and prehistory, and to foster and encourage the public's interest in the preservation of the past. The Society offers volunteer opportunities in both field and lab work. 
"The Society has a really good program for citizen scientists. It's very inexpensive and is usually a two-week program, but you can stay for just one week. They have great instruction and then offer the choice of field work or laboratory work," says Brooke. "The last time I was working there, which was pre-COVID, I was holding some Indigenous pottery from around 1500. To me, it's a real thrill to hold something in your hands that crosses so many generations and so much time. You're connected to the past."
More Solo Travel Memoirs to Inspire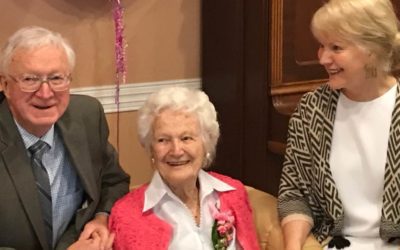 Solo traveller Karen Barclay shares how she learned to embrace adventure and trust the universe at a young age, inspiring her lifelong travels to Africa, Indonesia and places in between.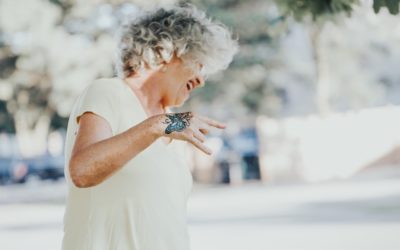 Solo traveller Christine Pope's tattoos tell stories of strength, resilience, hope, and life after breast cancer.
Women travellers share the deep interests, hobbies, and passions that they weave into their travels or build entire trips around.