Last updated on January 10th, 2023
How our parents influence our travels
Before I headed out on my two-month solo travel adventure in Bali, Australia and New Zealand in January 2020, a friend asked me what first sparked my wanderlust. Normally, I'd ponder an interesting question like that – flip through the memories preserved in my mind's eye like Polaroids until I arrived at the earliest one. I didn't need to. Before my rational mind could engage, my heart sent the truth it held on a journey through my body to my lips, and I heard myself say: "Stories about faraway places."
Ask any traveller who or what first inspired her to travel, and the answer will bubble up in her unbidden. So, we did exactly that. This month, three globetrotting JourneyWomen divulge their earliest travel inspirations, and the impact that travel had on their lives and adventures.
Brenda's High Flying Father
From military brat to solo-travelling citizen of the world
As an adult, you think you know your parents and the influence they've had over your life. Sometimes, you learn more after they pass away – things that give you greater insight into your parent as a person, and into yourself.
Brenda M.'s father was in the Canadian military, and in her youth, her family moved every year – a challenging life for a kid. They began in Ottawa, Ontario, where Brenda was born, and then began a tour of the provinces and one US state. Foymount, ON; Quebec City, Quebec; London, ON; Barrie, ON; Edgar, ON; Newark/Paramus, New Jersey; West Ferris, ON; North Bay Air Force Base, ON; Chatham, New Brunswick; St. Margaret's Air Force Base, New Brunswick.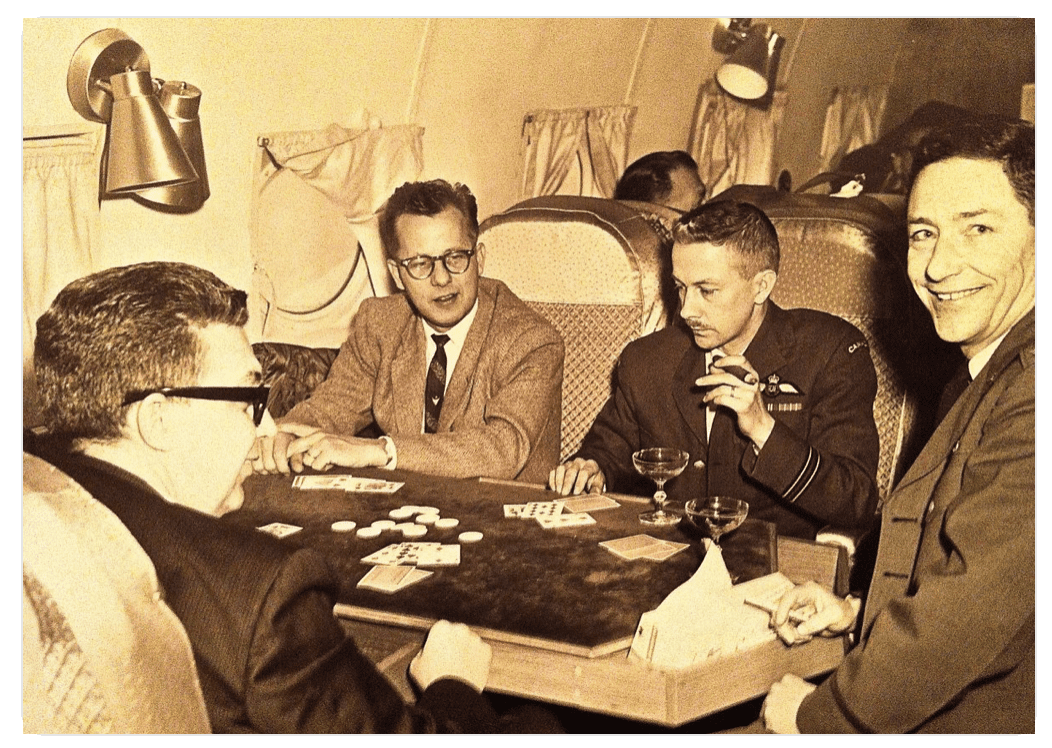 Brenda's dad (centre, holding cigar) on an aircraft flying to Reno on a weekend off with fellow officers / Photo courtesy of Brenda M.
"Nowhere exotic – these were radar postings, and often Dad was travelling and off training. Part of me dreaded leaving friends behind and always being the new kid at school. I knew my parents felt badly about it, but I survived the heartaches and learned to easily make new friends and somehow continued to get good grades," she says.
The first move Brenda remembers clearly was to London, Ontario when she was five. She had a two-and-a-half-year-old brother, Gary, by then. It was a brand-new house – so new that the sod hadn't been laid yet. Brenda and Gary were itching to play in all that rich, wet, and wormy black piles of soil.
"I remember making daisy centre cupcakes with white petal frosting for my dolls, but I got in trouble for playing in the mud," she says. "Food and travel became lasting themes in my life. I love travelling to new places and gathering ingredients unique to each region and pride myself on attempts to replicate regional dishes."
The family lived in London, ON for two years, one while Brenda's father was stationed on the Distant Early Warning (DEW) Line in Canada's far northern arctic region, and one while he was home with them. The kids believed it was a grand adventure. Dad had gone to live with Santa Claus.
"Santa called a lot to find out if we were being good, and of course we lied. Dad set me up with a pen pal to write to. I remember wishing he'd gotten me a girl to write to instead of a boy – but we answered questions like what it was like to be in kindergarten (he didn't go to school) and what it was like to wear fur on the inside of your coat instead of on the outside to go out into the snow. The code we used to send stuff was VE9BX," she says.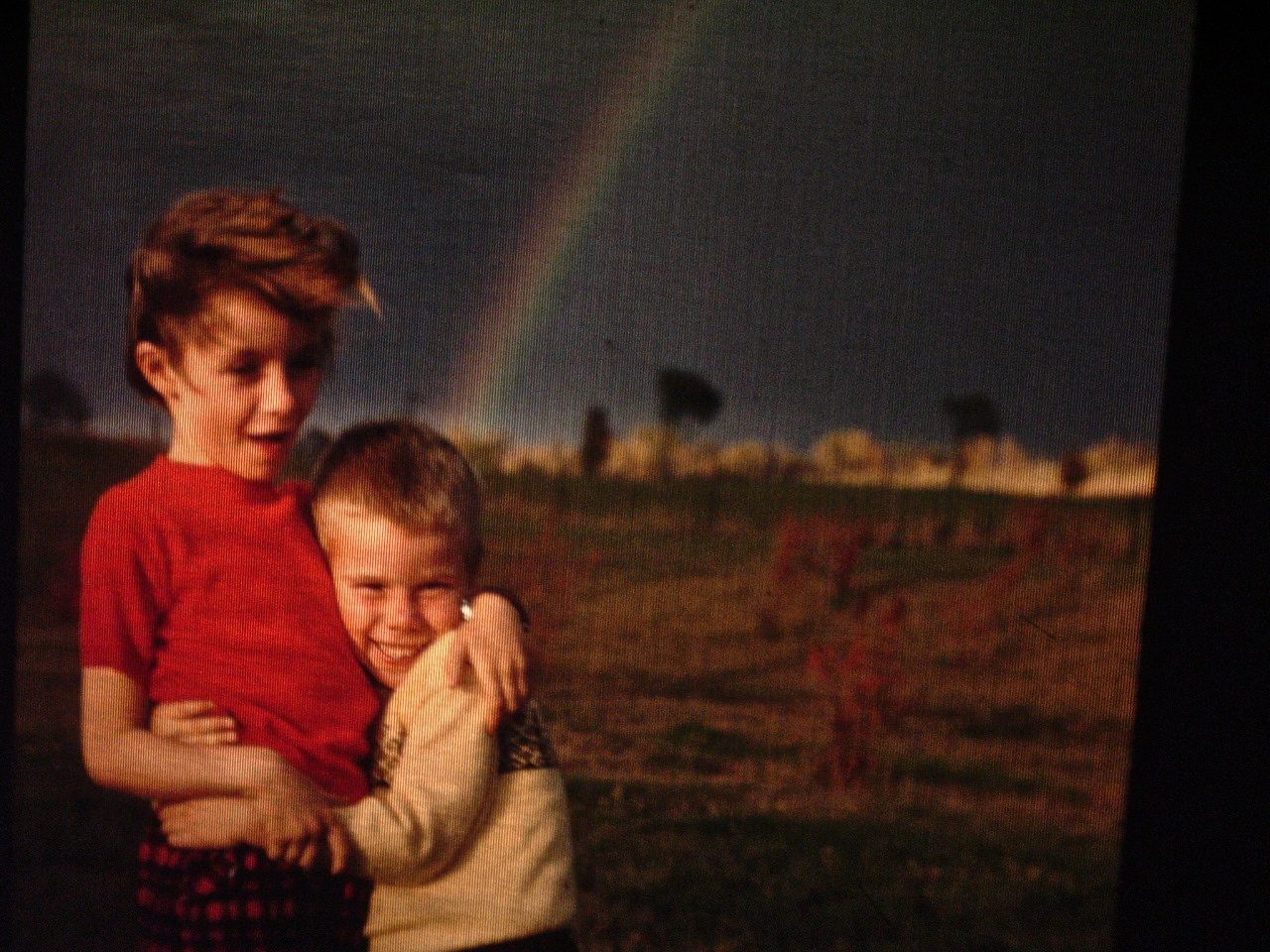 A photo Brenda's Dad took of her and Gary when he came home after a year of living on the DEW line with Santa Claus. / Photo courtesy of Brenda M.
After her father returned from the north, a bureau drawer in her mother's sewing room began filling up with 8×11 black & white photographs that her father had taken on his travels. Photos of igloos he'd slept in, teams of huskies, and Inuit men and women wearing leather, furs and other colourful traditional clothing. He'd come up from the basement where he had set up a darkroom (and where the kids weren't allowed to disturb him) holding photographs, and the family would gather around and listen to his stories.
"I can remember sneaking into Mom's sewing room and spreading his photos out all over the guest bed and looking at them for hours at a time when nobody knew where I was. Gary now tells me he used to do this, too," she says.
That stoked the fires of imagination in both children for faraway places. In their next move to Barrie, Ontario, Brenda recalls watching Spanky & Our Gang – a show with few adults in it that was big on adventure one day. She and Gary, thirsty for adventures of their own, decided to make a rocket to send Gary to the moon.
"We used scotch tape and newspapers to build the rocket. I taped from the outside. Gary taped from the inside. And then off I went off to find matches to light the bottom," she says. "Silly me, when I couldn't find matches in the drawer Gary told me to look in, I went and asked my parents."
Brenda and Gary found new travel inspiration when the family moved to an airbase in Edgar, Ontario. There, they merged lives with kids who'd been living in so many different places than they'd ever imagined existed. There was Stuart, who had his arm blown off in Germany. Gary was in class with Stuart's sister, Linda, who explained that he liked to be called 'chicken wing.' With Gary and Stewart leading the way, UFO's extraterrestrials and outer galaxies were added in to expand travel horizons.
"We started getting National Geographic magazines around this time and traded favourite places to go to – and then my brother and I each got our own set of encyclopedias. We poured through them and shared all those new tings with one another, too," she says. "We spent hours entertaining ourselves and daydreaming of traveling to exotic places, but whenever we moved, we cried for days on end over leaving all our friends. But each destination was a new adventure and there were always interesting friends to be made."
Brenda's father would often spend all day cooking fancy Sunday meals featuring exotic dishes. On one such Sunday, he asked the kids how they liked their steaks…and then told them they'd feasted on moose.
"Then we'd heard the story of how he'd gotten the moose. That might have been after he'd learned to hunt moose in New Brunswick. I'd caught him swishing a stick in the upstairs bathtub practicing a moose mating call one day when he didn't think anyone was home," Brenda says. "Again, I'd learned to relate travel to new places with food early on. Lobster feasts were also a new part of our repertoire in the Miramichi."
If her father hadn't joined the Air Force and gotten married, Brenda believes he might have been an artist. He'd studied with a well-known woman painter and began to paint prolifically. He taught Brenda and Gary how to oil paint, and the siblings both left home to study at the Ontario College of Art in Toronto. As soon as Brenda arrived on campus, she signed up to go to Florence, Italy to study in their independent off-campus program for a year.
"When I travel, I always bring a sketchbook and one of the first things I do is explore the grocery stores and go back to where I am staying to cook up a storm. Mom taught us how to bake and Dad taught us how to cook," she says. "I visit the art galleries and museums and spend most of my time either taking notes or writing. I credit Mom for my love of writing – she journaled and I have stacks of her travel journals – and both for teaching me that work done with our hands are noble feats."
In 2014, after Brenda's father passed away at the ripe age of 90, her mother handed her a newspaper clipping about The Secrets of Radar – a secret he'd taken to his grave. Her father had worked for what was then known as the North American Air Defense Command (NORAD), headquartered in Colorado Springs – a bi-national combined organization of the US and Canada that provides aerospace warning, air sovereignty, and protection for Northern America. He'd been sent from Ottawa to MIT for a course in radar technology and went on to British Columbia, flying in top secret operational missions in Mosquito bombers. He moved back to Ottawa and met Brenda's mother, who worked for the Department of Air Force during and after WWII.
"I remember how very proud of Dad I felt, even though he knew I didn't believe in war. But I liked that he had such a secret and felt his keeping it made him ever so humble in my eyes," she says.
Growing up as military kids prepared both Brenda and Gary for a life of solo travel. Gary lived on boats most of his life, and recently settled down to a big adventure in a tiny home, on a small piece of land off the coast of Vancouver Island called Mudge Island, home to 100 or so "Mudgekins."
"I am looking forward to taking a road trip once he gets water hooked up. Gary drove from Ottawa to Mudge and said he'd help me plot my way across this vast country of ours," says Brenda. "My parents lived their lives to the fullest. My brother and I have been able to take the best of what my parents' lives were and expand on them."
Up next, Sue shares her story about her "family" in Brazil…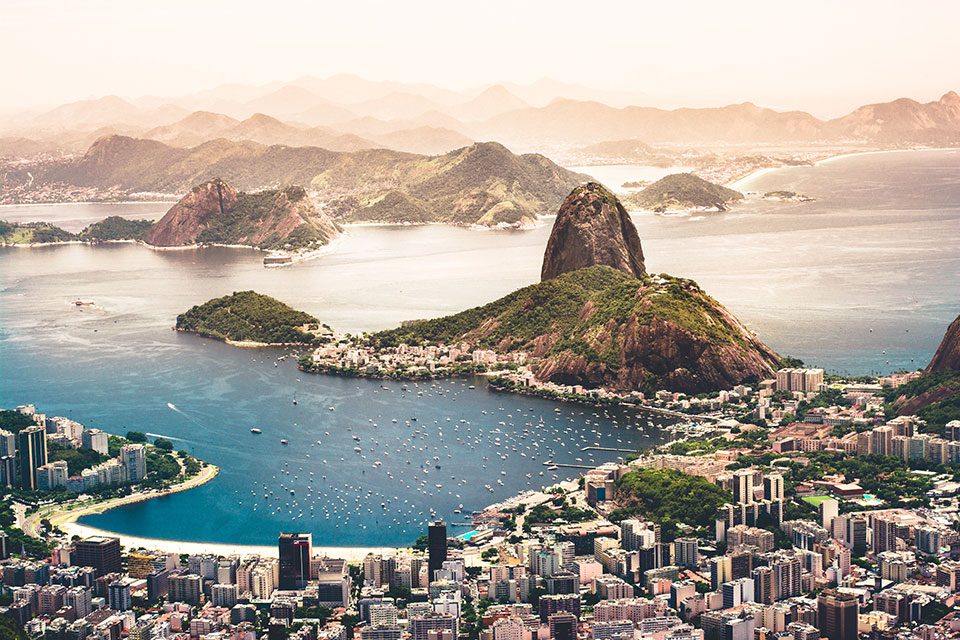 Sue was 16 when she spotted an ad in her Kansas high school newspaper for American Field Service (AFS)'s Study Abroad programs. She wondered aloud if she could do this. As the thid of six daughters, she wasn't sure it would fit into the family budget. But the stories she read from other students were so exciting and inspiring, she drumed up the courage to ask.
Keep Reading…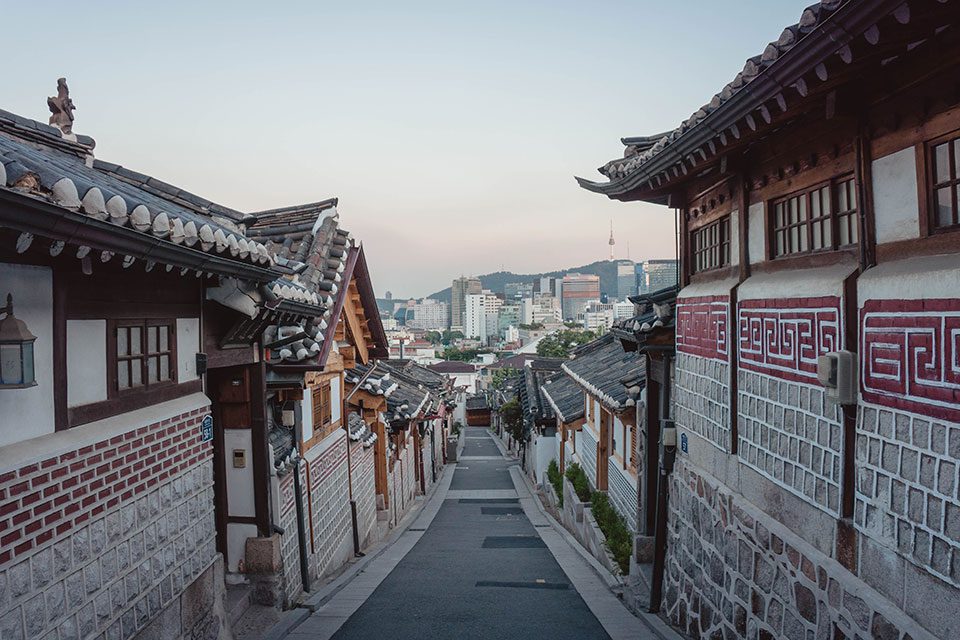 Karen was 12 when her father came home from work and accounced that the family would be moving to South Korea for his job. A year later, Karen's family was packed up and on their way.
Keep reading…