Last updated on November 19th, 2023
Featured image: The 1,797-km Grand Canal runs through Wuxi, starting from Zhejiang Province all the way northwards to Beijing.  | Photo by chuyu2014 from Envato  
See's novel features female physician Tan Yunxian in 15th century China
by Carolyn Ray
Over the past four years, our book club has featured stories about women who have challenged convention, embraced the unknown and broken 'the rules'. Our November 2023 Book of the Month, Lady Tan's Circle of Women by New York Times bestselling author Lisa See, continues that theme. This book shares the captivating true-life story of  Tan Yunxian and her quest to become a physician, and is set during the Ming Dynasty in 15th century China, at a time it was believed that "an educated woman is a worthless woman." (Confucius)
Inspired by the real story of Yunxian. Lady Tan's Circle of Women is not only the story of women helping women, but also a triumphant reimagining of a remarkable and inspirational woman. This story begins in 1469, when the main character, Tan Yunxian, is eight years old, in the fifth year of the Chenghua emperor's reign. When her mother passes away unexpectedly, she goes to live with her grandparents in the city of Wuxi, in southern Jiangsu province, northwest of Shanghai. Her grandmother is one of only a handful of female doctors in China, and she teaches Yunxian the pillars of Chinese medicine, the Four Examinations—looking, listening, touching, and asking—something a man can never do with a female patient. Yunxian—born into an elite family, yet haunted by death, separations, and loneliness—is being raised by her grandparents to be of use. Befriended by a young midwife, Meiling, she learns how to break free of traditions and lead a life of importance, creating a circle of women supporting each other in a society that emphasized tradition and rules above all else.
Tan Yunxian was a real woman who went on to become a "ming yi" — famous doctor — and published a compendium of 31 cases in the work "Miscellaneous Records of a Female Doctor" in 1511. In it, she records her treatments for "women's complaints," such as menstrual irregularities, repeated miscarriages, barrenness, and postpartum fatigue. Yunxian married at age 15, raised four children, and practiced medicine on women, passing away at age 93.
"I write about these relationships because I'm a woman, because I want to connect to women, and because women's stories still need to be told."
– Lisa See
About Lisa See
Lisa See is the New York Times bestselling author of The Island of Sea Women, The Tea Girl of Hummingbird Lane, Snow Flower and the Secret Fan, Peony in Love, Shanghai Girls, China Dolls, and Dreams of Joy, which debuted at #1. She is also the author of On Gold Mountain, which tells the story of her Chinese American family's settlement in Los Angeles. See was the recipient of the Golden Spike Award from the Chinese Historical Association of Southern California and the Historymaker's Award from the Chinese American Museum. She was also named National Woman of the Year by the Organization of Chinese American Women.
See was born in Paris but grew up in Los Angeles. She lived with her mother but spent a lot of time with her father's family in Chinatown. Her first book, On Gold Mountain: The One Hundred Year Odyssey of My Chinese-American Family (1995), was a national bestseller and a New York Times Notable Book. The book traces the journey of Lisa's great-grandfather, Fong See, who overcame obstacles at every step to become the 100-year-old godfather of Los Angeles's Chinatown and the patriarch of a sprawling family.
 "We tend to learn history in terms of wars, dates, and the generals, kings and presidents who made the "big" decisions. But if you take one step away from the front line of history, you see women, children, and the elderly. All of those people are participating in history too, only their stories are often ignored as "unimportant." I feel very honored and privileged that I get to tell those stories. They are important to me as a woman, wife, mother, and now grandmother." – Lisa See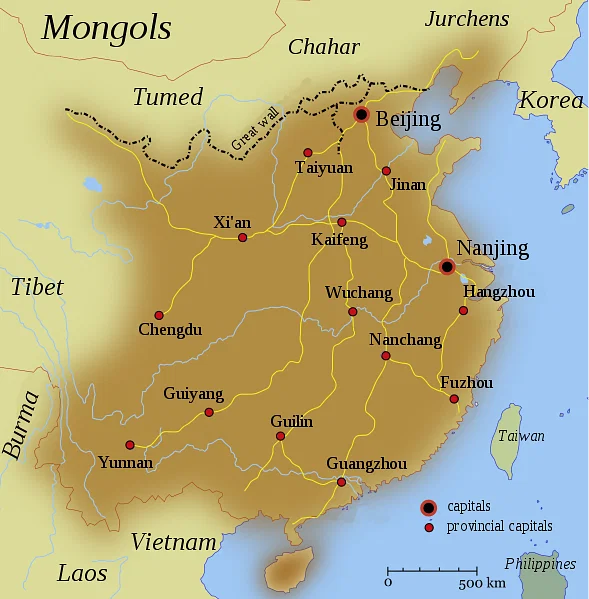 Ming Empire cca 1580. Mote, Frederick W.; Twitchett, Denis, eds. (1998). 
The Cambridge History Of China, Volume 7: The Ming Dynasty, 1368–1644
, Part I. 
ISBN 978-0-521-24332-2
. Map 1, p. xxiv. Brook, Timothy (2010). 
The Troubled Empire: China in the Yuan and Ming Dynasties
. Harvard University Press. 
ISBN 978-0-674-04602-3
. Map 6, p. 41.
Set during the Ming Dynasty
During the Ming Dynasty (1368-1644), China became a prosperous and influential empire, and a major cultural power in Asia, with deeply rooted cultural traditions of fine literature, pottery, and near-global exploration. Confucianism was, and still is, a belief system that prioritizes social status and respect over pursuits of enlightenment or heaven. Confucius wrote heavily on the concepts of piety, or cultural and spiritual dedication, which he considered to come in a number of forms, including reverence towards one's parents and elders and reverence of husbands by their wives.
This was a time of modesty, when a wealthy woman could not see a male doctor without having a male relative such as her father, husband, or son present. The male doctor questioned the husband, not the woman herself. He might not be allowed to see her face. He needed to ask for permission to feel her pulse. Therefore, because Tan was a woman, she was allowed by her female patients to do things that a male doctor could not, and this intimacy in turn led to a better diagnosis of the patient's problems.
As See notes in her introduction, Colombus didn't lay sight on the Americas until 31 years after Yunxian's birth, and most western medicines were created out of alcohol or herbs. Another practice prevalent through the story is that of foot binding, the Chinese custom of breaking and tightly binding the feet of young girls in order to change their shape and size.
Book Club Discussion Questions for "Lady Tan's Circle of Women"
Have you travelled to China? Did anything about the book's setting feel familiar? Why, or why not?
 What was your favourite passage in the book, and why?
Tan Yunxian's mother teaches her that there are four phases in a woman's life: milk days, hair-pinning days, rice-and-salt days, and the days of sitting quietly. Do you feel as if there are such distinct phases in our own lives? Do they differ from the ones Respectful Lady describes?
How does the protagonist reconcile the harrowing process of foot-binding with her deep love for her daughters?
The boat journey from Tan Yunxian's home north to Beijing is long and arduous. Do you think you would be as keen to travel as you are now, if the process were so hard?
The characters often rely on proverbs or aphorisms – like "no mud, no lotus" – to make sense of the world around them. Have you ever had a saying that has helped you through a difficult decision or phase in your life?
Did you recognise any of the ailments and physical conditions described in the story? Were any of the treatments familiar to you?
In Beijing's Forbidden City, Yunxian visits the Empress in the imperial women's quarters, an area from which all males (apart from eunuchs and, presumably, the Emperor) were banned. In your travels, have you spent time in spaces reserved for females? How did you feel there? How do you feel about female communities like JourneyWoman?
More than once, Meiling accuses Yunxian of not accepting her as an equal. Do you think she's right?
Which way of life would you choose: that of Tan Yunxian and other wealthy wives, or that of Meiling and other working women like the tiller woman and the brickmaker?
What did you think of Miss Chen, the decisions she made, and what happened to her? Do you think she knew about the formula Doctor Wong made for Yunxian?
In Lady Tan's world of medicine, there are taboos and prohibitions on how male doctors can interact with female patients. There is also a strong theme of how Lady Tan's gender gives her insight into the physical and mental conditions endured by the women she treats.  Do you have any preference about whether you are treated by a male or female medical professional?
Did you learn anything about 15th-century China that surprised you?
Did the book make you want to travel to or learn more about China?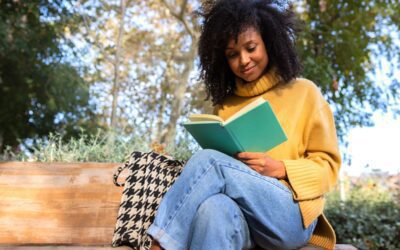 TripFiction's Tina Hartas helps us travel by book to 12 countries that solo women plan to visit in 2023, from Africa to Peru.
Practical tips on etiquette, safety and less-seen places in Kyoto, from Rebecca Copeland, author of the novel "The Kimono Tattoo".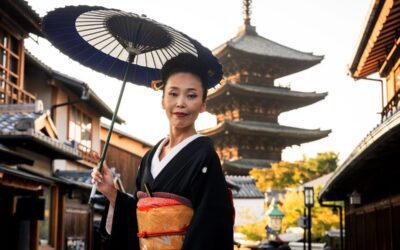 Set in Kyoto, Japan, Rebecca Copeland's thriller "The Kimono Tattoo" shows a deep reverence for Japanese culture.