Last updated on July 13th, 2023
Packing Tips for Stress-Free Travel
By Sandra Phillips, Contributor, Travel Smart Planet
When setting off on a trip, you want to be as comfortable as you can and make your trip as stress-free as possible. On a recent JourneyWoman Community Call, I asked our travel-savvy women for their best packing tips and what they always pack. They offered some marvelous ideas of what to make sure to put in your bag.
1. A comfortable pair of shoes: JourneyWomen favour brands like New Balance for sneakers, and Teva, Ecco or Fitflop for sandals.
2. Swiss Army knife or small foldable scissors: These come in handy for cutting price tags or threads, eating, slicing food, opening plastic packaging, cutting nails. Hot tip for finding scissors: Shop in Chinatown.
3. Creams: Hand moisturizer, Vaseline, Neosporin, Balmex diaper rash ointment – all useful for dry hands and lips, rashes, bites, and sunburn.
4. Band-aids: The clear favourite was Band-Aid Brand Hydro Seal Waterproof All-Purpose for all those booboos and blisters. These band-aids stay on for days, even after showers, swimming, etc.
5. Fan: A paper one or a tiny electric one that plugs into a USB port.
6. Pillow: A blow-up pillow or small airline-size for sleeping on a plane or for long rides, and/or a lumbar pillow for your lower back.
7. Printed Documents: Itineraries, your flights, passport, visas, important cards and phone numbers, just in case your phone goes dead (or is stolen). Swap copies with your traveling companion too!
8. Travel pants: With secret pockets or really loose, stretchy, comfy ones with lots of pockets. Brands mentioned include Clothing Arts, Travelsmith, Tilley, and REI.
9. Skirt or dress: The kind you can scrunch into a corner of your suitcase without it wrinkling.
10. Wrap: To keep you warm, cover you on the beach, for use as a picnic blanket, or to jazz up an outfit.
11. Walking sticks: Foldable lightweight ones. They can also be used to traverse long staircases which do not have handrails.
12. Rubber door stopper: So that no one can come into your room without you knowing.
13. Lightweight folding bag: For extra purchases, or if you suddenly aren't allowed your carry-on on the flight (no room in overhead bins or a plane so small there are tiny overhead bins). This way, you can take out important items and papers, tuck them in the bag and place it under the seat.
More on Packing Tips and Safety
The best travel tips from JourneyWoman readers in February 2023, covering packing tips, places to stay, how to save money and safety tips.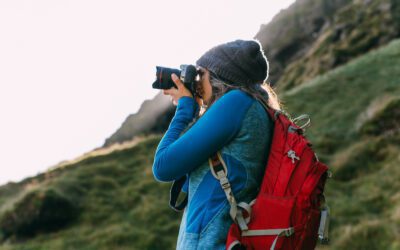 Our monthly curated list of solo travel trips submitted by JourneyWoman readers, featuring hotels, safety tips, what to pack, and more.
Female solo travelers recommend their top safety products to help women over 50 travel safely anywhere in the world.