Last updated on November 10th, 2023
Featured image: Purple, the colour for International Women's Day, represents 'visionary thinking'  / Photo by Envato
Gifts that help support and empower women around the world
By Marin Scotten & Alyx Ray, Editorial Interns, JourneyWoman
International Women's Day is a day to celebrate women's achievement and take action for gender equality all over the world. Empowering women is one of the most important steps to equity, and there are so many ways to do so. When women are empowered and living life to their full potential, the world becomes a better place.
This International Women's Day, consider supporting small businesses and products that empower, uplift, and support women from all different walks of life.
Please note: This article includes Amazon and other affiliate links, but we only recommend items that we have tried ourselves, think are relevant to you, and will benefit you on your travels. If you decide to purchase an item through one of these links, we will receive a small commission that doesn't add any cost to the purchase of an item.
This super soft cotton t-shirt is both comfortable and sends a powerful message. With the message Women Empower Women on the front, this tee is perfect to wear on International Women's Day or anytime you want to uplift the women around you. The Etsy shop that designs the t-shirt is a woman-owned small business.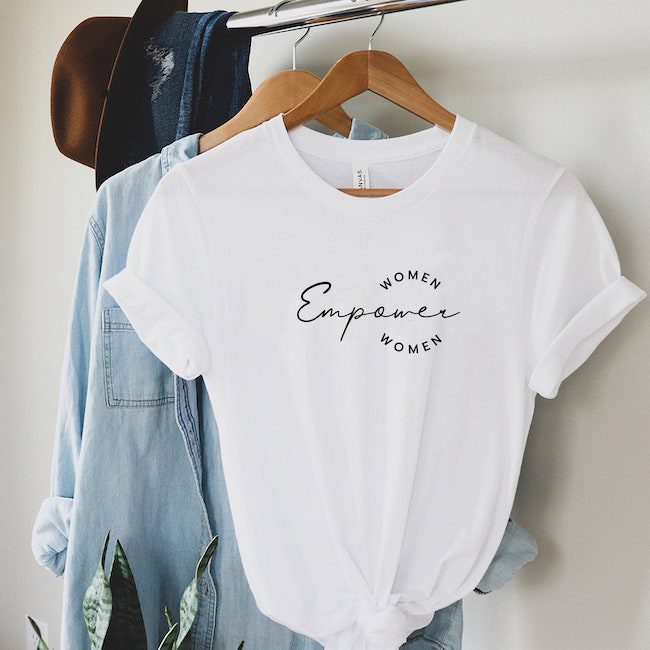 Keeping with the empowerment theme, this tote sports the message: Empowered Women Empower Women. It comes in a variety of colours and is made from 100% cotton. With this bag, you are sure to look good, feel good, and support other women as you move through your day.
NOVICA was founded in 1999 with the intention of creating a better world for artisans. They believe that when artisans succeed, so do the communities around them. With over 71,000 live products, NOVICA sells everything from jewelry to clothing to home décor. 
 Consider buying from NOVICA's Empower Women section to directly support women artisans from all over the world.
Created by Sarah Jonsdottir, REVOL Undies aims to improve the experience of all menstruators and create a space where everyone feels comfortable with their period. These revolutionary undies are meant to be worn on their own while menstruating and are made to fit all women, no matter their size.
5. One Tough Bitch Cancer Survivor Gift
One Tough B (OTB) clothing and accessories are a reminder to any tough woman fighting cancer that they are strong and surrounded by an uplifting community. OTB sells bracelets, t-shirts, hoodies and necklaces, each a symbol of strength and resilience. If a woman in your life is battling cancer, OTB gifts are a great way to show your support.
Working from home and restricting movement poses risks to our health, regardless of whether we've experienced injuries before or not. We turned to health and wellness expert and JourneyWoman Women's Travel Advisory Council member Dr. Nekessa Remy for some insights and tips to get us ready for the day we can pack our bags and get travelling again.