Last updated on April 16th, 2023
Featured image: A woman shops for textiles at Bangkok's Chatuchak Market | Photo by leungchopan on Envato
A Bangkok local shares her favourite Chatuchak shops and tips on clothing, gifts and jewelry
By Donna Campbell, Guest Writer  
Bangkok's Chatuchak market is often pitched as the world's largest market and with around 10,000+ stalls divided into 27 sections, it is no wonder it can lay claim to this title.  Shopping at Chatuchak (or JJ market as it is known to locals) is not for the faint-hearted and can easily be a daunting task even for the most experienced shopper. Here you can buy anything from homewares, local souvenirs, clothing, antiques, and jewelry. Sadly there are also lots of animals on offer too from puppies and kittens to snakes and chinchillas, but this part of the market is worth avoiding at all costs.
Chatuchak Market is only open on Saturdays and Sundays from 9 am to 6 pm. As soon as you arrive, ask for a map of the market at the information office near the entrance. While they are not always in stock, you might just be in luck. Make sure you arrive early around 10 am to beat not only the crowds but also the heat of midday temperature. 
A map makes navigating the Chatuchak Market a lot easier / Photo by Donna Campbell
Navigating Chatuchak Market's 27 Sections
The best way to experience Chatuchak's labyrinth of alleys and tiny stalls is to start with a plan and go from there. Don't worry about getting lost, it's all part of the experience; just regroup at the main clock tower located near gate 1. Bargaining is usually encouraged, and cash is best. There are plenty of ATMs located throughout the market.
Here is an overall guide to the different sections:
Antiques and Accessories,– Sections 1 and 29
Art – Section 7
Spa Products– Section 8
Artificial Flowers, Basketry, Handicrafts, and Souvenirs– Sections 9 to 11
Clothing, Accessories, Bags and Shoes – Sections 12, 14, 21 to 24
Tableware, Ceramics, Silverware, Home Decor and Homewares – Sections 15, 19 and 20
Clothing and Leather Goods – Sections 16, 17 and 18
Ceramics and Silk – Section 25
Antiques & Home Decor, Silk and Photo Frames – Section 26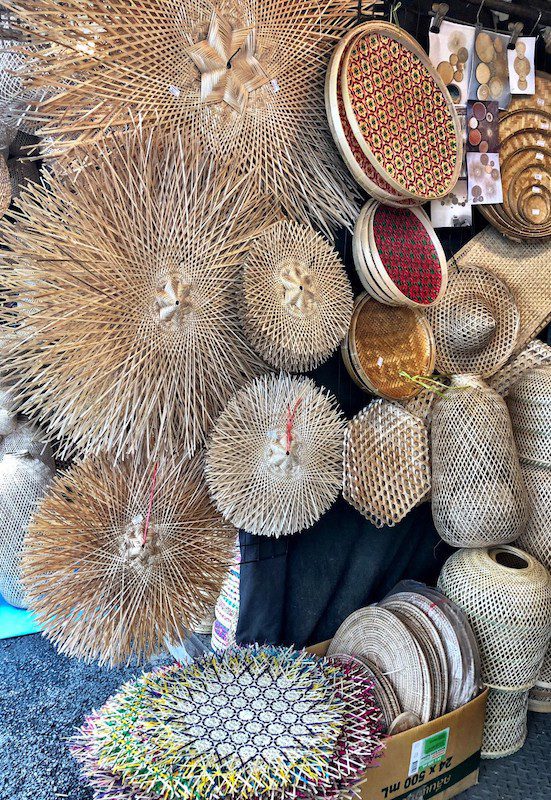 Weaved basket wares / Photo by Donna Campbell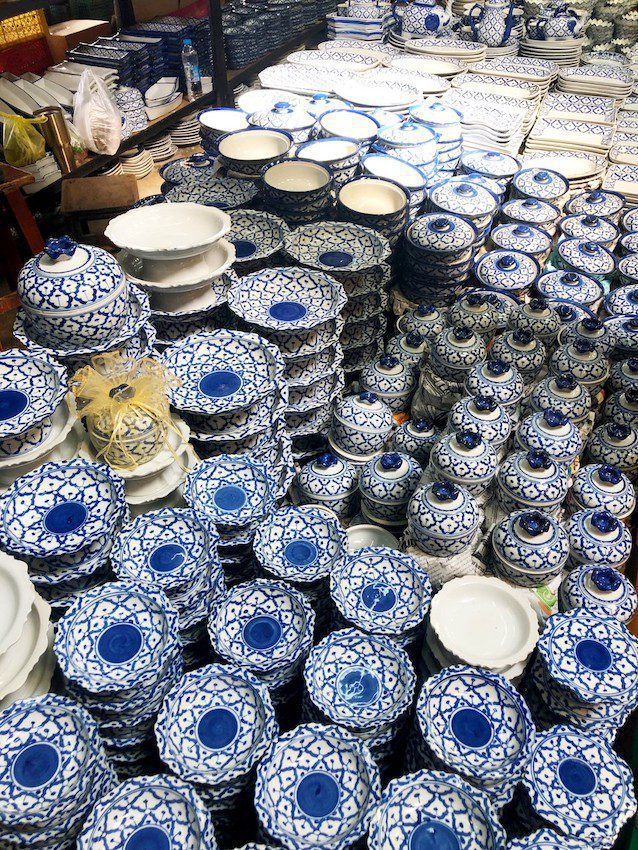 Traditional Thai crockery  / Photo by Donna Campbell
My favourite shops at Chatuchak Market
Armed with this information, start your day with a fresh coconut shake and off you go.  
Here are some tips for some of my favourite shops:
Scents
Karmakemet for beautiful scents, lotions and potions and handmade candles. Section 2 
Homewares
Take home traditional Thai blue and white crockery from one of the many stalls located around the main road area, don't worry they will pack everything securely for you to take home in your luggage.
Thai cutlery is a great gift to take home for friends or to restock for yourself. THL Bronze has an extensive selection of brass, bronze, and stainless-steel flatware, cutlery, pots, and pans.  Section 15, Soi 10/1.
Clothing
Spun for cotton caftans and hand-embroidered clothes, cushion covers, and pillowcases. Section 8, 15/1, shop number 473
Cotton Alley for handmade embroidered clothing. Section 6, Shop 271  
Thai Craft for caftans and cotton dresses and blouses in every colour. Section 26, Soi 34/7.
On my last visit, I found this fantastic tiny stall selling vintage kimono jackets from Japan.  The array of different silks was outstanding. Sumo Vintage, Section 2 (near Karmakamet).
There are many stalls selling tie-dyed clothes throughout the market, but Hyena is known for better quality clothing including blue and white dresses, caftans, tops and accessories.   Section 6, Room 269.
Gifts
Wrap your gifts in beautiful soy and handmade paper from Lemkwean, located in Section 8, Soi 14/2.
Nush for local Thai scarves, pashminas, table runners and Thai silk garments.  Section 20, Soi 5/6, shop 098.
This beautiful stall is full of shells of all shapes and sizes, apart from shells they also make jewelry and mother-of-pearl spoons which make great hostess gifts. The Seashell, Section 8, Soi 14/1.
For jewelry beware of the many sellers pretending to sell real gemstones. You are better off buying from a registered jeweler in the Charon Krung district.  
But for exquisite hand-crafted designs, Matin Calme is a French /Thai designer that makes original pieces from bronze, brass and silver. Section 2, Soi 41, shop 262.
P. Pack is one of my 'go-to' stalls when I need to purchase a gift for a friend who has everything. Their hand-crafted rosewood watch and jewelry boxes make a unique gift and are always well received by the recipient. Section 19, Soi 6/6, Shop 139.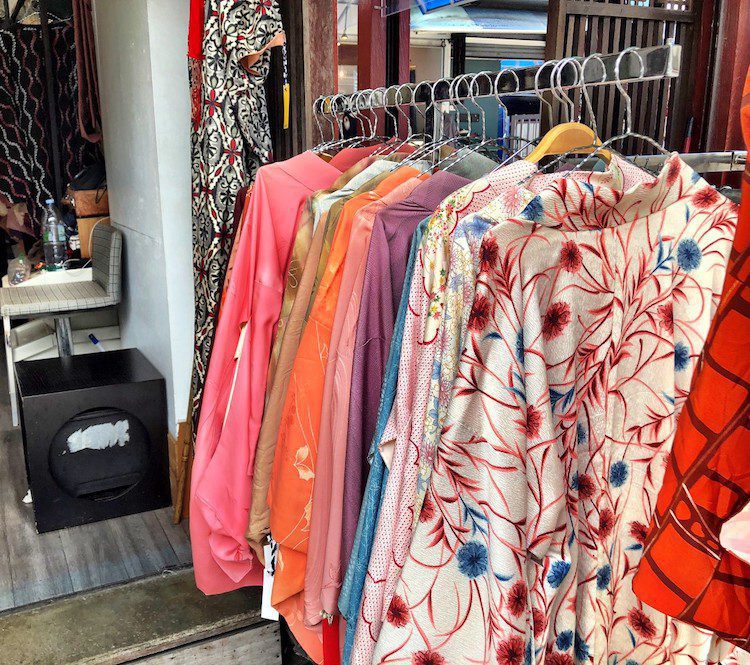 Vintage Japanese kimonos / Photo by Donna Campbell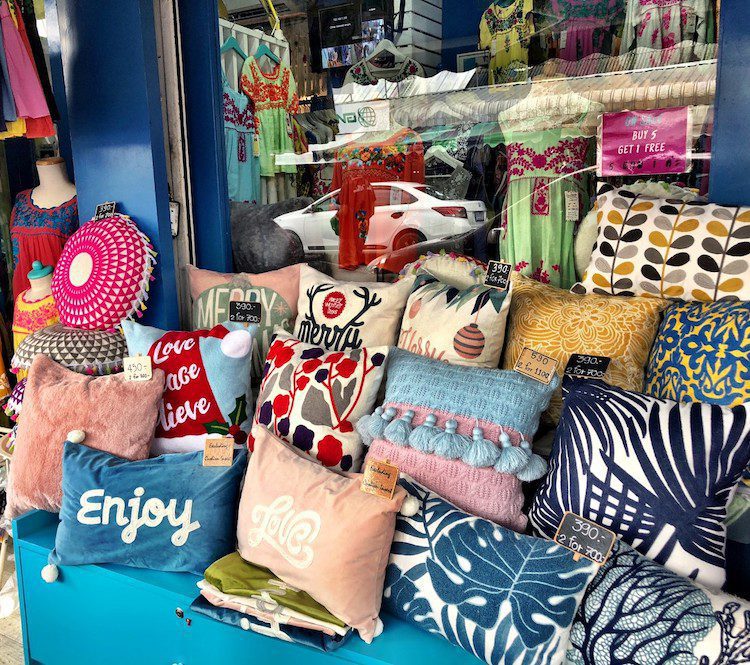 Handmade cushion covers at Spun  / Photo by Donna Campbell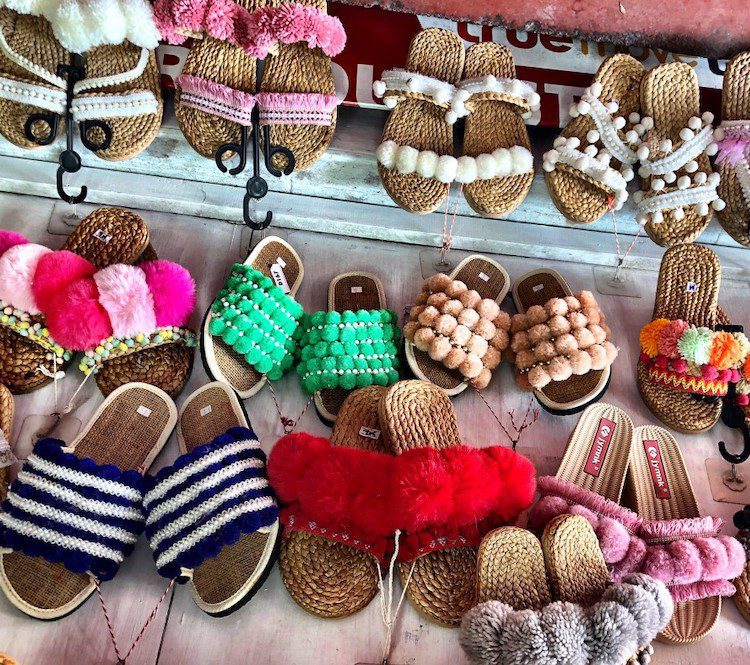 Colorful handmade shoes / Photo by Donna Campbell
From Austria to Zanzibar, JourneyWoman readers share their favourite food experiences discovered while travelling.
Abundant food at the Chatchak market
There is an abundance of local food stalls throughout the market, high on your list should be a fresh coconut shake and coconut ice cream served in a fresh coconut shell.
The popular Viva café located on the main road serves up fresh paella cooked right in front of you and is a popular hangout for international visitors, plus you get to rest, cool down and watch the tourists go by while enjoying Latin music from the owner who also performs as a DJ.
After all that shopping, don't forget to reward yourself with a local Thai foot massage at one of the many spa stalls….you deserve it!
Viva for paella / Photo by Donna Campbell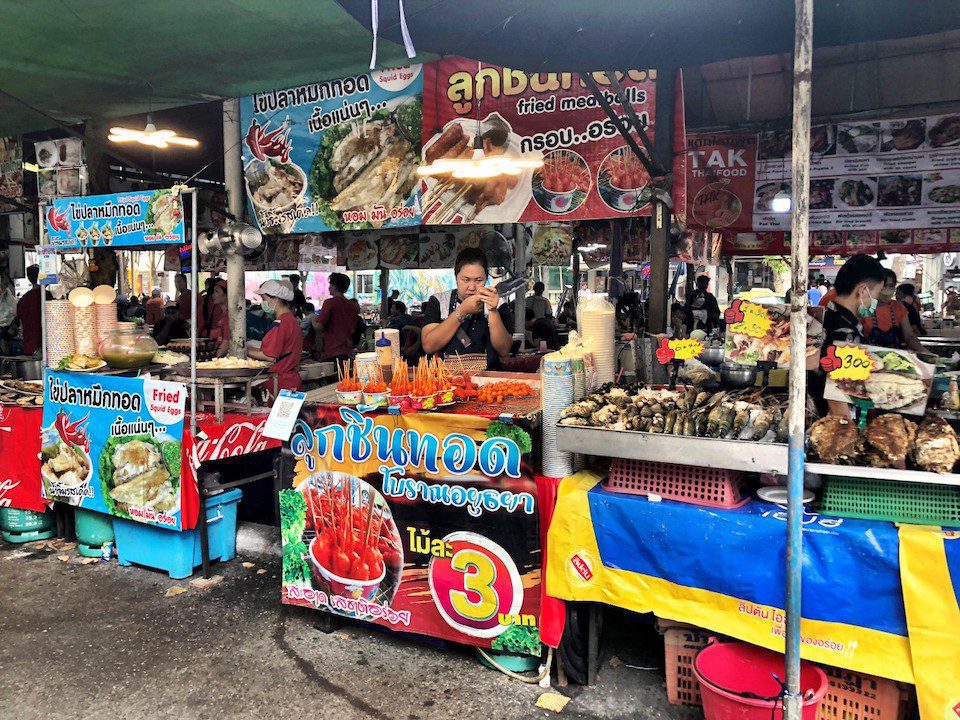 Local food stalls along the market / Photo by Donna Campbell
How to get to Chatuchak Market
By Taxi
Getting there by taxi is easy.  Depending on where you are coming from, the taxi driver will ask you if you want to go via the highway (extra toll charges apply) which is the quickest.  Ask the driver to drop you at either Entrance 1 or 3. 
By BTS
The market is easily reachable by Skytrain (BTS). The nearest BTS Station is  Mo Chit Station. Then just head to Exit 1 and walk straight for around 3-4 minutes. You will see Entrance 3 on your right-hand side.
By MRT
Bangkok's MRT is also easy to navigate.  Simply get off at Chatuchak Park Station, exit 1, then turn right and go straight for around 4 – 5 minutes.  
For the past  25+ years, Donna Campbell has worked as a senior PR/ Communications leader in luxury hotels and resorts across SE Asia, including Australia, Shanghai, Macao, Maldives and Thailand. She has been living in Bangkok, Thailand since December 2020. Her two great passions in life are travelling and finding the best local shops. 
Practical tips on etiquette, safety and less-seen places in Kyoto, from Rebecca Copeland, author of the novel "The Kimono Tattoo".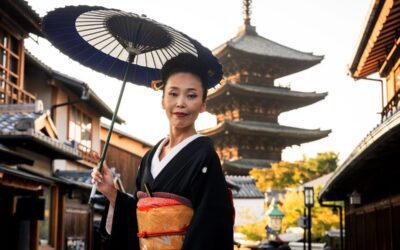 Set in Kyoto, Japan, Rebecca Copeland's thriller "The Kimono Tattoo" shows a deep reverence for Japanese culture.
Sandy Biback recalls her experience walking with elephants at an ethical elephant sanctuary in Luang Prabang, Laos.