Last updated on November 12th, 2023
Featured image: Visitors watch as a whale breaks the surface of the sea in Antarctica / Photo by Franny Bergschneider
Ways to prepare, learn and stay safe from a lifelong adventurer
by Carolyn Ray
Antarctica, the sometimes forgotten seventh continent, is often hailed as the ultimate adventure. Packing for Antarctica can be even more awe-inspiring.  To learn how to pack for Antarctica, we invited Franny Bergschneider, a lifelong adventurer who now leads expeditions at Wild Women Expeditions, to share her best packing tips for Antarctica. Not only has Bergschneider been exploring the Arctic and Antarctic since 2014 she has guided extensively in Svalbard, Iceland, East and West Greenland, the Canadian Arctic and the Northwest Passage.
(Please note: this article includes Amazon and other affiliate links, but we only ever recommend items we think are relevant for you and we've tried ourselves that will benefit you on your travels). If you decide to purchase an item through one of these links, we will receive a small commission that doesn't add any cost to the purchase of an item.)
Packing tips for Antarctica
Here are 10 of Franny's packing tips for Antarctica, for those who want to experience this untouched, wild place:
1. Prepare by practicing yoga. "The most physically demanding part of the experience is living on a ship during the Drake passage. And so, core strength is encouraged, and a certain sense of balance is encouraged. And the other physically demanding part is getting in and out of the zodiac in weather and waves. And so, having a strong core, having a strong sense of balance."
2. Listen to your guides. "You're held in this safe space on this space, the guides are the experts. You don't have to worry about where you're going and what you're doing, you just listen to the announcements, you can leave your phone in your cabin, you can leave your watch, like, it's a whole guided, self-experiential immersive experience where if you can just let go of control and fully immerse yourself in this experience, it's such a special gift. Because it's such a time to actually be living in the moment, which is something that everybody talks about. And it's actually really hard to do."
3. Take Binoculars:  "Bring your binoculars attached to your chest. You might find that you come across a family of foxes, or a reindeer, you might see some cultural remains. The Arctic is amazing because it tells the story of beautiful landscape, wildlife and human connection."
Bergschneider recommends Vortex. "It's Canadian, glass, and you can get very exceptional quality for not as much money as the Swarovski. The great thing about Vortex is that they're guaranteed for life. So, if anything happens, you can send them back and they'll fix them for you. And if they can't fix them, they'll send you a brand new pair."
Franny recommends 8 x 42 mag, although smaller ones are available. 
4. Packing: In addition to polar expedition gear, gloves and boots, we recommend sunscreen, an eye mask and earplugs, a daypack for shore excursions, and of course a bathing suit for those polar dips! If you're bringing a camera, don't forget how fast batteries die in the cold.  Bring at least two spares, and your charger. And don't forget your sense of adventure!
 5. Have travel insurance: The original JourneyWoman, Evelyn Hannon, visited Antarctica in 2016, and on the way home Air Canada partner LAN Airlines lost her luggage. It was eventually returned but not without much angst and paperwork, and while some things may have changed, we think it's a good reminder of how to prepare for the worst for an expedition. Read "It Ain't Pretty When an Airline Loses Your Bag". We like SafetyWing Nomad Insurance or search for the best policy on Insure My Trip by clicking here.
6. Bring seasickness pills.  Concerned about the 'Drake Shake/' Try ginger (stem, candied or pills), or acupressure wristbands/ scopolamine patches.
7. Bring books to read before or while you're there: Franny recommends some of Barry Lopez's books like Arctic Dreams, or A Woman in the Polar Night by Christiane Ritter. 
8. Learn about climate change and watch Thin Ice. Geologist Simon Lamb takes a look at what's really happening with global warming by filming scientists at work in the Arctic, the Antarctic and around the world.
9. Participate in Citizen Science from the comfort of your living room with Penguin Watch. Watch the live stream right here.
10. HAVE FUN! Enjoy every moment exploring the planet's seventh continent.
More Packing Tips for Your Next Adventure
Clothing tips from a plus-size solo traveller to empower women with a fashionable travel wardrobe that combines comfort, style, and confidence.
The best travel tips from JourneyWoman readers in February 2023, covering packing tips, places to stay, how to save money and safety tips.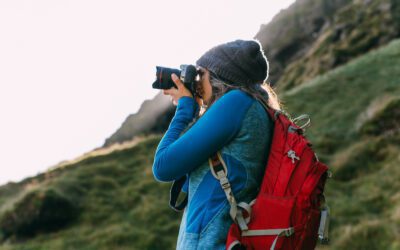 Our monthly curated list of solo travel trips submitted by JourneyWoman readers, featuring hotels, safety tips, what to pack, and more.