Last updated on December 29th, 2022
Featured image: I spent a day with Dona Juana making tortillas over an open fire, shifting my perception of food forever
In Oaxaca, where restaurants make food into an artform
By Carolyn Ray, Editor, JourneyWoman
In Oaxaca, there are tastes for every budget — from the Lechoncito food cart that serves pork tostadas for a few pesos under a streetlamp to Casa Oaxaca which looks over stunning Santa Domingo Church, to Crudo, the Japanese fusion experience that seats only four people at a time.
I am no culinary expert, but one of the things I love about Mexico is that everything is fresh. No processed food here, just right out of the ground, the garden, or if you like grasshoppers – the field. Because I was staying mostly in bed and breakfasts on this trip, I ate out A LOT. If you want to experience the 'real' Oaxaca, go into the villages, as I did for a cooking experience over an open fire. This set the stage for all other culinary experiences — I will never buy machine-made tortillas again.
Here are my mini-reviews of 12 places to try – and some others I didn't get to.
(PS. You can save a PDF or print this list by using the printer icon at the top of the article, right under the photo).
1. Adama
In a city made for wandering, the Adama Restaurant is hidden along the path of the ancient aqueduct where you will experience middle eastern delights with a Mexican accent.  Small and intimate setting not to be missed. Website here.
2. Ancestral
In the quaint neighborhood of Xochomilo, Ancestral Restaurant is hidden behind a brick wall where traditional Oaxacan dishes are exquisite.  Try the mole negro con pollo. This is a lovely safe neighbourhood to enjoy graffiti too. Reservations are recommended. Website here.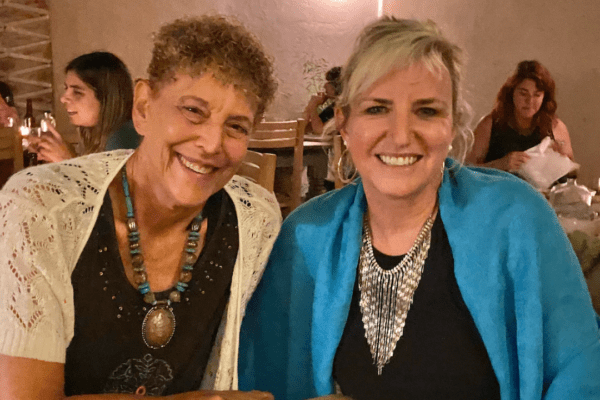 JW reader Marsha and I at Adama, one of her favourite places in Oaxaca.
3. AM Siempre
When exploring in Xochomilo, a great café for a sandwich and cold refreshments is the A.M. Siempre, serving traditional Oaxacan foods.  The whole family is there to welcome and share their hospitality with their guests.  Website here.
4. Boulenc
Combine a French bakery chef with an Oaxacan food chef and you get an unforgettable dining experience at Boulenc. I went twice and it's always busy but the service is quick and friendly.  A perfect place for a huge sandwich and cocktail in Centro. I recommend a small table upstairs in the back to get a different perspective and atmosphere.  Website here.
5. Cafe Bre
This women-owned coffee shop serves a delicious breakfast and the coffee is outstanding. It's also a great place to work in the middle of Centro. Website here.
Enjoying a coffee tasting at Cafe Bre with the Tyladona team.
Grasshoppers (Chapulite) are a staple and served with everything including guacamole.
Seven experiences for women in Oaxaca, Mexico, where creativity and community go hand in hand plus first-hand tips on where to stay and eat.