Last updated on November 19th, 2023
Jambo, Kenya! I'll be back!
by Carolyn Ray, Editor, JourneyWoman
I'm standing in a dusty, hot schoolyard as a throng of Kenyan schoolchildren surge toward me like a rolling ocean wave of happy faces, shouting "Jambo!" (Swahili for hello). They take my hand and invite me to their school, eager to show off their modern classroom. At first, I am uncertain and uncomfortable with their joyous singing and friendliness. Yet here, in a small village in the Masai Mara, it is commonplace, a simple expression of welcome.
It's August 2018, and I'm on a service trip with my daughter, Alyx, and a group of people from across North America. Alyx is going to university in the fall and the timing feels perfect. When I was invited on this trip, I thought the experience would give her perspective and reinforce how fortunate she was. Never did I imagine the impact it would have on me.
Each day, we travel to different communities near Bogani, where our main camp is located. We tour elementary schools, a hospital, a farm, several homes, women's colleges, and a Women's Empowerment Centre. We haul water jugs, mix concrete, pick vegetables and learn the art of beading with the Kenyan mamas. As we bounce along rocky roads, children of all ages run excitedly towards our open-air bus, waving frantically, smiling and yelling 'Jambo!'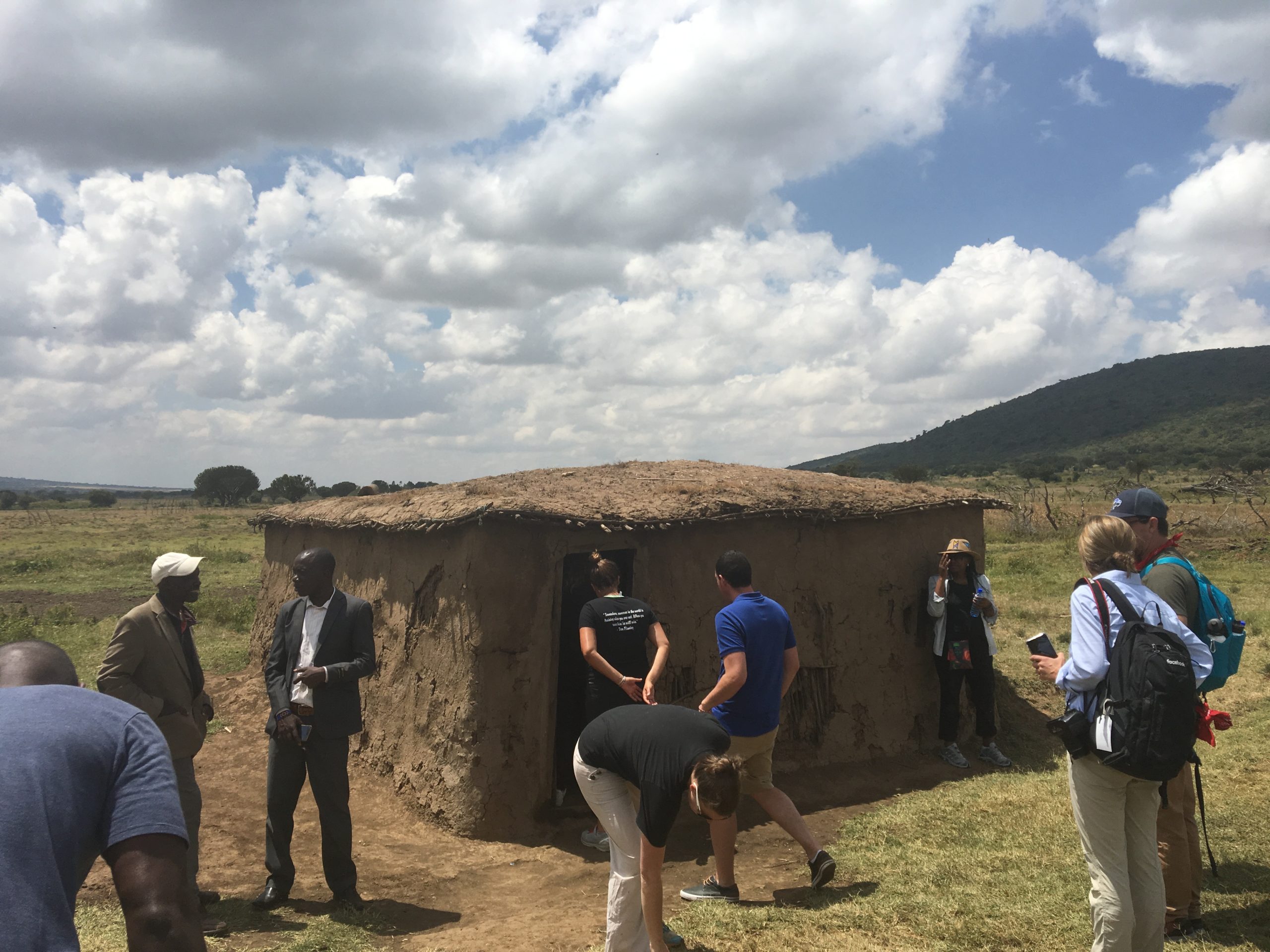 I learn the importance of introductions – the warm greeting, the clasping of palms, an open smile with direct eye contact. It's a simple acknowledgement that we are all human beings, that we are all connected. I see you. You see me.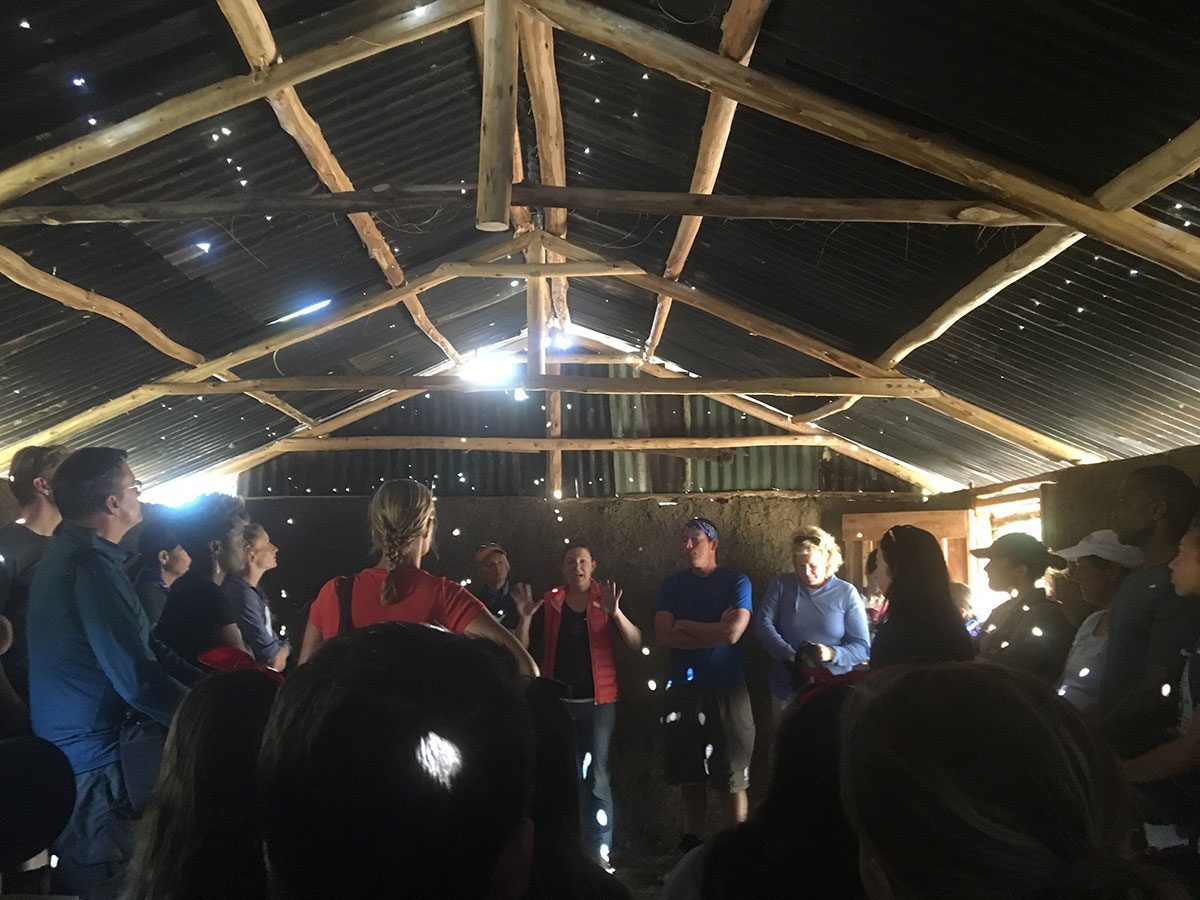 A school in a small village that stands as a testament to the past, before the new school was built 
At each school, we introduce ourselves to the children and explain our family relationships. Standing arm-in-arm with my daughter, I introduce myself as "Mama Carolyn" and say that I own my own business. Alyx says her name but they cannot pronounce it, so she becomes Alice. After oohing and ahhing, the children yell "Jambo Carolyn! Jambo Alice!" so loudly that it makes us laugh.
I marvel at the range of my emotions. I smile so much that my face hurts. Then I find myself in tears as children and their teachers thank us for our time, our questions, our caring. The older girls are intensely curious about our lives in Canada. Do we go to school? Do we have a library? Do we have a pet? What music do we listen to? What do we eat? What kind of house do we live in?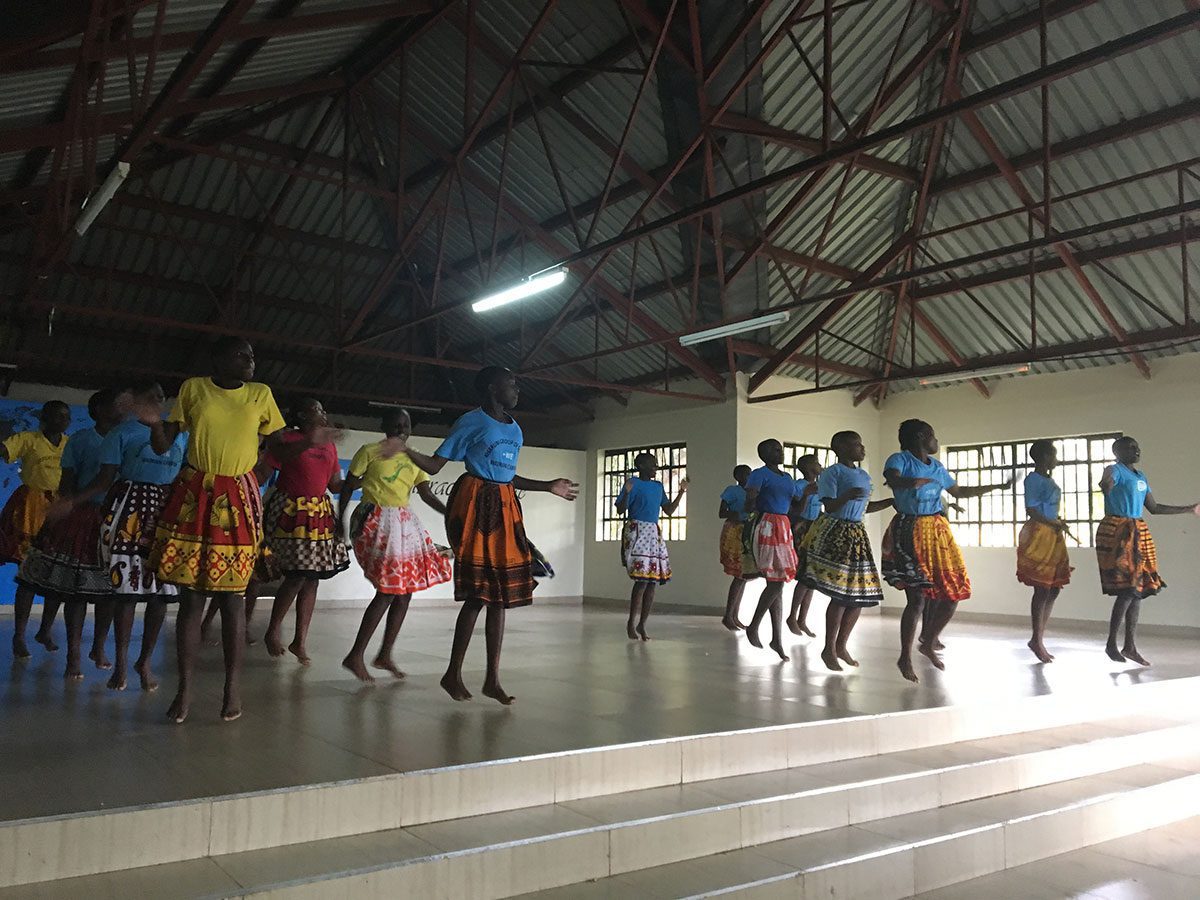 These young girls put on a joyful show fur us
At one school, I mention that I taught at a university a few years ago. The principal tells a group of children that I am a teacher. Suddenly, I am surrounded by a throng of young smiling faces who grasp my palms, hug me, and say thank you. Teachers are revered in Kenya. They are the path to knowledge and a better life.
In Kenya, most children only go to school until they are in grade six. They are needed at home to support their families. At every school, we tell the children how proud we are of them for pursuing an education. "Stay in school," we say. "Keep learning!"
The ambition of the college girls is astonishing. They aspire to be nurses, teachers, agriculturalists, technologists. They want to travel, but most importantly, they want to bring their skills back to serve their families and communities. When I ask one of the young women at WE College why she wants to be a nurse, she tells me of a young disabled person in her community, and how she wants to help them have a better life.
Education is a privilege. The older girls live away from home and adhere to an incredibly rigorous schedule that starts at 4:50 am and lasts until 10 pm. They study science, math, and English – and I was amazed to learn that they are also taught leadership values. They recite these values, which include phrases like "enjoy every moment' and 'be grateful'. Together, we talk about what these mean to us and share examples of what they are doing every day to bring them to life. The dialogue leaves me hopeful and optimistic.
We are a group of about 60 mothers, fathers, daughters and sons, and we become a family. We cry, we laugh and we hug each other constantly. Supporting. Empathetic. The simplest things affect us. How the children are so proud to sing their ABCs, or dance for us. How the mamas show us their daily ritual of hauling water on our backs, and that they can contribute financially to their families by beading. How the village elders desperately want their children to learn.
Each day after dinner, we are asked to share our thoughts. What impacted us? What moment broke through that veneer of Western expectation? I have always found it hard to articulate complex emotions in words. I stumble, I'm somewhat uninspiring and incoherent.
But the young people on our trip don't have my hesitation. One of the wonderful young women who came with her family captures it perfectly, bringing tears to my eyes when she says: "Living in our homes with clean water, a closet full of clothes, electricity and abundant food, we look at Africa and we pity them. But that's wrong. We can learn so much from them. They only know gratitude, joy, humility and happiness." It was one of the most profound things I heard, from a 15-year old.
On our last night in Kenya, we talk about how to bring our learnings from Kenya back to the real world. We are ready to be the change; we just don't know how to do the change. A few weeks later, back in Toronto, I have an opportunity to show change in a way I had never imagined.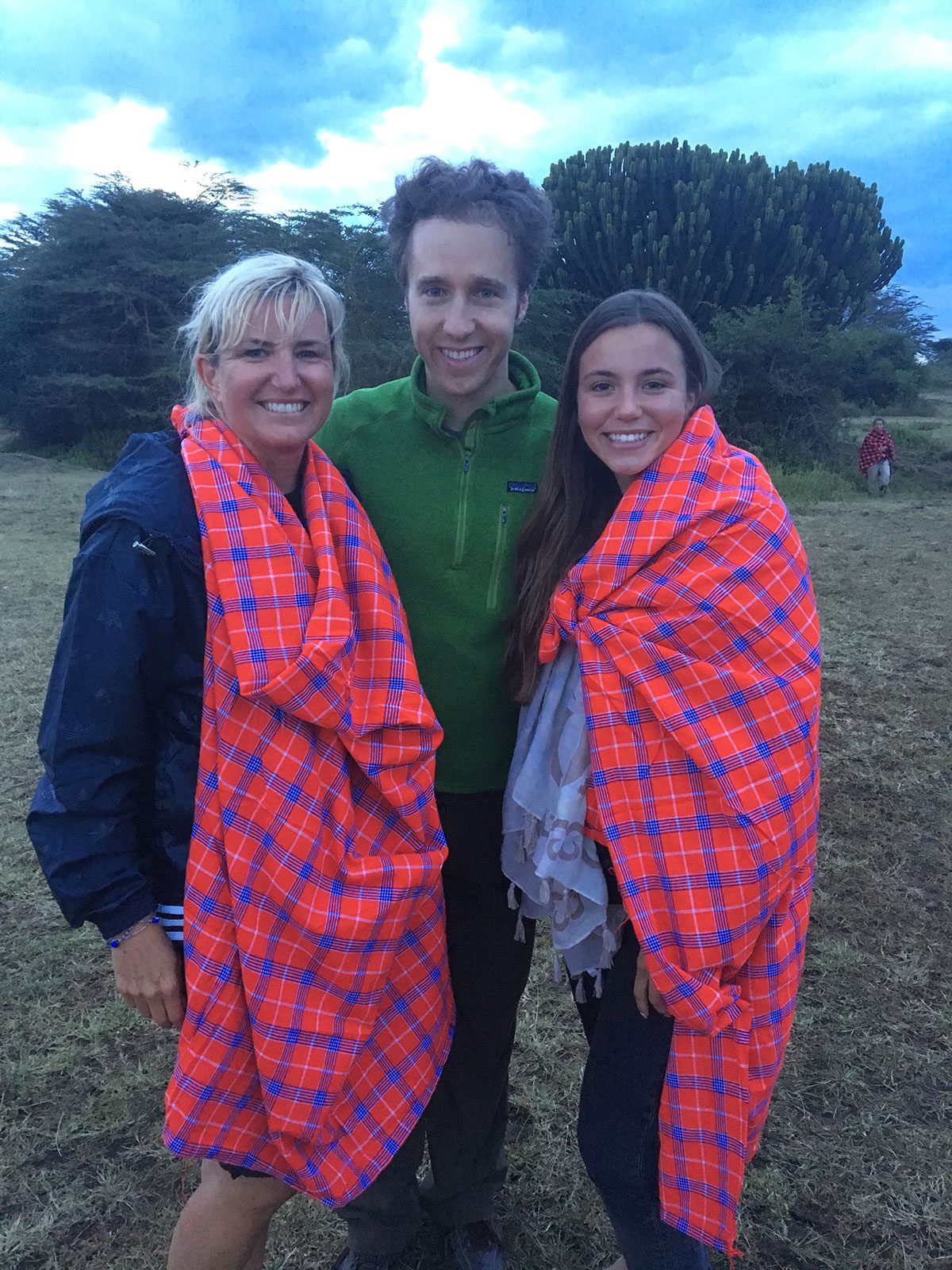 Two weeks after I come home from Africa, my house sells suddenly. It had been on the market for months, and I had given up hope. But suddenly, I receive an offer with a six-week closing date. This gives me an opportunity – a chance to reinvent my life.
It's not easy, but I get rid of everything I own. Furniture, clothing, paintings, rugs, couches, pots and pans – all of it. Alyx and I donate our clothing, shoes, coats, boots to charities and our formal wear to a local prom boutique. By mid-October, my house is empty. I rent a small storage unit for some beloved antique furniture, family heirlooms and musical instruments, including a 120-year old piano made by my great-grandfather. I move into a furnished rental apartment and give back my leased car.
I'm proud that Alyx applied her learnings to her course choices at university, like women's studies and global development. We stopped using single-use plastic. We embraced walking and public transit as our primary means of transportation. We tried to be more empathetic, caring and generous with everyone.
There are so many learnings and shifts when you travel. Often the question is 'how will you bring these learnings back into your life in the real world?' This is the real meaning of travel. When you go to places where the spoken language and culture is so different from your own, emotions are the vocabulary that connects you. The touch of a hand, a genuine, welcoming smile, looking into a young person's eyes – these are my greatest memories of Kenya. Remembering these moments and respecting different ways of life are what I will always try to bring with me, no matter where I travel to.
I've tried to reflect the simplicity I witnessed in Africa into my life. I feel free, empowered and grateful. I know that this is a gift. I can put my belongings in a backpack and go anywhere. And despite COVID-19, I feel like the world has opened up to me in ways I never imagined.
I may not get it all right, but I intend to keep trying and bring the lessons from the people of the Masai Mara into my life. Jambo!
JourneyWoman Live: Watch "Portraits of Motherhood", in honour of Mother's Day in May 2020, with Linda Higton of Global Heart Journeys, who leads women's tours to Kenya.