Last updated on January 18th, 2023
Vibrant color / Photo credit: Bev Malzard
The Musée Yves Saint Laurent is a veritable banquet of colour
By Bev Malzard, Guest Writer
Morocco is a veritable banquet of colour, beauty, history, traditions and exceptional hospitality. Its major cities offer up a way of life in the medinas and souks that reflect the medieval past in all its vibrant glory. Marrakech is one such 'Red City' that has been witness to ancient empires plying their trade via Timbuktu bringing spices, fabrics, craft, leather goods, animals and food for centuries.
But not all in Marrakech is ancient. A few years ago, the amazing Musée Yves Saint Laurent opened and visitors and locals alike have thronged to view the beauty of the French designer's work. Set in spectacular Jardin Majorelle, with its abundance of giant bamboo, yucca, palm, cypress and banana tree, bougainvillea and otherworldly cacti, the garden is intimate and inviting. These earthy, natural colours contrast vividly with the cobalt blue façade (called Marjorelle Blue) of the villa lovingly restored by Yves Saint Laurent.
Magnificent jewellery / Photo credit: Bev Malzard
Colorful pathways / Photo credit: Bev Malzard
The French fashion legend said he 'found colour' in Morocco and made Marrakech his second home, which he shared with his partner Pierre Berge. The Musée Yves Saint Laurent Marrakech is a joy, a revelation, and to see the exhibits is an emotional experience. I had a little tear in my eye while looking at the clothes that were the example of exquisite design and the joy of creativity. To see it is to appreciate the origins of the inspiration for the various collections and where the fabrics, decorations and colour are derived from.
The museum is dedicated to the couturier and his work. The building is made from local bricks and the architecture is boldly formed like the fabric of a dress with the curve of a draped cloak. There's a rotating cast of 5,000 fashion items of clothes, and 50,000 pieces of accessories on display to be absorbed.
Yves Saint Laurent presented an entire garden to Marrakesh, the city that adopted him in 1966. Saint Laurent and Pierre Bergé bought the electric-blue villa and its garden to preserve the vision of its original owner, French landscape painter Jacques Majorelle, and to keep it open to the public. The garden began cultivating in 1924, and thanks to Marrakshi ethnobotanist Abderrazak Benchaâbane, the psychedelic desert mirage of 300 plant species from five continents continues to be preserved.
After a visit to the fashion museum, a gentle stroll through the gardens, visit Majorelle's art-deco studio, home to the Musée Berbère, which showcases the rich panorama of Morocco's indigenous inhabitants through displays of some 600 artifacts.
Photo of artist-painter Jacques Majorelle in the Marrakech Majorelle Garden at the museum / Photo credit: Bev Malzard
This is a stunning experience, a most beautifully curated museum; the collection includes wood, leather and metalwork, textiles, musical instruments, religious trappings, and a display of the various regional traditional dress. Best of all is the mirrored, midnight-black octagonal chamber displaying a sumptuous collection of jewellery.
From the museum, you exit into the boutique with its handsome coffee-table books and pricey souvenirs: Majorelle blue slippers, perfume, and pillows embroidered with YSL. You can't leave without a little something – in blue of course. My picks: A light-as-a-feather cashmere scarf and two rather rustic drinking glasses with a coloured motif around the rim.
Colorful pathways / Photo credit: Bev Malzard
A version of this article originally appeared in Australia's My Discoveries Magazine. It is being used on this website with permission from the author. On this journey, she traveled with www.bypriorarrangement.com, a small group of luxury tours specialising in trips for women up to 10 in a group.
Bev Malzard is an Australian travel writer, journalist, and editor who has been writing travel since the first planes took off. She is a member of the Australian Society of Travel Writers, freelance writes for magazines and her own blog. She loves planes, trains, and ships to explore the world. In her spare time, she likes to hang out at the beaches in Sydney and on weekends bake cakes. Follow her journey at travelgaltravels.com.
With 54 sovereign countries, the African continent offers solo women vibrant communities, a range of wildlife and diverse cultures.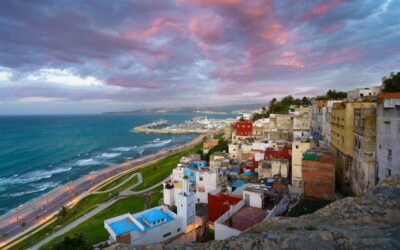 For our March 2023 book of the month, we return to Morocco, for a gripping psychological thriller set in 1950s Tangier.
Older adventuress Diana Eden discovers that Morocco is a feast for the senses as she joins Intrepid Travel on a 12-day culinary tour.