Last updated on November 19th, 2023
Featured Image: Diana and her travelling companions ride camels in the Sahara Desert / Photo provided by Diana.
How to Travel Smart
By Diana Eden, Contributing Writer
Morocco makes its way on to my must-see list via an article on journeywoman.com. I recruit my similarly adventurous younger sister Carol to make the journey with me.
"You are traveling alone?" is a concern many friends voice before our trip, but my research points to Morocco as one of the safest countries for tourists. With modest dress and behaviour, we – Canadians in our 70s speaking moderate French and having a handful of Arabic words in our repertoire – have no cause for worry.
Our outbound journey is a disaster. Air France staged a one-day strike, and we are delayed, then rerouted. After 40 hours of travel, we land in Casablanca, an hour away from our first night's stay in Rabat. We have to take a 60-minute taxi ride in the dark, arriving near midnight. As we approach the old medina's medieval fortressed walls, we discover the entrance blocked by none other than a major film crew with multiple camera trucks, trailers, and barricades.
We stumble out of the cab and make our way into the dark alleys, dragging our suitcases over bumpy surfaces and feeling quite lost and frightened. Our simple little map is no longer useful as we had entered the medina at a different point. We pass a small shop where some local men and a couple of teenage boys offer to help us. Talking rapidly in Arabic, they telephone our riad for directions, grab our luggage, and start off at a steady clip down more dark alleys. We can barely keep up. "Oh no," I think, "in all my 70 years of travel, I have never been kidnapped by foreign men in dark allies – let this not be the first time! Have we been foolishly overconfident? Was everyone back home right?"
But lo and behold, we are delivered, breathless and grateful, to a modest wooden door marked with the small sign: Riad Senso. Contrary to what I expect, the men want no tip and bid us a cheery goodnight – the goodness of humanity winning out.
An interior view of the Riad Senso in Morocco / Photo Credit: Carol Moore-Ede.
Top Tips for Women Traveling in a Muslim Country
1. Stay in a riad – a safe and secure balm against the noise and chaos
Ducking inside Riad Senso, I immediately know why I have chosen traditional riads over modern hotels. We go from dark to light with one step over the threshold, from fear to safety, from chaos to calm. We step into the symmetry of white Islamic keyhole arches around an inner courtyard.
Riads are traditional Moroccan houses built around an inner courtyard. The term comes from the Arab word 'ryad' (meaning 'garden'). There are no exterior windows; each room faces inward to the courtyard in line with the Islamic idea of privacy. What's more, this helps to keep the interior cool, particularly during hot Moroccan summers.
Each time we walk into one on our journey, it's like stepping into another world. No noise except for the sound of waterfalls tumbling into a small pool. It is cooler than outside, and the lighting is dim. We feel safe. We feel protected. We feel relaxed.
2. Hire a driver
Both my sister and I have travelled all over the world on our own at various times in our lives and think little about doing it again. But wisely, we decided against chauffeuring ourselves. We hire a car and driver.
Our driver and guide's name is Abdul, a cheerful fellow who seems eager to please us.
3. Trade your Western lens for a wider angled one
For Abdul, there is some resistance to taking directions from two women. I sense an internal conflict between wanting to please us, his clients, and his view of a woman's role. Sometimes he takes us to tourist shops in which we have no interest, despite our protestations. We want to stop in the small desert towns and visit the local markets, which tempt us with booths filled with brilliantly hued treasures. We want to walk among the local people where Western tourists are nowhere to be seen. We want to even smile and talk with the women and children, but Abdul only drives faster, ignoring our pleas to stop.
Whatever Abdul's views towards women, he is very protective of us, for which we can only be grateful. His culture is not for us to change but to observe.
Diana (right) with her sister Carol and driver-guide Abdul / Photo provided by Diana.
Abdul walking 10 steps ahead / Photo provided by Diana.
4. Avoid unwanted attention
As tall, fair-skinned, and blue-eyed sisters who many take for twins, Carol and I draw a fair amount of curious scrutiny when out and about but for the most part, we do not feel harassed. The over-eager hawkers can be aggressive, but you will quickly learn to firmly say La, shukran (no, thank you) and Don't touch me! Shooma! and to walk away with purpose and confidence. Avoid eye contact and don't get flustered.
Pick up a few key words and phrases before you go with Babble!
One time we escape the watchful eye of Abdul, turning down a side street to look at a Jewish monument. We are immediately surrounded by men and children clamoring to touch us and then demanding money for being our "guide." Once Abdul catches up with us (and scolds us!), he gets them straightened out right away. We are grateful and say we feel like we have our own undercover bodyguard.
When we roam the souks, Abdul walks either 10 paces ahead of us or 10 behind us but explains that he cannot appear to be our guide as the local guides are very territorial. But he never lets us out of his sight
5. Window shop the souks at a safe distance if you don't like to haggle
The souks are a source of fascination, a feast for the eyes, with a glorious abundance of colorful scarves, djellabas, purses, jewelry, everything a woman would love. But they are also source of frustration if you don't like the game of bargaining.
We found exhausting and off-putting the intense pressure to buy if we even lightly touched an item. We are not bargainers by nature or culture and often are far too polite to back out of the intense sales pitches. Though Carol and I clutch our cross-body bags as we shop, we never actually feel unsafe or open to pickpockets.
6. Shed your Western inhibitions for an authentic Moroccan hammam experience
This tip has little to do with safety, except that we often feel truly exposed when naked.
I adore my hamman visit just outside Quarzazate. Stripped down to only underpants, I am taken into a small room with lovely mosaic tiles lining the walls, a domed ceiling, and a fountain. Soon two women enter in bikinis with defoliating mitts and scrub me down from head to toe, leaving me covered only in olive-based black soap called sabon beldi. Then they wash my hair, massaging my scalp until I am in bliss before rinsing me off with buckets of warm water.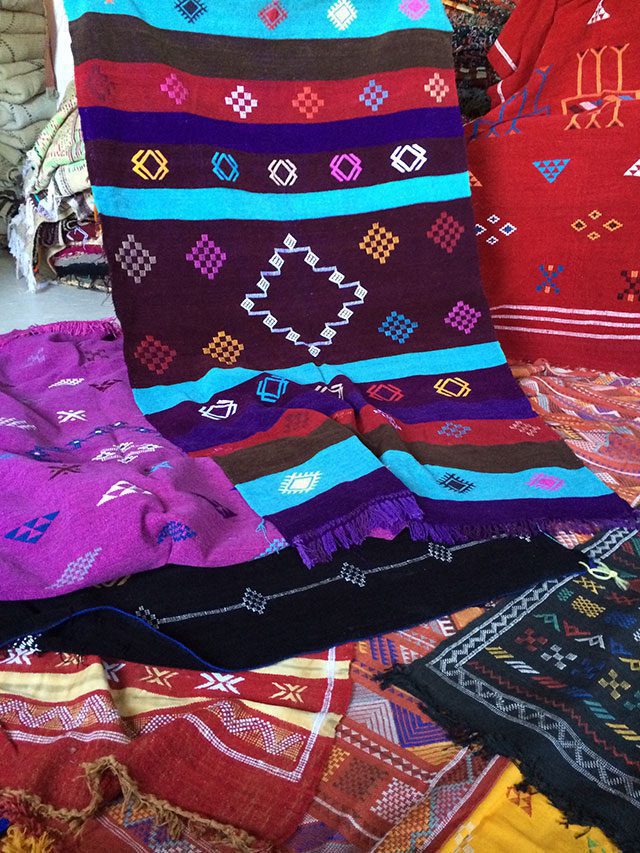 Colourful rugs at a souk / Photo provided by Diana.
At first, it feels very strange to be washed so thoroughly by two women, but as I relax into it, it occurs to me that I haven't been washed by a woman since I was a small child. With that thought, I succumb to the wonderful feeling of being cared for by Moroccan mother figures – the feminine bathers divine!
The bottom line
Carol and I are glad we have braved the unknown in Morocco. We are glad we have stayed in the riads, caught a glimpse of the busy world of the medinas, and that we fulfilled a lifelong dream to ride camels into the sunset and view the Milky Way from the sandy floor of the Sahara Desert. Compared to the noise of the cities, the desert's silence is awe-inspiring. I lie in my Bedouin tent, my sister next to me, and think that I have never felt so at peace.
More to learn about Morocco…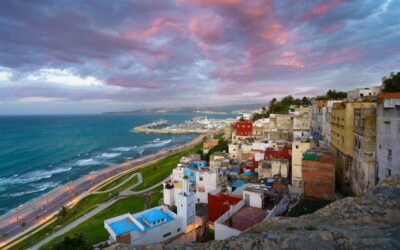 In Maria Duenas' "The Time In Between", we learn about the Spanish Civil War from the perspective of a seamstress turned skillful spy.
read more