Last updated on November 19th, 2023
Featured image: My Red Light shift manager Sunny regales travellers with stories on Gudowski's Secrets of the Red Light District in-person tour | Photo provided by Alexandra Gudowski
What Two Sex Workers Taught Me About Sex, Love and Empowerment
By Amanda Burgess, Contributor
NOTE: Some names have been changed to protect the identities and privacy of the parties involved.
Recently, I was gifted with an opportunity to virtually walk through the doors of My Red Light – the world's first non-profit brothel in the Red Light District in Amsterdam – and sit down for some open, honest dialogue with two fascinating women, Sunny and Rose. Secrets of the Red Light District is an Airbnb Virtual Experience curated and hosted by Alexandra Gudowski, founder of Who Is Amsterdam Tours.
Over the immersive two-hour session, I laughed. Teared up. Felt an affinity with these two that only women living in a man's world can feel. I walked into that session with an open mind, and walked away with some valuable lessons about sex, love and empowerment.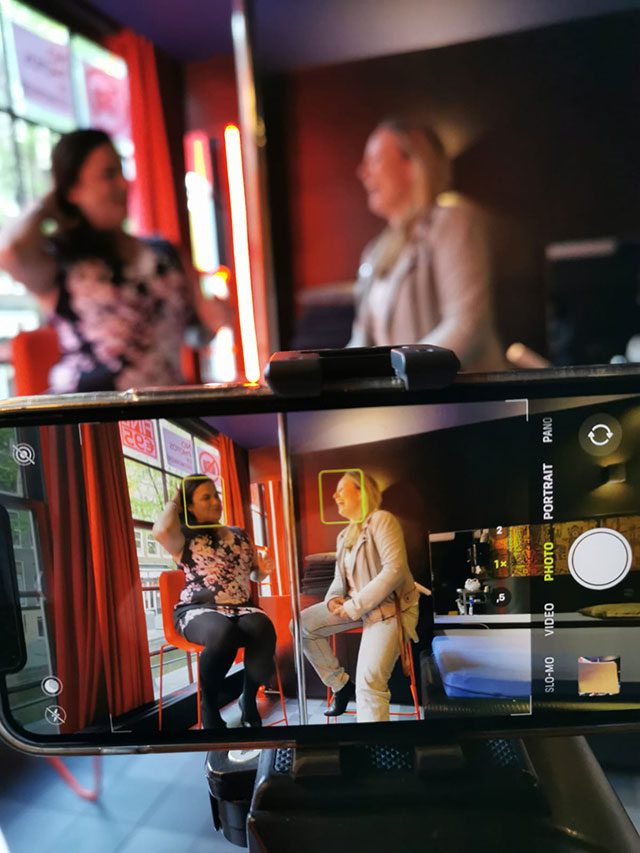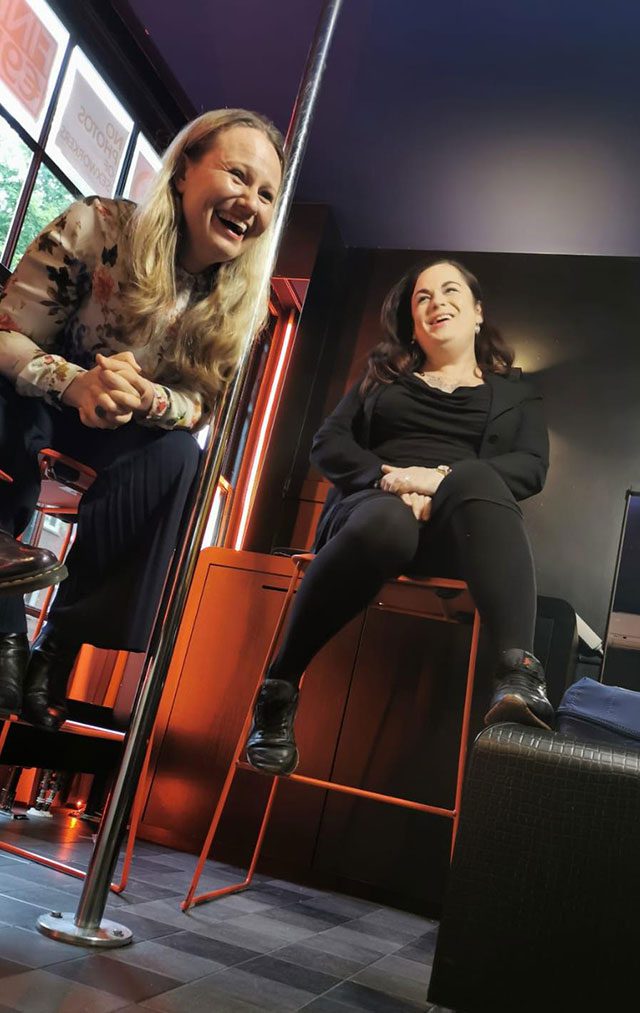 Gudowski and Sunny share some laughs during our virtual tour of the Red Light District in Amsterdam / Photos provided by Alexandra Gudowski
Five lessons learned from two immersive hours in an Amsterdam brothel
1. These are strong, smart, savvy women who have made a career choice – they're not victims
Sex work is a legal, regulated profession. However, the sex workers of the Red Light District are often perceived as weak, pitied, reviled and judged. Gudowski says most of that judgement comes from other women. Since My Red Light is run by former and current sex workers, the women who rent rooms at the brothel are treated as what they are – entrepreneurs – instead of productized or marginalized. They're also equipped with tools to ensure business success, from banking advice to language lessons.
2. Open minds open windows
When observing the sex workers of the Red Light District through the dividing lines of a window, it's easy to judge them – for their choices, what they're wearing (or not wearing), how they entice clients. But when you put your preconceived notions aside, sit down and have a conversation – listening, asking questions – it gives you a window onto other worlds and expands your worldview. Remember, when a judgement bubbles up inside us, it's a cue to get curious. Because it says so much more about us than the person we are judging.
As Gudowski encourages: "Literally see the person behind the curtains. Look beyond her smile and put aside the labels that society has been taught to put on her for her choice of profession. And try to understand why. I thought I had an open mind but becoming friends with these women has helped me to go deeper, still."
3. It's not all about sex – it's about unmet needs
There's a common misconception that the work these women do is all about sex. It's not. It's about unmet needs. Sometimes, those needs are sexual in nature. But often, male clients simply want to talk. To be heard. To feel seen. To share their emotions with a neutral third-party without fear of judgement or ridicule. Unmet needs do a lot of psychological damage. They also undo many relationships. See the next lesson for more on this thought.
4. Relationships hinge on one BIG thing – communication
The male clients these women see often don't feel heard by their partners. They don't feel comfortable sharing their deeper desires with their partners, either for fear of judgement or because they have been judged in past attempts. But kinks, fetishes and fantasies don't magically disappear when met with refusal, denial or judgement. They simply go underground…and sometimes get fulfilled elsewhere. Get curious with your partner. Ask them questions. See if there's a middle ground where you can both safely explore your fantasies. You just might get your sexy back – or find your boundaries expand.
Gudowski says that's exactly what her exploration of the Red Light District and her friendships with the women there have done for her. "Through creating this online experience, I find that my own discomfort and hesitation with discussing sexual matters publicly has shifted. I now believe that sex is a normal topic and talking about it is not a big deal."
5. Sex is an ongoing negotiation
Sex, like marriage, is a contract that needs to be revisited and re-upped again and again for a partnership to be successful. Think about how much you as a person change in five years. In ten. In 20 or 30. Now, isn't reasonable to assume that how you're wired sexually, what excites you in bed and out, might evolve or expand as well? That you can lose yourself sexually as easily as you lose sight of who you are? The same is true of your partner. It's sometimes deeply uncomfortable for people in Western cultures to speak frankly and openly about sex. But it's necessary. Why do we devalue our own desires in our intimate relationships? I'm taking some cues from two empowered women on this one.
Do solo women travellers think it's cool to have casual sex with strangers on the road?'
Entering a working room in Amsterdam's Red Light District
Gudowski first discovered the Red Light District in Amsterdam as a tourist when she moved to the city 14 years ago, unfazed by what she saw since she grew up in Hamburg, which has its own. Her relationship with one of Amsterdam's oldest neighbourhoods changed when she founded Who Is Amsterdam. "I thought: How can I make it personal? How can I help people understand and see the women behind the curtain?" she says.
Growing up internationally and working in sales and marketing for global brands like Heineken gifted Gudowski with an expansive worldview, a penchant for storytelling, and a desire to create authentic travel experiences that connect travellers with locals in a meaningful way. She interviewed sex workers at the Prostitution Information Centre, developed relationships, and began building a platform where sex workers could share their stories and travellers could ask questions – creating open-minded conversations that lead to learning moments. Her work gave her an opportunity to develop friendships with a group of open-minded women who work in the Red Light District.
I've been to Amsterdam several times and have walked its Red Light District, set smack in the historic city centre, where the ban on brothels has been lifted since 2000. I've felt the tension of an inner struggle between intellectual interest in these undeniably attractive and sensual women enticing clients from windows, and not wanting to stare.
So, the prospect of a two-way dialogue with women who've worked the windows and brothels of the Red Light District and beyond – and were willing to share their personal experiences with us – was intriguing, to say the least. My journalist's nose for a good story was twitching from the moment I received the invite.
My afternoon with Sunny and Rose was an eye-opener for me. I consider myself an open-minded, free-spirited woman with an expansive worldview. I've never looked down my nose at one of the world's oldest professions, but I'll admit to holding preconceived notions of sex workers as victims.
Before we begin our chat, Gudowski regales us with the history of the Red Light District, and some salient points about My Red Light. The brothel is predominantly managed by former or current sex workers. Before an enterprising sex worker can rent one of its 14 rooms, they are vetted by management. If the interviewer suspects that the applicant is being trafficked, pimped or otherwise exploited – and as current and former sex workers, management has a keen eye and ear for telltale signs – authorities are called in.
The camera pans back to reveal a wider shot of the room where Gudowski sits with Rose and Sunny around a stripper's pole. Brightly painted walls in jewel tones bring to mind some burlesque clubs I've frequented – the effect is sexy with a touch of class.
Sunny is a make-up artist who has worked in management in retail and restaurants. When she began her transition – the process of changing one's gender presentation and/or sex characteristics to align with their internal sense of gender identity – finding work proved challenging, so she decided to do sex work. For 10 years, she was a high-class escort who ran her own business internationally – from Paris to Seoul, Hong Kong, Singapore, Australia and New Zealand. She tried the window brothels in Amsterdam for six months but decided it wasn't her thing. She started working at My Red Light two years ago as a shift-manager, and slowly stepped down from sex work, shifting fully to management only last year.
Rose is a window worker and passionate activist for the cause of smashing the stigma that surrounds sex work. She is frank and challenges our group to shake off our conditioning and get curious.
As they reveal their world to us in refreshingly unreserved, witty anecdotes, I am struck with a single thought that lingers long after the session ends: These are women I'd like to sit down and have a drink with.
Intrigued? You can take a virtual tour of Amsterdam's famed Red Light District through Who Is Amsterdam – or wait until you can experience it live and in person.
If You Go
Gudowski's top tips for a positive Red Light District experience:
Prepare yourself: "If you are from a reserved culture or country, mentally check in with yourself, because you're literally in the middle of the Red Light District once you step out of Amsterdam Central Station.
Educate yourself: "We have a Prostitution Information Centre where you can get accurate information about sex work in Amsterdam, and you are totally welcome to join us on a Who Is Amsterdam Tour, of course! Educate yourself first, and then go discover it with new eyes. Even see a sex show!
Be curious: "It does something to these women when they experience a negative reaction from people. Be kind and treat them with respect. A smile goes a long way. Keep an open mind."
Follow the rules: "Do not take photos of the women behind the windows. It is disrespectful to the sex workers who are simply doing their job. Also, no drinking on the street!"