Last updated on November 19th, 2023
Featured image: The sleepy town of La Herradura, Spain is the perfect place to relax and unwind | Photo by Diana Eden
Relax and unwind in La Herradura
by Diana Eden
It all started when a phrase caught my eye: "as yet undiscovered beach town free of towers of condos." Bingo!
I had been searching casually for somewhere to go in the south of Spain when I read about La Herradura Bay, which means The Horseshoe Bay, about an hour's drive east of Malaga. The older town has typical whitewashed Andalucian houses on the steep sides running down to the eastern side of the beach, a 2 km long pebbly expanse. No high rises here! A perfect place for a week to relax with family and friends.
Now I was fixated on finding a place to stay. Yes, I built the vacation around finding a villa here, which I did on VRBO (find the villa here!). It was perched high above the small town with a view over the bay to die for. I invited my best friend, my sister and husband, and two other couples, and between the 8 of us, it cost $300 each for the week! 
Looking for the perfect holiday villa? Check out VRBO here!
Tips for a relaxing vacation in La Herradura, Spain away from the hustle and bustle
1. Keep an open agenda and an open mind
Have very little on the agenda other than to relax, appreciate one's surroundings, and be in the moment. Unpack only once, don't set a schedule, and appreciate the local rhythms. Don't be the "other."
La Herradura proved perfect for those ambitions. As we drove up and up the steep hill toward our house for the first time, we caught glimpses of the shimmering blue waters of the bay, and brilliant fuchsia bougainvillea spilled over walls at each hairpin turn. We arrived at the blue gate of the villa and, as with every vacation rental, anxiously pushed open the front door, hoping against hope that it would live up to our expectations.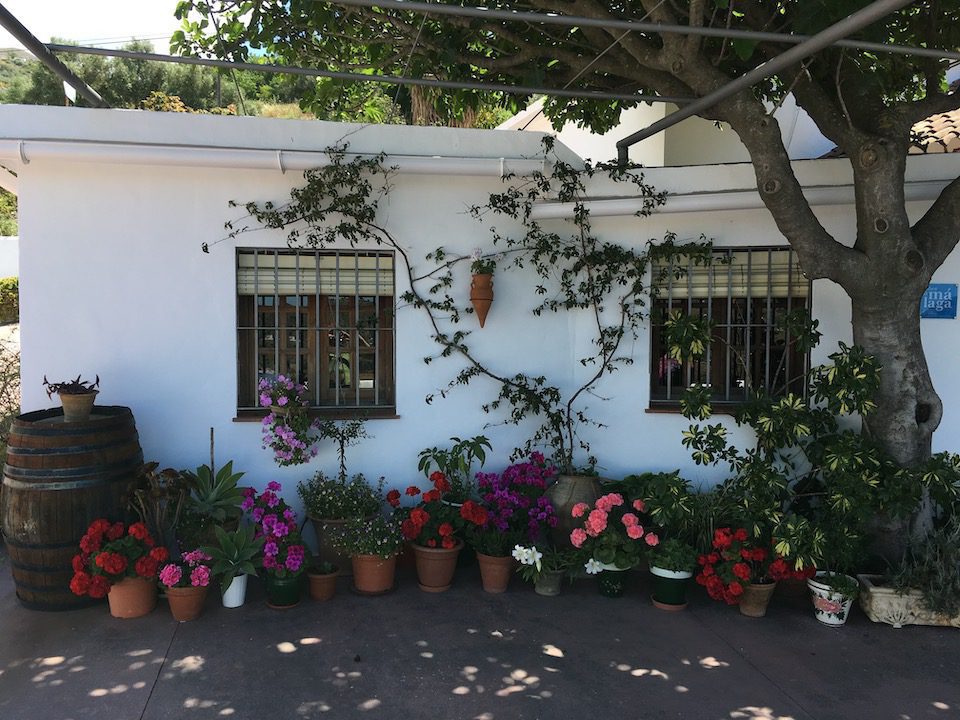 A small winery "Vinos Jarel Bottega" just outside the village of Cómpeta  / Photo by Diana Eden
It did. Ahead was a modern living room with a huge picture window and one of the several balconies overlooking the water. To the left was the kitchen with a door out to a lovely patio overlooking the generously sized (but unheated) pool. One bedroom suite was upstairs, a large white room with a balcony. Downstairs were three more bedrooms decorated with the clean white and royal blue palette of the Mediterranean. They all opened out to a grass terrace of good size, with ample outdoor sofas and chairs.
2. Stock up on arrival with basic necessities for breakfast and snacks
An advance party was sent into town, just 4 minutes back down the windy road, to buy basic supplies – wine, cheese, fruit, coffee, and breakfast staples. Being Saturday night, only a small local store was open, but it had everything needed. Pointing and smiles did the trick when the right words in Spanish failed us.
3.
Don't set an alarm. In fact, don't even take one!
My favorite part of this kind of vacation is the mornings. I can wake up at my own time. The early risers have already gone for a walk, my sister Carol taking brilliant photos of the cubist-looking architecture adorned with colorful flowers, and my friend Paul already spotting birds to add to his list. I am near to last up and join the group who are sitting around the wooden table by the pool. Lavone is making pancakes. We are so relaxed and happy. This is heaven.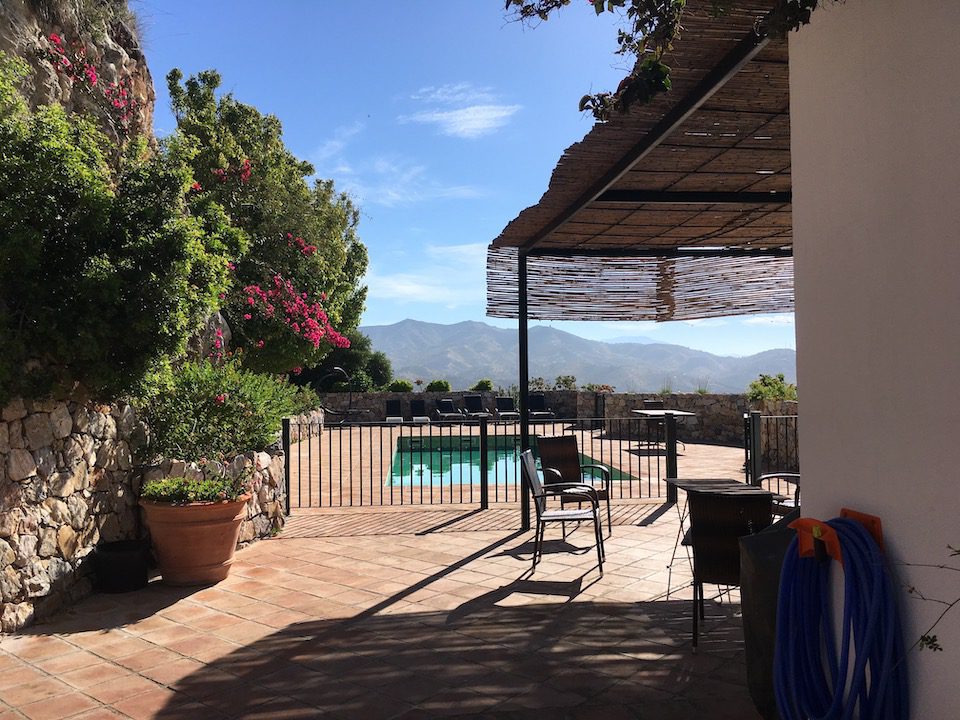 The patio space and pool at Diana's villa in La Herradura, Spain / Photo by Diana Eden
4. Choose a location within an hour of places you want to visit
One day we drove the 60 minutes to Malaga to visit an Andy Warhol exhibit at the Picasso Museum (find tickets here). The longest day we spent was just over an hour away in Granada, where we toured the historic Alhambra Palace and Fortress. We felt we couldn't miss it! Started in 1238, it reveals shapes, both European and Moorish, and intricate Islamic decoration within its exquisite spaces.
Other than that, we took short trips with no deadlines and very little in the way of must-see monuments. Being in the moment allowed us to discover places of interest we found by chance, not a tour book. 
Within a hop and a skip from La Herradura was Almunecar (12 minutes) which DOES have massive high-rises but also a pretty neat castle, San Miguel. And only 20 minutes away was the seaside town of Nerja, with its lovely tiled beach area, cafes, and the famed caves.
Another day we drove a short distance back toward Malaga and then turned off on one of the minor roads that took us up and inland to the white villages. It was a glorious day with brilliant sunshine. Along the twisty road, as we climb, we see bucolic farmhouses here and there, country homes, or just local habitats. In the distance, we see a few white villages, one of which was encircled by jacarandas in full bloom, appearing to rise out of a purple haze.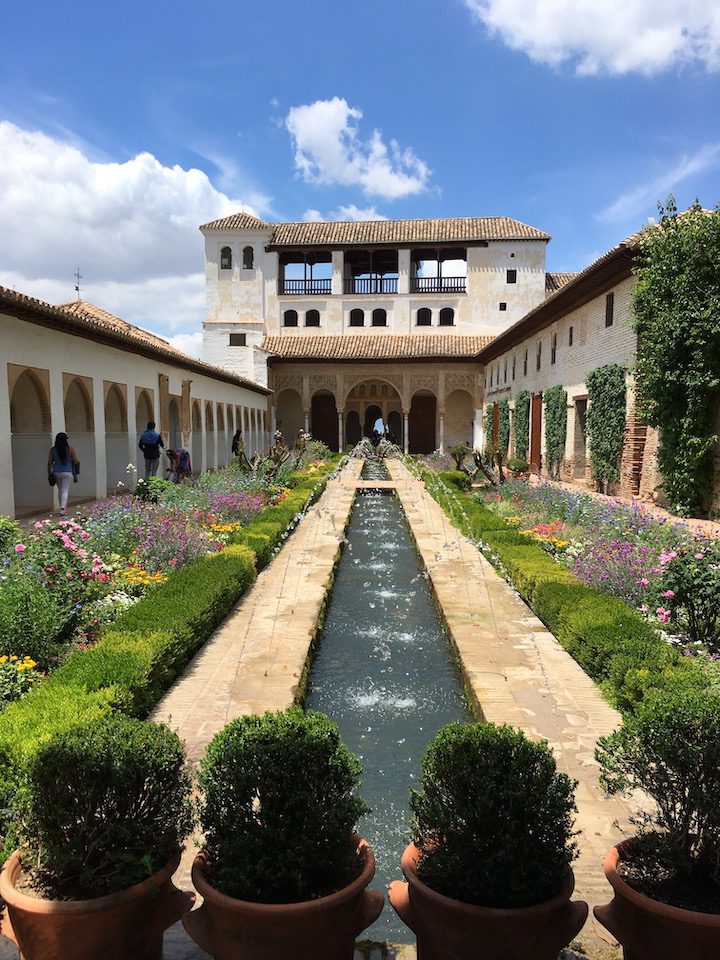 Generalife Fountains at Alhambra Palace, Grenada / Photo by Diana Eden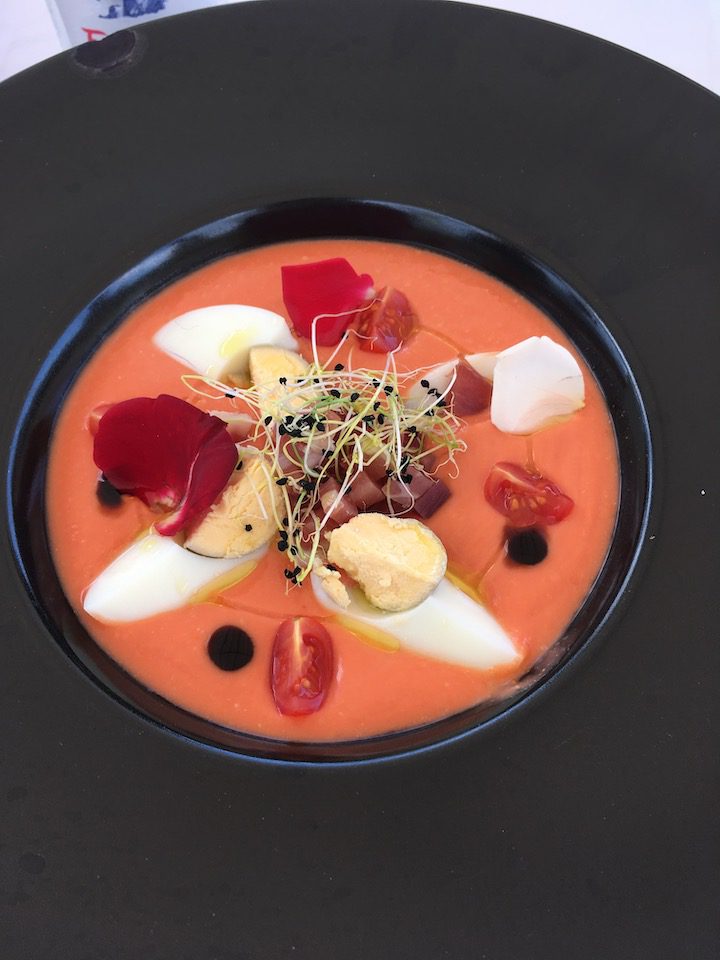 An artistic lunch found from a local's recommendation / Photo by Diana Eden
But nothing prepared us to turn one last corner and come upon the village of Cómpeta, appearing out of nowhere, it seemed. It took my breath away. We stopped the car, jumped out, and, gasping with excitement, just gazed across the valley at the sight of the town glistening in the sun! 
Another nearby village was the more touristy Frigiliana, known for its Moorish old quarter and narrow streets decorated with ceramic mosaics. Tour busses stopped here, and the shops were upscale and attractive (one managed to tempt me into purchasing a huge orange hat), but the further one climbed up, the quieter it became. 
5. Always ask the locals where to eat
We asked a shopkeeper where to have lunch and were pointed to a rooftop restaurant further up the white alleyway. We had a fantastic meal that was as artistically presented as it was delicious.
We also liked going down into "our town," La Herradura, where local restaurants and bars lined the beach road. European tourists and locals frequented them, and we mainly heard Spanish spoken. One place, in particular, had a lively bar scene with tapas. As we entered, we were ushered into the back room (where they put the "foreigners") and offered a prix fixe menu, but we insisted on sitting in the front bar and having tapas. They relented. We must have made a good enough impression as we returned there a second time later in the week and got the primo table for 8 in the bar next to the window! Tapas and drinks flowed freely.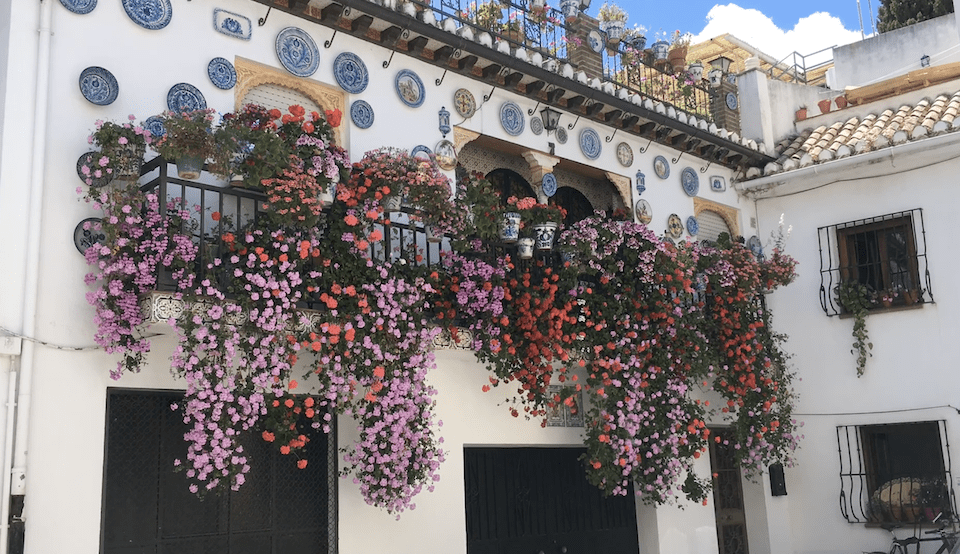 A colourful sight Diana and her group stumbled upon as they climbed the Albaicin Quarter in Granada / Photo by Diana Eden
So if you are looking for a place to renew and refresh while engaging the senses with the colors of the sea, the flowers, and the architecture, The Costa del Sol could be the place for you. 
Start Planning Your Trip to La Herradura
Get started with resources recommended by the JourneyWoman community
Book Your Flights
Use tools like Expedia or Google Flights to look up the best flight prices. Being flexible with dates can save you even more money.
Find Somewhere to Stay
Find a hotel on Expedia and earn points towards free stays. Hotels.com offers a free night stay for every 10 nights booked. Looking for an apartment or something more long-term? Check out VRBO.
Insure Your Trip
Compare plans and policies for the best coverage for your trip using Insure My Trip. Traveling for an extended amount of time? SafetyWing offers ongoing coverage on a month-to-month basis, and World Nomads offers coverage for extended trips.
Looking for a Tour?
Head to the Women's Travel Directory to find a woman-friendly tour around the world.
Travel Extras
Why not brush up on Spanish before your trip with Babbel. Don't forget your JourneyWoman branded accessories while you're on the go!
More to Discover in Spain
Once upon a time, not too long ago, pilgrims could walk the Camino de Santiago without a reservation and a phone. But is it possible now?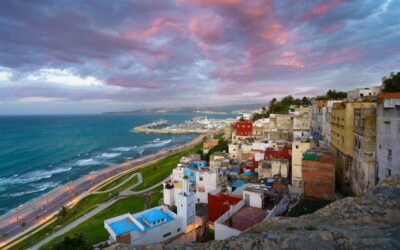 In Maria Duenas' "The Time In Between", we learn about the Spanish Civil War from the perspective of a seamstress turned skillful spy.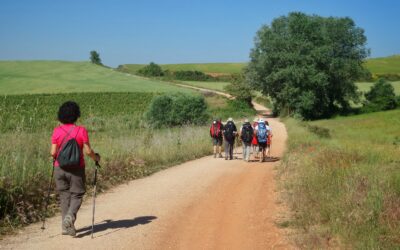 Jane Christmas's funny memoir of her 780-kilometre trek across Spain on the Camino de Santiago to celebrate her 50th birthday and midlife.