Last updated on December 1st, 2023
Featured image: Málaga's stunning skyline reflects its ancient and modern essence / Photo credit SeanPavone on Envato
For history, art and ocean lovers, the city of Picasso's birthplace is perfect for long stays
by Carolyn Ray
Imagine bustling markets and cafes. Sunshine every day. Warm ocean breezes. Gothic churches and archaeological ruins. Museums housed in stunning palaces. Quaint shops and friendly Malagueños. This is the oceanside port of Málaga, my second home in Southern Spain from December to February 2023. In recent years, this vibrant city on the Costa del Sol is starting to become known as an arts and culture hub, with its museums, Calle Lagunillas street art and archaeological sites like the Alcazaba Fortress and Gibralfaro Castle.
I'm eating a light lunch in a sunny café on Plaza de La Merced. It's the third week of my stay in Malaga and the perfect place to let the day slide by, just on the edge of the old town. Behind me is Pablo Picasso's childhood home, Casa Natal Picasso, an 18th century townhouse where Picasso and his parents lived until he was 10 years old.  This year, as countries across Europe and the United States honour the legacy of Pablo Picasso, I have the opportunity to see firsthand the city that contributed to his development as one of the world's most influential artists of the 20th century.
The memories of my time in Málaga will always stay with me – from watching the World Cup with hundreds of fans on Calle Granada, to the bustle and music of Calle Larios over the Christmas holidays, to the light show on the cathedral, to dancing in Constitution Square on New Year's Eve. During my time in Málaga, I come to understand its rhythm and embrace a new lifestyle, working in the mornings and exploring in the afternoons. I also discover that Málaga is the perfect (and affordable) place for a longer stay, with easy access to smaller towns via bus or train, like Ronda, Nerja, Frigliana, Cordoba, Granada and Seville.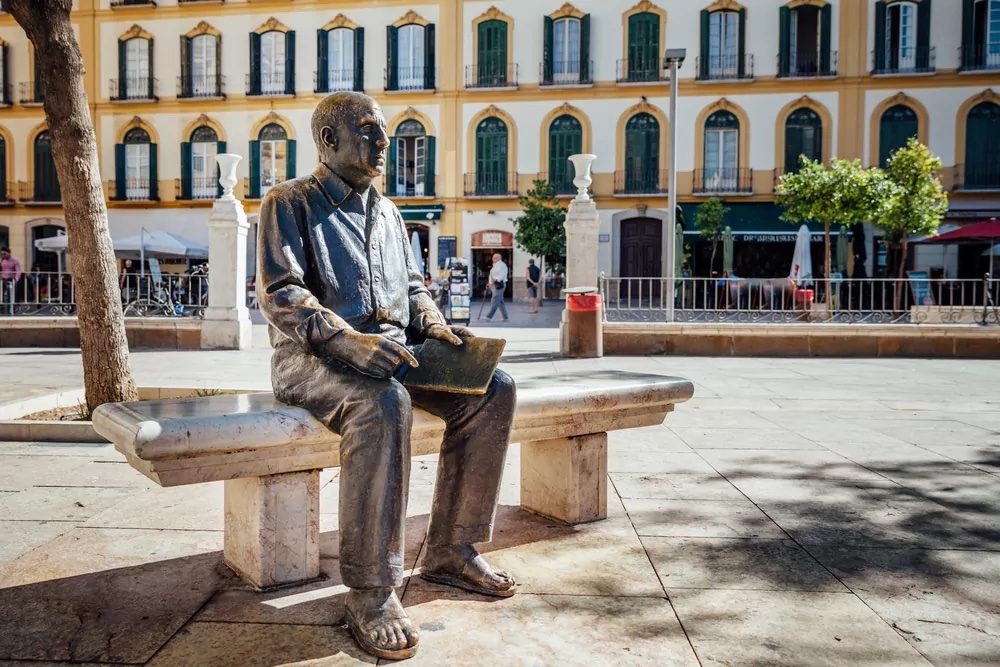 A statue of Pablo Picasso in Malaga's Plaza de la Merced / Photo from Shutterstock
The influence of Malaga on Picasso
This year is the 50th anniversary of Pablo Picasso's death in 1973, and there's no better place to learn about his early influences than Malaga.
His childhood home, Casa Natal Picasso, was established by the Málaga City Council in 1988 and since then, it has organized more than 200 temporary art exhibitions and collected over 900 of Picasso's engravings, as well as ceramics and illustrated books. It also has the only sketchbook in Spanish collections (with 84 drawings) for his famous painting Les Demoiselles d'Avignon (1907). While we remember Picasso for his innovations in Cubism, this museum shows me that even in his early years, he worked across many different mediums, including sculpture, photography and ceramics. Find tickets here!
Just across the street on Calle Granada is the Iglesia de Santiago church, where Picasso's parents were married and he was christened. Built in 1490, it is the oldest church in Malaga, built on the ruins of a mosque.
Growing up, Picasso was surrounded by artists, including his father, Jose Ruiz Blasco, who taught art at the local art school. In the museum, there are several rooms on the second floor showing where Picasso, his parents and a maid lived, including the dining room where visitors were received, with six balconies overlooking the lively plaza. The museums also includes early drawings of bulls and doves, which became emblematic of Picasso's work. The doves ultimately became a symbol of peace and were used to illustrate the poster of the 1949 Paris Peace Congress.
During the Spanish Civil War in 1939, Picasso became very active in anti-war efforts. The bull is a central figure in one of his most famous paintings, Guernica (1937), which he painted at his home in Paris in response to the April 1937 bombing of Guernica, a Basque Country town near Bilbao in Northern Spain. When Nazi Germany and Fascist Italy destroyed this town at the request of Franco, Picasso retaliated with art, creating a black, grey and white painting showing a disembowelled horse, shrieking women, a mutilated army officer, a deceased baby, and burning fire. Guernica was completed and displayed at the Paris International Exposition in 1937, and helped bring attention to the Spanish Civil War and raise funds. Today it is in Madrid's Reina Sofia Museum. 
Picasso left Spain in 1891 at age 10 and he spent his formative years in Barcelona, and then lived the rest of his life in France. By the time of Picasso's death in 1973 at age 91, he is said to have completed 13,500 paintings and around 100,000 prints and engravings. 
Picasso was fascinated with bulls, as seen in these sketches, which start with a realistic three-dimensional form to a more abstract shape/ Photo by Carolyn Ray
The interior of the church where Picasso was baptized / Photo by Carolyn Ray
Upcoming Picasso Exhibitions in 2023
To mark the 50th anniversary of Picasso's death in 1973, an extensive programme of exhibitions, initiatives and events has been planned around the world to commemorate Picasso's life and work. Spain and France. To learn about Picasso's legacy, visit the Picasso Celebration website. 
In Málaga, Casa Natal Picasso is hosting "The Ages of Picasso" from June 21 to October 1, 2023, which provides a general overview of the different periods of Picasso, both in an artistic and biographical sense, with works from our collection, as well as other important Spanish collections: paintings, drawings, photographs, sculptures, engravings, ceramics and illustrated books.
Many of the museums in Málaga are in former palaces, and The Museo Picasso Málaga, which opened in 2003, is no exception. Housed in the Renaissance Buenavista Palace, which also has an archaeological site in its basement with Phoenician and Roman remains, including part of the original city wall. The Museo Picasso's collection is made up of over 233 of his works and displays the different stages of the artist through drawings, oil paintings, engravings, sculptures and ceramics. There's The Siesta (1932), The Minotaur and other Monsters, Woman, and sculptures, like The Owl.
Upcoming exhibitions include "Matter and Body", which runs from May 8 – September 10, 2023, and covers the different styles that Picasso used to enlarge the forms of the human body, from wood, bronze, iron, cement, steel, and plaster. Pablo Picasso made sculptures almost from the start of his extensive artistic career and continued to work on them throughout his life.  "The Echoes of Picasso" runs from October 2 to March 24, 2024, to commemorate the anniversary of the artist's death and is based on the effect exerted by his artistic practices on contemporary and, above all, globalised art today.
The largest collection of Picasso's art is in Barcelona at the Picasso Museum, which opened in 1963 at the express wish of Pablo Picasso. Spanning five large palaces on Montcada Street, the museum houses more than 4,200 works, making it the most comprehensive collection in existence on Picasso's formative years and youth. In addition to the Blue Period, the museum also features a major representation of his work from 1917, and Las Meninas (1957) series, as well as a complete collection of engravings.
Picasso's 'Woman' at the Picasso Museum / Photo by Carolyn Ray
Málaga's lively streets/ Photo by Carolyn Ray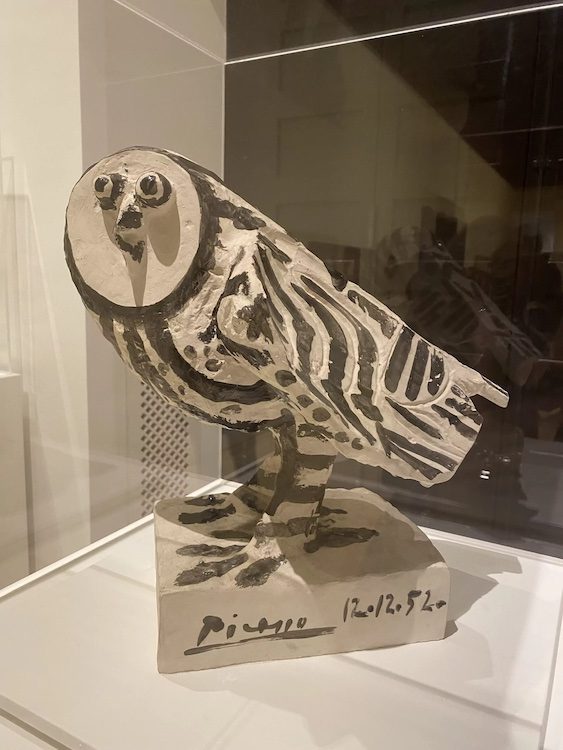 Picasso's Owl at the Picasso Museum / Photo by Carolyn Ray
Other museums to see in Málaga
Málaga is an ancient city, built by the Phoenicians and was Muslim for almost 800 years.
Spend a few hours (or days) at the Museum of Málaga, which is the fifth largest museum in Spain, now housed in the stunning Palacio de la Aduana. With thousands of artifacts, it combined the former Museo Provincial de Bellas Artes and Museo Arqueológico Provincial.  This museum holds over 15,000 archaeological artifacts dating back to Málaga (Malaka) Phoenician times. In 2012, archaeologists discovered a tomb from the sixth century BC that had been preserve intact. The burial chamber contained the interred remains of a middle-aged male, and a pendant and arms typical of a Greek warrior. There are also murals and frescos from the first century.
The Museum of Málaga has two of Picasso's first works here: Study of old people and The old man with the blanket. Admission is free for EU citizens (you may need to show proof), €1.50 for non-EU citizens.
A 15-minute walk away, the Museo Carmen Thyssen Malaga is in the Pallacio de Villalóna. This is a beautiful 16th century palace built over the remains of the old Roman city within the Moorish quarter of Málaga. There are four floors, including works from the Old Masters, including Sanata Martina by Zurbarán and a broad range of Spanish painters.  General admission is €10; Seniors are €6 and audioguides are included.
A Bronze Corinthian Helmet, 6th century BC, in the Museum of Málaga / Photo by Carolyn Ray
In 2015, the Parisian contemporary art museum Centre Pompidou opened its only foray outside France, housed in a colourful glass cube near the port. There are two to three themed temporary exhibitions each year built up from the different segments of the collection (photography, design, architecture, and video).  
Where to stay in Málaga
I stayed at two different Airbnbs in the old town for several weeks at a time. The first was on Calle Esparteros, and the second on Calle Nueve, which runs right through the old town. I would highly recommend them both as safe and comfortable for a solo traveller, and close to the bus and train stations.
Avoid staying on Calle Granada as it can be loud at night, but the rest of the old town quiets down after 10 pm, and it's very clean and safe.  I also spent two weeks in Maro, about a 30 minute bus ride from Malaga. (Visit our Accommodation section for ideas on where to stay – coming soon.)
Where to eat in Málaga
Although there are iconic restaurants that people say you 'must visit', like El Pimpi (sit inside if you go), my favourite place to eat is the Mercado Central de Atarazanas, which is also a great place to practice your Spanish. There are tables outside or you can eat standing up inside.  Just thinking of the fresh shrimp and scallops in the shell makes my mouth water.
There's always a lineup for Casa Lola on Calle Granada, near the Picasso Museum. Here you can enjoy mouthwatering tomatoes, bocarones, roasted sardines and fried chichherones. This is the main street of the old town, and there's no better activity than watching the ebb and flow of people. Other places I enjoyed include Los Mellizos, and near Picasso's childhood home, try the Picasso Tapas Bar.
Málaga is a coffee and café culture, and there are far too many to mention. Spend your mornings on the side streets around Plaza de Felix Sáenz, which have a variety of busy cafes (avoid Starbucks) and plenty of sunshine. Avoid the more pricey cafes near the Roman Amphitheater and instead head into the middle of the Old Town, along Calle Granada. When cruise ships are in town, the population swells, and the streets and restaurants can become quite crowded. (And keep an eye out for actor Antonio Banderas whose apartment is near the Roman Amphitheatre, above El Pimpi!)
Not to be missed in Málaga 
Calle Lagunillas:  Near Picasso's childhood home, the streets are lined with stunning graffiti from local artists.
Santa Maria de La Victoria Church in Plaza Santuario: one of the most beautiful Baroque churches in Andalusia, it was built at the beginning of the 16th century in the same site where Ferdinand and Isabel, the Catholic Kings, stayed during the Málaga invasion in the Reconquista.
Mapas y Compania travel bookstore: There's usually a line up to get in, and it's worth it to see the globes and balloons floating from the ceiling and books piled upon books. For other libraries and bookstores, try Casa del Libro and Liberia Rayuela.
Málaga Cathedral: Dating back to 1497, the cathedral was built over the Aljama Mosque. One of the unique things about Malaga's cathedral is that is missing a south tower. For a magnificent view of the city, climb up to the top of the roof (stairs only).
Catamaran cruise: Málaga is on the ocean, so a sunset catamaran cruise is a must-do, just to see the views from afar.  Book yours here.
Walk on the beach: Málaga has a long and broad beach, with fresh seafood served in the restaurants. El Faro (the lighthouse) is a symbol of the city in the port area.
The Roman Amphitheater, Alcazar and Gilbafaro Fortress are in the same area, making it easy to see all three at once.  Be prepared for lots of stairs and steep hills.
For events and happenings, visit the Guide to Malaga.
Special thanks to Spain Tourism for providing support and guidance for this article and my time in Spain. Without their advice, I wouldn't have rediscovered Málaga.
Street art on Calle Lagunillas, Malaga/ Photo from Carolyn Ray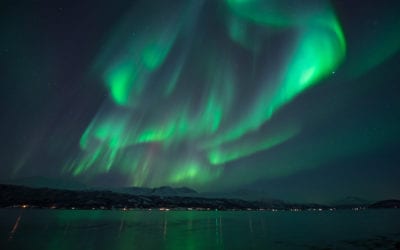 We reveal the top seven Once-in-a-Lifetime Travel Experiences recommended by women, including the Northern LIghts, the Camino de Santiago, Canada's Rocky Mountains, a Safari in Africa, an Antarctica expedition, Machu Picchu and Bali.