Last updated on May 15th, 2023
Featured image: Eastport Peninsula is not to be missed if you visit the Gander area | Photo by Tango7174 via Wikimedia Commons
Gander, located in Central Newfoundland is full of surprises
By Sandra Phinney, Contributor, Tales From Atlantic Canada
What do Fidel Castro, Frank Sinatra, and Queen Elizabeth II have in common? They—along with thousands of other world leaders, celebrities, and nobles—all debarked in Gander, Newfoundland, while to-ing and fro-ing around the world. 
Stories about these notable guests are part of the ongoing legacy that the Gander International Airport celebrates in a huge mezzanine overlooking the visitor's lounge. Both are impressive. For example, upstairs, there are scores of handsome displays spanning the lifetime of the airport from the mid-1930s to the present.
Queen Elizabeth II officially opened the lounge at the Gander airport in 1959. It was a huge, classy, space with designer furniture and artwork. In 1976, when a blizzard forced Fidel Castro's plane to spend more time at the airport than planned, he went tobogganing with local youth, while Frank Sinatra tried unsuccessfully to butt in line at the bar.  Stories abound.
Construction of the Gander Airport started in 1936 when hundreds of men were recruited, transported by train, and dropped off at Milepost 213, a remote section in the northeastern part of the province. Gander didn't even exist. The workers cleared the land and constructed landing strips. Two years later, a single-engine biplane landed and the Newfoundland Airport was open for business. With the threat of war, the Canadian Air Force established a base there, and upwards of 12,000 servicemen lived on-site in makeshift housing. As the airport was so new, it wasn't on maps, so activity there went largely unnoticed—including the transport overseas of over 20,000 fighter planes.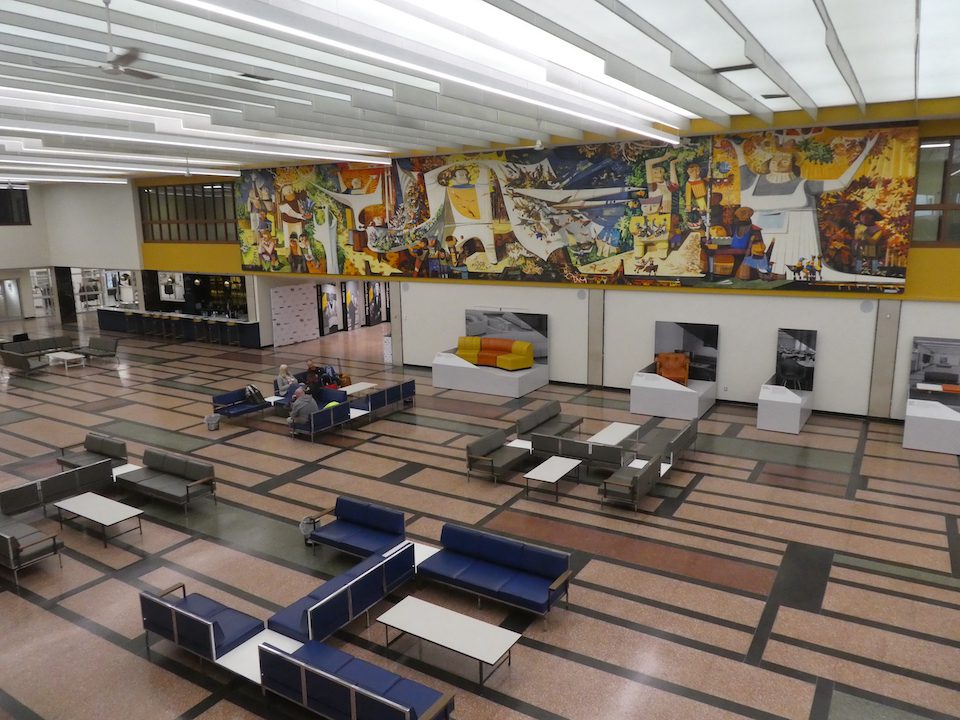 Overlooking the lounge of the Gander Airport / Photo by Sandra Phinney
The Birds of Welcome, a sculpture by Arthur Price, greets visitors in the lounge / Photo by Sandra Phinney
After the war, the workers and air force personnel moved into permanent homes a few kilometres away, and Gander came into being. Now, the town's population hovers around 12,000 while the municipality of Gander includes around 300 neighbouring communities totalling upwards of 80,000 people.
Over the years, folks from all over the world debarked as planes refuelled, or when they had to change air carriers. It was a common pastime for locals to spend time at the airport people-gawkin'. Although this area was closed for the past 40 years in order to tighten security measures, in 2019 the powers that be decided to restore the lounge to its former glory and reopen it. Now, it's not only a major attraction in the region, it's free!
My sister and I spent the better part of the morning there last fall, doing our share of gawkin' on both levels. In the reception area downstairs we saw interesting displays depicting designer furniture used in past decades, along with a stunning sculpture titled The Birds of Welcome by Arthur Price.
The mezzanine features several displays with fascinating stories including how on September 11, 2001, when US air space was closed due to terrorist attacks, 38 planes were diverted to Gander. A larger-than-life panel says, "On the first day, we had 7000 strangers. On the third day, we had 7000 friends. On the fifth day, we have 7000 family members." The story of how locals embraced the "plane people" along with photos from the award-winning musical Come From Away stole our hearts. The musical has been staged for sold-out audiences all over the world. 
Imagine the thrill Carmen and I had to be seated in Gander's Steele Community Centre arena for a live concert performance of Come From Away the night before. It was pure magic.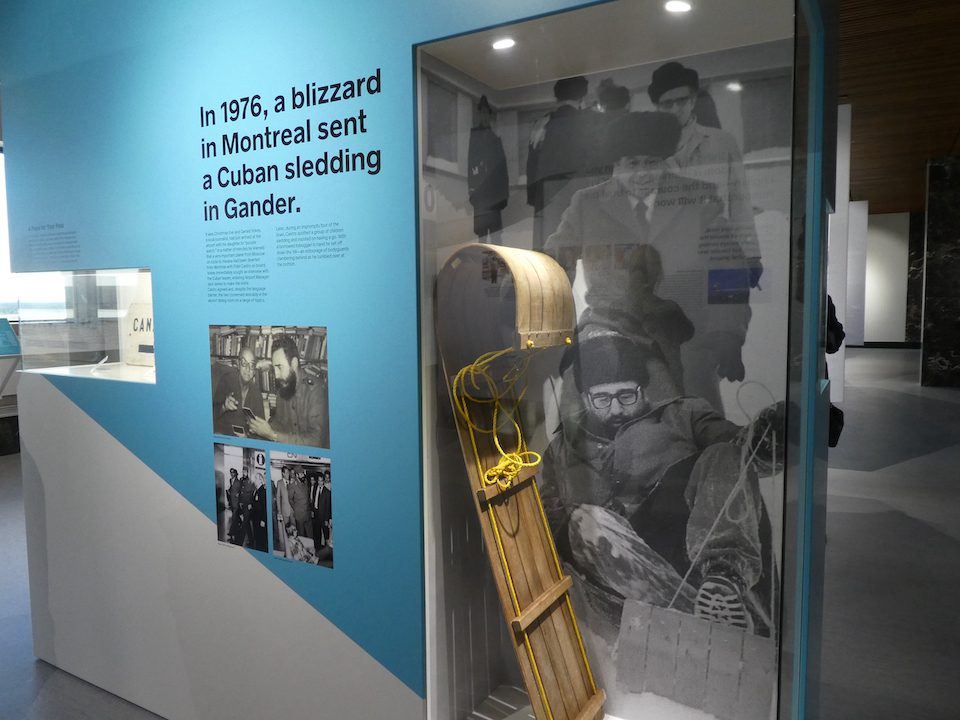 Display showing the events of Fidel Castro's visit / Photo by Sandra Phinney
Display showcasing the events of 9/11 at Gander Airport / Photo by Sandra Phinney
The next day, we dropped into Jumping Bean Coffee to get a cup of java for the road. I was so impressed with the quality of this local coffee roaster that I asked to purchase two bags to take back home. A voice piped up behind me, saying "I'll take care of that." I thought the woman meant she'd pick up the tab for the cups of coffee, but no, she wanted to pay for it all—over $40! Grinning, she said, "Just enjoy it." 
Other must-sees and things to do around Gander, Newfoundland
Glovertown
After a 45-minute drive southeast from Gander on Trans-Canada Rte 1, we pulled into Glovertown. There, at The House of Diamonds, we met Kevin Blackmore (a.k.a. Buddy Wasisname & The Other Fellers—a beloved musical and comedy trio). Although Kevin is retired now, he chairs the board of directors who keep the House of Diamonds Art Centre open. The centre hosts community events and is also where artisans meet and also showcase their work. While there, we met a group of artists and were wowed by their hooked rugs, photography, and felted items. Think exquisite. 
Mere minutes away we met Kathy Crewe, who shared with us her passion for the "Old Mill." In 1921, the government granted Terra Nova Sulphite Co. timber rights in the region and permission to install a hydro plant on the Terra Nova River, next to the 35 meters-tall and 400 meters-long pulp mill. At the time, pulp was in high demand all over the world for paper. Anticipating that hundreds of jobs would be created, houses, schools, and a medical centre were built. Within a year, the Norwegian investors pulled out when the Krone hit record lows and everything came to a halt. Now, efforts are underway to preserve the old mill.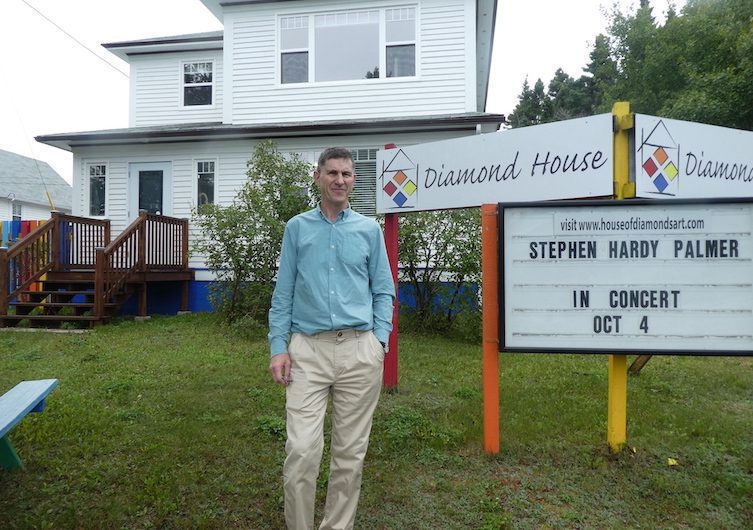 Kevin Blackmore in front of the House of Diamonds / Photo by Sandra Phinney
Rug hooking expert Gwen Burt with some of her handsome "dried fish" / Photo by Sandra Phinney
Efforts are underway to preserve the abandoned old mill / Photo by Sandra Phinney
Eastport Peninsula
From Glovertown, a 20-minute drive on Rte 310 will take you to the picturesque Eastport Peninsula. I could spend pages waxing poetic about the charms of this region and her people, but I need to condense! 
Be sure to have a meal or two at the acclaimed Chucky's Seafood and Wildgame Restaurant, at the Happy Adventure Inn. Although I'd classify the menu as Newfoundland-gourmet, the dining experience is casual, unpretentious, and oh-so-delicious. I opted for a moose burger while Carmen had braised ribs—and we finished our meal with homemade blueberry ice cream.  
This is also where we had a special art lesson with renowned artist Brenda Matchim. Normally, Brenda gives "Painting in the Park" sessions at the headquarters of Terra Nova National Park. As it was after the season, she hosted us in the conference room of the Inn which is operated by her daughter and son-in-law. Although I can barely draw a stick person, I turned out a decent acrylic painting of a lighthouse to bring home!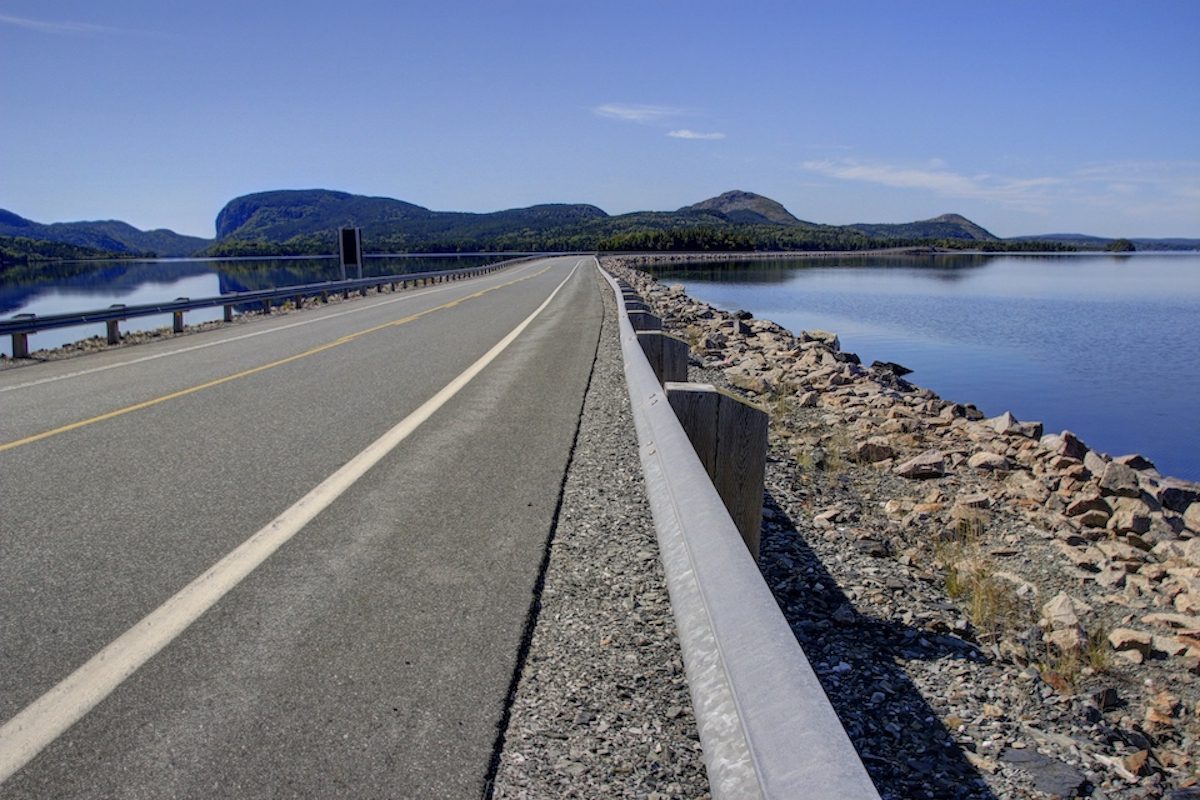 Driving through the picturesque Eastport Peninsula / Photo by Sandra Phinney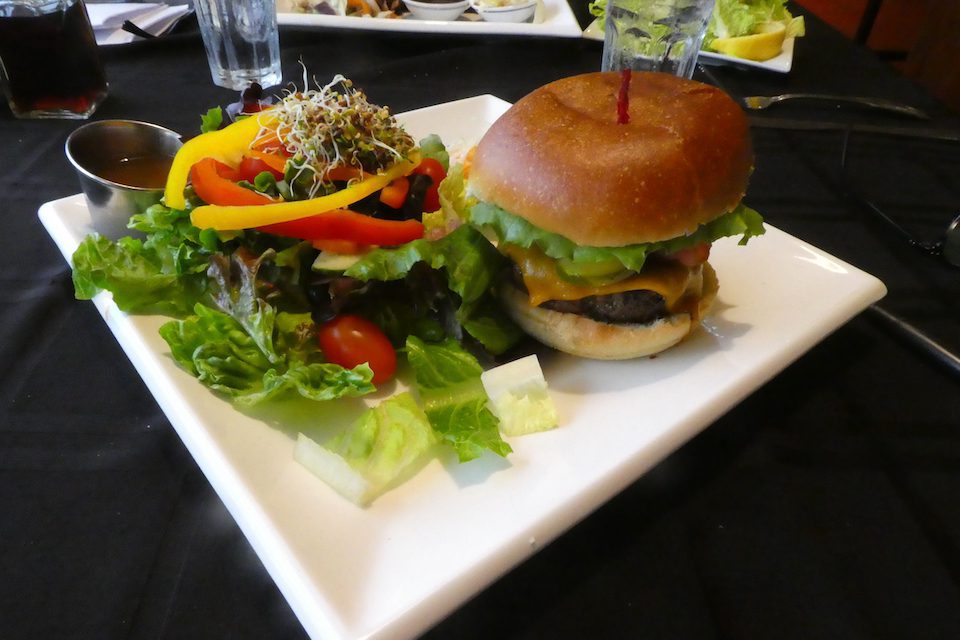 Moose burger at Chucky's Seafood and Wildgame Restaurant / Photo by Sandra Phinney
Brenda Matchim demonstrates how to paint a lighthouse / Photo by Sandra Phinney
While in the region we enjoyed touring the Beaches Arts and Heritage Centre. Once again, we were mesmerized by the scope and depth of products made by local artisans. You'll also find the Damnable Trail in this area, with over 30 km of footpaths ranging from low and wide along a beach (wheelchair accessible) to more challenging trails through the boreal forest and along coastal headlands. As there had been a hurricane mere days before, the beach—normally sandy—was loaded with seaweed. We had a slippery but great walk along the shore.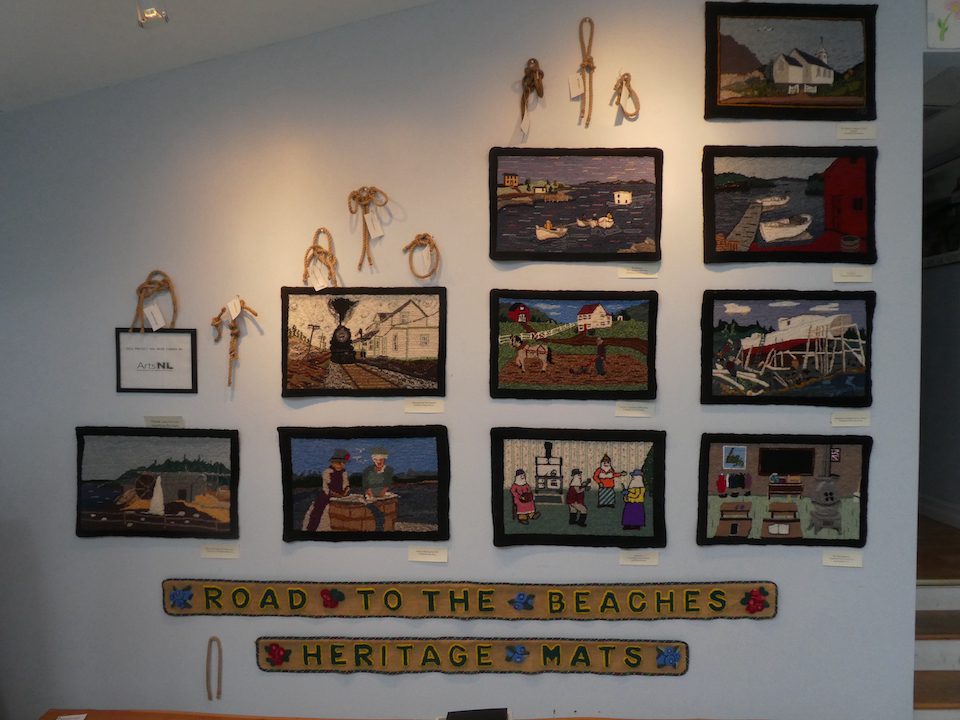 Artwork in the Beaches Arts and Heritage Centre / Photo by Sandra Phinney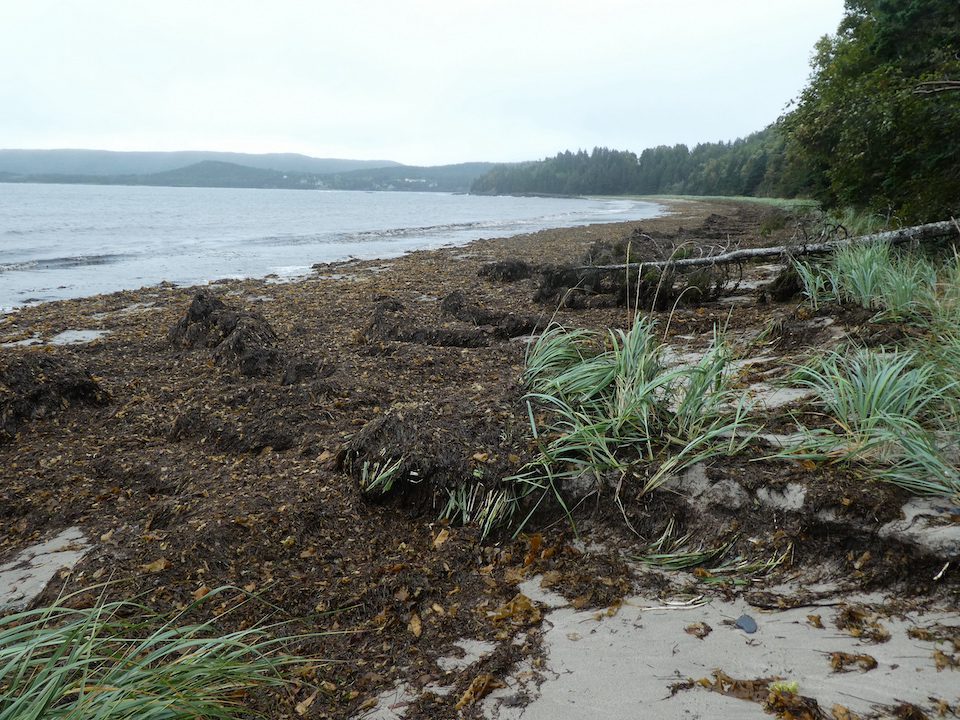 Seaweed covers the beach along the Damnable Trail / Photo by Sandra Phinney
If you have a chance to hook up with Time in the Hall Dancers, I guarantee you'll have a blast. This energetic group of seniors meets weekly at the SUF Hall in Eastport. To live tunes played on an accordion and a guitar, we saw square dancing at its best. One of my favourite sets was called "Running the Goat." Just being a spectator tired me out. Later, Carmen was invited to dance the Virginia Reel while I, with a bum hip, enjoyed watching. There were smiles a-plenty.
On our last day in the region, we did a gorgeous hike on the Sandy Point Trail in Terra Nova National Park. It was the perfect way to end our visit in this amazing part of the world.
Time in the Hall Dancers / Photo by Sandra Phinney
All smiles with the Time in the Hall Dancers / Photo by Sandra Phinney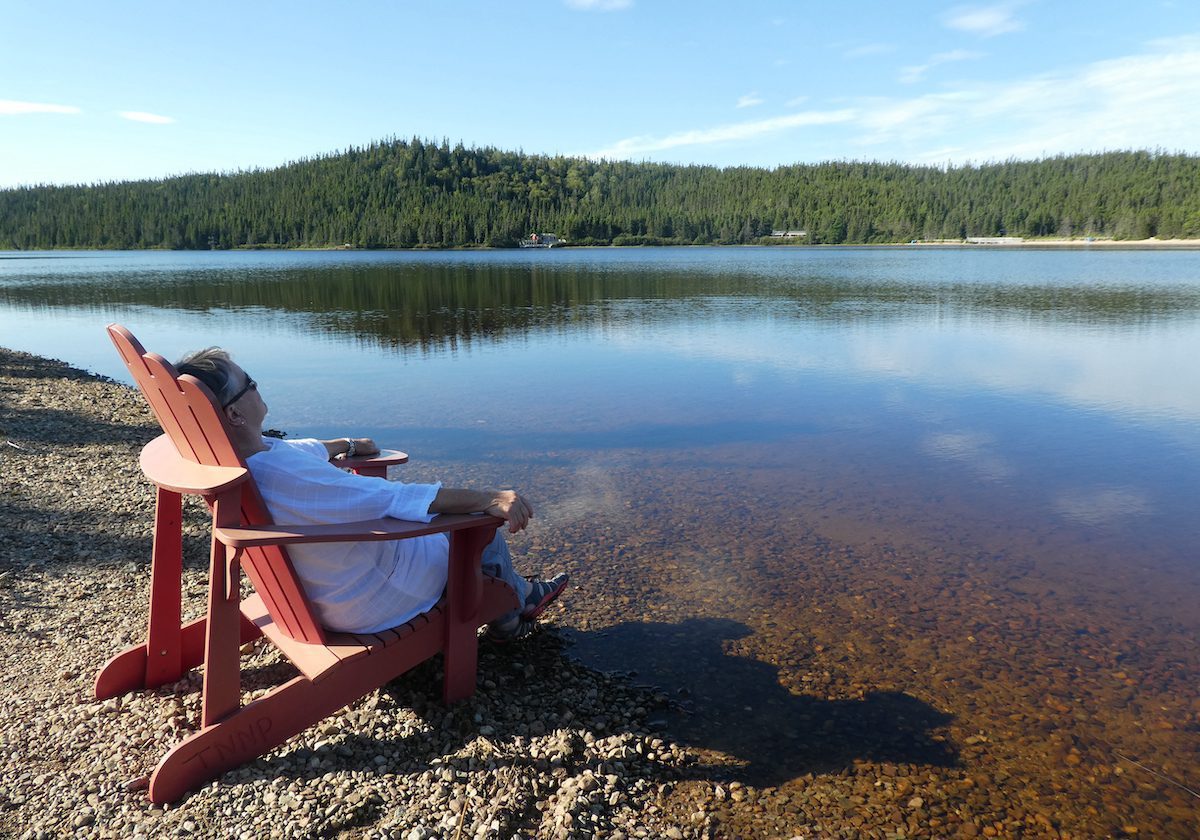 Rest spot during a hike on the Sandy Point Trail in Terra Nova Park / Photo by Sandra Phinney
Where to stay in Gander Newfoundland

 
In Gander, consider the Quality Inn.  I've never experienced such hospitality in a franchise motel. Hot breakfasts were a bonus. It was also sweet to see a huge bouquet in the lobby with a card saying "Never to be forgotten. Thank you from the crew of American Airlines." They had flown in for the concert. 
Closer to Glovertown and Eastport, I highly recommend the Clode Sound Motel in Charlottetown. We had a unit with a kitchen which came in handy. The motel also has a restaurant that serves down-home good grub like cod-au-gratin and turkey soup. If you get a chance to pick up a copy of Newfoundland and Labrador's Downhome Magazine you might even come upon the recipe for that great dish!  
Inspired by the idea of 'psychogeography, when we take time to slow down and experience things, we can discover extraordinary things close to home.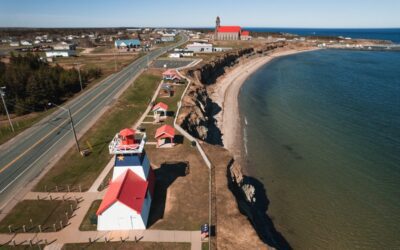 Located in New Brunswick, the stunning Acadian Peninsula Veloroute is a network of 14 cycling circuits perfect for a three-day trek.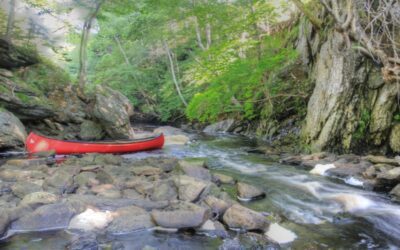 For the past eight years, Sandra Phinney has been thinking about—and trying to put into practice—what she's learned about slow travel at home.