Last updated on February 14th, 2023
Lead image: Cape Forchu Lighthouse T/ Photo provided by Tourism Nova Scotia / Photographer: Davey and Sky
Each lighthouse has a story to tell
By Carolyn Ray, Editor, JourneyWoman
It's sunset and I'm angling for the perfect photograph of Sandy Point Lighthouse, crouched low by the shore, trying to keep my balance on the uneven rocks. The light is a soft orange, almost glowing and ethereal, and the sun burns through the clouds like a spotlight. I'm awestruck by the moment and the small wisps of cloud that bring texture to the water, which laps quietly along the bay.
"It's stunning," I think to myself – and then, as I raise my camera, it's gone, like a whisper. The sun slides behind layers of clouds – poof – and I'm left looking in disbelief at gray skies and the almost invisible lighthouse only metres away. Soon I'm enveloped in the fog, wondering how I could have missed my moment.
It's a stark reminder that life here in Nova Scotia, life is governed by the rise and fall of the tides, by the wind and water, and by the fog. I meet the fog in various forms as I travel across the southeastern part of Nova Scotia, a less-travelled area that is just beginning to embrace tourism, with its small, one-street towns, culinary delights and artists and its lighthouses, each of which has its own story.
"The fog comes on little cat feet.  It sits looking over harbor and city on silent haunches and then moves on."
— American Poet Carl Sandberg, 1916
Waiting for the perfect sunset photo of Sandy Point Lighthouse in Shelburne, Nova Scotia / Photo provided by Carla Allen
Exploring Nova Scotia's Lighthouse Route
I've always loved lighthouses, standing firmly resolute against the seas and weather, guiding people safely to shore.
Throughout the late 19th and early 20th centuries, lighthouses were an integral part of life in Atlantic Canada, which was home to over 135 of them, including Cape Bear lighthouse in Nova Prince Edward Island, which received the distress signal from the Titanic. It was the responsibility of the lightkeeper to keep the light burning no matter what, a commitment that often involved his entire family.
Nova Scotia may be the second smallest province geographically, but it is big on lighthouses. While Peggy's Cove may be one of the most photographed Nova Scotian lighthouses, there are 180 to explore on Nova Scotia's Lighthouse Route along the South Shore. Each has its own story, reflecting the courage, perseverance and resilience of the lighthouse keepers and the communities in which they lived. It wasn't until I read The Lighthouse Keeper's Daughter, by Hazel Gaynor, that I realized women were not technically permitted to run lighthouses.
"No matter how many charts and maps we study, or how cleverly we believe ourselves able to interpret the change in atmosphere or the shape of the clouds or the movement of the waves, we can never truly know what the day will bring; cannot plan for every eventuality. Only as each dreadful misfortune or delightful surprise unfolds can we choose how to respond; fleeting decisions made in an instant but which carry an echo across a lifetime."
― Hazel Gaynor, The Lighthouse Keeper's Daughter
Did you know? The highest tides in the world can be found at the Bay of Fundy, which separates New Brunswick from Nova Scotia. There are approximately two high tides and two low tides every 24-hour period, with water levels rising and falling up to 38 feet, according to the National Ocean Service. The Bay of Fundy is also known as one of the foggiest places in the world, due to geographic and climatic conditions, which combine to release humidity in the form of water droplets that attach to small particles of salt or dust. Before navigation systems and marine charts, fog banks were extremely dangerous to vessels on the sea. Beams of lights from lighthouses were often obscured by the fog, and foghorns and steam-powered fog whistles warned boats away from cliffs. 
Nova Scotia's iconic Peggy's Point Lighthouse is now fully accessible with its new award-winning viewing platform.
The Perseverance of Bunker Island
Of all the lighthouses I toured, perhaps no story is more poignant than that of Bunker Island Lighthouse. Known locally as "Bug Light" at the end of Bunkers Island in Yarmouth County, it sits on a small island at the entrance of Yarmouth Harbour. For 29 years, it was home to Ida and Jules Cottreau, their six children, and dog Teddy, who moved there in 1930.
The family lived there for until 1959, when the government tore down the lighthouse and replaced it with an unmanned light. Each day, the children would descend at 25-foot ladder and walk two miles at low tide across jagged, seaweed covered rocks at 4 am to reach the shore, where they would wait until daylight in a shanty and walk two miles to school.
This family survived raging gales and seas, and even Hurricane Edna in 1954, at a time when there was no warnings, or even electricity on the island.  My guide and writer Carla Allen interviewed the surviving family members in 2019 in a moving piece called "Growing up in Bug Lighthouse". She says, "When the Cottreau family learned that the super-strucutre of Bug Light was to be replaced… (daughter) Jean Cottreau sat down on the shore and cried like a baby, saying 'It was as though it was a part of me."
Far from the shore, Bug Light is immersed in fog, making a voyage across rocks unimaginable.
Bug Light through the fog from shore / Photo provided by Carolyn Ray
The towering strength of Cape Forchu, the "Old Yarmouth Light'
Not far from Bug Light is the striking column of Cape Forchu, which sits at the entrance of the Bay of Fundy. It is a light viewed annually by thousands as they enter Canada from the United States en route from two ferries that serve the Harbour.
In 1961, the original lighthouse, a timber tower beloved by the community, was replaced by a concrete 'apple core' tower rising at the head of the Cape. Many thought the vista was ruined, but as tourists continued to flock there, it began being called the 'old Yarmouth light'.
If you've seen the movie 'The Lighthouse", starring Willem Dafoe and Robert Pattison, you might recognize the area, although most of the filming was done in a newly built lighthouse more conducive to movie-making.
Nestled in jagged rocks, with breath-taking natural vistas, the Cape Forchu lighthouse rests 125 feet above sea level and can be seen from 22 miles to seaward. There's a narrow climb to the top, and while the fog swirled nearby, it didn't obscure my view, so I was able to see miles out into the ocean. With views of the Gulf of Maine and the setting sun, this magnificent rocky site is also home to the Leif Erikson trail with walking paths, picnic sites, and benches, not to mention breathtaking views of the night sky.
Cape Forchu from below / Photo provided by Carolyn Ray
The wildest of them all: Cape Sable Lighthouse
The tallest lighthouse in Nova Scotia is Cape Sable Lighthouse, built in 1861 at the extreme southwestern end of the province. The Mi'kmaq name for the island was "Kespoogwitik" which meant "where the land ends." When Samuel de Champlain arrived, he picked up the name 'a sandy bay' that had been used by Portuguese cartographers in the 1550s, and this eventually became "Cap de Sable," and then Cape Sable, as it's known now.
Due to the dangerous shoals and ledges, this area was hazardous to all shipping and was where the most lives and property were lost in the days of exploration. According to the Nova Scotia Lighthouse Preservation Society, in high winds, the keeper's house would lean sideways. In one direction, the doors would stick, in the other they would pop open. Originally built of wood, this 65-foot lighthouse was replaced by 1923/24 by a new 101-foot tower of reinforced concrete.
While I only saw the Cape Sable Lighthouse from a distance, there were photo-worthy views from The Hawk Beach on Cape Sable Island. This beach is worth a visit if only for its white sandy beaches and to see the fog play along the shore, lingering over the 'drowned forest' and its spooky vibes.
Hot Tip: While in Cape Sable Island, stop by Chef Nicole Hopkins' soon-to-be-opened "The Salt Banker," the first eat-in restaurant in Clark's Harbour in 20 years. In addition to fresh seafood supplied by the nearby Atlantic Chican and Clark's Harbour Seafoods, the restaurant will also feature home cut fries and an ice cream counter, something of a novelty in this area. I had the pleasure of tasting some of the yet-to-be-named items on her menu, including cioppino, a fish-based stew, and enormous quahog clams. There was also talk of blueberry muffins made from scratch and salt cakes.
Cape Sable from the Hawk Beach / Photo provided by Carolyn Ray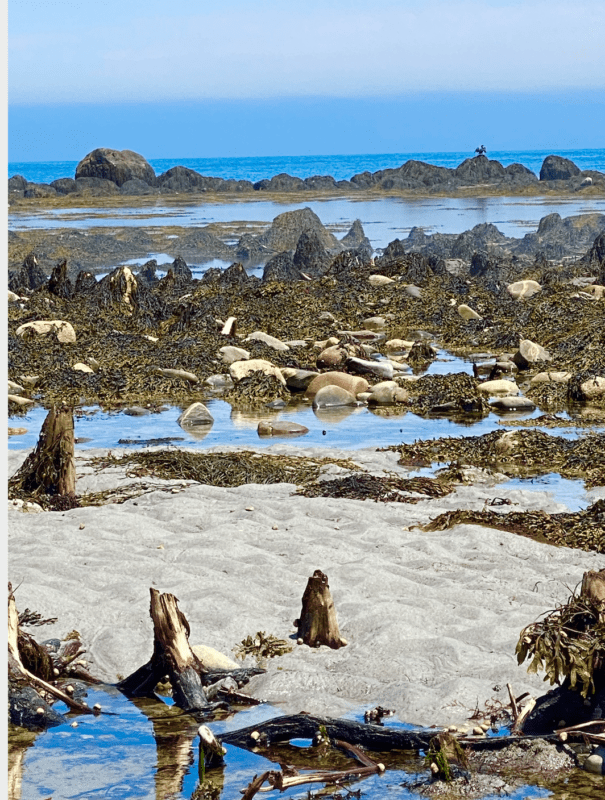 The 'drowned forest' on Hawk Beach / Photo provided by Carolyn Ray
A scallop for your lighthouse? Digby Pier Lighthouse
The first light to mark Digby Pier was a lantern on a pole with a red light, in 1887. After several variations of lighthouses, and the pier fell into disrepair, the 'Digby Lighthouse' was moved to the Saint John Coast Guard Base in New Brunswick, and then to downtown Saint John, where it was given a major facelift in 2010.
In 2012, with plans to rebuild Digby Harbour, Major Ben Cleveland decided that it was high time for Saint John to give the lighthouse back. Led by the Mayor, a delegation of 30 residents took the Princess of Acadia ferry to retrieve the lighthouse, in exchange for 230 scallops, worth about $2500, along with hot dogs and a bottle of pop. Finally, with federal funds, it was restored and later installed in Digby Harbour in 2016.
Hot Tip
: Digby's scallops are world famous. For a delicious lunch in Digby, stop by the
Crow's Nest,
where the scallop burgers and fish stew are delicious. On a sunny day, you can sit outside and watch the harbour.
I picked up my official Sou'Wester hat at Shoreline Suites, which has a shop in front of the restaurant, with thanks to my guide, Sandra Phinney.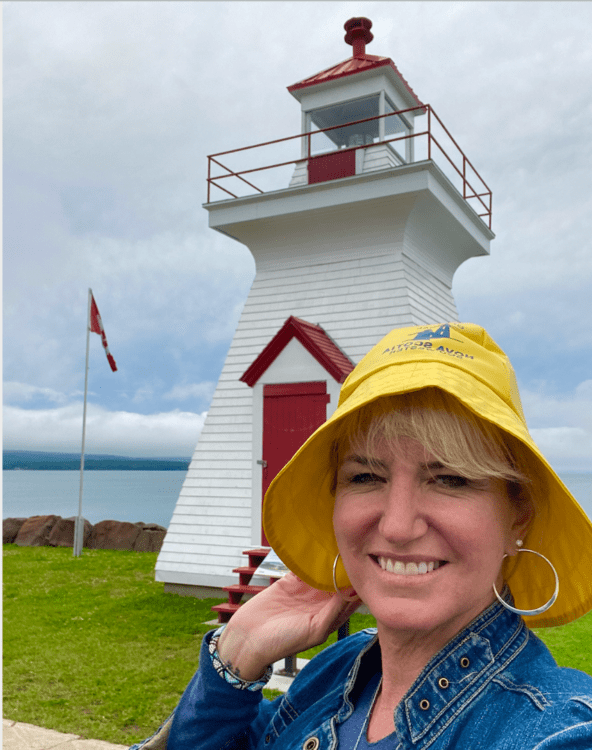 Sporting my official Sou'Wester hat in Digby / Photo provided by Carolyn Ray
Other Lighthouses on the Route
 The Nova Scotia Lighthouse Preservation Society (NSLPS) was founded in 1994 by lighthouse enthusiasts as a non-profit society to benefit all the then existing 150 plus lighthouses in Nova Scotia, which has the largest number of lights of any province in Canada.
To read more about the Lighthouse route, visit the Nova Scotia Lighthouse Preservation Society' website at https://www.nslps.com/. There is also a section on additional reading resources here.
Seal Island Light Museum, Barrington
A replica of the Seal Island Lighthouse, this museum displays lighthouse equipment and memorabilia and tell the stories of Cape Sable Island, Bon Portage and Seal Island, It's topped by the cast iron lantern that was removed from the tower in 1978 and was wrapped with a Pride flag when I visited. Read more here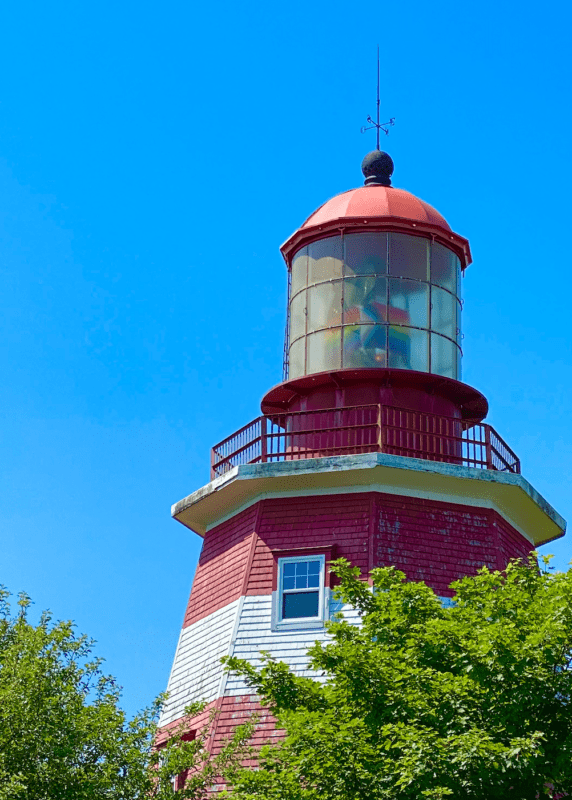 Cape Seal wrapped in the Pride flag / Photo provided by Carolyn Ray
Baccarro Point Lighthouse, 1852
Perched at the edge of the ocean at the most southerly point of Nova Scotia, this is an important seabird watching site and quite possibly the windiest place I've ever been! Read more here.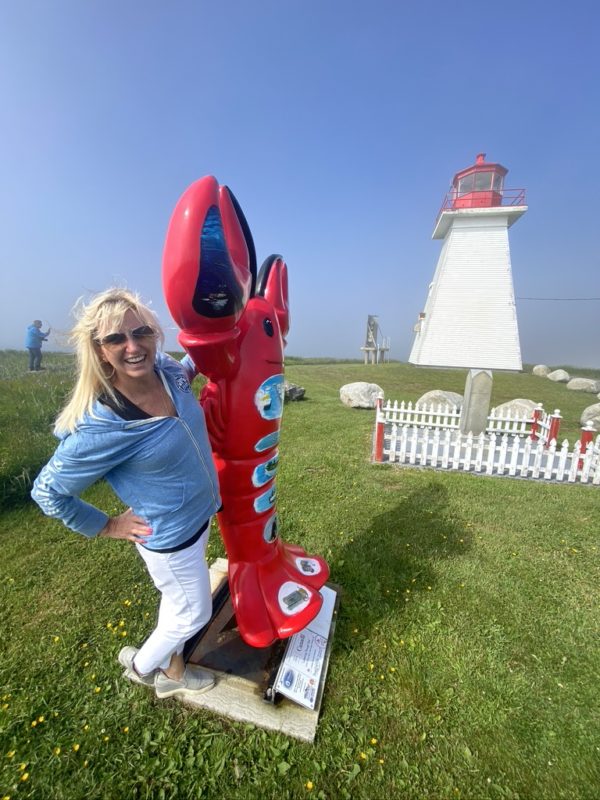 Lobsters and lighthouses – two of my favorite things / Photo provided by Carolyn Ray
Point Prim Lighthouse, 1817
Caption: Situated on the rocky headland of Digby Cut, the deep water passage, this lighthouse originally sat on the cliffs and was demolished in 1964. A new lighthouse was built that will also house a museum. Don't miss the views of the ocean from the cliffs and from the top of the lighthouse, which are stunning. A great place for bird and boat watching. Read more here.
Where the original lighthouse once stood on the rocks / Photo provided by Carolyn Ray
Belliveau Cove Lighthouse, 1990
The 'cutest' lighthouse on the tour, on the eastern pierhead, where the boats wait patiently on the ocean floor for the tide to rise (and also windy!) Read more here.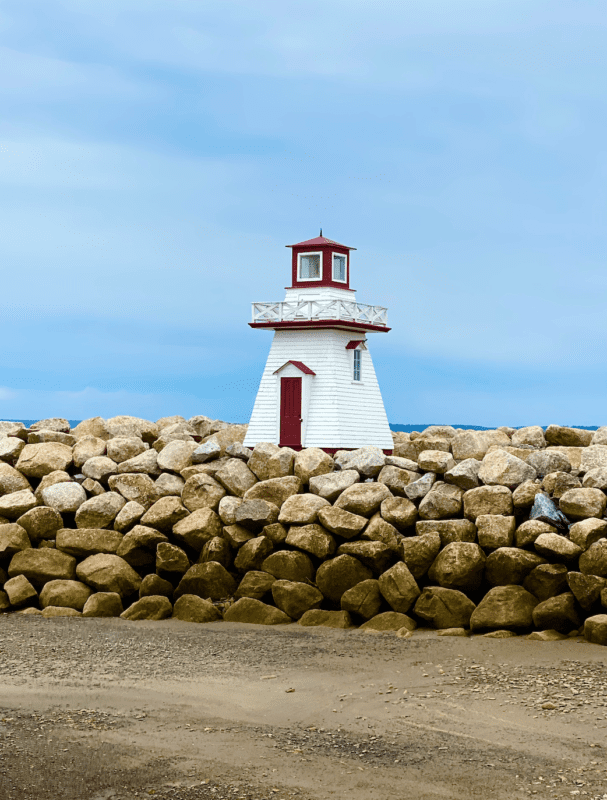 Belliveau Cove Lighthouse, where the water disappears at low tide  / Photo provided by Carolyn Ray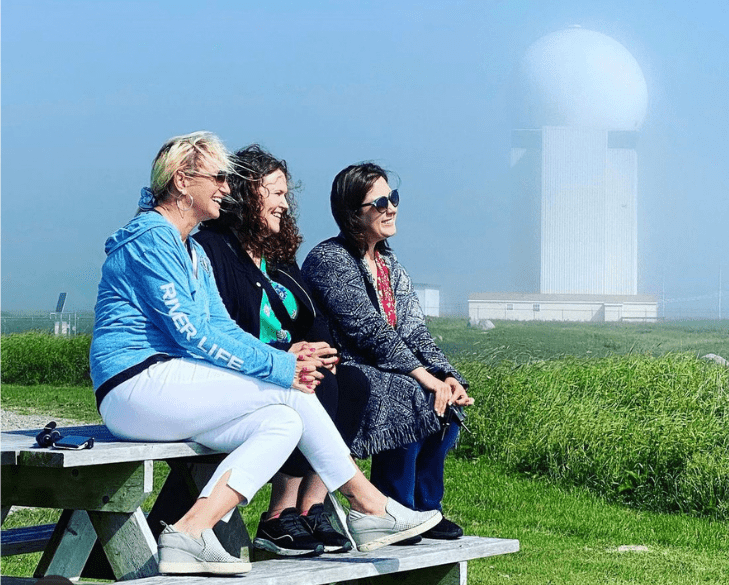 Two of my travel journalist friends, Shelley and Lauren, at Cape St. Mary's Lighthouse / Photo provided by Carla Allen
If you go to Yarmouth
Book Your Flights
Most major airlines fly into Halifax, including Air Canada, Westjet along with low-cost airlines like Flair and Lynx, which recently launched. Use tools like Expedia or Google Flights to look up the best flight prices. Being flexible with dates can save you even more money.
Drive or Rent a Car
Nova Scotia a driving culture, and even though there are shuttle buses that run from Halifax to Yarmouth, you'll only want to use them in a pinch. You can drive from the mainland and then explore the other nearby provinces including Prince Edward Island, New Brunswick and Cape Breton Nova Scotia. Check car rental prices here.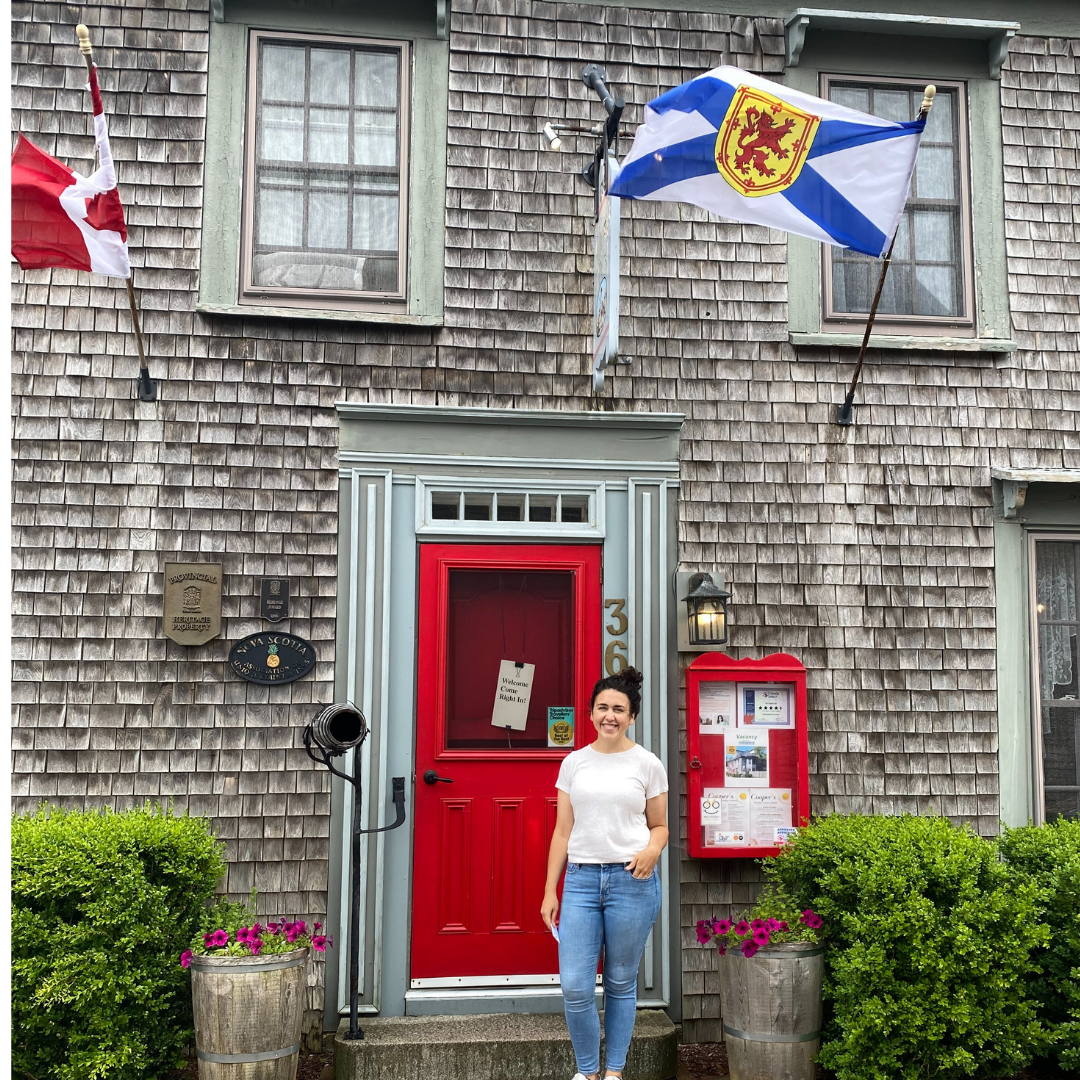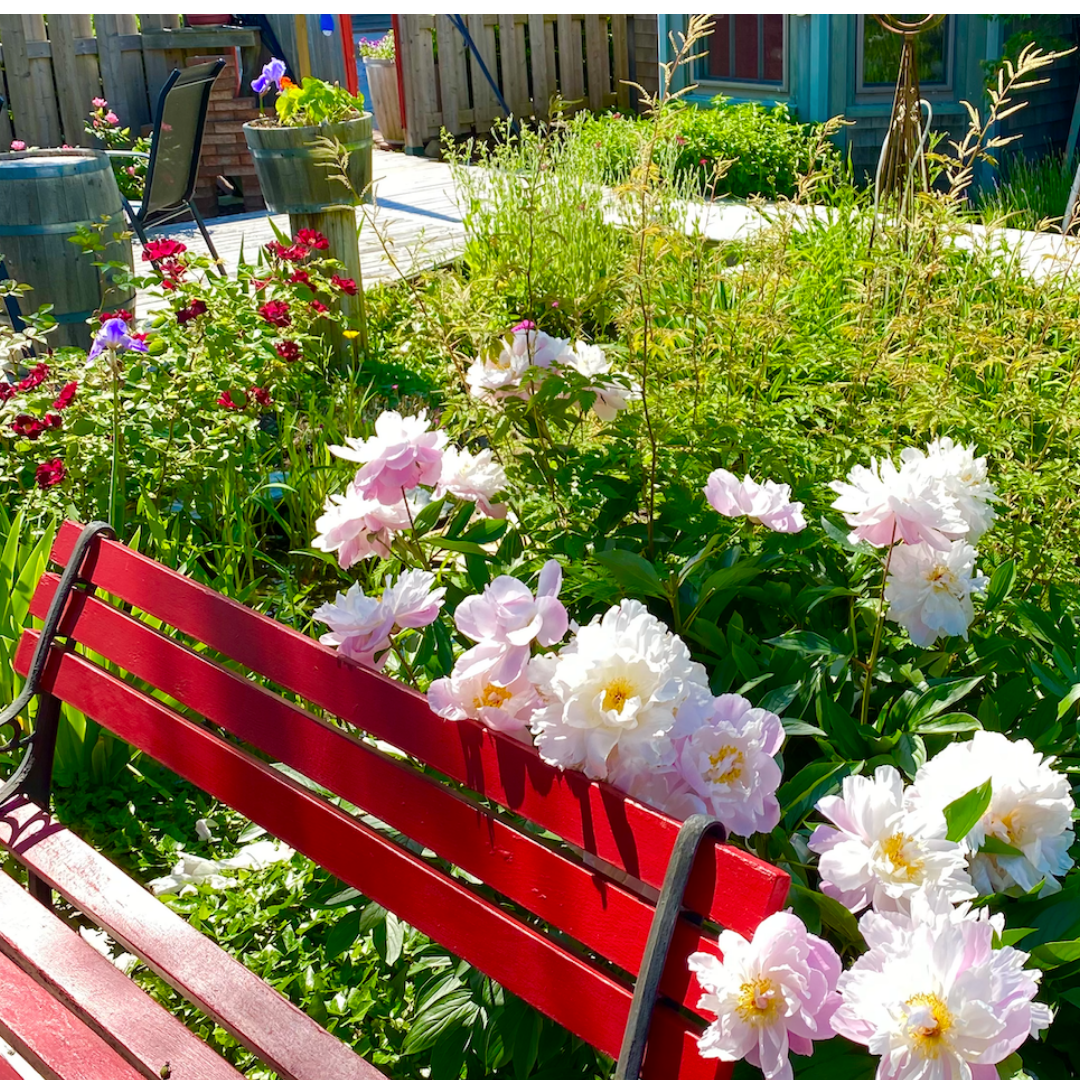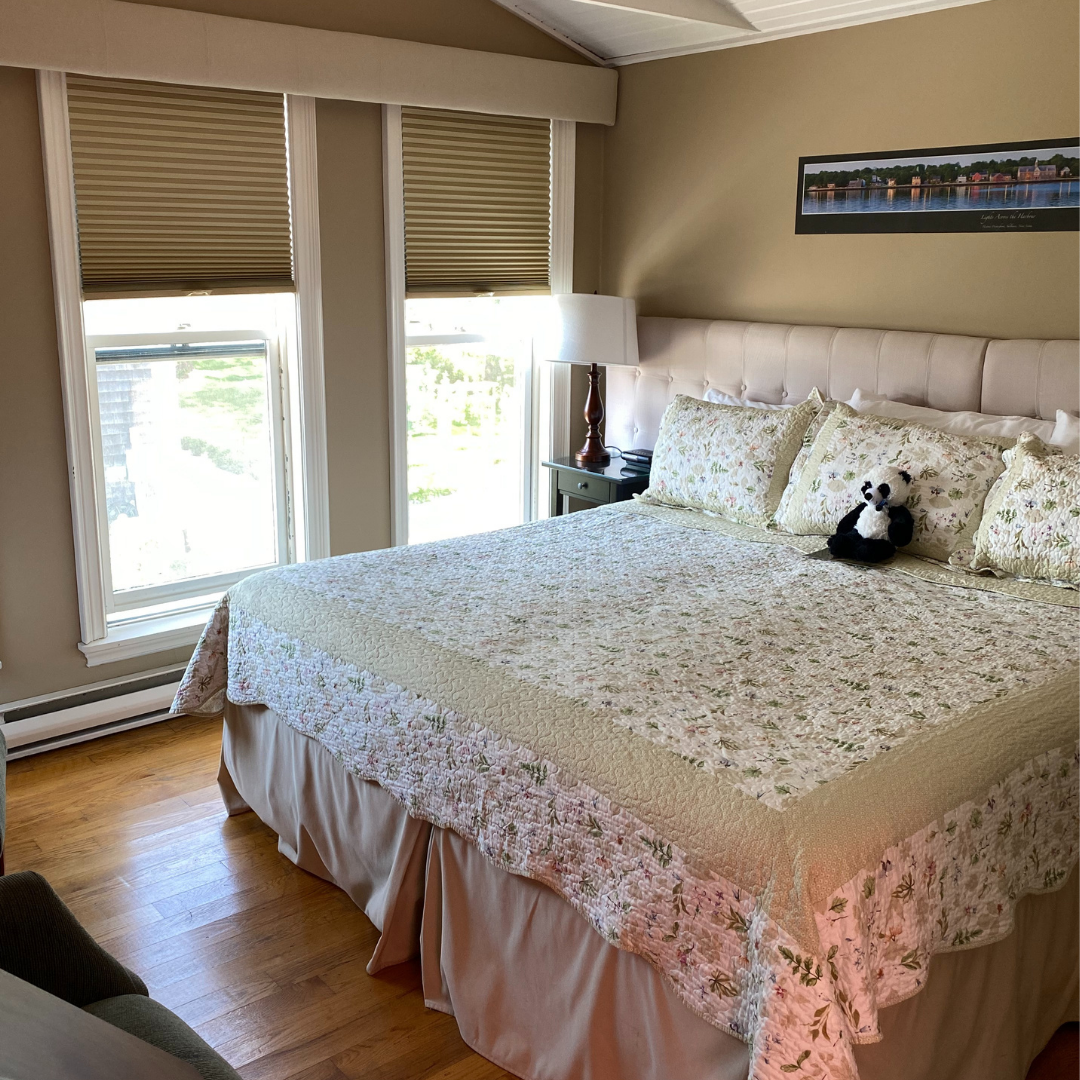 Find Somewhere to Stay
In Shelburne, I recommend Cooper's Inn (photos above), a wonderful bed and breakfast. I also stayed at the Digby Pines in Digby and the Rodd Grand in Yarmouth.  Look for a hotel on Expedia and earn points towards free stays. Hotels.com offers a free night stay for every 10 nights booked. There are also homestays available on VRBO. 
Insure Your Trip
If you're travelling out of province or country, we recommend travel insurance, which is more important than ever, particularly for flight delays and cancellations. Compare plans and policies for the best coverage for your trip using Insure My Trip. Traveling for an extended amount of time? SafetyWing offers ongoing coverage on a month-to-month basis, and World Nomads offers coverage for extended trips.
Don't forget your JourneyWoman branded accessories while you're on the go!
More of Canada's Beauty to Discover
Inspired by the idea of 'psychogeography, when we take time to slow down and experience things, we can discover extraordinary things close to home.
A quick trip from Toronto, Stratford, Ontario is a welcoming place for a solo getaway for women who enjoy arts and culinary experiences.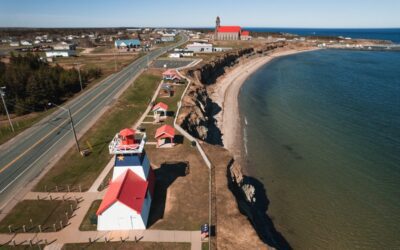 Located in New Brunswick, the stunning Acadian Peninsula Veloroute is a network of 14 cycling circuits perfect for a three-day trek.