Last updated on June 25th, 2023
Featured Image: Peace, relaxation, and the beauty of the Canadian wilderness with modern touches and an emphasis on comfort and safety. | Photo credit: Arowhon Pines Resort
Why I love returning to Arowhon Pines
by Carolyn Ray, Editor, JourneyWoman
There's nothing quite as exhilarating as observing a wild animal in its natural habitat – in this case, a young moose near Arowhon Pines in Algonquin Park, Canada's first provincial park and wildlife sanctuary. From a safe distance away away in my canoe, a large, dark brown form splashes into the water joyously — a young moose enjoying his twilight snack of lily pads.
The wind pushes me a bit closer to him, making me squirm. I know he is standing in about four feet of water and I didn't want to get too close. Moose are very good swimmers and can even dive umderweater. And they can move fast!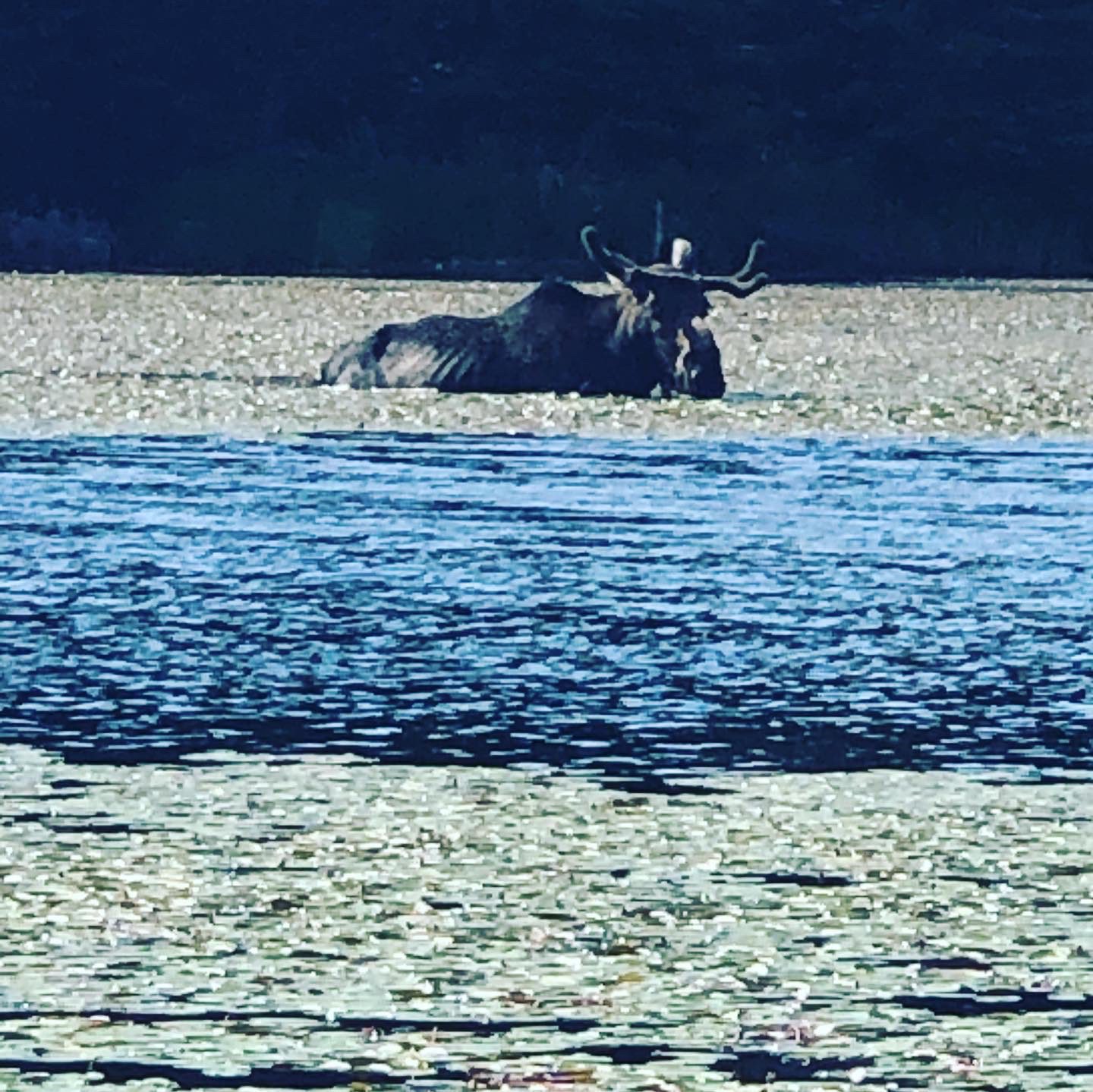 Seeing a moose is a highlight / Photo credit: Carolyn Ray
When is the best time to see a moose?
Created in 1893, Algonquin Park is a wildlife sanctuary for many moose, along with bears, wolves, beavers and more. It was established to protect the headwaters of five major rivers: the Muskoka, Little Madawaska River (including Opeongo), Amable du Fond River, Petawawa River, and South rivers.
This isn't my only moose sighting – the next day I spot a female cow in a nearby area. The best moose-viewing time is in the early morning or afternoon. Preferably, you don't want to see them on the road (a good incentive to drive slowly).
I love the birdsong. The forest is never quiet. Blue Jays, loons, and other creatures greet me in the morning, reminding me that I am a guest in their world. Being so close to nature again after months of downtown life in a small apartment is overwhelming.
Within several minutes of arriving at Arowhon Resort, a small boutique hotel inside the Park, I had already jumped into the lake, which was shockingly warm. I swam eagerly to a floating platform, using muscles I haven't exercised in months.
And when I arrived, the smell of fresh pine, a warm, gentle breeze, an isolated cabin in the woods, and a stunningly beautiful sunset with the cry of loons make it all worthwhile. No cell service, no wifi, no TV. Only reading, writing, swimming, talking and being present. This is my state of being for four wonderful days in Algonquin Park.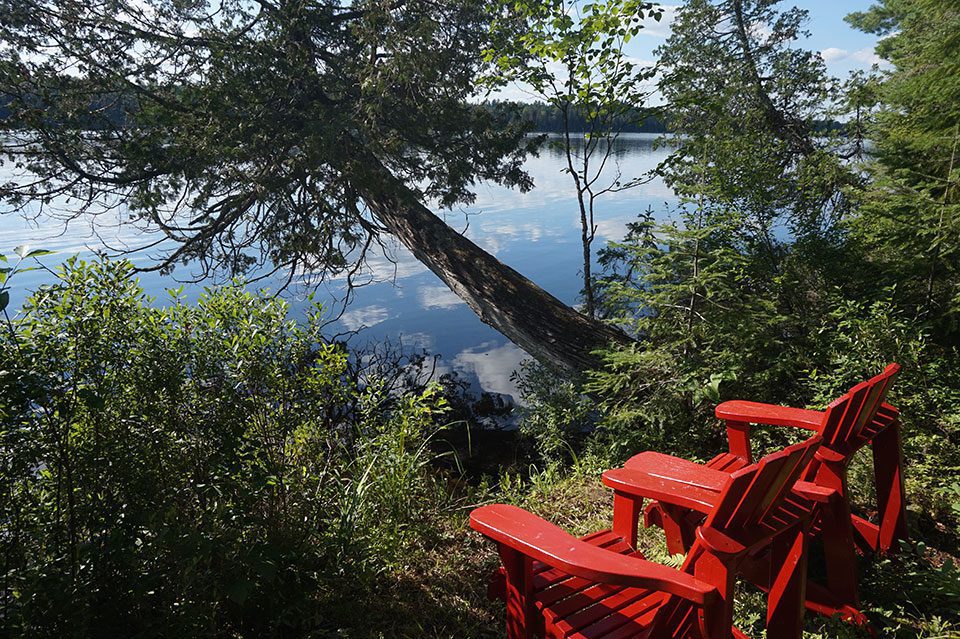 The perfect place for relaxation by the lake / Photo credit: Carolyn Ray
The woman behind Arowhon Pines
The story of Arowhon Pines begins in the 1930s, when entrepreneur Lillian Kates decided to build a lodge to accommodate parents visiting her nearby Camp Arowhon, near Huntsville, Ontario, which sits on the Canadian Shield. My family had cottages on nearby Lake of Bays for decades; I can attest that it is a place that is absolutely ice-cold in the winter and hot and humid in the summers. For many years, it was accessible only by train, which makes the story of Arowhon's founding even more amazing.
As legend goes, Lillian hired and fired four architects before she found someone who could design a lodge organic to the site. Theresa, one of the current owners, shared an article with me from Saturday Night Magazine written in 1976, which said: "If there's any justice, one of the next legends to be told around Algonquin Park campfires will deal with a feisty woman named Lillian Kates. She's eighty–six now, and almost no one calls her Lillian. She's Mrs. Kates or Granny. In 1934, in the midst of the depression, she took over a failing children's camp on Tepee Lake in the park. In those days, there was no road to the Pines. No power tools either…only axes, cross cut-cut saws, a hand winch, and a team of horses to hoist into place the building enormous central iron chimney."
Over 80 years have passed since then, and today, Arowhon is run by three general managers, Theresa, David and Adam, hand-picked by Lillian's family.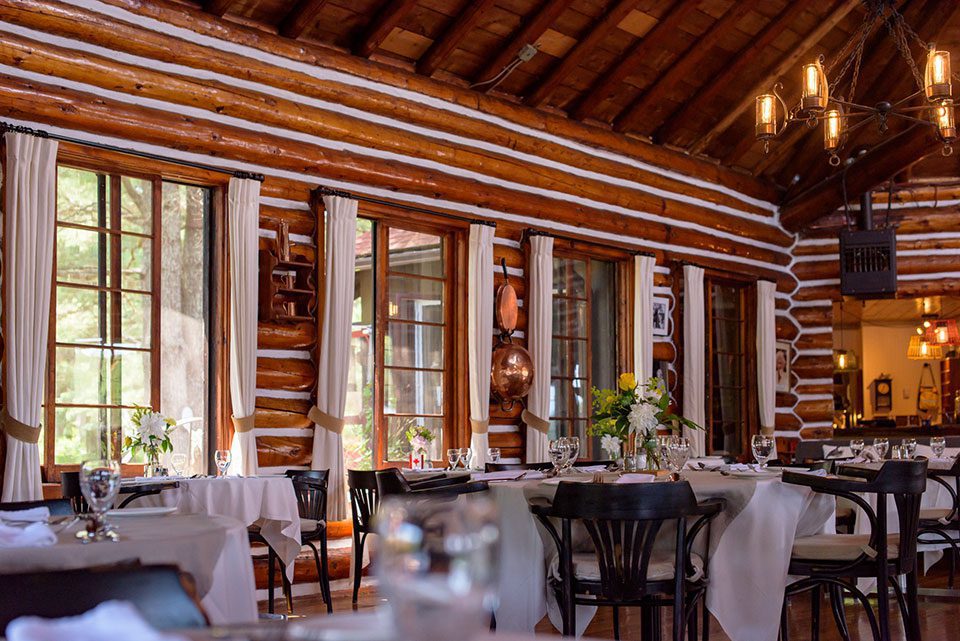 The log cabin dining room / Photo credit: Arowhon Pines Resort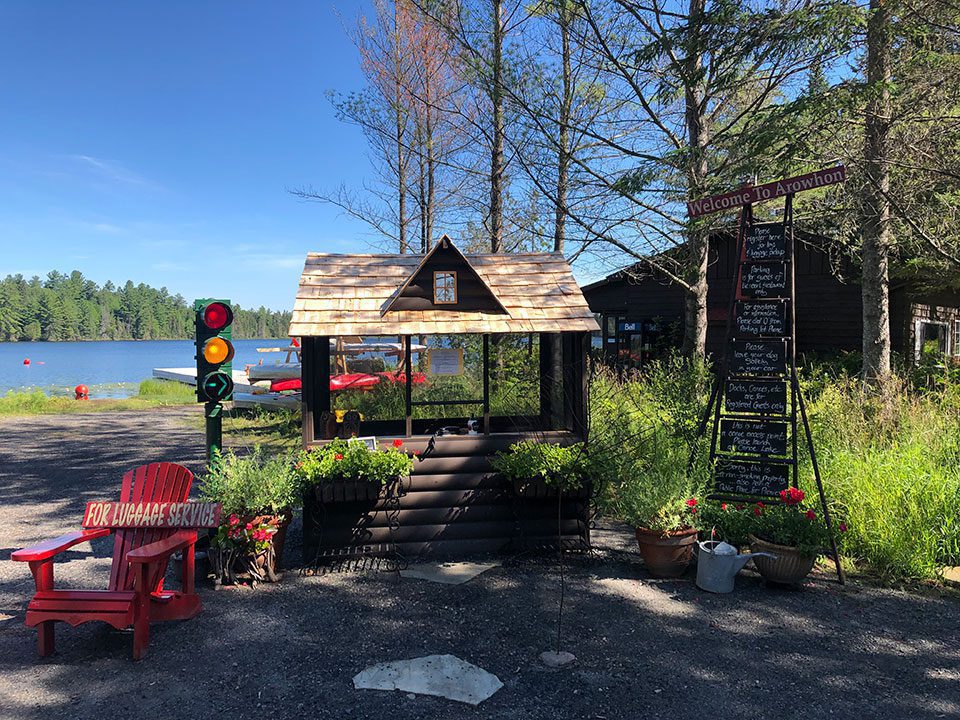 A warm welcome at Arowhon  / Photo credit: Carolyn Ray
Five reasons to enjoy Arowhon Pines
In addition to the beauty and wildlife in the Park, other reasons I enjoy Arowhon Park include:
1. Safe for solo women: Arowhon Pines was recommended to me by Tamara, a close, trusted friend. The resort caters to solo travellers and couples, with 40 per cent of its guests typically coming from the US or Europe. It's a small lodge with a mix or rooms, guesthouses and cabins for solo travellers. up to groups or 8 or more.
2. Culinary experience: Its culinary reputation is the best in the Park, and frankly, I am excited to have someone else cook for me! Both the food and the service are wonderful.
3. Group of Seven: Arowhon Pines is very close to Canoe Lake, where I went to summer camp as a teenager and where the Group of Seven artist Tom Thompson mysteriously disappeared, bringing an air of intrigue to the area.
4. Mobility/Accessibility:  Arowhon Pines has accommodation for guests with mobility issues, including full access rooms and rooms closer to the dining room and the action on the main dock. Staff with golf carts can help transport guests to and from the parking lot. Canes are available, but they suggest that people will mobility issues walk the old railway bed which is flat. It's a short drive away. There is also a pontoon boat for those not able to use the available canoes, sailboats or kayaks.
5. Hiking trails: Several hiking trails surround Arowhon Pines; of them, I would recommend the Medicine Tree Trail through the hardwood forest. The Orange Trail, which runs toward Canoe Lake, is a long one, although there are large rock outcroppings along the way to eat lunch and watch the canoeists.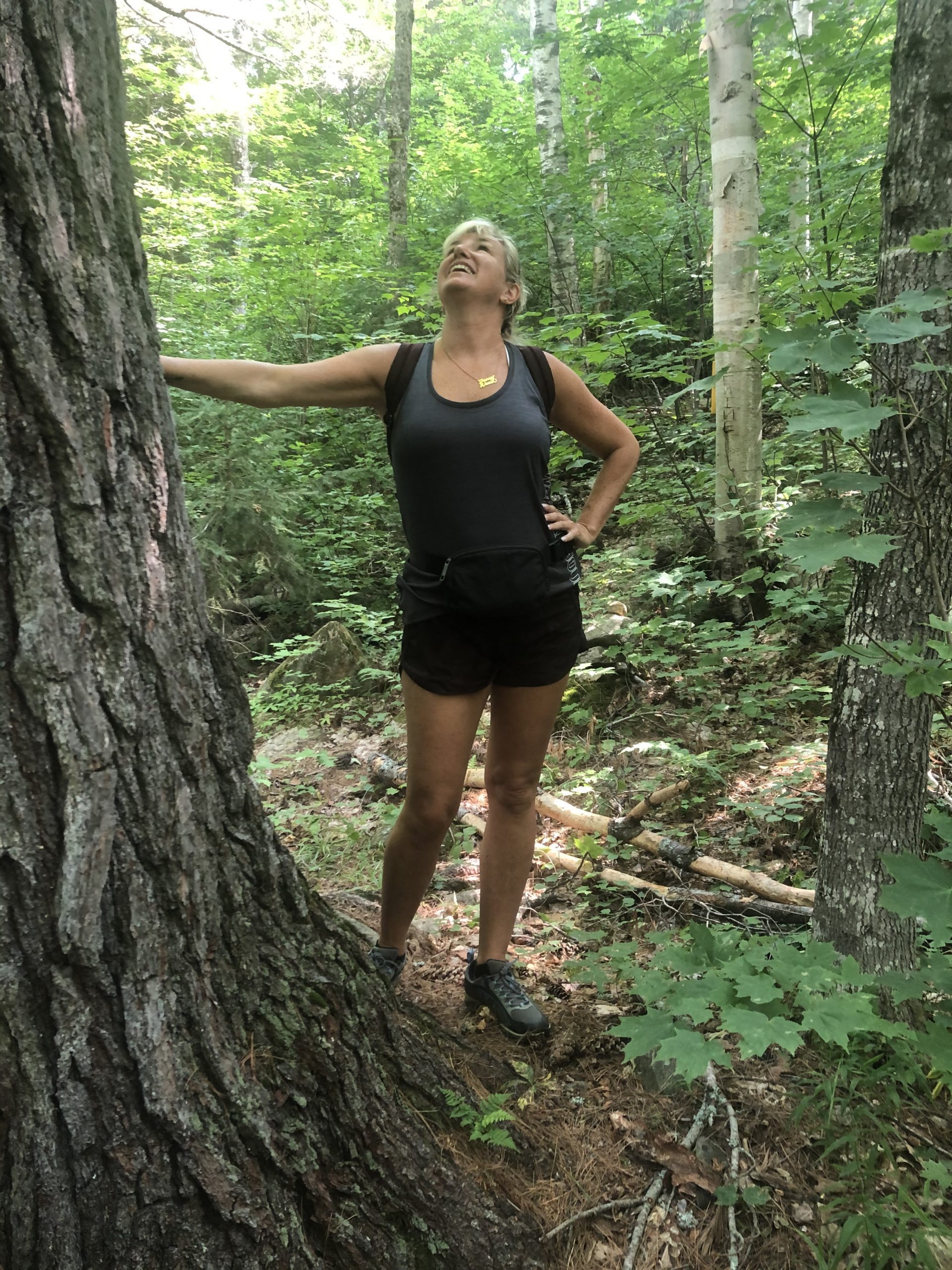 Hiking in the forest near Arowhon Pines /Photo credit Carolyn Ray
Arowhon Pines is a lifestyle
Theresa Papulin, one of the owners of Arowhon Pines, tells me: "The Kates' always wanted to leave Arowhon Pines to the managers who worked here, who would continue it as it has always been – a warm welcome, tasty food, house made with quality, local if possible, ingredients and a gorgeous respected rustic location. People here feel comfortable and it's not pretentious. To give it to the long-time managers who realized that maintaining this resort is not a job, it is a lifestyle."
I also appreciated how Arowhon Pines supports women-owned small businesses in the area. Theresa told me that Blue McKone from Drifts of Blue selects flowers for the tables from her garden; Anna Antonia (Essentials4myskin) supplies us with that lovely soap and shampoo in the rooms; Karen Grey from the Potters Studio Gallery provides pottery for sale; Christine Luckasavitch of Waaseyaa Consulting speaks at Arowhon Pines on Indigenous matters. The food for the resort comes from Bailey at Stittsville 4B Farms, Patricia at Muskoka Roastery Coffee, Velma at Sprucedale Meats and Sharon from Four Season Greens.
Disclaimer: I was not compensated for my stay at Arowhon; however I was offered a small discount and much to my surprise and joy, upgraded to a private cabin. Thank you Theresa!
If You Go to Arowhon Pines
Make sure you mention you read about it here and ask for Theresa! 
The drive from Toronto is about 3.5 hours, with the last part along the two-lane Highway 60. Take care to drive with caution, particularly in the mornings and evenings due to moose, deer and other wildlife.
You can take a bus www.parkbus.ca to the Portage Store where the resort will pick you up. There is also a seaplane available for emergencies only.
The nearest hospital is about an hour away, in Huntsville. There is a doctor on staff at nearby Camp Arowhon (when it's open in the summer).

 There are

 private and shared cabin; pricing varies but includes three delicious meals
Stop by the Portage Store for supplies, rent a canoe or have lunch
Bring hiking shoes, a hat and bug spray
Bring your camera, leave your computer
JourneyWoman readers share their tips on where to stay in Dublin, Ireland, including hotels, hostels, B&Bs, and more.
Airbnb's new 'Adapted' category supports accessible travel, plus other new services to enhance safety for women.
Airbnb has created and expanded its services, including AirCover and Airbnb Setup, to encourage older women to join the platform as hosts.