Last updated on November 19th, 2023
Featured image: Looking up at the Parroquia de San Miguel Arcángel in San Miguel de Allende, Guanajuato, Mexico./ Photo by twenty20photos
10 tips to help you find your way to and from San Miguel de Allende
By Carolyn Ray, Publisher, JourneyWoman
 My trip to San Miguel de Allende wasn't my first international trip this year, but it was the first within North America. With its colonial history, temperate climate and thriving cultural scene, it is one of those cities that is small enough to know quickly, yet large enough to satisfy a broad range of tastes and experiences.
Located in Guanajuato, about three to three and a half hours northwest of Mexico City, San Miguel is only a 10-hour drive from the US border, and fairly easy to get to from Canada and other central locations.  As a first-time visitor, I uncovered a few tips to help make your first trip to this lively, engaging city easy and fun. 
1. Getting to San Miguel de Allende
To get to SMA from the Mexico City Airport, you can take an airport shuttle or a bus. Renting a car was not recommended by anyone I spoke to. I took the Bajigogo shuttle direct from the airport to my Airbnb. This costs $150 USD per person one way or $75 USD per person if there are more than two people. I used it twice and found it safe and easy. The website is a bit hard to use, so try calling the toll-free number if you need clarification on anything. You can also fly into Queretaro Airport and take a 90-minute taxi or shuttle from there. 
Mexico's bus system is also very good. When I returned to Mexico City, I used ETN; another option is Primera Plus. ETN is 535 pesos per person (or $45 USD) one-way from the Esctacion de L'Autobus in San Miguel to Mexico City Norte. You can choose your seat on the bus and it has large, reclining seats, TVs and wifi. Masks are required on the bus. You can also take a bus right from the Mexico City Airport, which I will definitely do next time as the station is right inside the terminal.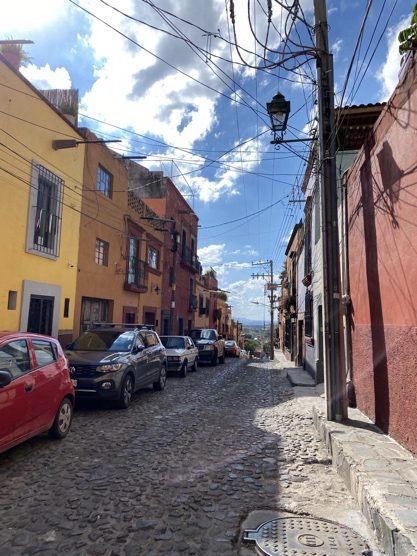 Colourful buildings in SMA
2. COVID Testing: To be a good traveller, take a covid test before and after you travel, even if it's not officially required. This helps ensure you are not bringing the virus along with you to vulnerable people. 
In San Miguel, there are several options to get tested. The Rosewood Hotel offers onsite mobile testing by MedexLab. A PCR test is approximately $2000 pesos for a (C$X/US$) with results in under two days. An Antigen test is $550 pesos C$X/US) and results take about two hours.
TIP: Canadians, confirm that you are getting a PCR test as the staff can confuse them, as happened to me. In my case, my daughter was visiting from Canada and needed a PCR test to return home. Two hours after taking the test, she received antigen results, much to our surprise. Since we were at the bus station at the time, we had to return to the Rosewood, where we were assured a new test was not required and that we would have test results in 24 hours. Forty hours later, we were still waiting, and she was unable to check into to her flight. I am forever grateful to the Rosewood Hotel staff for helping me obtain her correct test results, as there was no response at the San Miguel MedexLab testing number.  You can also get both rapid tests and COVID tests at the Mexico City airport. For example, Volaris in the Garden Hilton offers 24-hour PCR testing and rapid tests. 
3. Shoes: To avoid injury, wear flat, comfortable shoes, no high heels or open-toed shoes as the streets are not paved – they are cobblestoned and rocky. The sidewalks are narrow and you'll need to navigate walking both on roads and sidewalks.  Most people wear flat sandals (not flip flops), low-heeled boots or sneakers. You don't want to twist an ankle in the name of fashion! 
TIP: "Stop by San Miguel Shoes (Reloj and Mesones) for sandals" – Christine
Known as the heart of Mexico, San Miguel de Allende offers many diverse arts and cultural experiences for women to enjoy.