Last updated on July 3rd, 2023
Featured image: Portage, PE, in the North Cape Coastal Drive region/ Photo credit Heather Ogg
The PEI Camino is a perfect place for solo women to take the first step
By Carolyn Ray, Editor, JourneyWoman
When the rain finally comes, it's relentless. Lured by the warm morning sunshine in September, I'd left my raingear behind, and now I'm regretting my lack of foresight. It's not that I didn't pack for rain, but my execution needs practice.
That's why I'm here, to exercise not only my body, but my planning reflexes. After my sunny, warm 21 km walk on PEI's Island Camino the day before, I became overly confident and ignored the solo traveller's number one rule: Be ready for the unexpected.
Fortunately, this is Prince Edward Island, so Mary Ritchie, who runs the Olde Anchor Inn B&B I'm staying at in Murray River, responds quickly to my urgent call for a roadside pickup. In October, I'll be walking the Camino de Santiago, and won't have the luxury of texting for a ride. Which is why this walk — PEI's Island Walk — is the perfect way to refresh my solo travel skills after almost two years of a pandemic-forced hiatus. It's also an opportunity to try out my walking gear, hiking shoes, sandals, backpack and packing skills. And believe me, I need the practice. 
I'm walking this Camino with fellow JourneyWoman Marilyn Kater. Marilyn has decades of solo travel wisdom and walked the Portuguese Route on the Camino de Santiago with her daughter Amorena in 2019. She's on day 23 of her PEI walk and by the time she finishes, she'll have walked over 330 km of PEI's Island Walk.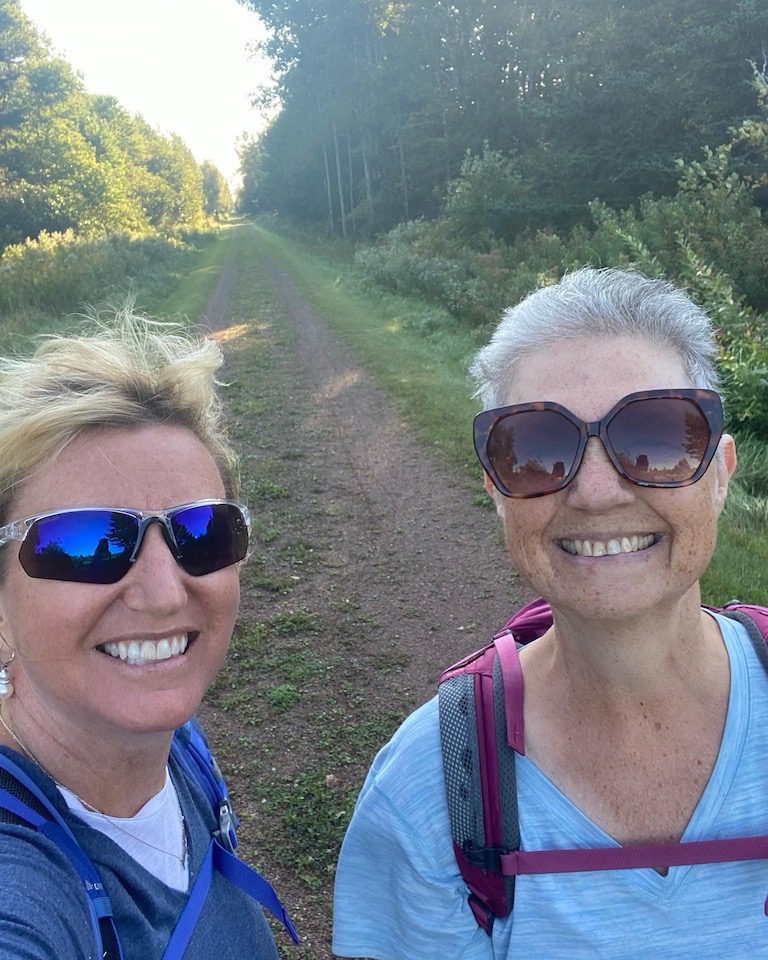 Marilyn and I
on our first morning in New Zealand, PEI / Photo by Carolyn Ray
The Island Walk Fab Four (left to right): Nora Wotton, Bryson Guptill, Marion Grant, Danny Grant / Photo by Dan Grant
The inspiration behind PEI's Island Walk
Officially opened in 2020, the PEI Camino wraps around the outside of Prince Edward Island, Canada's smallest province, in the Atlantic Provinces of New Brunswick, Nova Scotia and Newfoundland and Labrador. The 700-kilometre trail passes through beaches, red dirt roads and uses 350 km of the Confederation Trail. 
It starts in the capital city of Charlottetown and winds through small towns like Cavendish, the home of Lucy Maud Montgomery of  Anne of Green Gables fame, and seaside towns like Summerside, Anglo Tignish and Elmira from coast to coast. 
Bryson Guptill, who is a member of the Board of Island Trails, the not-for-profit organization that has sponsored the Island Walk, says while he walked the Camino de Santiago in 2016, it was after completing Portugal's 225 km Rota Vicentina in 2019 with his partner Sue that he felt inspired to tackle the Island Walk.
"Parts of Portugal are very rural, not unlike PEI, and the towns are often 20 km apart," Guptill says. "You are also walking on dirt roads much of the time, and on trails not unlike the Confederation Trail in PEI. PEI has beautiful scenery that rivals anywhere else in the world. The ocean views are especially stunning."
Marilyn says she decided from the beginning that it wouldn't be fair to compare the PEI Camino to the Camino de Santiago. "The Camino do Santiago is thousands of years old and despite its current trendiness, its beginnings are firmly rooted in being a religious pilgrimage," she says. "The PEI Camino is brand new and not necessarily a religious pilgrimage. Physically it is not nearly as challenging as the Camino de Santiago. The average grade of the roads in PEI is 3%. The Island Walk challenges that at times, yet the incline is manageable if taken slowly and my guess would be not much more than a 5% grade."
Each of the 32 sections of the Island Walk is numbered, with mileage and recommendations for local B&Bs, which offer accommodation, a drive to your starting point, breakfast, and a packed lunch (dinner is not included). In the two years since its founding, the walk is just starting to gain popularity, as evidenced by a 730-person Island Walk Facebook group that I join to share experiences and feedback. 
Highlights of the PEI Island Walk
During the pandemic, I've been walking 10 kilometres a day, mostly in the mornings. Weekends I do 20 km, usually along Toronto's Waterfront Trail. 
In PEI, I can walk and enjoy one of my favourite things — lighthouses. There are 63 on the island, surprising in a province that is only 140 miles (224 km) long and 40 miles (64 km) at its widest point. With an average one lighthouse for every 34 square miles, PEI has the highest concentration of lighthouses in North America.
Many of them have storied histories: I visit Cape Bear Lighthouse, built in 1881, where Marconi Operator Thomas Bartlett received the 'first in Canada' distress call from the Titanic on April 14, 1912.  You can hear the distress call here on the lighthouse's website. 
While there, Marilyn and I meet Marie, who regales us with stories of the lighthouse's history and keepers. She tells us that the lighthouse was relocated due to cliff erosion.  Lighthouses are preserved and maintained by the Prince Edward Island Lighthouse Society and most are individually owned and operated by local community non-profit groups, so there is a small donation ($5) to visit the museum. 
Perfect for aspiring solo travellers
On my third day, I have the opportunity to walk solo. With 14 km behind me, I start down section #29 in Murray River. The trail is empty ahead of me, and after a few hours, I wonder:  do I keep walking or stop? Do I walk to the ocean or down a country road? Stop for a break or push myself to my limits? In the end, I decide to walk until I feel pain. I want to know how far I can push my body, and how fast it will recover. Ten kilometres later, I hit my wall and call Mary for my pick-up near Northumberland Provincial Park, 17 kilometres from where I'm staying. Fortunately, I have my hiking sandals and wool socks to help me recover (and a glass of Nova Scotia rosé).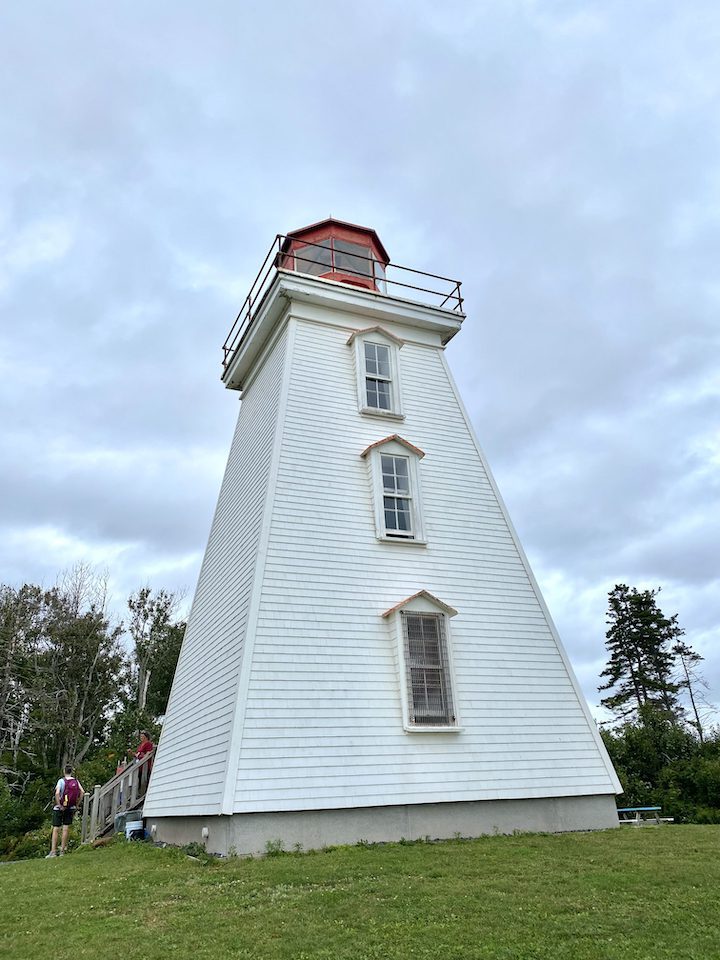 Cape Bear Lighthouse, where the cliff erodes at a foot a year / Photo by Carolyn Ray
"During the pandemic, the only people who did the walk were Islanders who live here," Guptill says. "In a sense, that was a blessing. We heard about things we could improve – like signage. We now have signs at every turn. And we were able to sort out how accommodations would work on this walk. What's happening now is many accommodations are providing multi-night stays. In return, they are driving walkers to and from the trail each day. That means you don't have to carry a heavy pack – you can just focus on the beauty of the Island countryside and the ocean vistas."
This is a place where women new to solo travel can test their newfound skills by staying in a small homestay or bed and breakfast (no big hotels here), meet other women easily, and know that others are watching out for you. There are hospitals in major centres like Charlottetown and the island is accessible both by air, ferry and the 12.9 km Confederation Bridge.
Making connections with every step
On my fourth day, Marilyn and I veer off the PEI Camino and walk 14 km to Beach Point, which is on the southwestern tip of PEI. Our morning starts in the small fishing village of Murray Harbour, where there is a touching Christmas-like tree memorial to those lost at sea. Buoys with photographs, hearts and handwritten messages cover the tree, which is lit up at night, to honour those lives  — fishermen and fisherwomen, husbands and wives, fathers and sons.  
Curiosity is one of the solo traveller's best assets and Marilyn has it in spades. She's showing me to how make the experience deeper and more meaningful by starting conversations with everyone we meet.
Memorial tree in Murray Harbour, PEI / Photo by Carolyn Ray
"My enlightenment comes from things like nature and the spirit of the people I encounter," Marilyn says.  "The three biggest risks that I took were: Doing the Island Walk solo, truly connecting with locals, and truly tuning into myself and trusting the decisions I made to course-correct along the way."
As we walk along the ocean, a car slows beside us and a farmer hands us a bag of red potatoes, fresh out of the ground. Everywhere we go, people stop to answer our questions or wave hello. There's always time for a photograph and a chat about the weather, life on the island, food or local happenings. 
"For me, these long-distance walks are all about making connections," Guptill says. "Connections with nature and the beauty of this Island, and connections with the friendly and welcoming people who live here. I love to see walkers chatting with other walkers, and I love hearing about how they have connected with their hosts as they spend a few days or weeks living in their midst. I also love hearing how the Island Walk is building a culture of walking within PEI."
Workers keeping the trail safe have time for a photo and a chat / Photo by Marilyn Kater
A caring, interwoven community
In my five days on the Island, I've come to see that PEI is a special place, with its slow, unhurried pace and caring, interwoven community.
Mary Ritchie, who runs the B&B I'm staying at, moved here from Ontario a year and a half ago with her husband Tony. Mary's outgoing, friendly personality seems perfect for PEI. I'm amazed at her energy, and how connected she is to everyone in the community. She holds down multiple occupations as a veterinary technician, a B&B owner, a wonderful cook, and seems to know every inch of PEI. 
Within hours, she helps us organize a wonderful get-together, including Shannon who runs Come From Away Bed and Breakfast, Sandra, the Deputy Mayor, some of our JourneyWomen readers, including Robin and her mother Pat, and June and Ruth, who live on the Island.
"We're finding the people we're meeting are the same mindset as us," Mary says. "We finally found a place that we fit, it's really cool. We're learning to not have that go-go-go mentality. It has been just over a year and I'm still a little wound up but I'm working on how not to be. I have two speeds — go and stop."
In another small world story, it turns out that Mary also knows Nora Livingstone, our animal ethics expert on the JourneyWoman Advisory Council. Her passion for animals is outpaced only by her passion for cooking delicious meals every morning.  I'm glad to be walking every day just to work off the eggs benny bowls and french toast!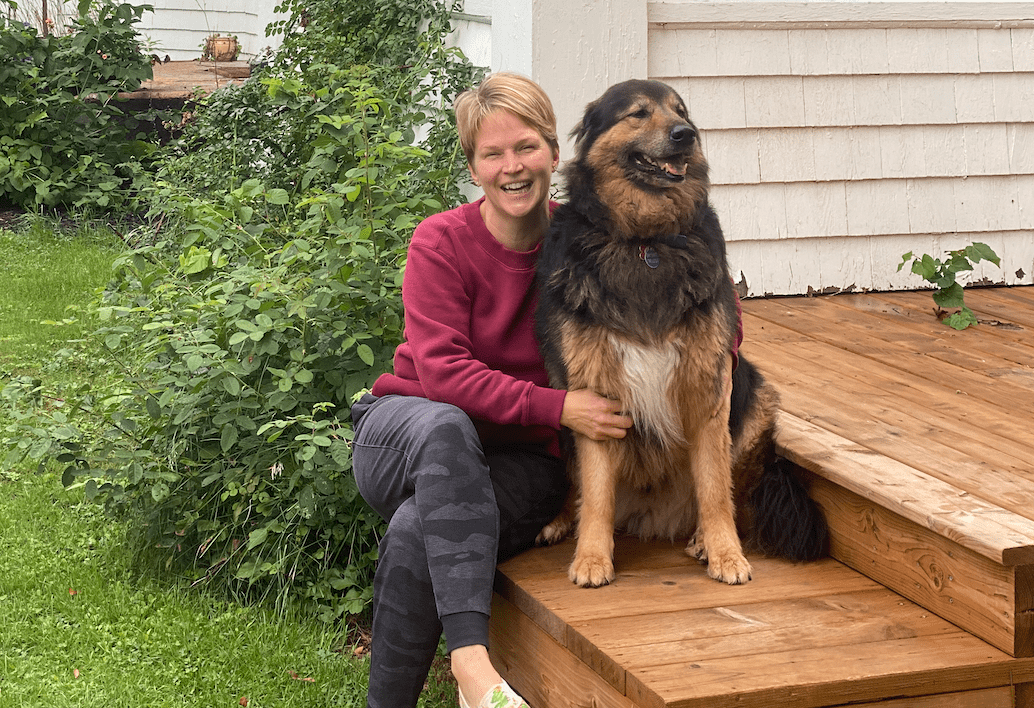 Mary Ritchie, in front of the Olde Anchor Inn with the loveable Danny / Photo by Carolyn Ray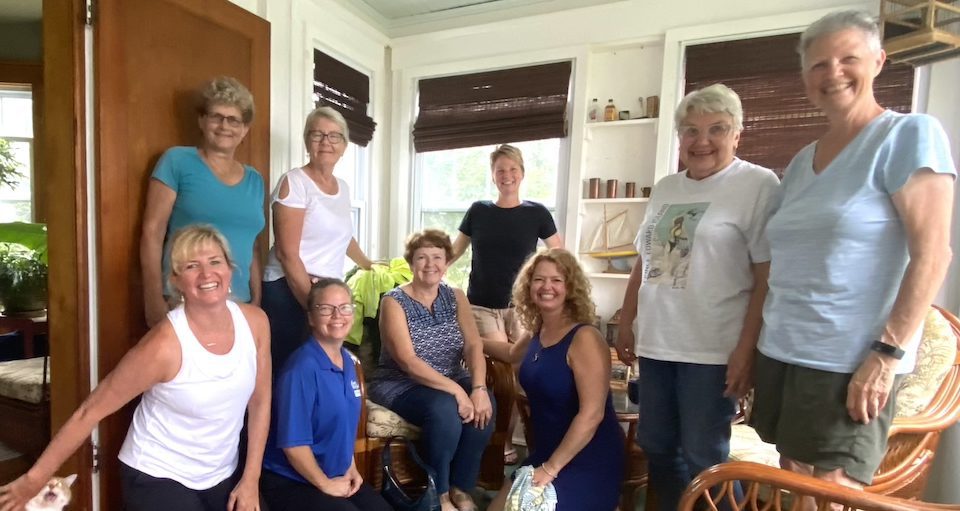 JourneyWomen in PEI f
rom left: Carolyn, Ruth, Shannon, June, Pat, Mary, Robin, Sandra, Marilyn (all fully vaccinated)
/ Photo by Carolyn Ray
Coming from 'away'
On my last evening in PEI, I learn firsthand why more people come 'from away' to this island. Mary invites Michelle Irving and her husband Nate, a fisherman turned tour operator and owner of Captain Nate's food truck over for a visit. Both of their families have lived on the Island for generations. 
"My family arrived here in 1779 from Scotland," Nate says. "Dad was a potato farmer but my calling was the sea. When I turned 21, he sold the farm and I became a fisherman."  Nate bought his own fishing fleet in 1990 at the age of 24 and fished until 2012, when health issues forced him to change careers.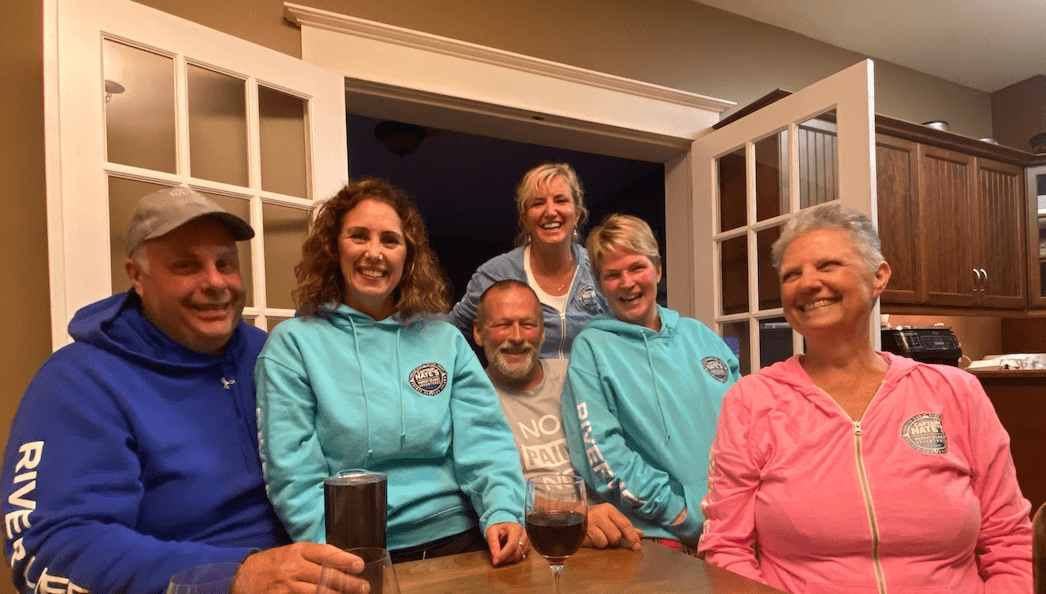 Kitchen talk with Captain Nate Irving and his wife Michelle, Tony, Carolyn, Mary and Marilyn at Olde Anchor B&B / Photo by Carolyn Ray
Now, he runs Captain Nate's Tours and regales visitors with stories of his fishing days, with sightings of seals, killer whales, whale sharks, humpback whales and 1,200-pound leatherback turtles in the Northumberland Strait. Nate has a deep respect for sea life, having spent so much time on the ocean, which he tries to convey to his guests and to the people who are moving to PEI in droves. 
When I ask him what people need to know to belong here, he says: "When you try to come in, just be nice. Treat people the way you want to be treated, and it will go a long way."  Nate's dad used to leave potatoes on the front stoops of people in the neighbourhood, reinforcing the culture of kindness and daring that exists on the island. "No matter who you are, people will look after you here," he says.  
With the pandemic, there are a lot of new people coming in. And I can see why: PEI works on the honour system, where everyone looks out for someone else. Conversations are deep and meaningful, and friendships are formed through generosity and kindness.
"The secret of PEI is out," says Nate.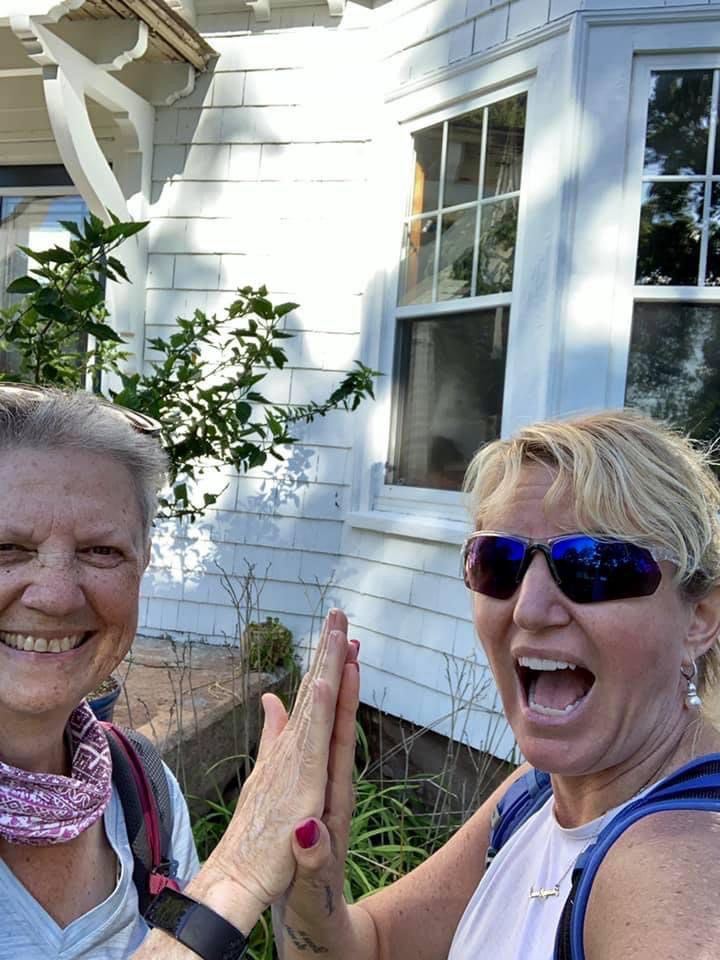 PEI Island walk Tips from Marilyn and Carolyn
Make sure you have a buff for warmth
Have electrolytes on hand 
Prepare for rain with a poncho and backpack cover 

Ask questions: Be a traveller, not a tourist

Pack less and bring layers 

Have a printed map and directions, as there's not always cell service  

Bring bug spray 
Have protein snacks and apples 

Find a support group online (Island Walk) 

Bring toilet paper and a plastic bag to put it in (note there are no washrooms on the Walk) 

Get off the beaten trail 

Get your Island Walk Passport (like the Camino passport) next season, along with a backpack patch, online. The Island Walk will issue a Certificate of Completion free of charge for anyone who completes the full 700km walk.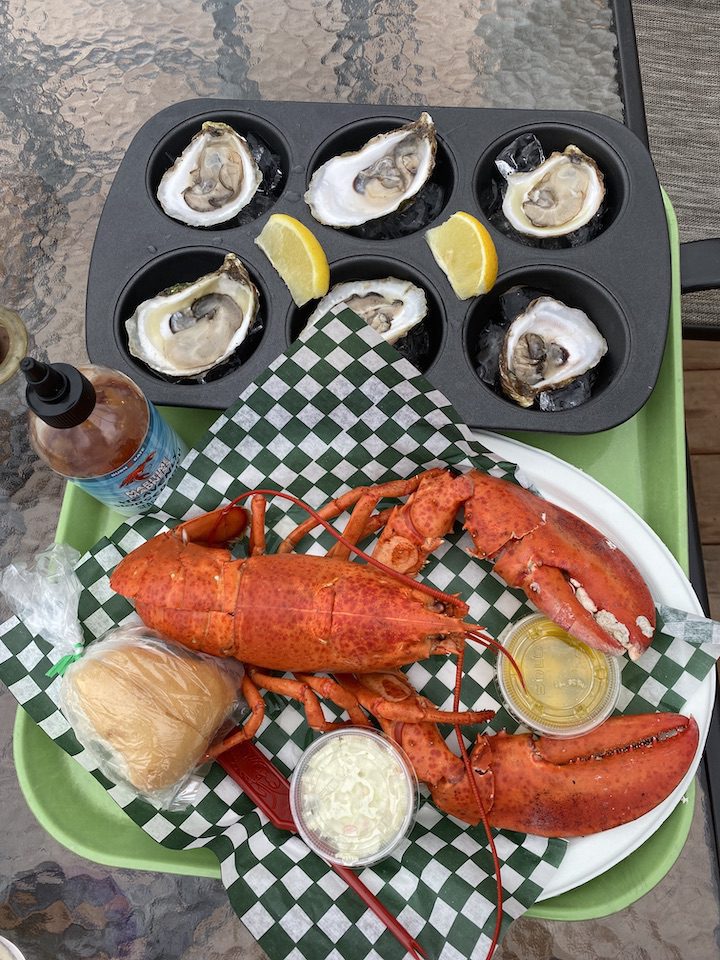 Getting here
Walking is the perfect activity for the 'shoulder season,' which runs May-June and September-October  

Two-hour direct flight from Toronto on Air Canada 
PEI Pass / COVID test upon arrival

Masks required indoors in some places 

Can drive anywhere on the island in under a few hours

Island Walk Website includes the map and accommodations
Olde Anchor Inn Bed and Breakfast in Murray River (contact: Mary Ritchie)
George Larter, who I met at Mary's, offers a service to pick up and transport bags, perfect for cyclists
Disclaimer: The original impetus for this trip came from Marilyn. PEI Tourism covered some of my costs for this trip with the exception of airfare and some accommodation. The organization did not review or approve this story before publication.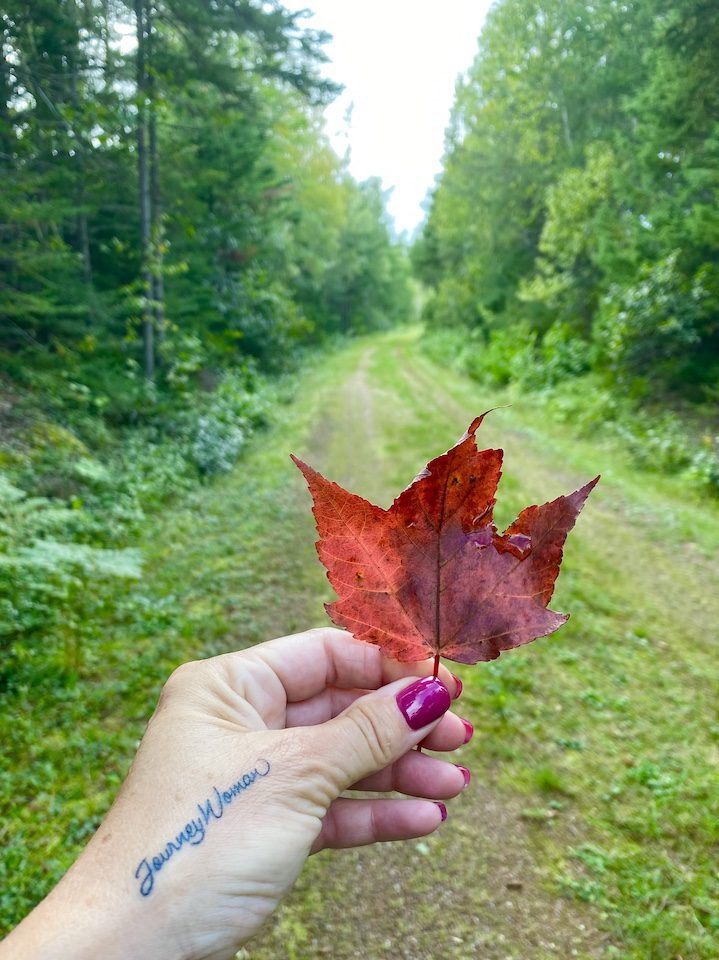 Start Planning Your Trip
Get started with resources recommended by the JourneyWoman community
Book Your Flights
Use tools like Expedia or Google Flights to look up the best flight prices. Being flexible with dates can save you even more money.
Find Somewhere to Stay
Find a hotel on Expedia and earn points towards free stays. Hotels.com offers a free night stay for every 10 nights booked.
Looking for an apartment or something more long-term? Check out VRBO.
Insure Your Trip
Travel insurance is more important than ever. Compare plans and policies for the best coverage for your trip using Insure My Trip.
Traveling for an extended amount of time? SafetyWing offers ongoing coverage on a month-to-month basis, and World Nomads offers coverage for extended trips.
Looking for a Tour?
Head to the Women's Travel Directory to find a woman-friendly tour around the world.
Travel Extras
Why not brush up on a new language before your trip with Babbel.
Don't forget your JourneyWoman branded accessories while you're on the go!
Discover Even More of Canada's Beauty
A quick trip from Toronto, Stratford, Ontario is a welcoming place for a solo getaway for women who enjoy arts and culinary experiences.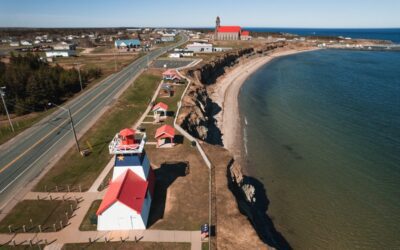 Located in New Brunswick, the stunning Acadian Peninsula Veloroute is a network of 14 cycling circuits perfect for a three-day trek.
Travel industry experts share 15 hidden gems in Canada, including small towns, provincial parks and UNESCO World Heritage sites.