Last updated on December 1st, 2023
Featured image: There is so much beauty waiting to be discovered in England | Photo by Emilia Czarnota from Pexels
The Best Places to Stay, Eat, and Explore from a Former Local 
By Joy Fox,  JourneyWoman Advisory Council Member
England is one of my heart places. It's where I grew up, have moved back to twice, and have spent many holidays. I will never get tired of visiting. Here are a few tips for you if you decide to go.
Flying into London?
Spend some time in London, soaking up the history, visiting the markets, walking the streets, window shopping in the West End, visiting all the popular sites. Walk along the Thames or take a boat ride and sail under the many bridges that span the waterway. Take a stroll through Hyde Park, visit Churchill's War Rooms, or the art galleries and museums galore. Find endless things to do in London here.
There is something for everyone in London, no matter what you are looking for. It is a very exciting city and if you have never been, it is worth staying a few days to check out all it has to offer. Give yourself the time to deal with jet lag. Do check out smaller places to stay rather than the more expensive hotels. It is a pricey city. We have stayed in rooming houses and B&Bs in various parts of Central London.
Joy's Favourite Places to Stay in England
There are many unusual places to stay in England. For instance, there is a place called The Control Tower, part of a former RAF base in Walsingham, Norfolk. In York, a former Coal Shed is now a beautiful B&B. A little research can find some gems. You can stay in a treehouse, a boathouse, a roundhouse, a windmill, a shepherd's hut, chapels, a lambing hut, a yurt or a hobbit house. There is plenty of info online to suit everyone and every taste.
Investigate CoolStays or Quirky Accom for some interesting accommodation alternatives.
London is expensive, but if you feel like housesitting or doing a home exchange, it is free. I was a member of 5W (Women Welcome Women Worldwide), so I sometimes stayed with a member when I was travelling—a reciprocal arrangement. I hosted many in Victoria. There are embers all over the world.
Getting around
Use the Tube to get around. Driving in London can be stressful. Leave it to those who do it for a living. There are taxis everywhere, a good bus system, and the Tube gets you everywhere you need to go. If necessary, you can get a mask that is printed with a map of the tube or a map of London. (Available from Anglotopia). If you fancy riding around in a Black Cab, they do tours of London. 
Get your transit and rail passes here
Tours and sightseeing
There are many tours offered in London, you can even visit a Medieval 'clink' (jail) and have a Medieval feast. England has many historic cities. You can step back in time, soak up the history, visit the museums, palaces, historical sites, in London and other parts of the country you plan to visit. England has many fine examples of times gone by, wherever you may travel. Windsor makes a great day visit. We watched the Changing of the Guard there. 
The Changing of the Guards at Windsor
Joy's Favourite English Tours
Talk to the locals
Locals know the best places to eat and can lead you to hidden gems you may not easily find on your own. While on this topic, you may run into some different dialects and idioms. England has many slang words (list attached). Local accents vary from region to region. The farther North you go, the broader the accent. You may feel you could use sub-titles at times.
Wear comfortable shoes!
England is a walking place and whether you travel to the East, West, North or South, there will be footpaths to follow. Stay on the designated trails, as many of the footpaths go through private land. There are signposts along the routes. You may meet cows or sheep in the fields. They are usually harmless, but they do like to stare at you. If you fear getting lost, there are tourist companies who will guide you. There are walks in England for every level of fitness.
Scenery around England
Everywhere you go, in the countryside, the vistas are breathtaking, green fields, stretching as far as the eye can see. If you are a serious walker and fit, a visit to the Lake District and Cumbrian Mountains or the Yorkshire Dales may suit your walking style. However, there are walks for all levels in England, so do not be put off if you are not athletic. Many companies cater to walkers. 
Special Interests
If you have an interest such as painting, dancing, singing, history, gardening, or more, England is a good place to find a retreat or course on your subject. I have enjoyed walking, gardening, knitting, and painting in England. 
Joy's Favourite Workshops
HF Holidays: This company does it all – walking, cycling, hiking, singing, dancing, art, photography, bridge, crafts, culture, making music, literary and music festivals, yoga and pilates, combined with walking. They have programs in many countries, as well as throughout the UK. I was planning on doing another walking trip with them and a singing activity break.
Flying into Gatwick or Stanstead
This will give you better access to the West Country of England, well worth visiting. Take the train out of London, to enjoy the stunning scenery en route. Go as far as Land's End and travel back along the coastline for some stunning scenery and beautiful beaches. 
There are good beaches all around the coast of England. The area around Torquay in Devon has been called the English Riviera. Palm trees in England! You will find good beaches on the South, East and West Coasts.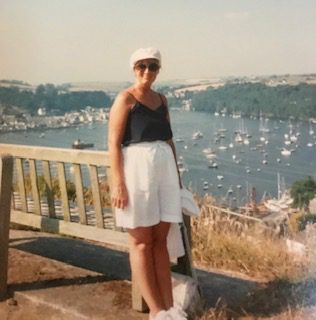 Joy enjoying the English coastline
While in Cornwall, visit the Minack Theatre, an open-air theatre carved out of rock. The Scilly Isles can be reached from Cornwall. There are no motorized vehicles there – it's really bucolic. Further along the coast in Southampton, access a ferry to the Isle of Wight. Walk around it on the pathway, if you are able. The Isle of Man is also worth a visit, via ferry from Heysham, Lancashire. While in that area, the beach at Morecambe will entice you. It's a very popular destination in the summer months, one of the best in England.
Getting Around
Trains will take you comfortably to all areas of the country. Consider a train pass, which can be purchased before you go. You can easily find schedules for trains, buses, and ferries. It is a good idea to have all your transportation needs taken care of before leaving home.
Driving? Aside from driving on the left, some of the country lanes are only wide enough for one car, so be prepared to pull over, or you may also have to pull over for a flock of sheep (lol). Find a rental car here.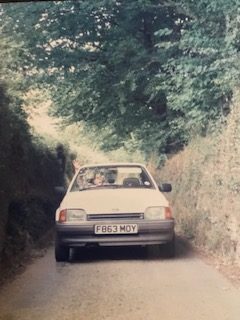 A Brit's Guide to Slang and Idioms

 
Knackered = really tired
Trollied  or legless = drunk
Tosh – nonsense
Narky – miserable or bad tempered
Bobby dazzler – pretty girl
Gobby – loud mouth
Wazzock or plonker – idiot
Balls up or cock up or dog's dinner  – messed up situation
Fluke – one off
Arsed – can't be bothered   
Clink – jail
A beef – argument or upset
Bangin' -good
Bovvered – bothered (cockney slang – they often rhyme things, such as apples and pears meaning stairs)-
Init? – isn't it?
Gutted -devastated
Butty – sandwich (i.e. chip butty – really good!!
Chips – French fries
Chuffed – happy or proud
Bats or banting – chattering (from bantering)
Cuppa – cup of tea
Kip – sleep
Sorted – arranged
Nosh – food
Fag – cigarette
Bog – toilet
Take a pew -be seated.
Have a butchers, take a gander, have a dekko – have a look
You may be called 'pet' (Northumberland), dear, my love (West Country) or darling anywhere. Just an idiom. Not meant offensively. However 'do me a favour darlin' is offensive!
Traffic can be overwhelming on the main roads, so drive carefully. Roundabouts are a way of life and keep traffic moving.
Don't Miss Afternoon Tea
Do have an afternoon tea. A common mistake is to call it High Tea – that is something different, a hot meal at the end of a working day. Afternoon Tea may also be called Cream Tea, which means you can count on scones with Devon clotted cream as part of the meal. Excellent, but keep walking to counteract weight fluctuation!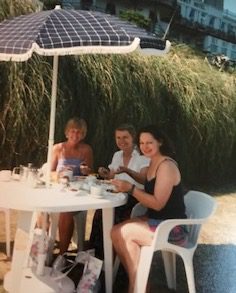 Joy's Favourite Places to Enjoy Afternoon Tea

 
Bettys Tea Rooms

, Harrogate and York, as well as four other locations in Yorkshire. Part of the Teapot Trail.

The Cobbles Tea Room

, Rye, Sussex

If you fancy a cream tea at

Harrods

in London or afternoon tea at

The Savoy

,

The Ritz

,

 

Fortnum and Mason

or

Claridges

, you can do that, but it will be pricey. I prefer smaller places, where the prices are reasonable.
Afternoon Tea is available almost everywhere. Bettys in Yorkshire is renowned.
Pub Grub
There are many great pubs around the country. You may have to go to the bar and order your food and drink. Some places have table service, but in many pubs you usually get your own.
The oldest pub in England
Joy's Favourite British Pubs
There are over 48,000 pubs in England and over 60,000 in Great Britain. These are a few of my favourites:
I have been in so many lovely pubs in various parts of England. I tend to look for character over modern. A lot of the pubs in England are very historic buildings, dating back to the 15th century.
I mentioned going to get your own drinks. Should also mention that if with a group in England, you should get a round in, meaning taking turns to buy a round for your group.
The Bottom Line
No matter where you're flying into, there's something for everyone in England. Don't be afraid to try some of the more touristy options. This former local has enjoyed many of them. Part of the experience. I'm looking forward to getting back to England post-pandemic – hopefully in 2021 (I'm an optimist).
Weird Customs With Prizes
Rolling cheeses down a hill in the Cotswolds
Wife carrying race in Surrey
Bog snorkelling in Wales – don't ask!
Dancing around the Maypole on May Day
World hen racing championship in Derbyshire
Weighing in the Mayor (making sure they are not living off the fat of the land)
Nettle eating in Dorset
Whittlesea Straw Bear Festival with Appalacian Dancing and Morris Dancing
The World Gurning Championship (pulling faces)

Tar Barl Festival in Northumberland -carrying burning barrels full of tar to a bonfire
Totnes orange races – chasing oranges down a hill
Pearly Kings and Queens -usually London, but often in other parts of the country
Moulton Crow Fair – men dressed as crows dance around a scarecrow 
World Custard Pie Throwing Championship in Oxheath
Jigsaw puzzles on the shore (not sure where this takes place, but it is a team contest to see how much of the puzzle  you can do before the tide comes in. I watched it on TV.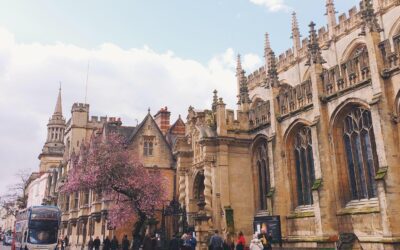 Our October 2023 Book of the Month, "The Dictionary of Lost Words", explores the creation of the Oxford English Dictionary and how words mean different things to men and women.
Visiting London? Why not take a long weekend break in Edinburgh, one of those magical cities that can be enjoyed year-round.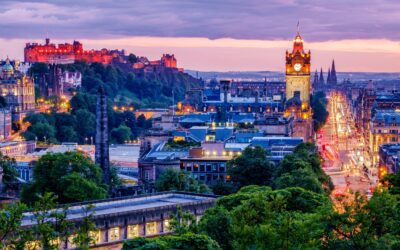 Take a break from the classics and discover these 10 intriguing books set in Great Britain and Ireland, from city to countryside.