Last updated on March 12th, 2023
Solo travel and healing: a story of making peace with death
By Amanda Burgess, Editor, JourneyWoman
There are times when   old wounds that still bleed at least once a year. Toronto-based Magali L. lost her father in a car accident caused by a reckless driver that she was witness to when she was only nine years old. It shook her foundation, gave her a reason to fear death, and since it happened a few months before Christmas, changed how she felt about the holiday.
In 2004, Magali booked a group tour to India over the holidays. She'd always been attracted to the country and its culture, but she was suddenly engulfed by a burning desire to take herself out of her life, her head, and her comfort zone. The fact that it meant spending Christmas in a foreign country that largely doesn't celebrate it was part of the appeal.
"For me, before I had a kid, Christmas did not have a lot of meaning for me. That had to do with coming from Europe, where it's not as commercial. I despised that aspect of it," she says. "And losing my dad when I was nine…Christmas is different after that. I was avoiding Christmas."
She was hoping to find herself on that journey, but she found so much more through the simple kindness of a man who stood as guidepost for a traveller who felt lost in many ways. As the tour snaked its way across India towards Varanasi, Magali soaked in the colours. She smelled the scents. Observed the people and took reams of photos. She tasted all there was to taste.
Soon, the group landed in Varanasi. Set around the banks of the holy Ganges River, Varanasi is where Hindus come to die. For the dying, it's considered a great honour to die and be cremated here. Some families spend their entire life savings on cremation.
"I like to be prepared – I don't like to improvise things. But in this case, I didn't overthink it. I just jumped into it," she says. "That particular morning I got up early, which is very rare for me. I left early with my camera for a stroll on the ghats, taking photos of kids, and I came across the pyres where people are burned. I stood there and I realized what was happening in the distance. I was so unprepared."
A man appeared at her side, offering to give context on what she was witnessing and allow her to ask questions of him. He was a maker of silk scarves with a business nearby and asked that she come and look at his work with no pressure to buy after he spent some time with her by the pyres.
The pair stood there for an hour, talking. She asked her guide why there were no women present and he told her his people worry that women, in their grief, will throw themselves onto the fire. There is also a lingering belief that if a woman lights the pyre, the deceased won't attain moksha (freedom) from the cycle of reincarnation.
"I saw how it was quite simple, the bodies shrouded in white, placed on the pyres. It was relatable and beautiful – the family members focused on making sure everything was happening properly," she says. "They weren't showing huge amounts of sadness. It was very peaceful."
"Varanasi allowed me to experience things that were intense, eye-opening and reassuring," she says. "I came back stronger, more courageous, more accepting of what is, and peaceful."
The simple, open acceptance of death floored her. She has harboured vivid memories of her father's death for many years but feels she didn't have much exposure to the reality of it afterwards. There was no speaking of it in her home. It gave her and her younger brother no room to openly grieve.
"We just kind of pretended we were okay and continued on with our lives," she says. "Now I was okay. It was the first time I realized that death is part of life and that is okay. I saw what was happening , and I was so calm and Zen about it."
She did repay her guide's kindness by taking a look at his silk scarves and found them to be a colourful swirl of high-quality pieces. She bought two, and still wears both. Years later, she still thinks she came out the richer on that exchange.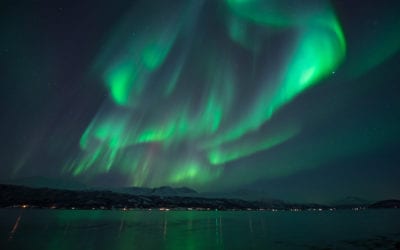 We reveal the top seven Once-in-a-Lifetime Travel Experiences recommended by women, including the Northern LIghts, the Camino de Santiago, Canada's Rocky Mountains, a Safari in Africa, an Antarctica expedition, Machu Picchu and Bali.