Last updated on May 15th, 2023
Featured image: Travelers are advocating for more age-friendly airports to ease the burden of plane travel | Photo by AnnaStills on Envato
How to Get Through Airports and Still Have Enough Energy for Your Vacation

By Diana Eden, Contributor,  Women Over 80 Travel 
When I asked women on our private Facebook group 'What do mature people hate about travel?' most said that getting there and getting back is the most challenging part. In some instances, air travel has become so difficult that some women no longer want to travel to places where taking a plane is necessary. As airports get larger with multiple terminals and concourses, age-friendly airports are becoming less common, particularly for those of us with mobility challenges. 
Five out of the 10 largest airports in the world are in the United States: Denver, Dallas, Orlando, Washington, and Houston. Denver covers 52 square miles. At my home airport in Las Vegas, it's slightly more than 3/4 of a mile between the farthest point of the A gates to the farthest points of the C gates. At Chicago's O'Hare International Airport, a passenger could travel about 1.04 miles by taking the long walk from Concourse C in Terminal 1, through the 745-foot underground pedestrian tunnel, past all the gates in Concourse B and back out to the end of the L Concourse in Terminal 3. (source: USA Today)
The airport experience needs to be more age-friendly
The airport and airplane experience needs much improvement and sensitivity to the aging population. For most travelers the experience ranges from uncomfortable to excruciating. 
Lines form first at the check-in counters, especially during peak travel times. You inch along until finally you get called to a gate agent where you hoist your suitcase up onto the scale, and send it off to parts unknown, unless you have chosen to carry your luggage onboard, which creates its own stresses on the body.
Then you approach the TSA security. Long snaking lines await you and once you finally get assigned to a checkpoint with its x-ray tunnel, you must remove shoes, belts, jackets, and jewelry, usually with nowhere to sit down to do so. Finally free to reassemble your outfit and gather all your belongings, a long walk is ahead. There might be a tram to another terminal, then another longer walk to your gate, which always seems to be at the farthest end of the concourse. And by now your rolling luggage and backpack are feeling heavier by the minute.
Upon landing, things can get worse. Often several jumbo airliners arrive from overseas simultaneously, and literally hundreds of people fill the arrival hall, lining up again to wait for the first available immigration agent. I have waited as long as two hours. And then to the baggage carousel to wait some more for your checked luggage, watching with hope eternal that it pops up the chute and heads to you before all the others.
And then to the taxi line.
Need I go on? Have I described anything that does not sound familiar?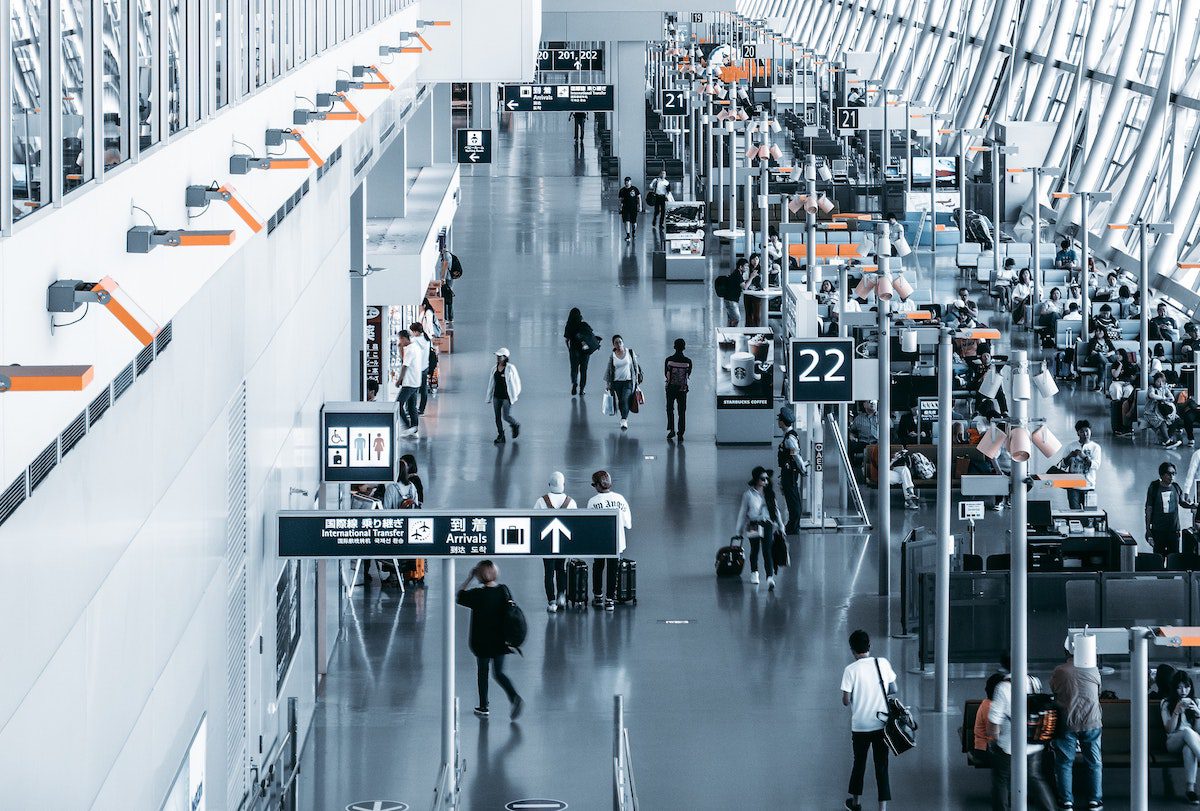 Ways to make age-friendly airports a reality
We all know the FAA wants to keep us safe, and the airport managers want to keep us moving along. But has anyone given any attention to the large percentage of travelers between 50 and 90 and for whom this amount of physical activity is daunting? 
Not all physical limitations are visible. Many travelers have had knee or hip replacements, or spinal fusions. Some have COPD and get winded from the effort of walking those distances amongst crowds. Many travelers are not physically limited to the extent that they need wheelchairs, though those that are are grateful for them.
In our most recent JourneyWoman "Limitless Accessibility" call, some of the suggestions to make airports more age-friendly from senior travelers were:
1. More seating, especially where there are long lines. A two-hour wait standing for check-in, TSA clearance, or immigration is just too hard on older people. Perhaps a seating area, with numbers called when you get near the front of the line?
2. A hold-my-place marker for bathroom breaks, especially for those traveling solo. 
3. Special TSA lines for those with metal parts in their bodies. 
4. Special lines just for ages 65 and over in all locations. In other words, senior lines.
5. Priority boarding for seniors at the gates. As of now, an announcement is made to allow early boarding for "Those who need a little extra time." If this is you, take advantage of it!
6. More electric carts to move people quickly from point A to point B. The worst situation is short layovers! Airports need better-wheeled transportation to get people from gate to gate. It's even worse if you have to change terminals.
Do airlines and airports realize that older travelers have plenty of available travel dollars to spend on flights, hotels, food, and tourism in general? We are willing to wait our turn in line, as long as the physical stamina required is understood and ways to mitigate the stress on our bodies are taken into consideration when designing airports. We do not want "special treatment", we want considerate treatment, respectful treatment.
Join our next "Limitless Accessibility" Group Call on March 2, 2023. Register here.
Resources for wheelchair users
For those who need wheelchairs, there is actually a lot of information available.
The 1986 Air Carrier Access Act requires airlines to provide free wheelchair service to any traveler who asks for it, without requiring a description or documentation for that need. Make your requests for a wheelchair or electric cart when booking your flight. The policies are here: U.S. Department of Transportation and Canada Transport.
Most major airlines have website information under "Special Assistance" and phone numbers to call. 
TripSavvy.com also links to information about Wheelchair Policies at the Top 10 U.S. Airlines and top 10 International Airlines.
WorldAirportGuides.com is a website that is a one-stop resource for airport information, airport hotels, airport parking, and information about Facilities for the Physically Challenged. Its directory has over 170 international airports. Look at airport maps and find out how far your gate is from the security checkpoint ahead of time. Be prepared. 
Other tips to make airports more age-friendly:
Talk to your travel agents about educating themselves about these needs and what facilities are available in the itineraries they are planning.

Also talk to your tour companies. Tour companies must become more informed about challenges in transport, hotels, and local places of interest.

Advocate to anyone who will listen for a national database for mobility-challenged travelers. Cities sometimes have them, so should airlines, airports, and tours. Write Pete Buttigieg, Department of Transportation, US. Write letters of complaint to the Airport Manager if you had a bad experience. (As one woman said with a grin "We are all children of the '60s, we know how to protest!")

Wear slip-on shoes to get through the TSA checkpoint. Later you can switch to your more supportive lace-up shoes. (There is no seating to take OFF shoes, only to put them back on). And perhaps they could lower the "No Need to Take Off Shoes for Over 75" to age 60 and up? When was the last time a senior snuck a forbidden object through her orthotic Dr. Comforts?
Look into getting a portable seating device that will pass security. Most folding chairs or canes with chairs are made of aluminum and will not get past security. This is the only one made of wood that I found. 

Board early, even if your handicap is not visible. To hell with comments and stares of others. They will understand eventually when it happens to them.

Tip your wheelchair people well.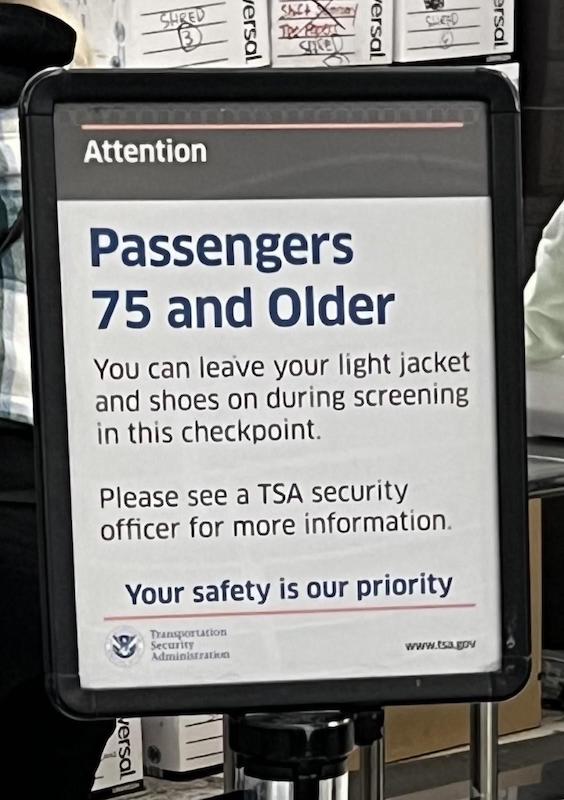 Airports should consider lowering this age to 60 / Photo by Diana Eden
Do you have more tips to share? We'd love to hear them below!
More to Read From the Older Adventuress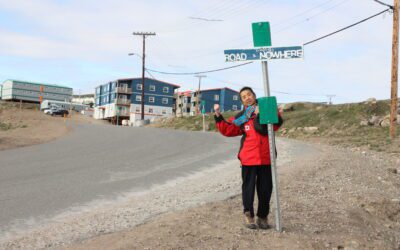 Chinese-Canadian journalist Ruth Lor Malloy, 91, shares her life's work to foster intercultural dialogue and justice for marginalized groups.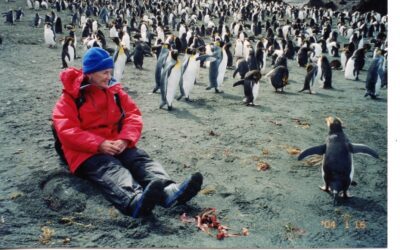 You're never too old to travel solo, says 86-year old author Joyce Perrin in her memoir, "Ants in My Pants". Join Joyce and other 80+ authors on our September 28 webinar.
We've expanded our editorial team to better the reflect the needs of solo women over 50, as women lead a more intentional approach to travel.