Last updated on November 30th, 2023
Featured image: Beth Whitman leaping river rocks with joy on a run in the country of Georgia | Photo by Clayton Herrmann
Bust the travel fitness myths holding you back with these hot tips
By Amanda Burgess, Editor, JourneyWoman
Lean in, JourneyWomen—it's time for some real talk. As we women age, getting fit can feel like a pipe dream. We have more padding in places we never used to. Some of us have aches and pains that prevent us from moving with the ease and speed of youth. 
While the traveller's spirit is ever spry and willing, aging bodies can sometimes hold us back from doing everything we want to do when it comes to travel and adventure. And that can be disheartening and discouraging.
If your TravelReady goals for 2022 include improving your health and fitness, this article—and the get travel-fit tips developed by yours truly and 56-year-old ultra-runner Beth Whitman—will help you put your best foot forward.
Beth Whitman on the Epic5 Run in Hawaii | Photo By Colin Cross
First, let's bust a few deep-seated myths about fitness for women over 40…
Travel Fitness Myth #1: I'm too old to get fit
While some women have limitations due to mobility and health issues, the truth is that it's never too late to make your health and fitness a priority, or to up-level it. Whitman discovered this for herself when she started running at age 49. She was travelling frequently, and since not all hotels have fitness centres, was looking for an easy way to stay fit on the road.
"I started running, and I hated it. I thought it was boring. So, I started doing P90X to train for a 25-day trek in Bhutan. That was my way of getting into shape," she says.
Too old to get fit? "There's just like one word for that: Bullshit," says Whitman, who ran her first marathon at 50. "It's a story that a person is telling themselves when they say they can't do something. It doesn't matter what it is, whether it's around fitness or travel: Except in rare, unique circumstances, we can do whatever it is." 
Tip #1: Shift your mindset
If you want to beat that negative voice in your mind at its own game, you need to interrupt it with a can-do mantra, and act on it.
"Over 25 days, you have a lot of time to think," Whitman says. "I always told myself that I could never do this trek, that it was for big hikers and climbers, and here I am doing it. What else have I told myself that I could never do? A marathon. I'm going to go home and train for a marathon. Having that purpose completely changed my mindset."
Travel Fitness Myth #2: I'll exercise once I lose weight
One of the quickest paths to failure at any lifestyle change is to make healthy choices that would serve you now contingent upon some future state. If you're cleared to exercise by your doctor, there's no reason to put off forming healthy habits you could start building today.
"There are a number of overweight women out there running, hiking, climbing Mount Kilimanjaro, and doing all sorts of things. They're just doing it all in a different way, at their own pace," says Whitman. 
Tip #2: Focus on gains, not losses
When your goal is to lose weight, it pushes your wellbeing off to a future date when you arrive at a desired number that may or may not be realistic for you. A better, more sustainable goal would be to make healthier choices. 
You can't lose weight every day, but you can make healthier choices several times each day. More wins to celebrate, leading to sustained behaviour change (maybe even some weight loss and fitness gains).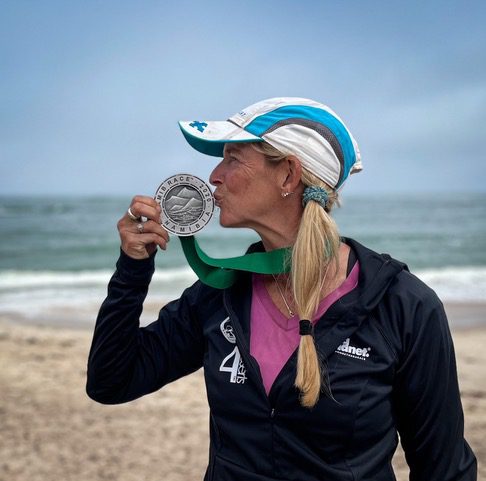 Enjoying the sweet taste of victory after completing her 250k across the Namib Desert | Photo by Jon Ingalls
The PEI Camino wraps around Prince Edward Island, and might just be the perfect place for aspiring solo travellers to boost their confidence. 
Travel Fitness Myth #3: I can't work out—I have bad knees/a bad back (or any other ailment)
Not everyone can run or do high-impact exercise that puts pressure on joints. If your doctor has advised against certain forms of exercise, that's one thing. But if you're cleared for more vigorous exercise and stop because it hurts, you might want to try pushing through it under the supervision of a chiropractor or other professional.
"When they first start exercising, people might feel niggles of pain, and say: I can't do that. My knee hurts. Or: I can't do that—I'm tired and sore. And so, they give up on it," says Whitman. "When I first started running, I had a bunch of issues. I had plantar fasciitis. I had an IT band issue. For the most part, I ran through that stuff while figuring out ways to mitigate it. I went to the chiropractor, I did foam rolling, I got massages. I did all of these things to get me through it."
Tip #3: Get creative with what you can do
Check in with your body—it speaks to you if you tune in. Is it your body saying "oh, hell no" or your mind? You can train yourself to decipher the difference. Get quiet. Breathe. Scan your body. Do you feel pain? Not just the aches that come with exercise, but the pain that comes with injury. If the answer is no, it's time to get creative and find what works for your body and its true limitations.
"You need to push through the pain—not injury—and realize what's on the other side of that is a stronger person. You can figure out a way to become that stronger, healthier, fitter person," says Whitman. "There is always an alternative, more gentle approach to getting fit."
Try low-impact programs that are kind to joints and aging bodies—walking, water aerobics, swimming, pilates, yoga. Keep trying things until you find your thing.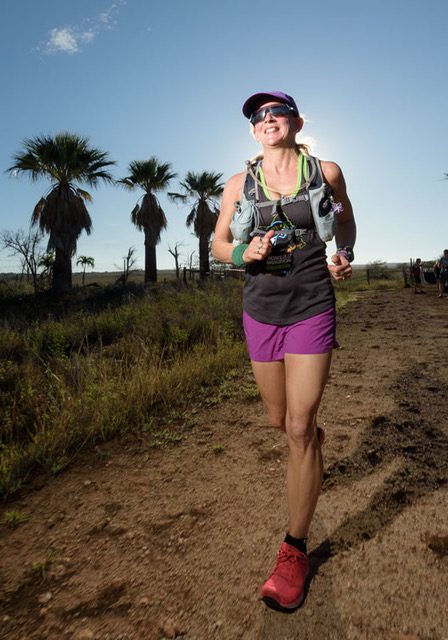 Enjoying the sun and that runner's high on one of her Epic5 Runs in Hawaii
Travel Fitness Myth #4: I don't have the energy
If you wait to find the energy to move, you'll always stay sedentary. There are many days that I don't have energy or motivation to work out, but unless my body truly needs a break, I still do. Why? I know how post-workout me will feel. 
Whitman agrees: "They say mood follows action, right? Just get out there and make a change. Nobody ever comes back from a workout or a run saying: I feel worse. You always feel better." 
Tip #4: Expend energy to boost your energy
It sounds counter-intuitive, but it's true. Whatever exercise you choose to start your TravelReady journey, commit to it and get moving. You'll start to see the benefits—in your life and your travels—quickly.
"In terms of travel, I just see it. I see my stamina. I just turned 56, and compared to my peers, I see that I don't tire out. I feel more energetic. I have an awareness that I want to eat better, so I can feel better, so I can do things," says Whitman. "Everything from being able to put a piece of luggage into the overhead bin to carrying my luggage and not having to get one of the wheelie carts. Having the stamina to walk or run a city rather than taking a taxi from place to place."
Biking for all ages: experienced women cyclists share bike safety tips, life lessons and benefits of being a member of the Ontario By Bike community.
Tips for Getting Started
You might have read the above thinking: Yeah, okay—but how do I actually DO this?
We've got you covered with the following Get Started tips:
1. Find your why: Your why is your motivation to achieve something. It's more than feeling you 'should' do something. Keep asking why until you get to something that resonates with you on a deep emotional level. Let's say your goal is to lose weight (ahem, make healthier choices). Why? To be healthier. Why? To relieve pressure on my joints and reduce pain. Why? So I can move better. Why? So I never have to say no to an amazing travel experience. THAT'S your goal. That's your why. And it's so much more motivating and personal than "to be healthier." We might all want that, but let's be honest: It's not exactly motivating.
Whitman's why was proving to herself that she could do the things she once told herself she couldn't. So, she ran the Honolulu Marathon…and hated it. She wondered why people run marathons and vowed to never do it again. Except she'd already signed up for the Tokyo Marathon.
"As I did it, I thought to myself: I'm getting better and I'm kind of enjoying this. That year, I think I did five marathons. The next year, I did a Quadzilla. It's four marathons in four days. And then the next year I did Epic5 in Hawaii, which is 50k on five Islands in five days, she says. "I caught the bug. Last year, I ran a 250k across the country of Georgia in a self-supported event. Meaning I was carrying a 20-pound pack and all my food and clothes for the week. In October, I ran 250k across the Namib Desert in Southern Africa. I keep escalating."
2. Know what motivates you and tee it up: Is it a new pair of sneakers or yoga pants that make you feel great? Wear them. Is it heart-pumping, energetic music? Spend some time making playlists that will make you want to move. When training for her first marathon, Whitman thought: "I'm going to go get some new running gear. I'm going to load up an iPod Shuffle so I have some fun music to listen to when I go. I'm going to change the way I approach this. And I did."
3. Don't make it an all-or-nothing proposition: If you haven't exercised in years, don't expect yourself to suddenly start working out four or five days a week. Did you exercise once this week? Celebrate that. Did you work out and then reward yourself with your favourite snack? Cut yourself some slack. Make your goals bite sized. Be patient with yourself. Be kind. Keep trying. No exercise routine is built in a day. No fit, healthy body is either.
4. Focus on the now, not the future: Ask yourself: How will I feel right now if I move my body? If I show it some love? If I fuel it with healthy food? You will feel good. You will sleep better. You will burn off some of the stress hormones you've been storing over the pandemic. All of that is attainable right now, even if your get travel-fit goals aren't quite yet. So go get it.
5. Take it step by step (literally): I like to say to myself: "Okay, get out of bed. Stand up." Once standing, I'm usually ready to get at my workout. If my body pipes in that it's tired, I tell it that we'll do five minutes. If I don't feel energized after five minutes, if my muscles are screaming in protest, I give myself permission to stop. This hasn't happened yet in my many years of working out. There have been days where I have completed a workout and gone straight back to bed for an hour though. These days have been few. 
When you break things up into small, easy-to-manage chunks—stand up, put on workout gear, put on shoes, grab water, head to gym or click on link to workout, do warm-up, see how you feel, keep going—it all seems so much more doable. If you look up at the mountain, all you'll be able to think about is how far you have left to climb. But if you look at your feet and focus on one step at a time, you'll go further than you thought possible.
Keep Travelling at Any Age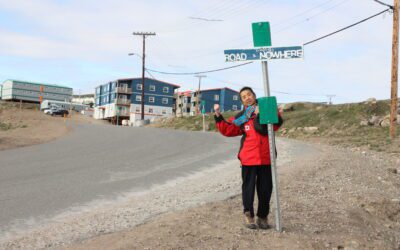 Chinese-Canadian journalist Ruth Lor Malloy, 91, shares her life's work to foster intercultural dialogue and justice for marginalized groups.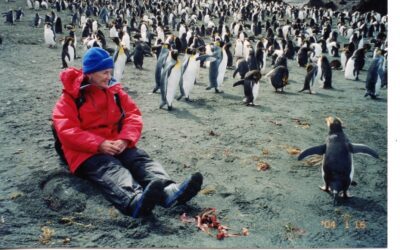 You're never too old to travel solo, says 86-year old author Joyce Perrin in her memoir, "Ants in My Pants". Join Joyce and other 80+ authors on our September 28 webinar.
We've expanded our editorial team to better the reflect the needs of solo women over 50, as women lead a more intentional approach to travel.