Last updated on April 22nd, 2022
Engaging with wildlife: the old way and the new way
By Carolyn Ray, Publisher, JourneyWoman
Often, when I ask a woman about a memorable travel experience, it generally includes an interaction with animals – sighting a humpback whale, observing gorillas or simply enjoying nature as it comes.
Growing up in Florida, I was surrounded by animals – in the sky, in the ocean, the rivers, on land – and developed have a healthy respect for nature.
Surrounded by sharks, stingrays and snakes, I learned about the joy of observation. Never would I have dreamed of putting wild animals like turtles or dolphins in cages and tanks. At age 15, I become a PADI-certified diver, and then my world really opened up – our oceans are breathtaking places for discovery.
When we travel, we are often invited into local wildlife experiences that sometimes feel 'wrong'. Whether we want to admit it or not, we've all done things that we may not be so proud of now.
Now we know better, so we need to do better.
Advocating for consent-based travel
Protecting and conserving wildlife is so much a part of our travel experience that I wanted to have an expert on hand to help develop more animal-friendly editorial.
Two years ago, I invited Nora Livingstone to join our Women's Advisory Council in August 2020. We've done three webinars now about the ethics of animal tourism and I've learned something every time. Nora has volunteered with animals in such places as Nepal, Oman, Sierra Leone and Costa Rica. She loves the idea of empowering people to live their dreams and travel while helping animals.
Nora's Tips: Four ways to make our travel experiences more animal-friendly
#1: From passive observer to active participant
Nora: One way you can experience wildlife authentically is to take part in citizen science by tagging sea turtles with local conservation officers.
While you help populations of critically endangered species you will be putting more than just your toes in the water! These tags stay on sea turtles forever so they can be tracked and understood by scientists around the world.
For the rest of their life and yours, you will have a living and breathing individual turtle who stays in the ocean- you don't just go to the ocean and come home, part of you stays there forever helping future generations!
#2: Swim with dolphins, but in the ocean
Nora: After sheltering in place and shielding for a year, we all know how painful it is to be separated from our families and forced to live in isolation. Yet, this is the everyday experience for dolphins who live in dolphinariums, tanks and blocked-off coves for tourists.
Marine biologists around the world offer many experiences to help them help dolphins. With no experience needed, you can visit dolphins in places like Croatia and Scotland and help be the eyes of science. Watching wild and free dolphins under the supervision and mentorship of marine biologists helps them get more data to understand these animals better.
You may not be swimming with them but you are ensuring their freedom and ability to swim with their families for their entire lives.
#3: Walk, Don't Ride
Nora: While there are many places to jump on a horse and see some of the same travels thousands of other people have, what if you could walk in the mountains and see horses who have lived there for thousands of years?
In Mongolia, the Takhi are the last genetically wild horses on earth, these prehistoric animals roam the same steps their ancestors did perhaps thousands of years ago.
Stay in a gher (yurt) and be immersed in the nomadic life of the Mongolian people and understand your intrinsic need for wide-open spaces and freedom to roam.
#4: Try slow travel: stay longer, see more
Nora: When we talk about places like Africa, we are talking about an entire continent. Region to region is incredibly diverse, let alone country to country and city to city.
This continent is not one to be easily crossed off a list, with a landmass of 30 million km squared and a population of more than 1 billion people we know there is not just one adventure to be had, there is more than 1 story to be told.
When you are thinking of your trip, what so you want to experience? Mint tea in Morocco, Gorilla conservation in Rwanda, a guided visit to a Masai camp in Kenya, the sunset by sailboat in Malawi?
Africa is not merely a line to be crossed off, there are countless untold adventures for those looking to experience the uniqueness of the 54 countries on the continent.
Resources to Learn More 
Nora's suggested pre-reading material:
More About Engaging Authentically with Wildlife 
These are just a sampling of the wildlife and ethical animal resources you'll find on JourneyWoman.com.
For women, the benefits of small ship travel include sustainability, access to less-travelled places and a more personalized experience that includes safety and hygiene.
A small ship expedition to Ecuador's Galapagos Islands is an opportunity to witness some of the world's most spectacular wildlife, while learning first-hand about evolution and adaptation.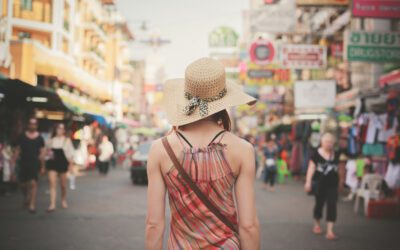 For World Tourism Day 2023, we invited five influential women travel leaders to share actions women can take to create meaningful change.