Last updated on November 10th, 2023
Holiday Gifts Curated by the JourneyWoman Team for all the Travel-Lovers on Your List
While the best gift any traveller can receive is travel itself, that's not in the cards for everyone this year. To ensure that the holidays spread joy to all JourneyWomen, we consulted the experts — our team — to compile the ultimate traveller's gift guide. Here, our Editorial team and Women's Advisory Council present our top gift ideas for the travel lovers on your list (don't forget to gift yourself — 'tis the season!).
(Please note: this article includes Amazon affiliate links, but we only ever recommend items we think are relevant for you and we've tried ourselves that will benefit. you on your travels). If you decide to purchase an item through Amazon, we will receive a small commission that doesn't add any cost to the purchase of an item.)
Top 10 Travel Essentials
Gift options for a traveller are virtually endless, but here are 10 things we think every traveller should have.
1. Travelling with all of your pills, vitamins and medication can be a hassle. We love this organized pillbox. It's small, portable and comes in a four-pack. 
2. A travel plug converter is one of the most useful and often forgotten items on any traveller's packing list. Stock up for yourself and the other traveller's on your list. Is it exciting? No! Does it make a great stocking stuffer or addition to a gift basket? Sure does!
3. Having a remote portable mobile phone charger is a must for travel. Snapping photos or using maps to navigate your way around a city drains the phone's battery. This charger is highly rated and can charge a number of devices. 
4. A passport case is a great way to keep all your documents together and organized for when you need them. This one comes with RFID blocking technology to help keep all your documents safe from high-tech pickpockets. We also love the fashionable patterns and colours!
5. Pandemic travel means stocking up on sanitary essentials. A few of our recommendations: Disinfecting wipes, Tide to Go stick, toothbrush cover, and travel bottles.  
6. Nora suggests bringing Aqua tablets for water purification. She says: "They are so small and fit anywhere, and in times you are headachy and grumpy from dehydration, they come in handy when you aren't 100% sure the water from the sink is as drinkable as you need."
7. Marilee suggests bringing a headlamp when travelling, especially one that has a red function to use in the jungle, on the beach, or in the savannah looking at critters. Our top headlamp recommendations are from Woods and the Peltz headlamp from MEC. 
8. Kathy likes her foldable/packable lightweight duffle bag that comes in a variety of colours. It is perfect for extra storage if you are bringing too much home. 
9. Nancy suggests packing cubes. Again, not the most exiting of gifts, but they make such a difference in keeping your clothes organized in your backpack, bag or suitcase. They are also perfect for dirty laundry or wet clothes that you want to keep separate from the rest of your suitcase. 
10. For a fanny pack that is stylish and functional, look no further than this waterproof nylon bag. Its close-to-body design makes it perfect for keeping valuables close.
A JourneyWoman never leaves home without her boots!
Boots are a symbol of empowerment for women. Don't you feel instantly like a warrior queen when you put on a good pair of boots? They are we as JourneyWoman take our first steps in to conquer the world around us. Boots give us strength and stability beneath our feet to walk for miles and explore areas never seen before.
Boots have been a notable symbol for JourneyWoman as the founder of JourneyWoman Evelyn Hannon wore her red boots with pride and give her the confidence to travel solo, sparking inspiration for generations of women to come. 
CEO of JourneyWoman Carolyn Ray loves her Ariat Horseback riding boots for their comfort and long-lasting quality. Carolyn used these boots on her recent horseback riding trip to Banff which you can read about here and absolutely recommends them for comfort and style. 
Joy loves her red boots, pictured below, which caused a flurry of attention on our Facebook group. She says: "Sometimes, you need kick-ass boots to keep moving." Don't we know that! 
Evelyn's Red Boots are now part of the Bata Shoe Museum's permanent collection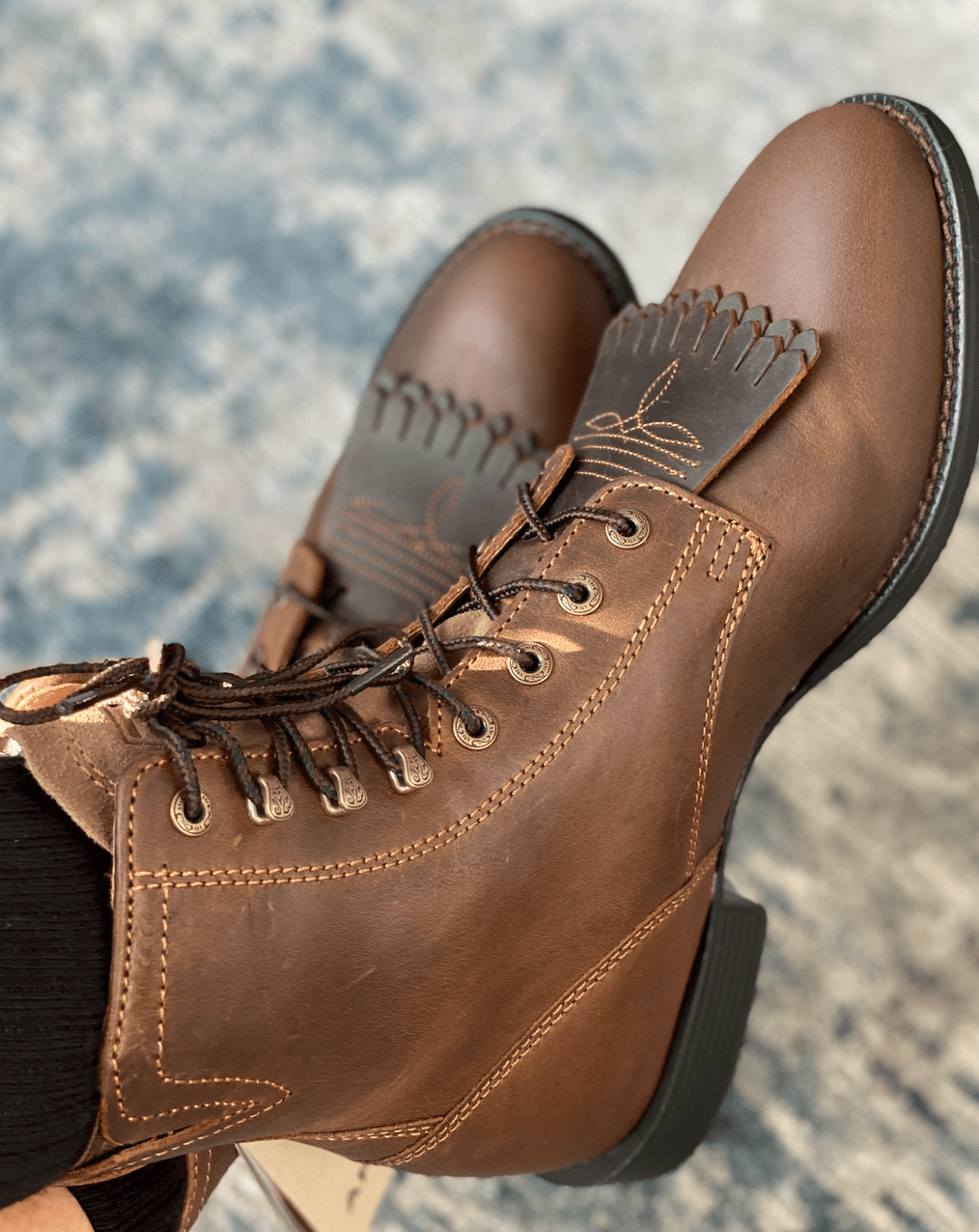 Boots for comfort
We also want boots we can relax in. Here are some suggestions from Joy, Brenda and Libby. 
Joy says: "I need my feet to be comfortable all day, so it will be my Columbia boots to wander around in." 
Brenda loves her Melissa shoes that she walked all over Paris in and are easy to clean as they are made of recycled plastic. She says: "The Melissa shoes are super comfortable for any casual activity and they are also waterproof." She also loves her Melissa slip-on flats that are comfortable and stylish.
Libby loves her Birkenstocks, which are always great for travel as they keep your feet protected and arches supported on uneven ground. 
Indigenous-owned brands to support
Editor Amanda has been coveting several pairs of earrings for months from Indi City! Any piece of jewelry from Indi City (Indigenous woman-owned Canadian business) makes a powerful statement. 
Cosmetics from Cheekbone Beauty, now available at Sephora, are another great option. This sustainable beauty brand benefitting Indigenous youth is owned by an Indigenous woman.
Spirit Bear Coffee is 100% fair trade and certified organic for the coffee lovers on your list.
Give the gift of pure sweetness with traditional maple syrup made in Neqotkuk Tobique First Nation.
Mother Earth Essentials has great gifts for the holidays all made using Indigenous cultural practices and local plants. Two of our favourites are the aromatherapy kit and homemade soap which are made using traditional Indigenous plants.
To support Giving Tuesday on November 30, we've curated a list of 10 reader recommended non-profit organizations that you can support.