Last updated on November 4th, 2022
Featured Image: Making memories that last a lifetime with music / Photo by Maxime Bhm on Unsplash
Memoir-worthy Travel Music Memories
Music moves the human race, as it has since a time when we still huddled together in caves. The music we experience while travelling touches us on a deeper level. It transports us to a higher plane of being – one where all of our manmade worldly divides fade away and we tap into the ancient drumbeat that connects and moves us all.
I'm a person who chases DJ sets the world over. I live for live music. I'll make any surface my dance floor, anywhere, in any corner of the globe. If the music moves me, my centre of gravity drops. My shoulders start to groove in the patented Burgess Shoulder Shake. My arms remain above the International Good Time Line, or play an air instrument, usually the drums.
Whenever I want to find my people, I need look no further than the JourneyWoman community, where sisters abound. Seems there is something about experiencing music on the road that preserves the moment in the corners of our collective memory.
I asked one simple question: What's your favourite travel music memory? What flooded in was a symphony of stories waiting to be shared – as all good stories and music should be. Pull up a chair or put on your dancing shoes and some toe-tapping tunes as we take you on a musical journey in time.
Making mother-daughter music memories on the Jersey Shore
In the spring of 2012, Jane P. and her partner Corey road-tripped to New Jersey to attend Bamboozle Music Festival with her then 17-year-old daughter and her boyfriend. It was her daughter's first love and relationship.
At the time, Jane and Corey were 44. They were one another's first love back in 1985 and reunited after both having 'practice' marriages and kids. The younger couple suggested the festival, and with The Foo Fighters as one of the headliners, it didn't take much to convince Corey.
Jane and her daughter are all smiles when they enjoy music festivals / Photo provided by Jane
 "We decided on a road trip to Jersey Shore just after their grade 12 graduation – it was their gift from us. The moment we got in the Jeep, it was an ADVENTURE! We sang at the top of our lungs, made sandwiches in the car, laughed – I even kept track of every funny thing that was said by writing it in a journal because I wanted to capture every single moment. I have that list still," she says. "It was an experience like no other – literally living so vicariously through their magical teen love, which was amplified by my vivid memories of our OWN teen love at the same age. Their young love was like a magnifying glass of ours…intense, wild, unabashedly beautiful. Just being in their presence enhanced my emotions. I was transported, spiritually, emotionally, musically. I'll never forget those four days as long as I live."
On limited funds, the four festivalgoers shared the same hotel room, but it never felt strange or awkward. "It was surreal, filled with nostalgia, memories of my own youth, full of lust and wonder. At times I didn't feel my actual age, rather that we were a foursome of friends – weird, yeah, but so cool. I was free, living in a magical bubble of the fountain of youth," she says.

The right concert will live on like a dream in memory, especially when you can share the experience with people you love /
Photo by Diego Mora Barrantes on Unsplash
Along with 80,000 music lovers on the beach, Jane and her girl rode the Ferris wheel, bought flower crowns, wore much-too-short cutoff jean shorts, went braless, got body art, drank beer in the sand. The kids introduced the adults to Sum 41, and they became fans of the song Miss You. They saw The Foo Fighters and fed off of Corey's superfan excitement when a huge helicopter scooped the band off the beach to whisk them away to the Saturday Night Live studio in New York City.
Two days later, when the foursome headed to SoHo, they serendipitously bumped into The Foo's drummer, who graciously posed for photos with the group. A dream realized for Corey.
"It was a feeling, a wave we rode for four days. Remembering it now feels supremely sweet. The most powerful, intangible existence I can recall (maybe ever). I can actually harness the emotion – which feels like a psychedelic drug – even nine years later. It was almost dreamlike, and I can't recall a level of joy and magic that compares to it," she says. My boyfriend (now husband) caught glimpses of me that instantly took him back to our teenage love. He told me Hannah reminded him of me at that age – that youthful beauty that's incomparable. The energy was off the charts, like a massive love fest. When she looked in my eyes, there was an understanding, a connection that was so profound I almost cannot find the words. I was her, she was me. A bonding took place that weekend, all because MUSIC and the BEACH brought us to a place where everlasting memories were made."
From the experience, Jane learned the power of memories, and music's role in making them. She learned how to be completely present. She learned that her numeric age has nothing to do with her spiritual age. But above all, she learned that mother and daughter can transcend their roles to deepen their bond.
"First loves are unforgettable, almost impermeable. My daughter got a glimpse of who I was as a young girl, and as an adult woman. And the music brought us together, I believe," she says. "There were moments where time stood still, and all of us were just humans experiencing something where age is not a factor."
Basking in the glory of an Irish music seisiún (informal jam session)
If you have even a drop of Irish blood in you, the country's music will sing through your veins. Maybe even if you don't have a drop of Irish blood in you.
In 2005, Jan C. and her cousin took their first trip to Ireland to meet her daughter who was finishing up her summer waitress job in Dublin. They rented a car and made a big loop around the country for two weeks. So many pubs, so much music. On one leg of the trip, they drove from Galway to Donegal and found a B&B for the night.
"We walked around Donegal that evening, saw some of the sights, had dinner at the Harbor Restaurant, and from there stopped in at the Scotsman's Bar (probably had been mentioned in one of our guidebooks)," she says. "I was a little hesitant at first since it was so small, with a few couches, benches, and chairs along the walls, and everyone looked at us as we walked in and took a seat."
There seemed to be some locals sprinkled in with tourists, which added to the experience. The musicians were a young female fiddler from Ohio, along with two Irish men– one who played guitar and sang, and the other on the accordion (Brian O'Sullivan and John McMenamin).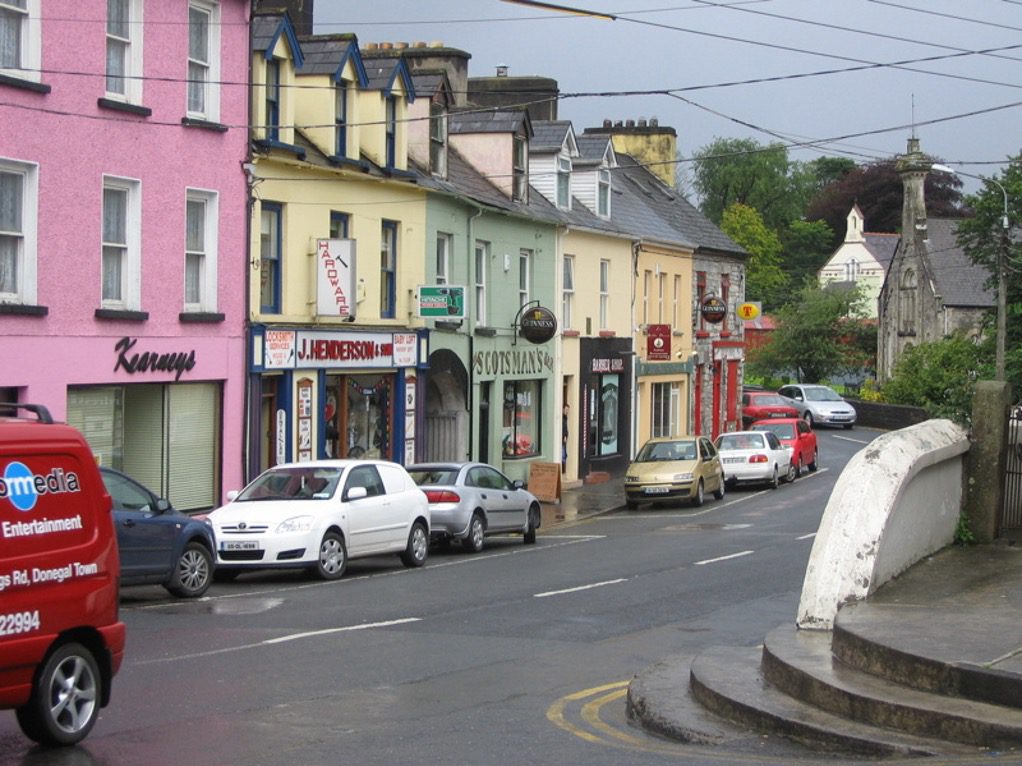 The Scotsman's Bar in Donegal
The intimacy of the experience, the way the barmaid occasionally joined in playing the bodhrán drum and singing a capella on haunting Irish ballads like Danny Boy, made it memorable. The trio left around midnight after purchasing a CD, which Jan still has.
"It makes me feel like we got to see a part of Irish life that was maybe passing away. At that time the Irish economy was booming and many changes taking place," she says. "Overcoming my initial hesitancy and self-consciousness at entering the small bar was a challenge, as shyness is a barrier I've struggled with all my life. But I learned that 'pushing the envelope' can lead to many memorable experiences, especially when traveling."
You never forget your first electronic music festival
Two years after a difficult breakup, Nadine L. – just as she was feeling like herself again – she received a promo email with a woman in a white bathing suit sitting on a speaker. It was a 12-day electronic and techno house music festival on the beaches of Playa Del Carmen in Mexico. "I said to myself: 'I need to be on that speaker.' I packed my 12 bikinis – one new look for each day – and took myself off to my sunny rave adventure," she says.
She landed in Mexico on December 31, excited for what was to be a new experience for her. She arrived at her hotel and began getting ready to join the New Year's Eve festivities, dressed in a pink sequinned dress and pink sneakers.
The festival flyer that convinced Nadine she needed to be "the girl on the speaker"
 As I walked the main road, so many people were present and the vibe was amazing. I turned to my left when reaching the top of the street and OMG – there were thousands and thousands of happy people. It was like I had landed in party, music and dancing heaven. The joy I felt was so intense that it was as if my heart could barely contain it. The visual was magical, looking down the street like I was on the top of a mountain and all you could see were laser lights going across the street, thousands of people dancing in excitement, and the music was a techno all-you-can-hear buffet from one club patio to the next," she says. "I had never seen or experienced anything like this. While walking in total overwhelming joy, I met two other travelling girls who were also wearing sequinned dresses, so we decided to hangout and glitter the town together!"
Nadine living her best life at a music festival in Playa Del Carmen, Mexico / Photo provided by Nadine
It was one of the best times of Nadine's technicolour life. She'd do anything to go back and live it all over again – and indeed attended the festival for four more years after that – yet none could quite match the first, even though she made more friends and memories.
"When going for an adventure, especially something you are passionate about, make sure to be fully open, to be present, have no expectations, have a positive attitude and jump right into it 1,000%," says Nadine. "You will never re-experience events or moments the same way as you did the first time. Make the most of it. It will be a remarkable and potentially a milestone moment in your life."
Rocking out with The Rolling Stones in Prague after the Wall came down
Nora L. was travelling through Prague as part of a big adventure – biking from London to Paris, Paris to Sweden, on to India and Nepal without the bikes for the winter, and then back to Europe in the summer of 1990.
"It was a time where many of the old Communist ways were butting up against the newness of Western tourism and expectations of service. I remember going into a milk bar in Wenceslas Square where lots of people gathered during protests and after," she says. "When I got to the front of the line at the milk bar, the server just walked away and closed for the day. No apology, nothing said to the long line of people still waiting. It was near-impossible to find a restaurant to eat in for the days we were there. The Communist way was to do things at the pace things were always done, and the fact that three times more people were seeking tables this first summer after the Wall came down was not a factor to them. We finally found an Indian restaurant that let us in to sit down and order, and we then made reservations for the next two nights at the same place just so we had somewhere to eat. Curry and a Pims cup before The Rolling Stones concert – that's what I remember."
This was the summer that the Berlin wall began to fall, and tourism to Eastern Europe opened up. The Rolling Stones rolled into Prague as the tanks were rolling out. The British band had been trying to break into the Eastern European market and found a benefactor in Vaclav Havel, the then-new president of Czechoslovakia, who was an outspoken admirer of the arts – rock & roll in particular. Nora serendipitously discovered that The Stones were set to play in Prague by flyer. The ticket price? US$10 – a measly sum by Western standards, but a tenth of the average monthly income of locals at the time.
"Prague is a city and Czechoslovakia a country that have always had music in the coat of arms of their culture," Mick Jagger said when asked why, of all liberated cities in Eastern Europe, the band had chosen to play here. "And your government has a very favorable attitude toward us and has been very cooperative. We'd like to play in other Eastern countries as well, but we haven't gotten the support anywhere else."
The night of the concert, more than 100,000 fans streamed into the Strahov – a stadium with a capacity of 300,000. Organizers had agreed to limit ticket sales to a third of that capacity. It was electrifying for Nora and her friends. The stands were packed, the energy was high.
"The poet-hero president Vaclav Havel was seated above and to our right – and when he arrived, everyone stood and lit their lighters! It was one of those rare experiences of getting to celebrate a real hero (Havel) in an amazing way," she recalls. "The concert was an outlet for the energy and hope many people felt. I don't remember particular songs. What made it memorable was getting to be in a place that had just experienced this huge shift, and then the joy and energy and connection of the concert with so many people in attendance. It still warms the heart and invites a feeling of possibility – just thinking about that night. It was an amazing example of the incredible things that can happen, unplanned, when you have flexibility in your travel plans. Of course, we didn't know about the concert when we set out on our trip all those months before – but it became a highlight."
And what about me, your intrepid Editor?
Any trip I take includes live music – traditional ethnic music, a DJ set, a concert – so I have a menagerie of music memories that play out on a loop in my mind's eye.
There was that time my travel buddy Ryan and I got a lesson in traditional Ethiopian dance in the middle of the Danakil Depression by our young driver. The time I drove to Buffalo to see my late husband's Gabe favourite DJ (Mark Farina) and drummed up the courage to go chat with him after he finished his set and joined the crowd right beside me. Or the time when the ill-fated Miami Pop festival got cancelled, and my crew and I rented a Mustang convertible to drive to Electric Daisy Carnival in Orlando.
But the single most memorable experience – made poignant in Gabe's absence – was the time he got one of my favourite DJs (Soul Clap) to give me a shout out at the beach rave in Lebanon that served as our wedding reception.
The poster for Soul Clap's appearance in Batroun, Lebanon / Photo provided by Amanda Burgess
He poured countless hours into planning our trip to the wilds of Lebanon – a birthday-wedding double-header for him. You know those rare, magical journeys where the entire group adapts to the same rhythm, runs at the same pace, creating a Borg-like common consciousness that suck in the most colourful and wonderful characters and adventures? This was one of those. You know those days you want to bottle up forever because they are so perfect, start to finish? That was my wedding day.
I can still feel the oppressive heat in the bridal suite of our Cycladic-style villa tucked into a sun-dappled olive grove in the mountains overlooking the sparkling Mediterranean Sea. I can see Gabe's cousin Kristine squinting into the lens of her camera, capturing all the moments. The moment when my Maid of Honour Ryan threw me up onto his shoulder, etching a look of joyful abandon on my face. When my pinky finger met Chance's in a solemn swear as he dropped by the bridal suite to let me know he loved me and was nervous to assume his duties as officiant. The moment when Gabe took my hands in his, trademark grin spread across his face, on the rooftop of our villa. The villa's lemon trees and the veritable fairy bower of florals that my designer Elie Berchan and his team draped everywhere, which I can still smell when I focus my thoughts on that day.
Gabe had arranged for a limo to drive us from Rihani in the mountains of Lebanon to beach club Bonita Bay on the coastal cliffs of Batroun. I'd changed out of my boho chic dress and into a pair of cream palazzo pants but left my floral crown and the gold-and-cream bandeau top that came with the dress in place. I looked beach party bridal. The moment we walked into the open-air club, the VIP hostess came up to my husband, pointed at me and said: "She just got married today. She doesn't want to wait three deep at the bar for a drink. Are you going to take our last VIP table?" And to my surprise, he did. Gabe usually wasn't one to capitulate to a sales pitch, even a smooth one like this.
The night air was warm, the Soul Clap tour aptly named Crew Love Presents: Lovetrain. That's what the memory of this day, aided by the music, is wrapped in. Love. That's what I felt shimmering in the air all around me. Love of the music. Love of the summer heat. Love of one another. I didn't think the day could get any better, until I heard the DJ say: "And because we're all about love, I just want to give a shout out to Amanda from Canada who just got married today."
Well. My arms involuntarily rose above the international Good Time Line to reach new heights I wasn't aware my small stature could stretch to. My jaw dropped open in delighted surprise, eyes crinkled in wonder. I turned to my new husband and saw everything I felt reflected in his eyes.
Now, as I chase DJ sets the world over, I always have a moment where I feel what I felt that day. Something in the warm breeze or a beat or the energy of the crowd. And for that moment, he's still with me.
The magic of music, and the power it wields over human memory.