Last updated on April 23rd, 2022
Best tips from experienced solo travellers  
by Amanda Burgess, Editor 
Whether you are thinking about taking a solo journey or have several under your belt, there is much to be learned from pioneering women solo travellers who started out at a time when women venturing off on their own was uncommon.
In April, JourneyWomen Marti S., Marillee C. and Brenda M. joined me on Zoom and Facebook Live for a panel discussion offering inspiration and practical advice to women across the globe. Whether you were there or missed it, we wanted to package up the stories and wisdom into this "Best Of" article that you can use before you plan your next adventure.
Their first solo journeys
Marillee C. – California, US
Marillee took her first solo journey at age 35 to celebrate her independence following a divorce. In the summer of 1984, she backpacked across Europe with a Europass in hand. Her 10-country trip kicked off in England, and along the way, she gained courage, empowerment, many friends and saw spectacular scenery. "It was a pretty incredible experience. This was the start. Then since I retired 10 years ago, I've gone on several different solo journeys and I am very fortunate to have gone around the world a couple of times. I have probably been to about 120 different countries," she says.
Marti S. – Illinois, US
Marti was a junior in college when she took her first solo journey in 1967, travelling by bus from Kent, Ohio to Mexico city for a semester at university. "I have a very vivid memory of being at the bus terminal in Memphis where I was transferring buses to go down to Texas," she says. "This would have been in 1967, so it was several years after the Civil Rights Act passed and they still had separate black and white washrooms and drinking fountains. In my head, I knew that those things had existed, but this made it very real to me that we had a problem in this country."
Brenda M. – Toronto, Canada
In 1990, a then 38-year-old Brenda decides to head to Oaxaca, Mexico on her own over Christmas. It's a place she visited with family previously, roaming the markets and Zocalo on her own. This time, it was an exercise to prove to herself that she could spend the holidays solo.
"My parents were getting older and I thought it's just going to be so devastating if I end up outliving them and I have to spend my first holiday away from them. It was after teaching for four months. I was exhausted and I really needed to relax, so I suggested to me that I wanted to have one holiday Christmas on my own so that it wouldn't be so hard for me later. They were behind me," she says. "I had been there before with my family and on Christmas, so it was an easy one physically, but psychologically it was interesting."
Didn't catch our Live session with these OG Travellers? Check it out here!
Five little bits of wisdom from these solo travellers
1.  Expect to discover your own independence  
Marillee
"I found out that I was okay on my own that I could enjoy myself as well as others, but I didn't have to be surrounded by people all the time. I'm curious, so I could sit back in a park and just people watch, and I love photography so I was taking a lot of pictures as well and the two of them go very well together," she says. "I'd say that everybody needs to try a solo trip at one point or another. It is truly an amazing growing experience."
Marti
"I learned that I could love my family without thinking the way most of them do. That you can love someone and not be them. I had one family member who doesn't understand this kind of wanderlust (it was kind of typical of most of my family really) who said to me: 'I don't understand why you want to go to all those places when you can see and do the exact same stuff at Epcot," she says. "It is really easy to be dismissive, and I had to learn that there are people who want to travel and people who don't. And it's okay."
Brenda
"Oaxaca was an emotional trip for me, and I knew that it was laying the foundation for the potential for when I would be in this world without my parents. I did have a mentor who was in the same city who helped me to find an apartment, but I think I only went out with them twice in the month I was there, so the rest of the 28 days I was on my own," she says. " I would walk around, getting food and going to the galleries and it let me know that I could do it, that it was safe for me, and that I could ask anybody for help even when I'm in a country that I don't understand the language. It's easy to find people that are willing to help you. That was BIG."
2. Solo travel has changed since they first started travelling
Marti
"I think for me it's become a more level playing field. More people are able to travel if they want to because it's much more affordable now than it was when I was growing up. The roller suitcase has replaced the steamer trunk, and you really can find a way to do some kind of travel if you really make it a priority. It's not just for the super-rich anymore," she says.
Marillee
"As you age, you go from backpacks to suitcases. I'm always looking for the perfect little black dress of roller suitcases – with all the bells and whistles and spinner wheels. Because I don't want to hold it anymore. I'm very picky about the weight and the rollers, and yes, I have different sizes depending on where I'm going. I'm a good researcher for bags for sure," she says. "They're really, really important especially because when you're travelling oftentimes by yourself, you are supposed to be carrying that. Also, having GPS and maps on your phone is a huge change in travel. You want to get to the museum? You just plug it in go, and it takes you there. It's amazing. We used to have all those maps–now you've got your phone and everybody's looking at their phones, so you're not really standing out."
Brenda
"I think the thing that's changed for me would be that there are more people that are travelling solo and there's more women that are travelling solo. It's more acceptable. It used to be that you would get questioned – what are you doing out here by yourself? Now more people are doing it and it's just wonderful," she says.
3.  Plan ahead and be safe 
Marillee
"I would say do it, just do it safely. Wherever you're going, try to dress like a local. Don't stand out. Be smart about it – not being out too late or having to walk too far. It is what is it is – we're women and being alone, you have to be really careful. But it is such a growing experience that I think everybody should have the opportunity wherever you go to be by yourself," she says. "I went to several different countries and I found Europe to be very organized. Get off the train and go straight into the information centre. Research. Do your homework and find a place or places that you're going to be comfortable with."
Marti
"Learn how to pack light that's for sure. You never need as much you think you do. No matter where you are, you can get by with whatever is available locally. There are laundries everywhere," she says.
Brenda
"Doing a lot of research online prior to going is really important. Before I went to Paris for three months, I joined a meetup group about a year prior because I wanted to do some figure drawing there. I was put on a waitlist because it was very popular and by the time I got there, I was able to go and draw with people," she says. "Right now, I'm following YouTubers that live in different countries and I'm getting a sense of what it's like for them in Italy, England, Ireland and Singapore. Being on Facebook and connected to a lot of the people that we have met while we were away provides us with a lot of information that is pretty much first-hand. Do your homework – if you have friends that are there, find out more about what their experiences are to get a sense of whether or not you're feeling comfortable."
4. If you're afraid, practice in a nearby city first 
Brenda
"For people that haven't done it before, do it in your own city first – or if you don't live in a city, go to the nearest city for a day trip and spend time just being on your own. Do your research beforehand so that you have an idea of where you want to go and have a list. I carry a book with me all the time and it makes it very easy. It becomes my company if I want to sit and have a cup of tea or a cup of coffee. You can just sit and write in it, you can observe people and get up and wander and discover new places," she says. "Also have a map of the city, and use the compass on your phone to have a general idea of what direction you're going in because you don't want to be pulling out of map all the time. Use maps on your phone so it looks like you're looking at something on your phone."
Marti
"Usually the women who say they are afraid of going to Rome or Beijing or you know wherever it might be alone, what I'm hearing a lot of when I dig down into it is that they're not familiar with any kind of urban experience. A lot of those comments come from people with suburban or smaller town lives who haven't spent a lot of time in a city. They're not familiar with how, for example, the public transportation system work. Well, they work pretty much the same way everywhere and the maps all kind of look the same," she says. "So I love when Brenda you said to go somewhere that's nearby and spend a weekend or a few days playing tourist to get the idea of experiencing a different kind of environment but where you're not so completely a fish out of water."
Marillee
"I wanted to be challenged, so I was bold and I did the two months thing. If you're tentative, you certainly won't want to do that. You want to do more like a week abroad. Research a place to stay that is near the centre of town so you can walk everywhere. Maybe find friends or bloggers in the city – somebody that you could possibly meet up with when you get there and meet for lunch or breakfast or coffee or ask questions of. That sort of thing," she says.
5. Pack some must-have, never-leave-home-without-'em travel items
Brenda
"I bought a black women's vest years ago that is my must-take. The closest I could find to it is here. This men's vest actually looks more like the sleeker version I have. I wore it with dress slacks and jeans – it would even look good with a little black dress I'm sure. It was easy to take on and off, to access the large back zip pocket where I kept my notebook. The one I bought was a good sturdy polyester – really easy to wipe clean and it's still in tip-top shape. It fit true to size.
Marti
Five things I always take with me:
A Pac-Safe or Travelon day bag. I have them in several sizes and configurations. Sometimes I use the large one as my only carry-on for a long plane trip but take a small one separately as a personal item or in my suitcase. I have gotten to the point where I can go for a month with an 18-22″ suitcase. Love Eagle Creek and Travelpro luggage.
A large soft-knit pareo to use as a shawl, head cover, blanket, robe, swim cover, or pillow. Even a sling in a pinch.
Extra insoles for my shoes. Cuts down needing to take several pairs of shoes.
Vest with multiple pockets. Mine is a collarless Royal Robbins. Other good ones are TravelSmith and Magellan's (both fine sources for travel clothes and accessories and luggage) and Scott E-vest.
Neck gaiter/Buff. They take up little space, can be used multiple times and ways – as a neck scarf, hat, bandana, bracelet, hijab, even like a large rubber band. In fact, I hauled them all out for face masks. I like the Coolmax ones from Duluth Trading Company.
"Pants/shorts with lots of pockets are a must. They look good and serve a purpose, great for money, credit cards, and phone. If I bring a backpack or purse, it carries nothing of value. I don't need to worry about leaving my backpack somewhere either."
"A headlamp is a must, low-light or no-light on some adventures, and good for reading in bed."
"Bandana used for dusty roads, pollution, etc. I recently had some items sprayed for insects, mainly mosquitos, by this company called Insect Shield. Super idea for a safari, Central America, Galapagos, etc."
Check out this article for 40 smart ways to use a bandana while you travel!
"Lightweight luggage with spinner wheels."
Thinking about post-pandemic travel? Meet our expert panel of women-owned tour operators to learn about group travel for solo women.
Cultural expedition cruise company Swan Hellenic is offering incredible discounts for solo women on several expeditions in 2023.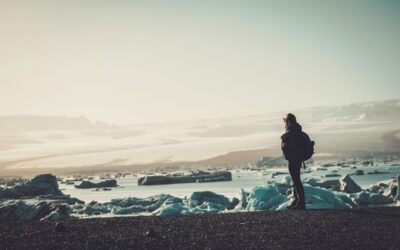 Ten books by women that will have you planning your next solo adventures, from Dervla Murphy to Cheryl Strayed.