Last updated on January 10th, 2023
women from by Carolyn Ray, Publisher, JourneyWoman
This TrailBlazer Seeks to Empower Women and Build the Workforce of the Future
On April 23, Alessandra Alonso became the first recipient of the "JourneyWoman Award", a partnership between JourneyWoman and Wanderful's Bessie Awards, given out at the Women in Travel Summit.  The Award, which is named in honour of Evelyn Hannon, recognizes women who have dedicated their lives to empowering women in the travel industry. You can read more about Evelyn's contributions to women's travel and the JourneyWoman Award here.  In 2022, women from the JourneyWoman community will be involved in choosing the next recipient. 
Alessandra is the founder of Women in Travel CIC, a social enterprise that seeks to "empower women using travel and tourism as a force for good."  Fluent in five languages, she has an impressive professional background, including degrees from the London School of Economics, the Ecole des Ponts Business School in Paris and the University of Florence. Prior to this, she spent over 20 years in consulting, where she operated a business that focused on gender diversity long before it was mainstream.
I had the opportunity to meet Alessandra prior to the Awards ceremony – I am so thrilled that we have a woman of such calibre representing JourneyWoman in the world. I encourage you to look at her website Women in Travel CIC and learn more about the hard and important work she is doing to empower women,  to provide women with the opportunity to fulfill their economic and individual potential.  She has also invited all of us to her upcoming conference in May, with a special 30% discount for JourneyWomen to participate and learn more about the issues facing women in travel and tourism, the least of which is diversity, equality and inclusion.
"We firmly believe that a sustainable future can only be achieved by putting women at the heart of communities and enabling their economic independence." – Women in Travel website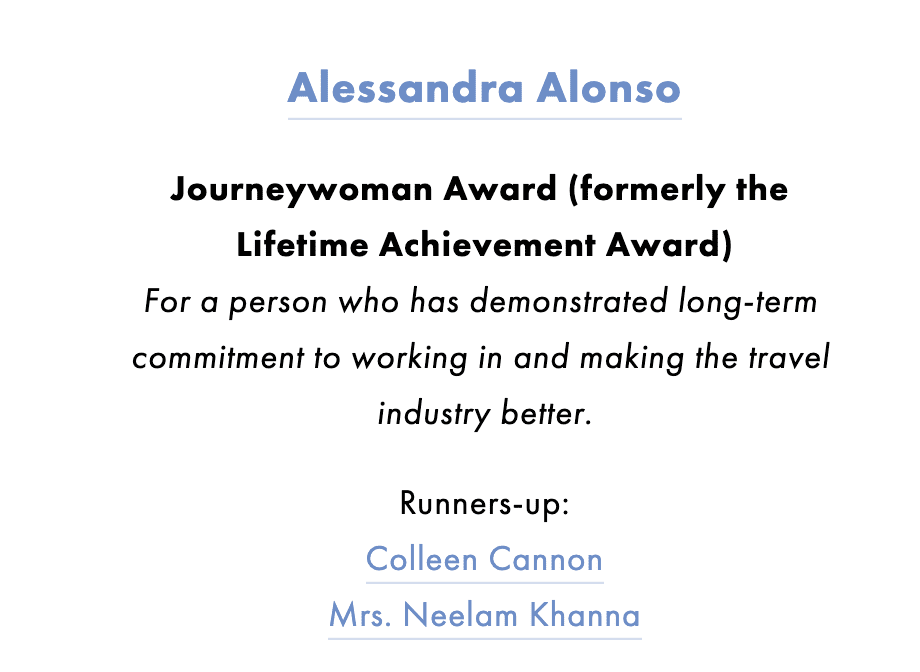 To Watch the JourneyWoman Award portion for the Bessie Awards, Ceremony, skip ahead to 2:18 minutes. 
Empowering Women to Achieve Independence
Always passionate about women's empowerment and gender diversity, at Women in Travel, she decided to focus on women who were outside the travel and tourism sector, those who didn't have the contacts or perhaps had never worked in tourism.
"After the pandemic, there is going to be a huge issue with workforce," she says. "Where is this workforce going to come from? If you don't innovate and consider the biggest base of diversity and inclusion, then you're going to struggle to find talent."
Through Women in Travel, Alessandra and her team of three have been working to coach and mentor marginalized women. "We tend to work with charities who refer the women on to us, and we put them through programs that enable them to gain employability skills, and then we partner with employers who help them get work."
In 2020, despite the pandemic, her group was able to provide 1200 hours of support to 250 women. Working with Intrepid Travel, when tourism resumes again, three new female tour guides will share their cultural insights about Ethiopia, Albania and Morocco with travelers. She hopes to replicate and repeat this model across the globe.
A Brief Q&A With Alessandra on Women in Tourism
What is the state of women in tourism now and what is your expectation for when travel resumes? What skills will we need the most? 
 Women are the backbone of industry and represent 60% or so of the workforce worldwide. As such they have been highly impacted by the pandemic also because they tend to cluster at lower level in more precarious jobs. Yet, when it comes to hosting communities and entrepreneurship women are critical to the industry restarting. We need to make it easier for women to be part of the solution by including them in all decision-making processes.
 You're called a Trailblazer – someone who thinks tourism needs a 'radical rethink', that there are old business norms – what is one thing you think needs to change?
 I think Covid has shown us that flexibility can be built into most working environments, so I would encourage all companies to do that to enable more women to fully contribute to the economy. We also need to include all women and all individuals into the travel and tourism narrative, at every level. Diversity sits at the core of this industry, yet it is seldom reflected into our companies, promotional messages and the way staff bring themselves to work.
 What has the biggest barrier you've had to break been? What gave you the courage to challenge the status quo?
 The first decade of my career was mainly in corporate. I was often the only woman in my late 20's or early 30's in senior meetings and my competencies were often doubted; I was regularly asked where the manager was and generally seen as the note taker!  This eventually led me to co-found the first gender consultancy in Tourism, Shine. However, obstacles and resistance did not go away, often it was the women who would not want to admit there was a 'problem' in industry. Things are a bit better now, but the work is not over by all means and if anything it has expanded to include more groups!
 How can other women who may not be in the industry help your efforts?
 We can support each other in many ways…from amplifying the message; to getting involved with mentoring; to making referrals, introduction and opening up their network…allyship is the way forward!
 What woman influenced you most growing up? What lesson did you learn from her?
 Probably more than one, however, if I had to mention one specifically, it would probably be  Anita Roddick, the founder of Body Shop. I heard her speaking about her mission and was really influenced about what she said was the opportunity to do good, to impact the world in a positive way via trade and business. It was the mid-1990's and I had never heard anyone talking like this before. It stayed with me forever and gave me a different outlook in business ever since.
An Invitation From Alessandra for  JourneyWomen to Learn More about Diversity, Equity and Inclusion in Travel
International Women in Travel and Tourism Forum 2021 Digital Edition: May 10-14, 2021
The 2021 International Women in Travel and Tourism Forum is the only international forum in which senior leaders and up-and-coming female talent from across the global industry come together to share, learn; challenge and progress their understanding of gender diversity and inclusion.
In 2021 the Forum is more relevant than ever due to the events that over the last 18 months have impacted the sector globally. The industry needs radical rethinking and with the Forum we hope to contribute to its recovery and longer term success.
JourneyWomen: use code PARTNERS21 for a 30% discount on tickets at  
www.iwttf.com
The Forum includes:
TALKS4TRAVEL – please encourage anyone with an idea/case study/project related to gender empowerment, diversity and inclusion to get involved by recording a short video describing the initiative. They then send it to us and we upload it on our YouTube channel. We then select the top 3 to be showcased live and with Q&A. All details about the video recording and type of information we are seeking are here https://iwttf.com/talks4travel/
MALE ALLYSHIP ROUNDTABLE – 

As part of 

IWTTF, with support from Battleface Travel Insurance, we are seeking to invite men in leadership positions to a roundtable debate on Friday 14 May at 13.15 to discuss how they can support and provide 'allyship' to women colleagues.  

We anticipate that the debate will initiate a cross-industry 'Man Allyship Network'.  

We also have our successful and established REVERSE MENTORING SESSIONS available on Friday and an exclusive #IAMREMARKABLE session run by Google.