Last updated on March 18th, 2022
Women travellers can search for tours, retreats, accommodations and guides in over 100 countries
by Carolyn Ray, CEO and Publisher, JourneyWoman
I'm thrilled to welcome Women Travel the World (womentravel.info) into the JourneyWoman family. Founded in New Zealand by passionate traveller Rosemary Neave in 2009, Women Travel the World connects women travellers to over 750 women-friendly tours and retreats, guides and accommodations in more than 100 countries around the world.
As an expansion of JourneyWoman's existing Women's Travel Directory, this website provides women with access to the world's largest listing of verified women-friendly businesses with a focus on slow travel, adventure travel, wellness and luxury travel and inclusive of LGBTQ+ and Indigenous tourism. It has a custom search engine, allowing you to search by many variables such as activity, destination and date (and more to come as we improve the site).
Helping women travel safely and well
JourneyWoman's ethos has always been to help women travel safely and well. Whether you're travelling solo, with a partner or in a group, women have unique travel criteria when choosing a tour, accommodation or retreat, including cost, safety and cleanliness, which have been heightened by the pandemic.
While most women we've surveyed will still travel solo, many want to travel in a group (or travel solo as part of a group). Still others will be looking for travel partners to reduce costs when they travel, which is one of the reasons we created the JourneyWoman Forum.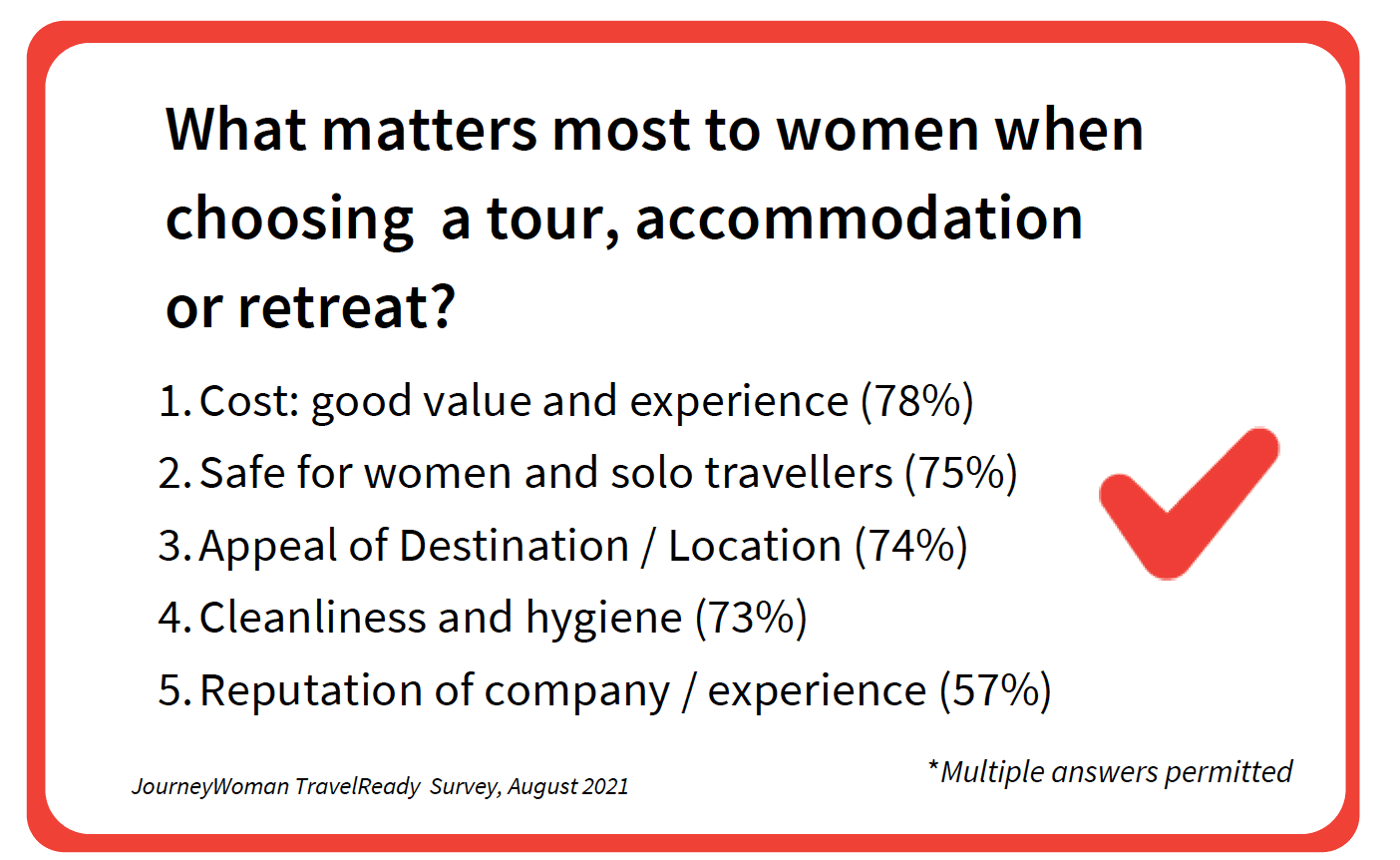 The world's largest listing of women-friendly travel experiences
When Rosemary Neave, who founded Women Travel the World, introduced her website to me earlier this year, I was excited because I realized how much it could help women find safe, flexible travel options. Rosemary, who's based in New Zealand, started this website as a passion project 15 years ago to connect women travellers to women-run tourism businesses.
In doing so, she unknowingly built the largest resource in the world for women travellers, listing over 750 women-friendly tours and retreats, plus accommodations and guides in more than 100 countries. I've already spoken to many of our tour operators, who are an important part of our community, and they are thrilled that JourneyWoman will be the first in the world to offer this to women. (You can read their quotes below!)
Together with our Women's Travel Directory, we will be able to offer you the world's largest resource to find women-friendly Indigenous, LGBTQ+, culinary, wellness, cycling, writing retreats and adventure experiences. To be clear, we will not be selling or booking tours, rather, we want to provide a place for you to find trusted partners. This allows us to remain objective and unbiased.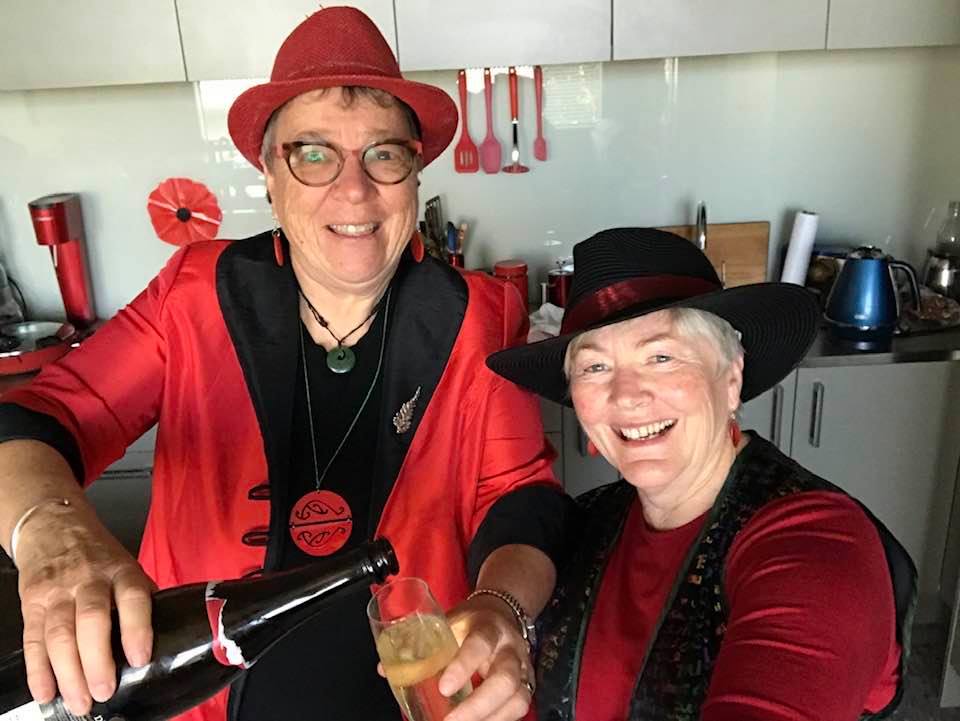 Rosemary Neave with her wife Cynthia, in Otautahi Christchurch in the South Island of New Zealand
You can actively participate by providing reviews 
We need your help providing reviews of the companies listed and hope that you'll share your experiences. Your feedback will help these businesses improve the quality of their services and meet your needs. The review functionality should be ready in a few weeks.
Improving confidence with a new verification program  
Using the criteria that you said was important to you, we're going to introduce a new verification program to give you confidence that these businesses are authentically aligned with your needs. In a recent survey, an astonishing 80% of women said they would be more likely to choose a tour, accommodation or retreat if it has been verified by JourneyWoman. We take your trust seriously and will work to ensure all businesses meet your standards.
Look for more information on this soon!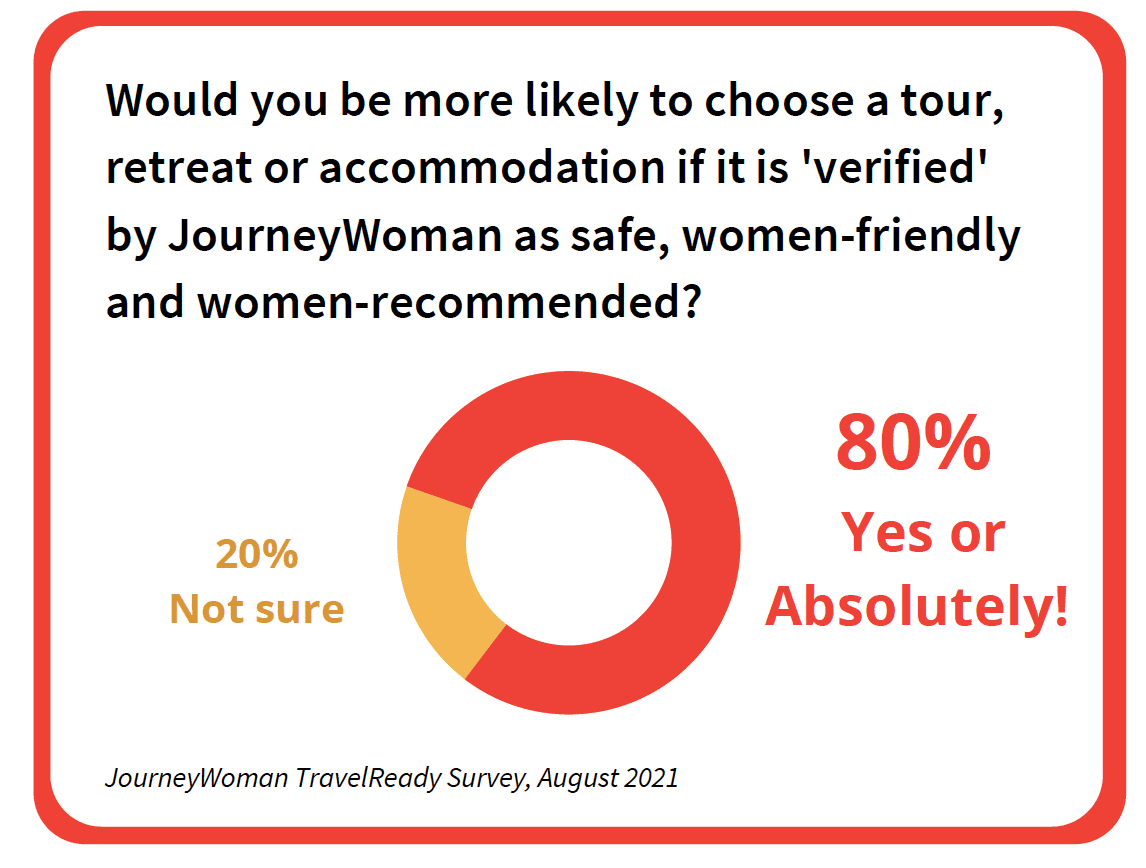 But there's more to this story
As we return to travel, our two websites — Journeywoman.com and Womentravel.info — will connect women travellers with women-run tourism businesses that have been severely impacted by the pandemic. We, as women, will play an active role helping reshape tourism in the countries that need it most by intentionally choosing women-owned and women-friendly businesses. We can make an enormous difference!
I am profoundly honoured that Rosemary, who is so very passionate about connecting women, invited me to carry on her legacy. I'm even happier that she's staying involved by joining our team of travel experts on the JourneyWoman Women's Advisory Council and will help us continue our growth in Australia and New Zealand, where she is based.
I encourage you to take a look at our new sister site, Womentravel.info, peruse the listings and tour companies, and let me know if you have any women-friendly companies, tours, accommodations or guides you'd like to recommend for it. You can also visit our Women Travel the World Facebook page, which will feature these businesses.  I welcome your ideas, input and recommendations – this is all for you! 
What Women's Tour Operators Are Saying
Jennifer Haddow, CEO, Wild Women Expeditions: "For almost 30 years, JourneyWoman has been a place that women trust, first with Evelyn Hannon and now with Carolyn Ray, who shares my passion to empower women around the world through travel and adventure," said Jennifer Haddow, CEO, Wild Women Expeditions. "Now more than ever before, women need confidence that they are choosing a women-friendly company that is attuned to their needs, including safety and value. This new site will help them find the experience of their dreams and intentionally support women-owned businesses around the world that understand the wonder and wisdom gained through travel."
Doni Belau, Founder, Girls Guide to Paris & Beyond: "I was thrilled when I learned that JourneyWoman had purchased Women Travel the World. As the first women's travel community on the planet, JourneyWoman is perfectly positioned to launch this important new site. As solo traveling women, we'll be able to have at our fingertips an incredible resource for booking women-only tours. What I'm most impressed with is that JourneyWoman will be vetting all the tour operators to ensure that each of them is delivering on the passion we all want to see from women-run companies. Carolyn wants to help smaller companies who are in the business of caring about the individual client and the group as a whole. Bonding and sisterhood on these all-women trips are what make them special, even life changing. These trips in my experience can be extremely empowering for women travelers and they often walk away with a bevy of new friends to boot! Carolyn gets that to her core."
Nora Livingstone, CEO and Co-Founder, Animal Experience International (AEI): "I am delighted to hear that Women Travel The World has joined the JourneyWoman family. The past year and a half has shown us more and more how we are all connected and how tourism really does have the power to change our lives and the world around us. The growth of this family means more women can travel safely, ethically and authentically. Empowering more women to travel together (or solo) and showing them how to make good ethical choices helps all boats rise. I am delighted to see two such powerful and influential communities come together to help tourism- because women really save the world and it will be through safe, ethical and authentic travel."
Kathy Wood, Owner & Co-Founder, European Experiences: "I've been very excited to learn about this coming-together of JourneyWoman and Women Travel the World.  Over the last year, I've gotten to know many of the other women-owned tour operators who are involved with JourneyWoman.  It's such a supportive group!  As the owner of a small-group tour company focused on Europe, this expansion of JourneyWoman gives me and other similar companies a great new way to present our tour offerings to women travelers. Travelers will be able to consider and compare a variety of possibilities and even read reviews from women who've participated.  I think it's a win-win for everyone.  Kudos to JourneyWoman for another innovation that will facilitate women discovering the world and supporting other women!"
Cathy Gotfried, CEO, Erawan Travel and Babes in Bali: "As Bali and other countries recover from the pandemic, women can play an active role in supporting local communities and small businesses. JourneyWoman has been advocating for women in travel for almost 30 years and is perfectly poised to lead the next era of women's travel with this new website, empowering women everywhere to choose verified women-owned businesses like mine and help lift up other small businesses around the world."  
If you're a women-friendly company that would like to join our new website, please visit here to complete an application form and participate in our verification process.