Last updated on April 23rd, 2022
Rediscovering the many shades of love on a solo trip to Italy
As told to Amanda Burgess, Editor
In 1956, 21-year-old Joy was engaged to J, a man she'd been dating for four years. He'd given her a beautiful ring, a family heirloom, that she loved. He had moved to London with his family from their small village in Essex, so they only saw each other on weekends, and wrote letters to one another throughout the week.
"One day I received what one would call a 'Dear John,' except this was a Dear Joy. He had met someone else at an office party, was breaking the engagement, and asked for the ring back," she recalls. "I sobbed for days. It was completely unexpected. My mother was worried about me becoming ill, as I cried night and day. It felt as if my little world had collapsed. I was totally miserable."
She thought a lot about J's request to return the ring. After a quick reset trip to a friend's in Buckinghamshire, she wrote J a letter to say she would not return it, as etiquette determined her right to keep it. Since she couldn't wear it anymore, she decided to sell it and go somewhere she'd always wanted to.
"My brother found a jeweller who said I could get X amount. It seemed like a huge amount to me, but in today's world, it would be peanuts. I agreed to the sale, and when I got the money (pounds sterling) I felt so rich," she says. "Travel was always something that I wanted to do, but at that point in time, I had only been to Devon when I was 16, with mum and the family, so to go anywhere alone and off the island, would be an adventure. I was rather shy as a girl, so this was a really bold thing for me to do."
She'd always felt an attraction to Italy, and after doing a bit of digging, decided to visit Rapallo on the Italian Riviera. "Even the words Italian Riviera had an air of glamour about them. I had no thought of asking anyone to go with me. I had lost my best friend when we were both 16, so had shied away from best friends since then," she says.
On the day her adventure began, Joy took the local train to London, another to Dover, and caught a ferry to Boulogne, France. On the ferry, she met Ruth and Audrey – two girls from Yorkshire who happened to be going to the same place and hotel as her.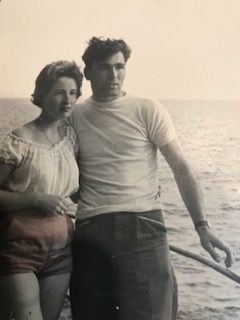 "We wandered around the town, checked out the Lido and the Castle of Dreams, had a nice meal together and arranged to meet later and find a place to dance," Joy says. "I must have been tired because I laid down and was out for the count. I didn't hear them knocking on my door, so they left without me."
Facing an evening on her own, Joy decided to head out and see if she could meet up with her new friends somewhere. She passed by a horde of waiters outside the hotel entrance, and a symphony of Italian rang out. One of the waiters followed her, and in a cheeky move, plucked her clip-on earring from her ear. She heard some music streaming out of a building, and thinking she might locate her friends, walked in.
"I immediately felt all these deep brown eyes staring at my blond and blue-eyed self. I felt very unsure what to do, for even though I could ask for the restroom in Italian, I had no idea how to hold a conversation," she recalls. "A hand gently took my elbow and I was taken to a table where a chair was pulled out for me and a line to dance with me began forming. Oh, be still my heart! I danced and danced without a word being spoken. This was where I first heard Volare playing. The dance hall was built over the water. It was utterly beautiful, just what I thought Italy should be."
One of the young men was lining up to dance with Joy more than any other. His name was Luigi – handsome, attentive, pretty manners. He was in Rapallo on holiday from Milan – a talented photographer who snapped photos of Joy that she has kept all these years.
"After an hour or two of dancing, he somehow dismissed the other Italian boys who were lining up to dance with me and said he would walk me back to the hotel. He did, and had a word with the waiters who were hanging around outside the hotel. In broken English, he asked if he could pick me up in the morning. He had a scooter," she says. "The next morning at breakfast with Ruth and Audrey, the waiter who had chased me the night before brought us some exquisite European rolls. When I opened one of the rolls, there was my earring. I thought that was a cute trick. Then Luigi walked in."
Joy introduced Luigi to her pals and told them she'd meet them at the Lido after lunch. She headed out for a scooter tour of Rapallo with Luigi, visiting the Sanctuary de Montallegro, and taking in the outstanding views from the funicular. Luigi took Joy to the Castle of Dreams and the pair walked the Promenade, chatting in broken English and Italian.
"We met the girls and some of his friends at the Lido later. The following day, we visited Camogli and Zoagli on the scooter. Another day we went to Santa Marguerite and Portofino. We visited Genoa and Milan. We spent time at the beach with his friends, Ruth and Audrey. He bought me my first taste of pizza, showed me the countryside and introduced me to toilets that were unisex holes in the ground," she says. "He showed up every day and took me somewhere different, always with his camera. We went to the Cathedral in Milan, but I wasn't allowed in as I was wearing capri pants, so we fed the pigeons outside."
Joy's Italian beau was the perfect gentleman, and she felt safe and taken care of in his company. When she looks back at it now, she sees the risks, but the odds played in her favour and gifted her with a lovely holiday romance.
"Before the holiday was over, I realised I had not thought about J very much at all! I was going to be OK after all. Luigi treated me like a porcelain doll, to be looked after and cherished," she says. "Perhaps that is why I have never forgotten him. He never made a wrong move on me. I felt so loved, but I guess after going through a broken engagement, I was ready to be treated nicely."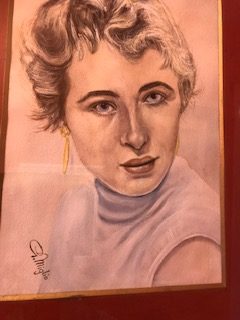 In the way of earnest youthful romances, Luigi told Joy he would write to her when she returned home to England. And he was a man of his word. He wrote her little notes in broken English and sent beautiful photos. On her birthday, Joy received a telegram – "Many wishes to you – good birthday – on this day I think of you strongly" – along with a painting of her that he had commissioned from a photo she gave him.
"I still have that painting hanging in my house. The artist was G. Miglio," says Joy. "At Christmas, he sent me a Panettone cake and photos of him taken in St. Moritz, Switzerland, another place Italy's city dwellers escape to. The following year he came to England. I went up to London to meet him and brought him to the village to stay at our little house. That was to be the Last time I saw Luigi."
Joy knew, deep down, that there were too many obstacles for a long-term relationship. The pair were from different worlds, and her family was set to emigrate to Canada from the UK. She was simply happy to have had that interlude. It took her from sad to feeling normal again.
"I never forgot that holiday, meeting Luigi, loving Italy and having such a romantic time with him. I have kept him in my heart and my life all this time. I have all his photographs, the telegram, the painting and the memories of a very special man who helped me forget someone I wasn't meant to be with anyway. I have reminisced about that romance several times," she says. "I would like to tell the girl I was: 'Good for you for taking a chance and doing something that was brave and healing.' The lesson I learned was that I was able to travel alone and have a good time, and since then I have travelled alone many times."
The most lasting love Joy took from her Italian adventure was a lifelong friendship with Ruth and Audrey. While Audrey has passed away, Joy is still in touch with Ruth and has visited her in England in recent years. "We had many laughs together on the ship and the train we caught in France. They were so happy and outgoing. I was starting to forget about J and my unhappy days," she says.
Oh, and in case you were wondering? She eventually ran into her ex-fiance, who had married the girl he met at an office party – and was divorced soon after. Joy apologized for selling the ring, and they remained friends until he sadly passed away at around 50 years old.
We want to hear from you!
Do you have a memoir-worthy travel story to share? Memories of an experience so powerful, so colourful, so rich that they've stayed with you for years? Contact Editor Amanda Burgess at [email protected] to share your story for a chance to be featured in our Travel Memoirs series.
Get Inspired With More on Solo Travel
Thinking about post-pandemic travel? Meet our expert panel of women-owned tour operators to learn about group travel for solo women.
Cultural expedition cruise company Swan Hellenic is offering incredible discounts for solo women on several expeditions in 2023.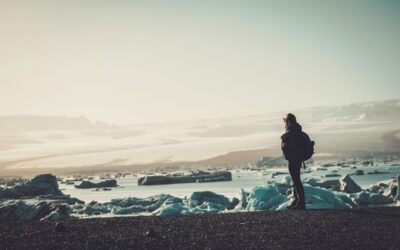 Ten books by women that will have you planning your next solo adventures, from Dervla Murphy to Cheryl Strayed.