Last updated on July 12th, 2023
Five Tips to Step Out of Your Comfort Zone
By Sue Janzen, Guest Writer
I was nearing 50 when I took my first solo trip. I had never been to Europe and wanted to see Paris but was afraid to go alone. When I complained to my friends that I couldn't find a travel companion, they nudged me to go anyway. I am forever grateful for their prodding. Stepping out of my comfort zone and taking that first solo trip changed my life. 
Looking back, I remember my Paris trip as a mixture of grand adventure and deep loneliness. I couldn't have imagined that it would be the start of my great love of solo travel.
In just 10 years, I've gone from becoming anxious at the thought of traveling alone to planning extensive solo travel for when I retire. Like many other women in their 50s, I'm increasingly comfortable with my independence and proud of my courage.
 Get more Solo Travel Tips: Click here to sign up for our Solo Travel newsletters here. 
Five Things I've learned about Solo Travel
Here are some valuable lessons I've learned through a decade of travel.
One of my favourite memories of my Paris trip was the evening I spent at the famous jazz club, Caveau de la Huchette. I bought a glass of wine, pressed myself into the corner and watched people dance. I was too shy to get on the dance floor, but found great joy in watching and listening to the live band.
1: Solo travel means you can start writing your own story 
That might sound obvious but it's easier said than done. If you are a parent and your life has revolved around the needs of others, if you've only traveled with someone else or if you're brand new to travel like I was, it can be challenging to notice what lights you up.
As you start to tell others about a trip you're planning, you will get a lot of advice from friends and family – places you have to see, restaurants you simply must eat at, even agendas you should stick to. It's natural for people to share about their experiences – I do it myself, and that's why we're here at JourneyWoman! But your trip is a blank page and it's waiting for you to start writing your own story.
With only my own whims to entertain, I once joined seven other travellers at a cooking class in Rome.
We made fresh pasta, meatballs, eggplant parmesan and tiramisu, then sat down to enjoy a memorable meal together.
My first time in Lisbon, I set aside my agenda and spent a day wandering through the neighbourhoods. Down one tiny alley, I discovered portraits hung outside of the doors of the elderly who live there. It was a touching reminder that they share their space with us.
2: Go easy on yourself
It can take time to become comfortable travelling alone, so don't judge yourself harshly if you feel overwhelmed. Your confidence will build with every trip you take. In the meantime, accept that you may need down time. Spending so much time alone can bring up challenging emotions, so give yourself permission to spend hours sitting in a square instead of pushing yourself to see everything on your list. Order an espresso or a glass of wine, remind yourself that you have nothing to prove, and celebrate your courage and independence. 
3: Connect with others
Small group walking tours are a great way to meet other travellers. So are 'ex-pat' organizations which can often be found with a quick internet search. In Rome, I attended a party held by an organization called Friends in Rome. I spent a wonderful evening talking to people from all over the world, and it was helpful to discover that some were just as uncomfortable as I was. I also went for a lovely walk with a retired professor in Paris through International Greeter Association. Do a bit of research ahead of your trip and look for opportunities to connect with others. Solo travel doesn't mean you have to spend all your time alone.
 I love train travel. On one long ride through France, I captured three women playing cards – I loved watching their laughter and friendship.
I recently discovered the train travel website Seat61.com and can't wait to make more use of it.
#4: Plan your evenings
Many solo travelers agree that evenings can feel very lonely. Some women choose to stay in at night because they're tired from a full day of exploring or because it feels safer. It's a nice time to upload photos or connect with someone at home. It took me a while to get over the feeling that I was wasting time and opportunity by staying in, but I've become comfortable with it. I also love getting a good sleep so I'm up early in the morning to enjoy a quiet coffee while I watch the city awaken. 
That said, I also try to plan a few evenings out on every trip. I've attended a cooking class, enjoyed live music and treated myself to nice dinners. A tip about dining out – it can feel especially lonely in the evening. I find it helpful to bring a notepad and write about my day or what I observe around me. I also chat with tourists at nearby tables – a fun way to compare my day and get tips about something I might want to see.
When you are up before dawn, you get to take beautiful photos of sites before they are crammed with tourists.
This is La Cité de Carcassonne in France.
5: Start a courage collection
On your first solo trip, start a souvenir collection to mark this new phase of your life. I buy something on every trip that I can hang on my Christmas tree each year. As I place them on the tree, I breathe a prayer of gratitude for the wonderful memories I am collecting. Maybe you want to buy some jewelry, a scarf or a book of local poetry on each trip. Choose something that will remind you of your growing courage and strength as well as the bank of experiences and memories you're adding to with every trip you take.
Looking for More on Solo Travel? 
Thinking about post-pandemic travel? Meet our expert panel of women-owned tour operators to learn about group travel for solo women.
Swan Hellenic is offering JourneyWoman readers no single supplement to support solo women on its luxurious cultural expeditions. (Sponsored)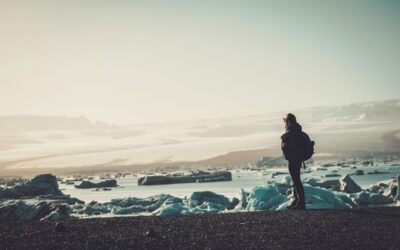 Ten books by women that will have you planning your next solo adventures, from Dervla Murphy to Cheryl Strayed.