Last updated on August 4th, 2023
Featured image: JourneyWoman readers are invited to 'see what others don't', with no single supplement on a Swan Hellenic trip | Photo from Swan Hellenic
Less-travelled places, no single supplement and small, sustainable ships
by Carolyn Ray
One of the most compelling reasons to travel is to embrace undiscovered places and learn about things beyond your wildest imagination. As a curious, experienced traveller, I couldn't help but feel an immediate connection to Swan Hellenic's mission to 'see what others don't' when the company approached JourneyWoman to be its exclusive launch partner for solo women travellers.
With journeys on all seven continents, ranging from 8-day explorations to epic 21-night semi-circumnavigation voyages, Swan Hellenic is stepping away from the traditional 'rinse and repeat' ethos of cruising. Instead, it has created luxury cultural expeditions, with intriguing itineraries, seasoned guides and renowned experts, scientists and explorers – all designed to feed curious minds.
"We are a perfect fit for independent solo travellers who want to be adventurous, but also appreciate some comfort along the way," says Kelly Predmesky, Director, North America, Swan Hellenic. "Having travellers the calibre of JourneyWoman readers, who want a sense of community and to be connected to like-minded travellers, just makes the experience for everyone even more meaningful."
A 70-year old company, Swan Hellenic is returning to its roots in cultural expeditions, but with a future-forward twist. One of the first things I noticed was a partnership with the SETI Institute, and onboard experts like astrobiologist Dr. Maggie Turnbull and astronautics expert Dr. Dava Newman, exploring space from the sea. As a novice astronomer, I imagined myself learning about other universes from the comfort of a Swan Hellenic ship, while sailing past stunning fjords, majestic mountains and historic cities. 
The pioneer of cultural expeditions
In the 1950s, Swan Hellenic pioneered the world's first cultural expeditions, combining curious adventurers with Greek experts and academics to explore Greek archaeology sites. Now, after a series of ownership changes, Swan Hellenic is back, offering exclusive exploration opportunities worldwide with three brand new ships: the SH Vega, the SH Minera, and a slightly larger sister ship SH Diana, named after the Roman goddess of light, the moon, hunting, and the wilderness.
All of the ships hold under 200 guests and technologically advanced, with minimal impact on the environment.
"The ships are spectacular and are designed for the future," says Predmesky, who recently returned from a trip to Svalbard. "Our oldest ship is from 2021, we launched our second in July 2022, and the third ship came out in May of 2023. We use diesel electric hybrid propulsion, and are battery-ready, which means when that when the technology catches up to us, we will have emission-free silent sailing. The ships use dynamic anchoring GPS, so we're not anchoring in fragile environments."
Lectures at sea with world-renowned experts/ Photo from Swan Hellenic
"The educational component has stayed part of the Swan Hellenic DNA, which is one of the really special things about the experiences that we provide. When you travel, it's not just the destination, it's the people that touch you and the experiences you have along the way. These trips are really life changing experiences." —  Kelly Predmesky, Swan Hellenic
Ideal for adventurous women
Because Swan Hellenic's mission is to enrich curious minds, Predmesky says it's ideal for women over 50, who tend to be well-travelled and adventurous.
"Women over 50 are ideal travelers for Swan Hellenic because of their desire to learn and the variety of trips to suit where women are at in their travel journey," she says. "There's so much more in the world to see when you travel as a woman over 50. You think you've seen everything but you haven't. When you've gotten to this point in your life where you can afford to travel to harder to get to places and be away longer. I think that's where we really fit well together."
Predmesky notes that Swan Hellenic also offers many amenities that women will appreciate, including ongoing lectures, a library, an onboard spa, in room dining, and a fitness area.  It's worth noting that everything is included in a five-star luxury experience. 
"On a luxury expedition, you want to just step on board and not have to worry about anything," Predmesky says. "It's about having excursions included in every single port. It's about being able to have a drink, whether it's an espresso or a glass of wine, anytime you want in the late afternoon before dinner. It's about having the Wi Fi included, and 24-hour room service. For example, every single stateroom includes a pair of binoculars."
According to Predmesky, most of Swan Hellenic's trips are in the 10 to 13-day range. There are also longer sailings like a 17-night expedition to Antarctica or a 21-night crossing from Antarctica to Cape Town, going to some of the most remote islands in the world.
"The way that Swan Hellenic builds our routes, it's one big world cruise," she says. "You can actually do back-to-back sailings and not repeat anything because the ship is always moving along. You could see the entire west coast of Africa with us if you wanted to, from Cape Town all the way up to Dakar."
The onboard sauna with panoramic views, perfect after a workout in the full-equipped gym or a wellness treatment / Photo from Swan Hellenic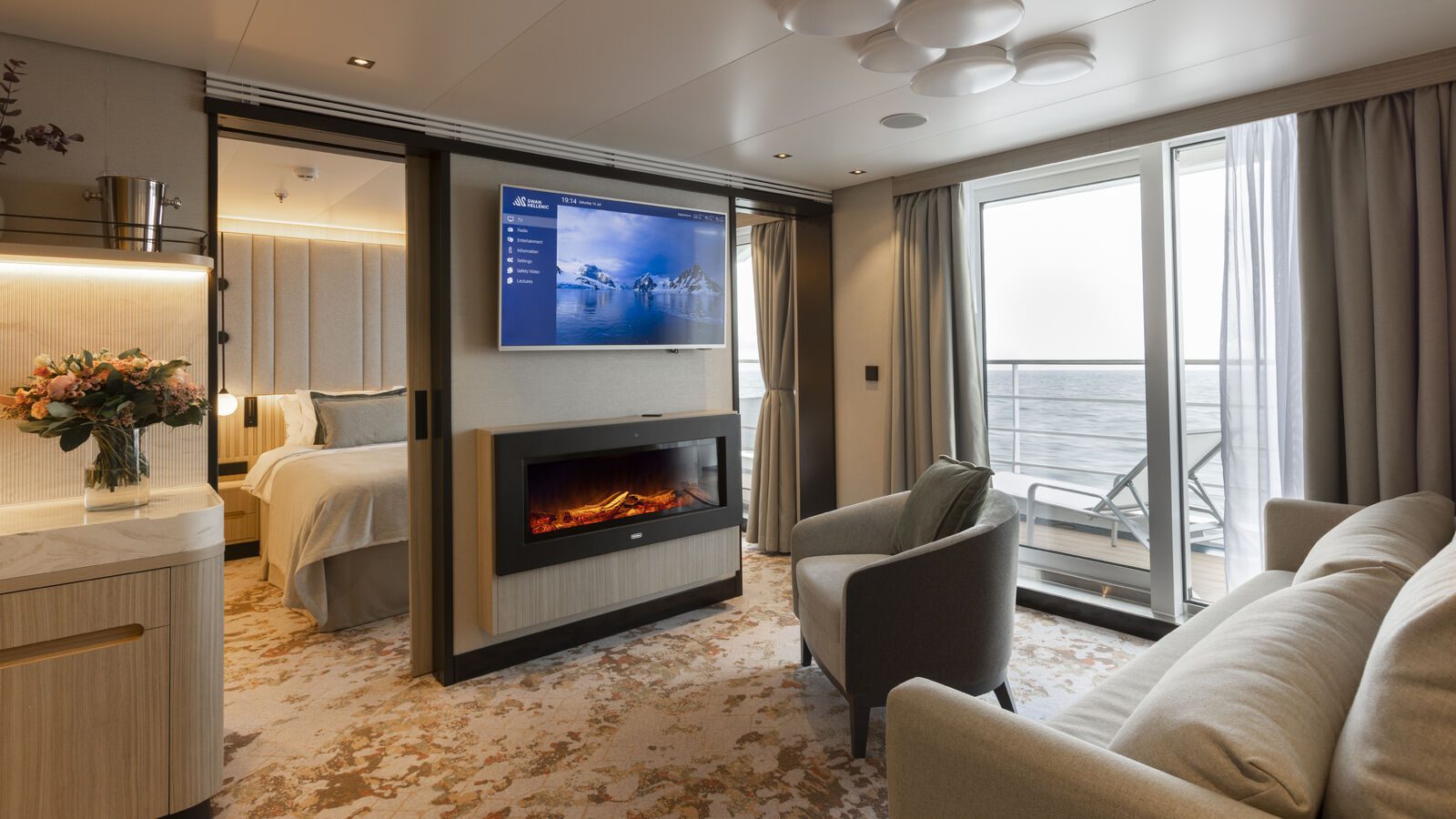 Swan Hellenic offers in-room dining if you prefer to enjoy your suite / Photo from Swan Hellenic
No single supplement for JourneyWoman readers on selected trips for 2023
As an introductory offer just for JourneyWoman readers, Swan Hellenic is offering no single supplement on selected trips in 2023 to destinations such as Iceland, the Northwest Territories, the Canadian Arctic, the Mediterranean and the Seychelles. See our Women's Travel Directory for full details of which trips apply). (To get the single supplement offer, call to book at 1-800-537-6777 and use code CAT0040 between the hours of 9-5  pm ET Monday to Friday. Theses special bookings cannot be made online.)
The trip itineraries are tempting, with cues to historical and cultural exploration. For example, on the Piraeus to Istanbul route, which starts at C$10,168/US$7681 per person for 12 days, guests can "stand in the stadium that first hosted the Olympic Games in 776 BC and discover the excavations at Akrotiri on Santorini and decide whether this was indeed the Lost City of Atlantis. We follow in the footsteps of Minoans, Venetians, and Turks who all left their legacy on these ancient lands, and walk the ancient streets of Roman cities, such as Ephesus in modern-day Turkey. This captivating cruise takes you to some of the Seven Wonders of the Ancient World, from the Temple of Zeus to the Colossus of Rhodes and the Temple of Artemis." 
To understand the Swan Hellenic experience for myself, I'll be travelling on the October 3-15 Holy Land, Suez Canal and Jordan sailing on the Suez Canal from Limassol, Cyprus to Jeddah, Saudi Arabia, on the SH Diana.  This experience starts at C$10,936/US$8259/ per person for 12 days and departs from Cyprus, calling in at Port Said, Egypt, sailing through the Suez Canal en route to the Red Sea and the ports of Sharm El-Sheikh, Aqaba, and Safaga, plus inland travel to ancient sites such as Cairo, Luxor, and Petra. In Saudi Arabia, we stop in at the holy city of Medina before exploring some prime diving around Marmar Island, ending in Jeddah, Saudi Arabia's jewel.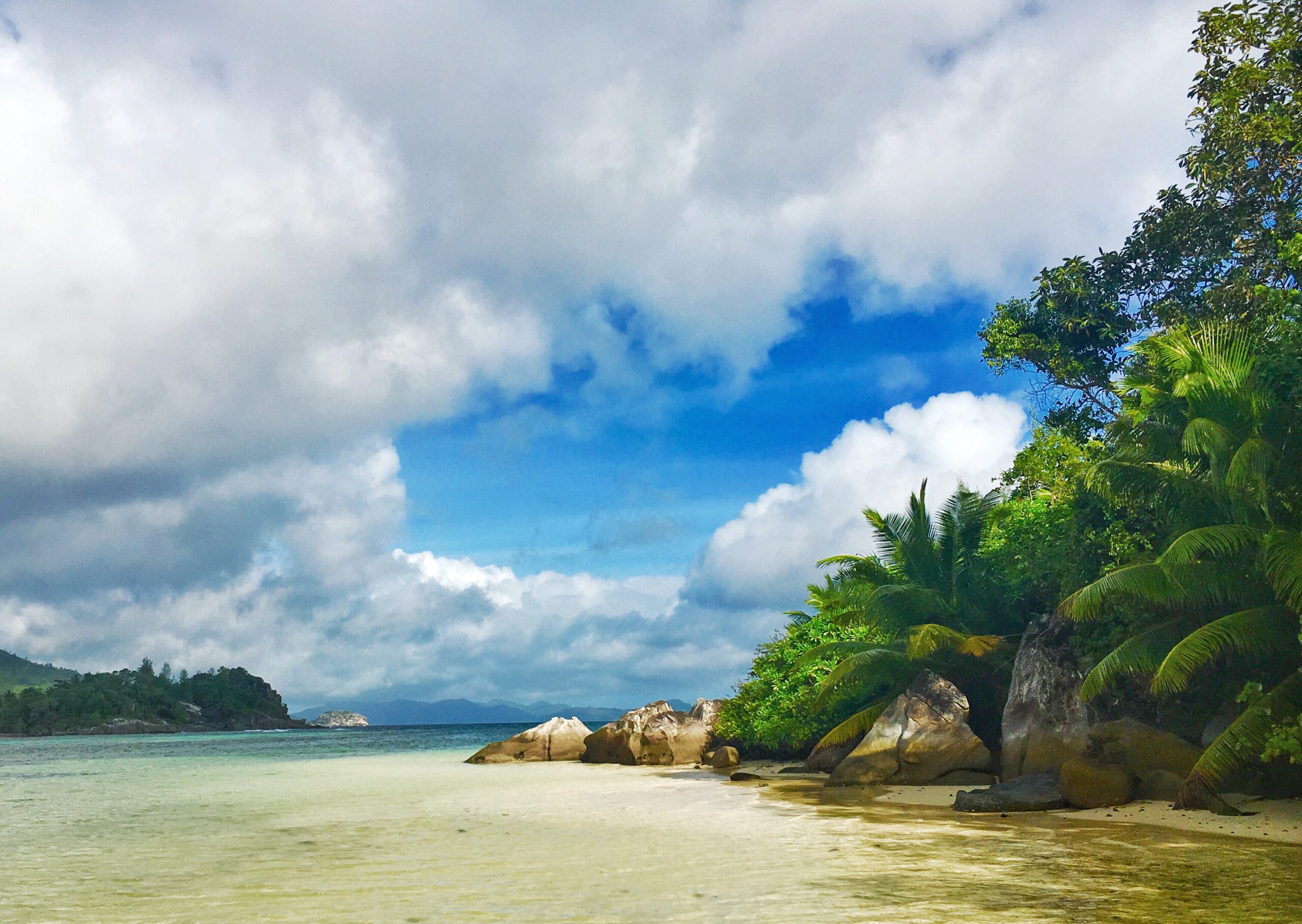 Itineraries include secluded areas of the Seychelles / Photo from Envato
There are stops at small villages in Turkey / Photo from Swan Hellenic
Monemvasia is a medieval town in Greece/ Photo from Envato
 Favourite itineraries for Women
While Antarctica is a favorite destination, Predmesky also has other recommendations for solo women.
"Because we're such a small boutique expedition vessel, we can go to these really hard to get to places that no one else would really be able to get into," she says. 
The Peloponnese:  "We have some phenomenal expeditions in the Mediterranean, from Palermo, Sicily to Athens, Greece, touching on one of my favorite hidden gem places in the world, Monemvasia in the Peloponnese.  Monemvasia is spectacular. It's a completely fortified medieval town in the middle of a castle. It touches along some of those Greek islands on the western coast of Greece." (Read more: Cradles of the Mediterranean, starting at C$8,1811/ US$6,184).
Madagascar: "Maybe you are just starting to explore the world or maybe you've been everywhere and you're looking for like the most out there itineraries. We have something for every type of traveler. Madagascar is on the list." ( Read more: Madagascar and the Eastern Islands, starting at $11,172/ US$8,437)
The Arctic: "We have the Arctic, we have Iceland, Greenland, the Canadian Arctic, happening later this year as well. That's more of a polar expedition where you're going out on Zodiac with your parka and your waterproof pants on and anytime you go out in the Zodiac, anything is possible. You have no idea what's going to happen. You could run into a walrus, you could see exotic birds, you could see a glacier calve into the ocean. That's the sense of adventure on this trip style. It's unlike anything I've experienced, and I've been working in travel for about 18 years now. This is a whole new trip style that it just takes you to the next to the next level with your travels. 
Greece: "There is a great expedition in the Greek islands that goes from Athens to Istanbul. It touches Santorini, but it also goes to the smaller islands that you really never hear of. In Turkey, Canakkale, the ancient city of Troy, is on that itinerary."
Suez Canal:  "If you've been to Greece, if you've been to Europe, how can you up your game? We have an expedition from Limassol, Cyprus to Jeddah, Saudi Arabia that goes through the Suez Canal. You can go to Petra in Jordan and Egypt. You can touch these ancient Middle East cities and villages, and even some of the small villages along the coastline that are stunning there. And that is definitely exotic sailing that I'm interested in."
Join JourneyWoman CEO Carolyn Ray on the October 3-15 sailing from Limassol to Jeddah and pay no single supplement. (Call to book at 1-800-537-6777 and use code CAT0040. Bookings cannot be made online.)
The 152-passenger SH Minerva, built in December 2021 / Photo from Swan Hellenic
The 152-passenger SH Vega, delivered in July 2022  / Photo from Swan Hellenic
Ships designed for a sustainable future
The ships are committed to keeping high sustainability standards both on board and in the context of their destinations.
Swan Hellenic's ships are five-star luxury floating boutique hotels, but they are also polar class ice vessels. Featuring elegant Scandi-design interiors, extensive outdoor spaces and dedicated expedition facilities, the SH Minerva and SH Vega are two new 5-star Polar Code PC 5 expedition cruise ships with ice-strengthened hulls, respectively launched in December 2021 and July 2022. Each ship accommodates 152 guests in 76 spacious suites and staterooms, the majority with large balconies. A slightly larger PC 6 ice-class vessel, SH Diana, was launched in early 2023 and accommodates 192 guests in 96 staterooms and suites.
In terms of onboard practices, Swan Hellenic has eliminated single use plastics and provides every guest with a stainless steel refillable water bottle. In addition, the company uses recycled materials/no paper, Ultra-low consumption LED lighting and intelligent climate control systems are used throughout the fleet. Read more about sustainable cruising here.
Combining exploration with cultural and scientific discovery
Swan Hellenic recently signed an agreement with the Philippe Cousteau Foundation in Europe and SDG4MED (Sustainable Development Goals for the Mediterranean) to contribute jointly to the EU Mission to "Restore our Ocean and Waters by 2030." All three organizations have made their own commitments to the Mission Charter, which aims to create a sustainable, carbon-neutral, circular blue economy. 
"One of the initiatives we have in place with them is bringing some of the scientists from their Foundation on board with us, because we're going to some very remote places to the Arctic to certain parts of Africa and Antarctica," Predmesky says. "That's very expensive for scientists to get to. Swan Hellenic is bringing them along so they can conduct important research for the Foundation."
Swan Hellenic also offers a citizen science program on board that guests can participate in.
"We work with different organizations collecting data, and so the guests can participate in the data collection whether it's for clouds, birds or water clarity," she says. "We even have a science lab onboard. When we have the guest scientists on board, our guests can interact with them and learn more about what is impacting the parts of the world that our guests are traveling to."
With the combination of all these dimensions, Swan Hellenic hopes to be the first choice of adventurous women worldwide who want to see what others don't.  Are you ready to pack your bags yet?
Watch our video interview with Kelly Predmesky, Swan Hellenic to learn more.
More on Small Ship Experiences
Four magical experiences along the Danube River on an Avalon Waterways Christmas Markets river cruise, from Passau to Vienna.
Travel tips for women taking their first river cruise, including tipping, etiquette, room size, weather and packing tips.
There's nothing like Christmas Markets in iconic European cities like Prague, Munich, Vienna and Regensburg to help us feel festive.