Last updated on November 19th, 2023
When Travel Plans Fall Away, Trust in the Universe
by Carolyn Ray, JourneyWoman Publisher
An unplanned road trip is the perfect opportunity to put your trust in the universe and explore our amazing world without boundaries, structure or schedules! Not only does this allow you to live in the moment, it's a valuable life experience, teaching us to embrace optimism and adventure.
Here are three of the life lessons I learned from abandoning my itinerary in my travels to Greece, Spain and New Jersey.
1. Don't settle for anything less than you deserve
A few years ago, I booked a 'quaint, historic' home in Chania, on the island of Crete in Greece for a trip with my daughter and her friend.
When we arrived after a very long journey from Toronto via Athens, the 'Cretan mansion' Airbnb was just not the experience I had dreamed of. Arguably, it was walking distance to the beach as promised (about 30 minutes!) but it was located in an industrial area guarded by a ferocious dog. Time is precious: I couldn't imagine spending a week there.
The next morning,  I walked into town, rented a Jeep and threw our bags in the back. I didn't have cell service, or a map. I just followed the road. After all, it's an island!
After a few hours of driving, we discovered a beautiful, stunning beach – Falasarna, and a family-owned hotel nearby called Sunset Villas. Within minutes, we had beach-front rooms and were eating on the terrace as the sun dropped below the horizon. The next day, we drove down the coast to Elafonnissi Beach and then went to look for a hotel in Paleochora. We stopped in a store, and met the receptionist from a local hotel, who arranged a room for us right away.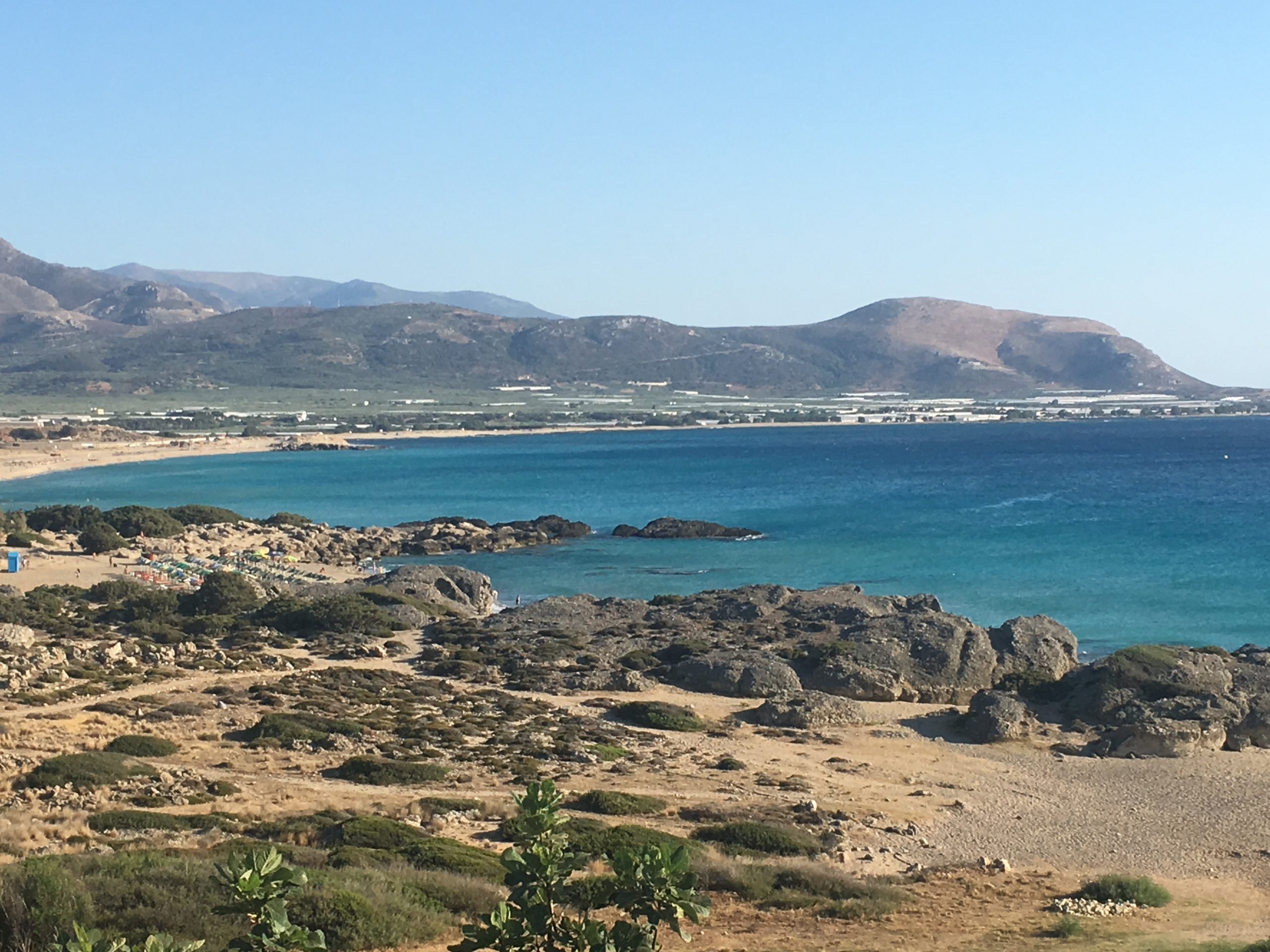 Falasarna Beach in Crete. Photo provided by Carolyn Ray.
Elafonissi Beach in Crete / Photo provided by Carolyn Ray
2. Spectacular things happen just when you need them to
We'd just arrived in Valencia, Spain after a few days in Ibiza and were finding the pace a bit slow. Our hotel very kindly allowed us to cancel our remaining nights and we rented a car and hit the road going north towards Barcelona. This is hardly a remote area of the world, but the best part was when we got off the main road and decided to stop at Morella, a medieval walled city perched more than 1,000 m in the mountains. We had nothing booked, but thanks to booking.com were able to find a hotel within minutes.
The next day, we climbed over 1,000 m to the top of the rock where Morella Castle stands. Because of its strategic location, the town is reputed to have been founded by El Cid, and has been occupied by the Iberians, Greeks, Romans, Moors and the Visgoths. There are even prehistoric cave paintings in the area.
As we drove back toward the coast, not knowing where our next destination would be, I received an email from a new hotel in Sitges offering last-minute bookings. We booked right away, and off we went, to enjoy an evening in Picasso's old haunt! That afternoon, we swam at one of Sitges' 17 amazing beaches and had a delicious dinner under the stars and cathedral at Fragata.  I've returned to Sitges since – it has become one of my 'happy places' in Spain.
The view up to Morella Castle in Spain/ Photo provided by Carolyn Ray
A first glimpse of Sitges, south of Barcelona, in Spain/ Photo provided by Carolyn Ray
3. Embrace the moment (and look up!)
On another trip, my partner and I decided to drive down the coast of New Jersey from Brooklyn and stop along the beaches. We started our trip in Ocean City and spent the first night at a quaint inn. After that, we spent the next six days beach-hopping, with no reservations.
Every day we would visit a new beach, then we'd look for an inn or bed and breakfast. Despite being the middle of summer, we never had any problems. One afternoon, we were on the beach in Cape May, and a plane flew overhead advertising a Sheryl Crow concert in Atlantic City that night. Since we had nothing booked for the evening, we hopped in the car, booked a room and concert tickets along the way, and within five hours, we were in the third row of a private concert with one of my all-time favorite singers. An amazing night.  
The bad news on this trip was that I forgot my passport in the hotel safe. When we arrived back in Brooklyn, and I went to check into my flight, I realized my mistake. So, we went back to New Jersey for a second time! 
Travel is one way to practice optimism, and push ourselves into the habit of living in the moment. In our very structured, time-sensitive world, simply trusting the universe can be challenging. Travel is as much about freedom and exploration as it as about visiting a place.
My advice – try not to plan it all. Leave air and space in your days so that good things have room to happen.
Sitting in the 10th row at a private Sheryl Crow Concert in New Jersey. Photo: Carolyn Ray.