Last updated on April 24th, 2022
Safety Tips and Advice from Female RV Owners
Keeping Safe on the Road
RV travel is poised to become one of the summer's fastest-growing trends and is seen by many as a viable option for social distancing. Just the idea of being able to sleep in your own space is enticing. But for those who have never driven an RV or have limited experience getting behind the wheel, there is more planning involved than simply clicking 'book' on a rental website.
If you are planning a long driving trip and your region lifts its coronavirus-related restrictions, consider these tips from experienced RV owners to stay safe and lower your risk of getting sick both on and off the road. The CDC recommends that if you must travel, pack PPE/hand sanitizer, masks and disinfectant. And before you head out, please check local and state guidelines.
While it looks appealing, even to me, RVing poses special safety concerns for women, particularly those who travel solo. To get the real deal, I spoke with one of the original OG RVers, Maurrie Sussman, who started Sisters on the Fly (SOFL) almost 30 years ago, in a similar era to JourneyWoman's origins! Something tells me she and Evelyn would have found lots in common!
Maurrie started RVing in 1997 with her sister, Rebecca. Her family camped a lot when they were kids, spending summers on the Oregon coast. She came to love rivers. "Anywhere there was a river, I was there!" she says. Under the guidance of one of her sons, she learned how to fly fish in Montana from one of her sons. In addition to Big Sky, Montana, one of her favourite places is the Gallatin River in Montana, where 'A River Runs Through It', was filmed. Sisters on the Fly is now a national group of over 8,000 paid members, ranging in age from '21-105′, which organizes camping, kayaking and fishing events through local 'wranglers' in each state. SOFL also offers skills training to women, such as changing a tire or welding.
Maurrie, who has five trailers, says the RV lifestyle resonates because it represents freedom. Her pride and joy is a 1943 Franklin.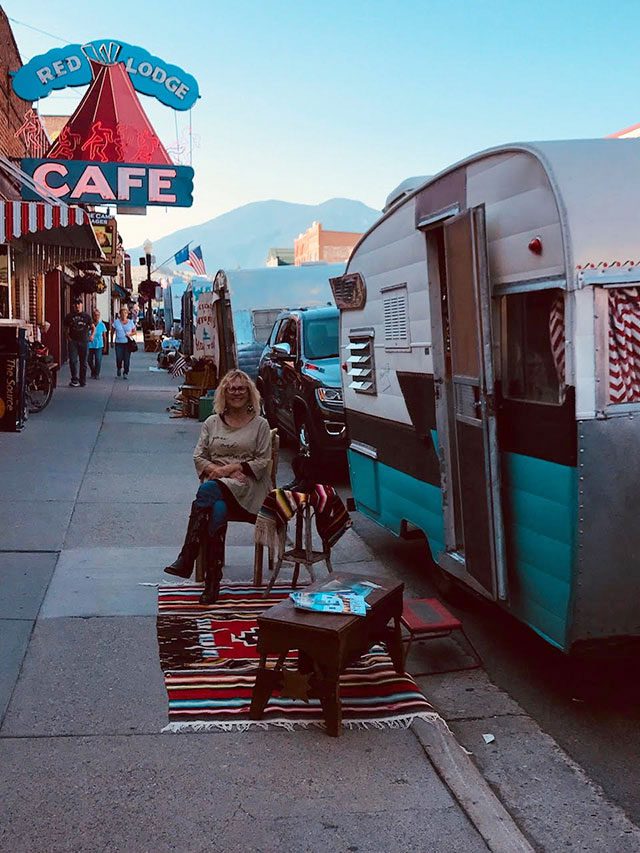 Maurrie sits outside the Red Lodge cafe beside her "pride and joy", a vintage Franklin trailer.
"With my RV, I am free," she says. "I've got my own bed, my own time out place."
JourneyWoman Deborah Schwartz is newer to RVing. Two years ago, she started RVing with her partner Chris. Deborah lives full-time in her RV, a 23-foot 1997 silver Airstream she calls ' The Ark.' When I spoke with Deborah she was preparing for a trip to Maine as a lighthouse keeper.
"I've always had a feeling of wanderlust," she says. "With this lifestyle, I can live anywhere in the world."
When she wants to travel in the US, Deborah uses TrustedHouseSitters, a UK-based company that coordinates house and pet sitting engagements.
If you're considering renting or buying an RV, it's important to first evaluate what kind of car or truck you have. What can you safely pull behind it? What do you feel comfortable driving?
GoRVing.ca, a national industry association in Canada, suggests the following factors:
Type: What is your type of RV lifestyle? There is an RV for every lifestyle and it's important to know your preferences before visiting a dealership. For example: Are you often spending your summer weekends camping? Are you looking to travel south every winter? Or are you a digital nomad who is consistently on the road?
Affordability: What is your budget? Most RVs start at $10,000 (for purchase).
Frequency: How often will you be using your RV?
Size: How many people will be enjoying the RV (how many people can sleep in the RV)?
Other considerations could include: Preferred amenities, type of storage space required and if you have a preference to tow or drive your RV.
Understanding the different types of RVs available
Maurrie drives an F350 Diesel. She chose a larger truck because of her physical size. "I'm little – 5'2" and 110 pounds!"
For solo travellers who may not be used to pulling a trailer, Maurrie recommends trying a larger van first to get used to the feeling of a larger vehicle. She also recommends that women learn how to not only change a tire on a trailer but know how to change a car battery too.
"The last thing you want is to be driving along a beautiful country road and get a flat tire," she says. "There could be no one around for miles to help you, or worse, you could get taken advantage of."
Deborah, who drives a Chevy Suburban, agrees saying: "I'm not mechanically inclined but I've learned how to do everything."
Deborah's a 23-foot 1997 silver Airstream: ' The Ark'
When it comes to planning a RV trip, it's a little more complicated than we might think!
Deborah highly recommends (with no solicitation or compensation), using the Allstays Camp & RV app, which is available for download for under $10 USD and covers the US and Canada.
"It provides every piece of information you could need or want – GPS locations and directions for bridge, tunnel & lane heights & widths, camping locations, dump stations, food, fuel, general supplies, local points of interest, RV repairs, rest/service areas, welcome/information centers – plus reviews of other RVers' experiences at many of those locations," she says. "At $9.95, it's been a priceless investment providing peace of mind on the road."
Deobrah's planning tips include:
Monitor the age and condition of your RV's tires; Ask if you're renting the vehicle. RVs often sit a lot, so even if the tire and tread look good, the tire could be dry rotted; an invitation for a flat, not fun.
Your road service may or may not respond to RV calls. Whether AAA or via your auto insurance, check the fine print before you need it. Reps of state DOTs regularly traverse popular RV routes and will stop to render aid, at no charge.
Keep basic hand tools, a flashlight, fire extinguisher, extra vehicle fluids, a tarp, jumper cables, work gloves/clothing, and reflective outerwear in the cab with you so you are ready to do whatever needs to be done as soon as you exit the driver's seat. You don't want to be rifling around in and out of your RV looking for what you need, especially if it's an unplanned stop which, not surprisingly, frequently involves inclement weather.
She also recommends that you plan for a shorter driving day than you would in your car.
"It takes more mental energy to drive a wind-catching, slower-stopping RV than a car.," she says. "So even if you consider yourself an accomplished road warrior, you may find a six-hour RV driving day more desirable than your usual 8-12 hours in a car. This is especially true if you intend to enjoy dinner preps and the rest of the evening after arriving, finding the "perfect" spot, and setting up for your stay, whether for one or multiple nights."
Getting Out on the Road
Getting out on the road requires bravery. But once you're on it, Maurrie recommends that you have two important items in your car. The first is a (large) dog, which she believes can be an effective deterrent for strangers. Another special secret is a can of wasp spray, which she keeps in the driver's side panel of her truck. She hasn't used it yet, but it gives her a little more confidence when she's on her own.
On the more delicate side, Maurrie notes that going to the bathroom can be tricky when you're travelling on a highway, particularly when you're hauling a large trailer. She doesn't go into a rest stop unless there are lots of people.
"Trust your intuition," she says. "When you feel the little hairs go up on the back of your neck, you know it's a bad idea." Instead, she finds isolated sideroads to do her business. Other times, if she's with a group of other women hauling trailers, they use walkie talkies and coordinate together so that they can keep an eye out for each other.
Knowing the rules of the road has been vital. In her experience, she has found truckers to be her partners on the road. "When we're in a group of 20 trailers, the truckers will separate and let us in and out to let cars pass."
Even if you have camping reservations, Deborah suggests you call ahead to confirm that something hasn't changed and they just haven't gotten around to notifying you. Pre-pandemic, the fee to cancel a reservation was almost as much as the reservation itself. For that reason, Deborah usually travels without reservations, except around federal and state holidays.
"If you choose the no-reservation route, start stopping to check sites no later than 3 pm, as it could take you another four hours of stops to find the proverbial room at the inn," she says. "Setting up in the dark is not fun, even if you know what you're doing!"
She also recommends having a paper map back-up for your intended route.
"Google or other electronic map applications don't know you're driving an RV, so you need to be prepared to navigate yourself onto more suitable routes if/when you leave interstates or main highways," she notes. "Familiarize yourself with the map legend of roads – interstate, toll road; primary, secondary or local divided or undivided; unpaved; scenic byways – before you start your trip. It will expedite any requisite paper navigation."
Another challenge with a RV is getting gas. Deborah recommends that you refill your vehicle fuel tank before you 'need' to.
"It's very important to select your fuel station according to its physical configuration – even more so than brand, price, or your preferred debit/credit card," she cautions. "You need to be able to quickly assess your route in and out – while you're still moving and before you've pulled in – or deal with the consequences e.g. low overhangs, insufficient turning radii, or crossing traffic."
She also wears a pair of diesel-only gloves for refueling and keeps them sealed away when not in use. Diesel fuel is an irritant that can cause rashes and noxious reactions when exposed to skin or inhaled while fueling.
A beautiful 1976 Argosy camper, in excellent condition for travel! Photo credit: Maurrie Sussman
Refill your water tank and food supplies before you "need" to. Always keep ready-to-eat, shelf-stable, nonperishable beverages and snacks in the cab with you for quick, accessible and healthy eats: water, granola bars, nuts, dried fruits, whatever you like. BYO TP too! Especially now, don't assume information on websites is current or that restaurants or stores are open; it's not business as usual. Make sure the TP you purchase is septic tank-safe.
When you park, even in a large lot, give yourself a wide berth, and park as far from the entrance as possible. Deborah recommends using large parking lots, like Costco, Dick's or strip malls.
"Many non-RV drivers have no clue as to the room you need to maneuver," she says. "By parking a distance from the entrance, you will have a better chance of retaining your maneuverability and walking off some of those seated miles, an added benefit!"
When I last heard from Maurrie, she had just returned from her first RV trip to New Mexico. Thirty women brought their own masks and practiced safe social distancing.
Curious about joining SOTF? Let us know! 
A special thanks to JourneyWoman Sharon R, who suggested we focus on this topic and introduced me to Sisters on the Fly. Sharon purchased her first RV at age 69. We've put some of her tips below.
RV Tips
Sisters on the Fly (SOTF) was started by women who loved to fly fish but now is just a way for women to assert themselves. SOTF is for women but sometimes will have events where spouses are included, or as they say, 'the Sister's mister. www.sistersonthefly.com (If there are JourneyWoman who want to join, please mention that you're part of our community!)
Sharon recommends: "Why I choose to be a nomad": After experiencing a devastating catalyst in her life, Robin Barrett decided it was time she owned that wheel. She sold her home and belongings and moved into an RV. Feeling freer than ever, Robin explains how a nomadic way of thinking can help you chase your dreams. Watch her Ted talk here.
The Allstays Camp & RV app covers the US and Canada.
Deborah suggests Transfer Car if you only want to drive a RV one way or drive out to do a specific trip. More here.
For planning, GoRVing.ca suggests its popular online Trip Planner (here), which helps plan their trip route by filtering in points of interest, including customizable key destinations, and allows them to book campgrounds along the way. Travellers can also add their own trip as a visual guide for others and select from existing trip itineraries for inspiration.
GoRving.ca recommends three Canadian road trips:
RV Rentals Rezy and RVShare offers rentals across Canada. RESERVE AN RV NOW!
Insurance and roadside assistance: American Automobile Association (AAA) or Canadian Automobile Association.
Inspiring Reads to Get You Road Trip Ready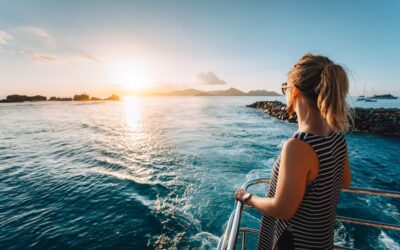 Motion sickness can deter women from adventures, but there are a variety of cures available to help you pursue your travel dreams.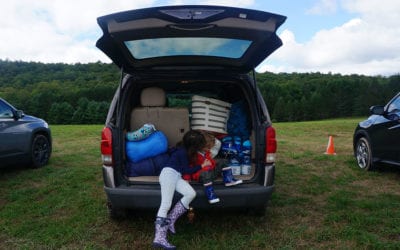 JourneyWoman's own Melissa Fox shares her tips to manage a road trip with small children-your kids or your grandchildren.
Women-tested packing tips to help you plan and pack for your road trip in the COVID era.