Last updated on May 27th, 2023
Lead image: Women over 50 are leading the way, new survey of over 750 travellers says / Photo via Envato by lucigerma
Women embracing off-season travel, longer stays and less-travelled places to reduce costs
TORONTO, ON – May 24, 2023 — A new JourneyWoman survey, "JourneyWoman Women 50+ 2023 Travel Outlook" shows that women over 50 are leading a better way to travel in 2023. According to the survey of 750 women travellers conducted in April 2023, 73% of women over 50 plan to travel internationally in 2023 and are embracing a range of strategies to reduce travel costs, including off-season travel, less-travelled places and longer trips, with 81% planning to travel more than two weeks per year.
"The world can learn a lot from these savvy, experienced, independent women," says Carolyn Ray, CEO, JourneyWoman. "Our newest research reveals that there are many ways destinations and tour companies can attract this highly desirable demographic, with focused incentives to stay longer and visit lesser-known places. By embracing travel in non-peak periods, women over 50 know that they can minimize the impact of travel on communities and plan more authentic and meaningful travel experiences."
The JourneyWoman Women 50+ 2023 Travel Outlook survey shows that while 46% of women over 50 spend over $3,000 USD per week on travel, they are actively seeking deals, redeeming credit card points and using loyalty programs to travel. As independent, empowered decision makers, the majority of women (39%) book travel 4-6 months in advance and tend to book with hotels and airlines directly, not through aggregators or travel advisors.
The survey, which reflects mostly a North American perspective, also revealed that while over 59% of women 50+ take one or more group tours a year, solo women continue to be frustrated with the single supplement, ranking it their #1 pet peeve, ahead of airline costs. The 'single supplement' is an industry term which typically requires a woman travelling alone to pay more to occupy a double occupancy room. When it comes to tours, women prefer smaller groups and 58% say that accessibility and mobility considerations are very important (17%) or (41%) moderately important.

Survey Data: JourneyWoman 50+ 2023 Travel Outlook
​*additional data and demographics available upon request
Respondents:
In market April 2023, with 756 respondents: 47% from the US, 36% Canada, remaining 17% from the UK, Australia, New Zealand, Mexico and other countries
Age: 50-60 (14%), 60-70 (42%), 71-80 (34%), 80+ (5%)
Independent Decision Makers
Book their own travel: 39% book travel 4-6 months in advance
42% do not use travel agents
Most prefer to book travel directly from airlines and hotels versus aggregators
Affluent and Empowered
46% of women spend more than US$3,000 per week on travel
81% travel more than two weeks per year
While destination tops their travel criteria, safety and accessibility ranks #2 followed by cost, reputation, and sustainable practices
In addition to Canada and the US, top destinations for 2023 include the UK, Italy, France, Portugal, Spain, Australia, Ireland, Croatia, Mexico and Japan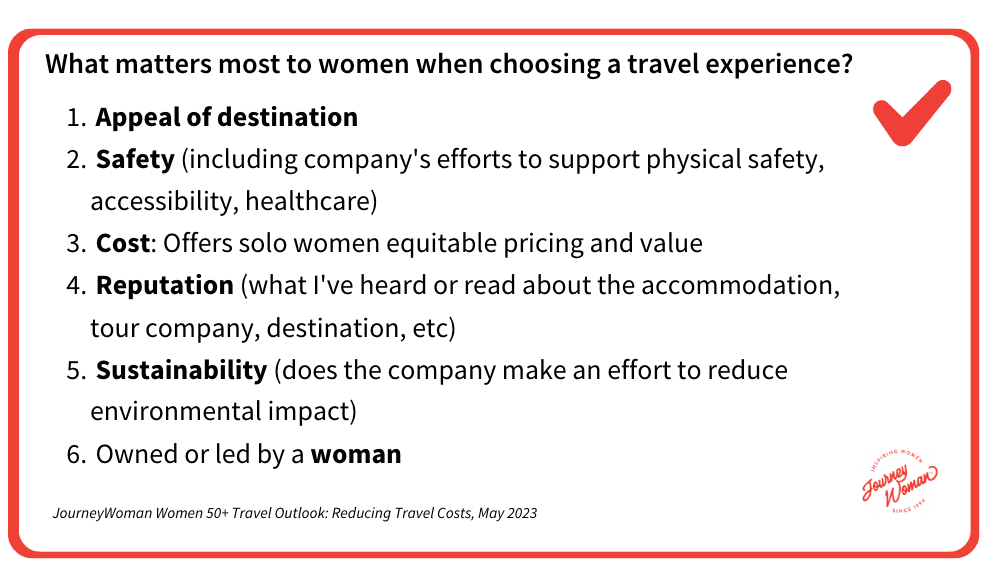 Women are the primary travel decision makers in travel, making 80-85% of all travel decisions. Women 50+ represent over $15 trillion in purchasing power and are experiencing the largest population growth over the next 10 years, according to a recent study conducted in the US by the Coca-Cola Group and Mass Mutual.
This research reflects a primarily North American perspective but includes respondents from over 30 other countries. The study was conducted based on a representative sample of women passionate about travel.
JourneyWoman's previous recent global study, "The Influence and Affluence of Solo Women 50+ in Travel", published in December 2022, showed that 70% of women over 50 felt ignored and undervalued by the travel industry, despite representing trillions in spending power.
JourneyWoman regularly conducts surveys on safety, budgeting, travel experiences and group tour preferences which can be found here.
About JourneyWoman
Founded in 1994, JourneyWoman™ is the world's first solo female travel resource and one of the most trusted women's travel brands in the world. JourneyWoman operates the world's largest Women's Travel Directory, providing women with hundreds of women-friendly tours, retreats, guides and accommodations while supporting small tourism businesses around the world. To learn more, visit Facebook, Instagram, Twitter, or LinkedIn. JourneyWoman is a registered trademark of Journeywoman Enterprises Inc.
Contact:  Carolyn Ray, CEO, JourneyWoman, [email protected]
More News About Mature Women in Travel
Is expedition cruising right for you? Join our free December 5 webinar with Swan Hellenic and find out about this hot trend for women.
Join JourneyWoman readers from around the world on our annual holiday social, where we'll share our plans for our 30th Anniversary in 2024.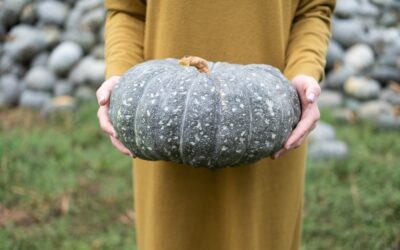 On Giving Tuesday, a global day of giving, we've identified several non-profits and causes that support and empower women and communities.