Last updated on June 3rd, 2021
Photo of Baie de Margot, St. Martin, by Conovane Tremor
Why we chose this book: What if you could just sail away…?
By Carolyn Ray, Editor-in-Chief, Publisher, JourneyWoman
This is one book I haven't been able to put down. Not only is it calling me to the ocean, but it's also a treasure trove of tasty new cultural and culinary experiences, from Chesapeake Bay crabcakes to Bahamian conch to  Pina Colada Cheesecake.  Using the recipes scattered throughout the book, I couldn't resist making the fried plantains with nutmeg and rum for dinner! Delicious!
Ann Vanderhoof's An Embarrassment of Mangoes — an account of a two-year midlife break during which she sailed from Canada to the Caribbean — was an Amazon Top Ten Book of the Year for Travel and a national bestseller in Canada.  The book is described by Quill and Quire as "an odd mixture of a book – part travel journal, part culinary tour, part Cruising for Dummies ("cruising" is a term habitués use to describe life aboard a pleasure boat)."   From August 1997 to August 1999, Ann and her husband, Steve, sailed from Toronto to the Caribbean and back on a 42-foot sailboat named Receta, Spanish for "recipe."
Theirs was the dream trip of every armchair traveller who's ever eyeballed a yacht and wondered, "What if?" As I think about my plan to travel full-time, this one definitely hit a nerve, although I don't think I would have Ann's patience for living on a sailboat for two years! Would you?
About the Author
Ann writes for magazines such as Gourmet, Islands, and More. When she's not on her sailboat, Vanderhoof lives in Toronto. An Embarrassment of Mangoes — an account of a two-year midlife break during which she sailed from Canada to the Caribbean — was an Amazon Top Ten Book of the Year for Travel and a national bestseller in Canada. Her second travel memoir, In The Spice Necklace: A Food-Lover's Caribbean Adventure (2010), Ann shares the sensory delights of travelling by water and preparing local dishes along the way. The recipes she includes have been tested in her tiny galley kitchen aboard Receta — everything from Stewed Lambi (conch) to Cream of Callaloo Soup to Piña Colada Cheesecake.
Your book club co-hosts, Wendy and Carolyn, invite you to join us for a Caribbean interlude with Ann'sbook and join us at our monthly book club on June 16 at 8 pm EDT, for a facilitated discussion, its themes, and the Islands of the Caribbean. Our book club operates on a Pay-What-You-Can model, where we make a donation to a non-profit organization that is meaningful to the author. We thank you for your generosity and kindness.
Please note, as of June 1, our event registration will change to Eventbrite. You will still be able to access future book club meetings on our site but the ticketing will come from Eventbrite. More details to follow. Thank you! 
From Sand to Sea: A JourneyWoman Experience Just for You! 
We've partnered with the Wordy Traveler to offer you a special subscription box that will include three paperback books (or a code for ebook download), a limited-edition fine art print that captures the beauty of travel, and ethically-sourced premium tea evocative of the region.
Our May, June and July books are: 
Morocco to Timbuktu: An Arabian Adventure by Alice Morrison
An Embarrassment of Mangoes: A Caribbean Interlude by Ann Vanderhoof 
A House in Corfu by Emma Tennant
We're also including a brand new JourneyWoman luggage tag (made from recycled plastic) and a JourneyWoman safety whistle/keychain. (These aren't available yet so you are seeing them first!) 
Book Club Discussion Questions (June 16, 2021, 8 pm EDT)
What's your favourite part of the book?
There are two parallel voyages in the book: Ann's physical journey, from Toronto to the Caribbean and back, and her personal journey. Mangoes, in the broadest sense, is about making a change in one's life. And about how that one basic change — in my case, quitting my job and heading south on a sailboat — was a pebble dropped into a pool, spreading ripples of change outward. How does Ann change as the book proceeds? Does her voice as the book's narrator change?
What advice would you give to someone who is contemplating doing something like Ann did? Have you ever done something like this?
Which do you think was more difficult for Ann, making the decision to go — or coming back?
Some reviews say that the "weather was another character in the book." Ann says: "The weather was indeed an unpredictable character with whom I had a very personal, and emotional, daily relationship; a character that helped drive the direction and plot of the book and create dramatic tension." What places have you been to where the weather created 'dramatic tension' in your travels?
For Ann, sailing is a kind of escape. She also says that her passion for travel is connected to cooking: "the door it opens to new tastes, new ingredients, and new ways of preparing food. (My favourite place to buy souvenirs when I travel is the local grocery store and market.) For me, cooking is more than putting dinner on the table — it's a way of unwinding after a hard day, sharing with family and friends, and escaping to other places when I can't leave home." What is your 'escape' when you travel? What things do you most enjoy?
On the trip, Ann is constantly learning new things – what is a learning you have from your travels that has deepened your experience?
We'd Love Your Photographs and Tips on the Caribbean! 
Do you have photos of the Caribbean to share? Send them to editor@journeywoman.com with a brief description and a tip, and we'll share them in the session!  
Featured articles on the Caribbean
This Winter, Consider a Long stay in the Caribbean
JW Advisory Council member Nancy Drolet shares safety considerations and top picks for long-term stays in the warm waters of the Caribbean.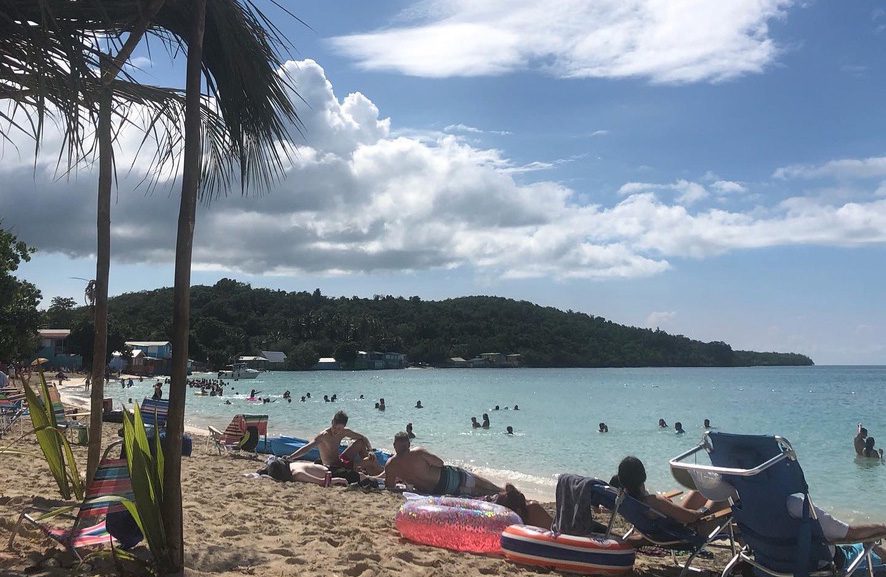 After spending almost a month in this island paradise, some tips to get you off. the tourist path and into the local beaches and small towns. 
East of Havana, Cuba, an iron statue of Ernest Hemingway welcomes me to Cayo Guillermo in the Jardines del Rey archipelago, a 200-km string of tiny islands.
Your Imagination Can Take You Places
Now more than ever, we're finding camaraderie and inspiration through novels. Join us each month as we discuss a different book, suggested by our community, about a faraway land.
Ann's Recipes
Use one from the book or your own and bring it to the book club meeting! 
Mango Chow
This is probably the all-time favorite snack on Receta. It's quick to make, requires only five ingredients, and can be adapted to whatever fruit is in season. The recipe is meant to be only a general guideline: "Make it to your taste," the Trinis say. Recipe courtesy of Ann Vanderhoof, author of The Spice Necklace.
Ingredients
2 unripe or half-ripe mangoes, peeled and sliced (see tips)
¼ cup finely chopped chadon beni
¼ cup finely chopped cilantro
1/4 to 1/2 Scotch bonnet or other finely chopped hot pepper (preferably red, for colour)
2 tsp coarse kosher or sea salt
½ lime
Directions
1. Place mangoes in a serving bowl. Add some of each of the remaining ingredients and toss well.
2. Taste and adjust balance of hot/tart/salty/sweet by adding more of the ingredients as you please. Serve with toothpicks to accompany drinks.
3. Tip: While an authentic Trini chow uses completely unripe fruit, we like it with just a hint of sweetness and use mangoes that are about half ripe.
4. Tip: Try the same technique with cucumbers, wedges of mandarin orange (the Trinis use a similar fruit called "portugals" in season), pomme cytheres (also called golden apples) or any half-ripe crisp fruit such as pineapple, guavas, or even unripe peaches or tart green apples.
Source: Food Network Canada