Last updated on July 14th, 2023
Featured image: By amplifying women's wisdom, we can influence the next generation / Image from Envato
sSharing women's wisdom and stories
By Carolyn Ray, Editor, JourneyWoman
To share women's stories, we are introducing a new series called the "JourneyWoman Writer's Circle", where we feature women authors in the JourneyWoman community who have written travel memoirs.
Our first series features four books about solo journeys in Nepal, Greece, Guatemala and Tasmania. We also hosted a zoom session in May 2023, so that these talented authors could share their advice on the process of creating, writing and publishing a book, funny anecdotes, misadventures and the impact of their journeys on their lives.
If you have a book to suggest for future discussions please do so here. Please support our efforts by joining our book club mailing list here and purchasing books using the links on our website. 
"I want to build a community where women of all races can communicate and … continue to support and take care of each other. I want to give women a space to feel their own strength and tell their stories. That is power." — Beyonce

Four women's travel memoirs by JourneyWoman readers
Our first session features four authors and their books:  "Nepal One Day at a Time: One woman's quest to teach, trek and build a school in the remote Himalaya" by Patti Lefkos;  "Unpacking for Greece: Travel in a Land of Fortresses, Fables, Ferries and Feta" by Sally Jane Smith; "When I was Elena" by Ellen Urbani and  "Edge of the World, Next Stop Cape Horn" by Coral Waight.
Why not consider reading these books on a Kindle – you can find one here. 
Watch our May 2023 webinar below! 
1.   Nepal One Day at a Time: One woman's quest to teach, trek and build a school in the remote Himalaya by Patti Lefkos
Published in June 2020
A Himalayan adventure travel memoir with a humanitarian twist. About to turn 68, Patti's life was disintegrating. Leaving behind her injured husband she packs her bags and heads to Nepal. Solo travel forces her to surmount daunting hurdles-both physical and emotional. While trekking in the forbidden kingdom of Upper Mustang she realizes her strength and determination when she suffers a frightening fall in an isolated cave monastery.
Volunteering in remote Ratmate village presents unforeseen challenges, and a visit to nearby Aprik village offers a life-changing opportunity. Along the way, conversations with fascinating monks, teachers, and entrepreneurs provide insight into how best to serve the children of Nepal.
Recommended by Ella H: "'Nepal One Day At A Time' is a remarkable story about a remarkable woman. Patti Lefkos' determination to trek in the high Himalayas, immerse herself in a foreign culture, raise funds, and volunteer at a school in a remote village in the Upper Mustang region is inspirational. She captures the challenges of her journey in vivid detail, and with candid emotional disclosure. This is an informative account of the day-to-day life of a solo trekker as well as an intriguing story of Patti's inner journey, filled with doubts, trepidations, hopes, and accomplishments.  She is steadfast in her mission to contribute to educational reform in rural Nepal, a developing country where qualified teachers and resources are in short supply. This is a story about living far outside of a conventional comfort zone and seeking to make a difference in the world. I highly recommend Nepal One Day At A Time to anyone who fears their age is holding them back. Patti shines as a septuagenarian trekking 'way off the beaten path." 
2. "When I was Elena" by Ellen Urbani
Published in February 2006
When I Was Elena is an extraordinary account of a young American woman's sojourn in the guerrilla-infested mountains of Guatemala. Shattering the concept of a typical memoir, the author's personal story is interlaced, chapter-for-chapter, with tales told from the perspectives of seven indigenous women she encountered during her journey. At once a coming-of-age adventure and a haunting history of the struggle to overcome oppression – both personal and cultural – this genre-breaching work heralds the arrival of a daring new talent in American literature.
At age 22, Ellen Urbani left behind a classic Middle America upbringing, moving from a Southern sorority house into a scorpion-infested mud hut in order to live, work, and immerse herself in the culture of Guatemala's poorest villagers. There she encountered seven local women – among them the wife of a political martyr, a 12-year-old incest victim, and an escapee from house arrest – whose experiences unexpectedly illuminated her own. Told with unflinching honesty, disarming humor, and an astonishing ear for dialect, this is a work of such atmospheric accuracy that the scent of fire-roasted tortillas virtually wafts from the pages as this tiny country – and the women who occupy it – bursts to life.
 Ellen says: "My goal in writing this book was to give voice to my Guatemalan friends: women who, through dint of illiteracy or oppression or lack of opportunity were not in a position to share their stories directly with the world. I wrote this book — a memoir released in 2006 — about my experience living in Guatemala during the final years of that country's civil war. Named a BookSense Notable selection, widely excerpted and identified as a seminal book about  the Peace Corps experience, it is a story written not just in my own voice, but in the voices of ten Indigenous women I befriended. As such, it highlights the difference in perspective between foreign nationals and expats/tourists while simultaneously identifying how very much we all have in common. A coming-of-age story set in a foreign land, it also highlights the remarkable strength women have to lift up and support each other through the most difficult of adventures."
3. "Unpacking for Greece: Travel in a Land of Fortresses, Fables, Ferries and Feta" by Sally Jane Smith
When Sally sets out for Europe with her mother's 1978 travel diary in her pocket, she is searching for the wanderlust she lost in a devastating overseas road accident. As she ventures into the heart of the Mediterranean – wandering volatile landscapes, exploring historical sites, pairing books with places and savouring the tastes of Greece – she finds it is possible for a clumsy, out-of-shape woman on a budget to experience a life-changing journey. In a story told with warmth, humour and a fascination with Greece's natural and cultural heritage, Sally connects with her past, overcomes her fears and falls in love with life again, one olive at a time.
Sally says: "Unpacking for Greece combines travel narrative (with a strong focus on history, landscape and literature) with the memoir themes of sisterhood and daughterhood, trauma and privilege, and a search for midlife fulfilment. An earlier tagline for the book read: Join Sally as she learns to love her middlescence, travelling through Greece's legendary landscape on a quest for what can make an ordinary life extraordinary."
Although this has since been changed on the recommendation of a cover text editor, it conveys some of the elements of the book that will be most appealing to JourneyWoman members. A couple of endorsements received: 'An inspired Greek odyssey, balm for the soul.' Tina Hartas, co-founder of TripFiction. 'A truly literary memoir – a story of tragedy, resilience and the gradual rediscovery of adventure. Sally takes you with her in every sense.' Ned Kelly, award-winning and USA Today best-selling author, Sulari Gentill
4. "Edge of the World, Next Stop Cape Horn" by Coral Waight
Published in June 2018
In 2006, Coral Waight set out in her little hatchback to begin the first of four road trips around the island of Tasmania, south of where she lives in Melbourne, Australia. She planned to the nth degree, but nothing could have prepared her for getting stuck on the side of a mountain in the dark, her petrol tank on empty. Nothing prepared her for being on her own in a caravan park in the middle of a violent storm, or forgetting she gets sea-sick and spending a boat cruise around Tasman Island with her head in a bucket.
The wild, untamed west coast contrasted with the ethereal beauty of Great Oyster Bay and the fishing villages of the east. The giant ferns and trees of the rainforests nurtured and replenished her spirit, and the history, white and indigenous, filtered through everything.
Coral says: "On my 60th birthday, I and my little hatchback began the first of four road trips around Tasmania, south of where I live in Melbourne, Australia.  After four trips, it occurs to me I've only scraped the surface of Tassie. It also occurs to me there's no way I cannot go back and keep scraping. Tasmania is one of the world's 'pearls'. Its forests, its mighty rivers and its history need to be protected."
More Great Books by Women to Discover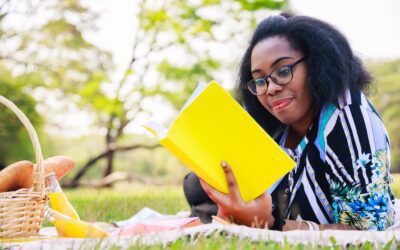 Our JourneyWoman Book Club members have spoken! Announcing six new book selections to help women learn and travel by book.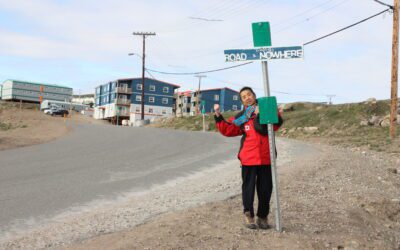 Chinese-Canadian journalist Ruth Lor Malloy, 91, shares her life's work to foster intercultural dialogue and justice for marginalized groups.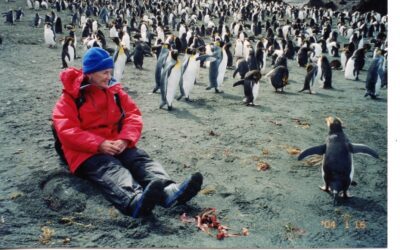 You're never too old to travel solo, says 86-year old author Joyce Perrin in her memoir, "Ants in My Pants". Join Joyce and other 80+ authors on our September 28 webinar.