Last updated on December 29th, 2022
Featured image: Oaxaca is a city filled with colour and beauty – here are some tips on where to stay. / Photo by JackKPhoto on Shutterstock
Oaxaca has accommodations for every style and budget
By Carolyn Ray, Editor, JourneyWoman
In a city with so many accommodation options, I feel fortunate that I found some safe, women-friendly places to stay. 
When I travel, my preference is to have a kitchen so that I can cook and stay in a place for longer periods of time. However, in Oaxaca, I enjoyed two bed and breakfasts, which included delicious breakfasts and fun conversations with other travellers. 
Where I stayed in Oaxaca
Selina is centrally located on the same street as the historic Quinta Real (a former convent). I was invited to stay there by the company and given a Suite with a private bathroom for two nights. My room didn't look exactly like the photos on the website – but it was reasonably comfortable.  There are other options too, including shared rooms.  Selena posts House Rules in all the rooms, which cover security measures and things like:  "Respect other guests, our neighbours and our planet, Conservation of water and energy; Damage to property and a No-Smoking policy." This location gets a 'fabulous' 8.3 rating on Hostelworld.   
This is a creative, hip and trendy place, popular with many digital nomads. I loved the graffiti art and the open outdoor spaces (not to mention the hammock in the common area). It was also very clean and felt safe, with a security guard at the entrance, lockers and a shared kitchen. For those who are working while travelling, there are workspaces throughout the three-story property (but no elevator).  I found it very quiet by 10 pm.
My room was on the second floor facing the busy street, and there was no sound barrier at all as the windows didn't fully close at the bottom. The hotel is on a corner so if you stay there, ask for a room on the inside. Even on the second floor, I heard traffic and conversation below me all night, and on the second night fireworks went off right beneath me (it's no surprise in Oaxaca to hear fireworks but a little disconcerting in the middle of the night). If you're travelling on a budget, it might work well.  There are 145 Selina locations around the world. Get more details here.
Cost: $88-98 per night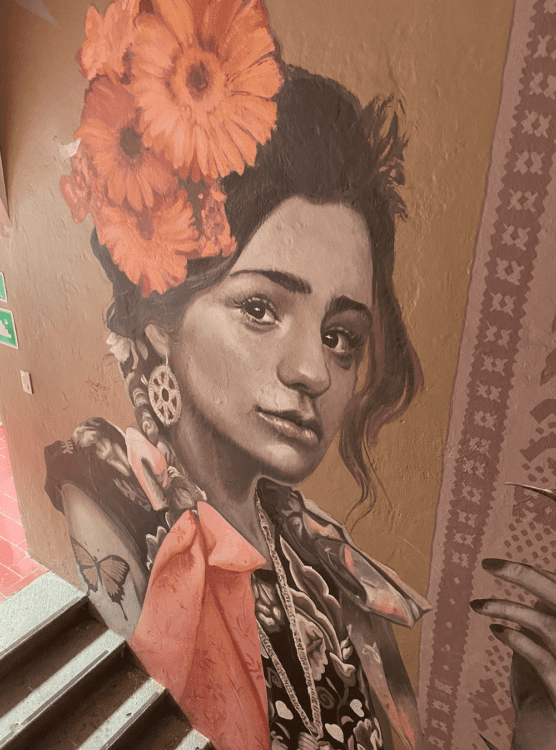 Stunning graffiti covers the walls at Selina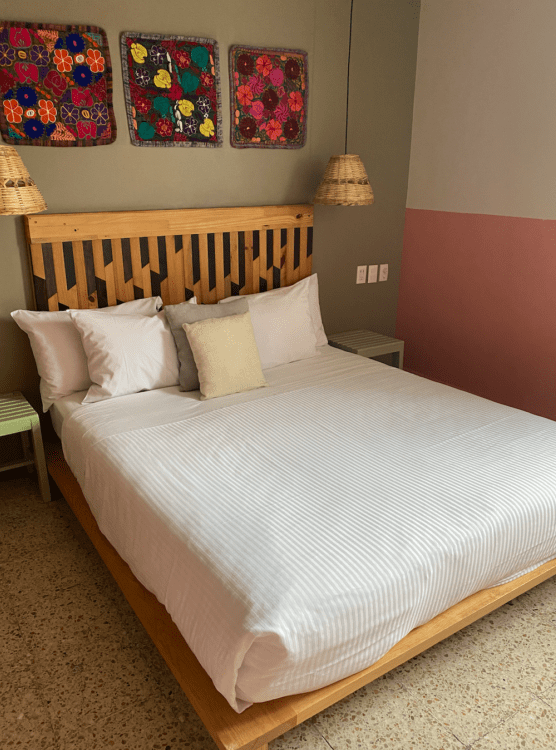 Moderate: Casita in Jalatlaco
I spent my first week in Oaxaca in at a small casita in Jatalaco which I wouldn't hesitate to recommend to solo women. The casita is on Maria's property beside her house which is lovely. There is a small kitchen, coffee maker and everything you need. This is about a 10-minute from Santo Domingo and is in Jalatlaco, one of the prettiest barrios in Oaxaca.  
I loved the comfortable seating outside her house, perfect for afternoon relaxation. It's very safe and quiet – even her dogs didn't bother me. Everything is on one floor and it's very well designed. There is a rooftop patio accessible through the house with nice views of the city. Quite by chance, Maria and her family own Casa de mis Recuerdos, which I also highly recommend. Learn more here.
Cost: Roughly $110 a night (does not include breakfast)
This one-room casita is perfect for solo travellers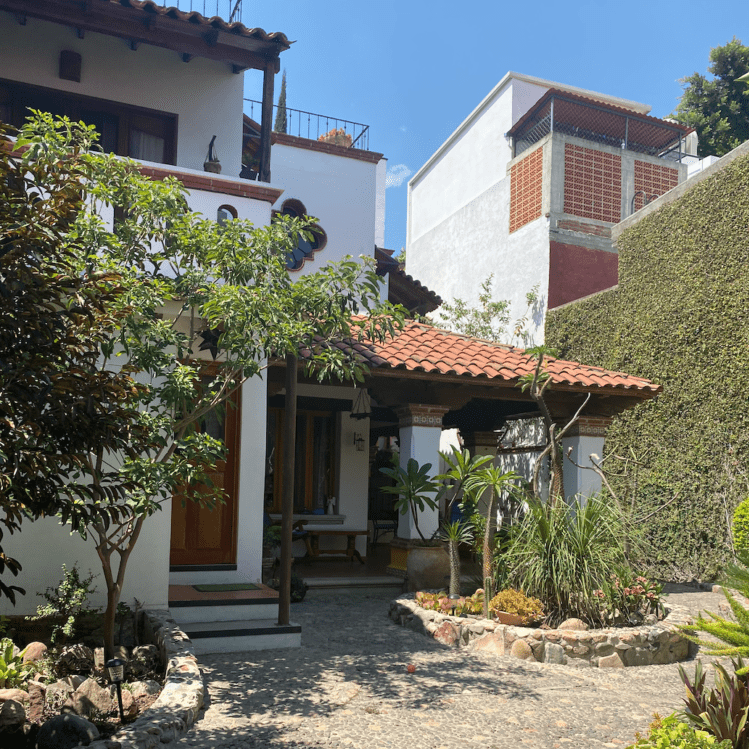 The lush exterior of Casa de mis Recuerdos
Moderate: Casa de mis Recuerdos (House of my memories)
I loved this bed and breakfast so much I stayed there twice. Run by Maria and her mother Conchita, this is an oasis in the city. I stayed in the Maguey, which was next door to an office, making it perfect for my digital nomad life.
This large house has eight rooms and is covered in flowers and vines. There are multiple outdoor seating areas and it's very quiet, except in the mornings when you'll hear (and come to love) the birds welcoming a new day.  
Cost: $85 for one person, $115 for two including breakfast (discounts with cash payments)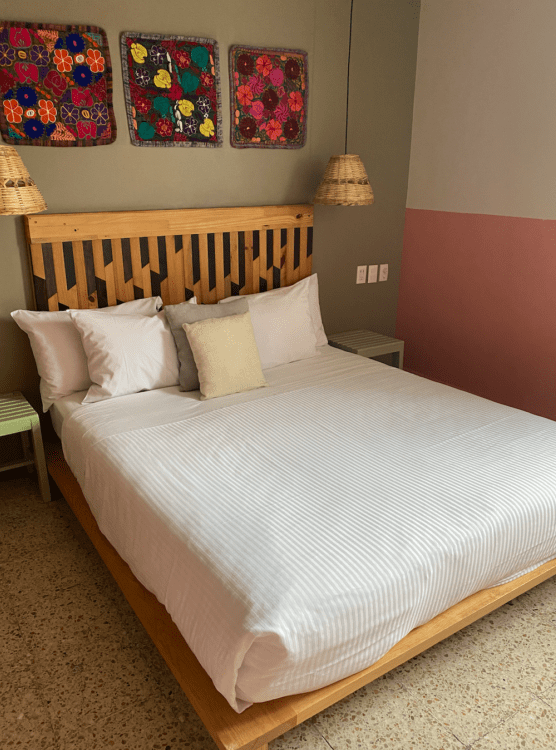 Beautifully designed rooms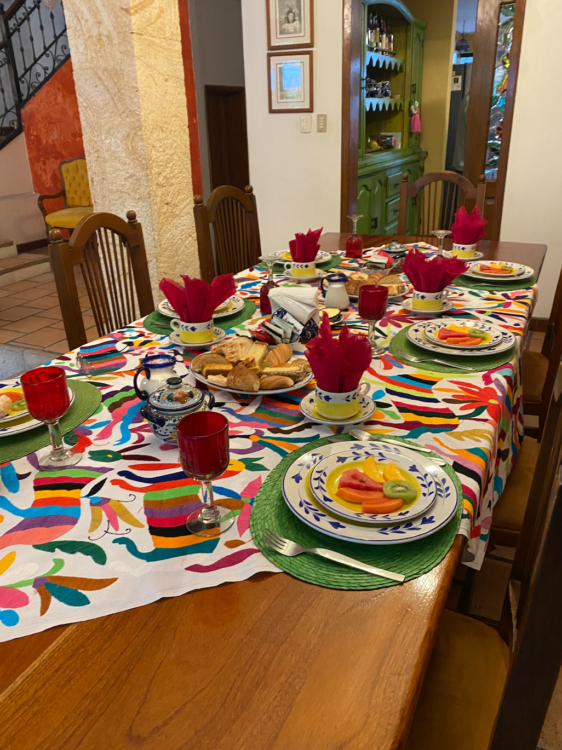 Just like breakfast home, right? Provecho! 
With longer stays dominating the vacation rental market, these 10 expert tips will help women find safe, cost-effective homestays.
This pink-themed boutique hotel, which also has La Olla cooking school, is steps away from Oaxaca Centro. This is run by a family with a long history in Oaxaca and is a convenient, wonderful respite in the heart of the city. I stayed in the Magnolias Room, which had a small patio at the back but also backed onto the kitchen, which could be a little noisy in the mornings. There is an upstairs bar and patio facing the street which was being renovated when I was there. The interior and shared spaces are beautiful, and I spent time in the library on the second floor outside my bedroom. 
Casa las Bugambilias also offers an incredible Temazcal sweat lodge experience, one of my most memorable experiences in Oaxaca. This combines Indigenous healing rituals with massage and self-care and I loved every single minute. If you are claustrophobic this may not be for you, as most of it takes place in a small sweat lodge with a door. But — I would do it again in a heartbeat. More information here.
Cost: Rooms run about $150 a night and a delicious breakfast is included.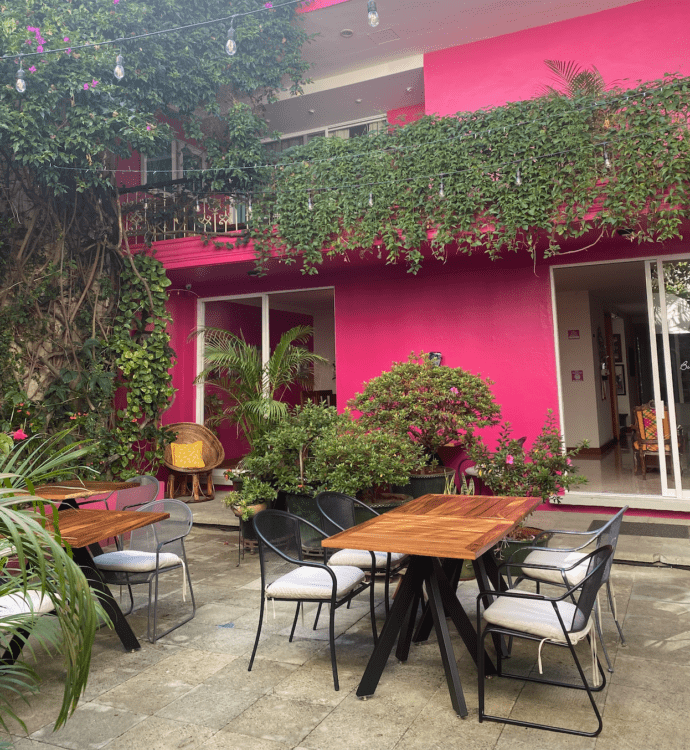 The beautiful pink courtyard at Casa las Bugambilias
Don't miss the Temazcal experience!
High-end: Casa Volare, Huatulco
I stayed for two weeks in Crucecita, and thanks to Hurricane Agatha, was moved to a stunning three-story home with unparalleled views of Playa Santa Cruz and easy walking distance to Playa Chachue. 
Let me be clear – this was not the original apartment I had rented but when the water started leaking through the ceiling of my rental, the property manager moved me to this three-bedroom home next door, complete with a pool in the basement. This house had a full kitchen, BBQ and all possible amenities. It was super luxury and I loved every moment! Never in my life have I stayed at such a gorgeous homestay. 
Of all the beaches in the area, I enjoyed this Santa Cruz the most. However, unfortunately, there is a cruise ship dock right in the bay, and I can only imagine what the views would be when a ship is in this very small port. Learn more here.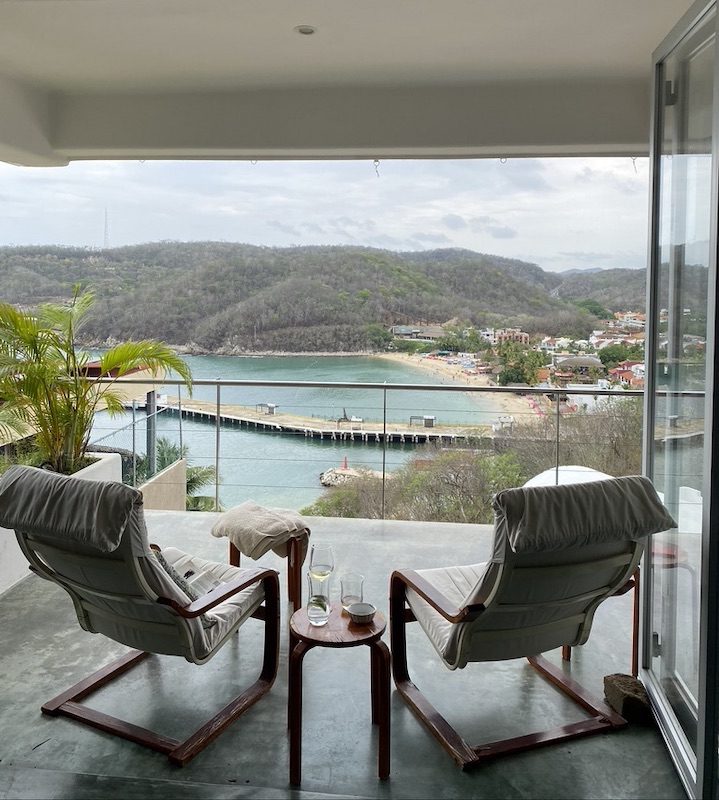 Views from Casa Volare of Playa Santa Cruz / Photo by Carolyn Ray
For Puerto Escondido stays, see this article.  
Other recommendations from locals in Oaxaca
Disclaimer: I pay for my own travel. Selina offered me two nights complimentary stay, and Casa de Bugambilias gave me a 15% discount.
If you go to Oaxaca
Book Your Flights
I flew American Airlines (on points) through Houston. Aeromexico flies to Oaxaca via Mexico City.  Use tools like Expedia or Google Flights to look up the best flight prices. Being flexible with dates can save you even more money.
Find Somewhere to Stay
I prefer bed and breakfasts and homestays when I travel, but you can find a hotel on Expedia and earn points towards free stays. Hotels.com offers a free night stay for every 10 nights booked. Looking for an apartment or something more long-term? Check out VRBO.
Insure Your Trip
Travel insurance is more important than ever. Compare plans and policies for the best coverage for your trip using Insure My Trip. Traveling for an extended amount of time? SafetyWing offers ongoing coverage on a month-to-month basis, and World Nomads offers coverage for extended trips.
Looking for a Tour?
Head to the Women's Travel Directory to find a woman-friendly tour around the world. We are adding more Mexico tours and guides to. our Directory all the time!
Travel Extras
Speaking Spanish will help you feel more acclimated. Why not brush up on a new language before your trip with Babbel.
Don't forget your JourneyWoman branded accessories while you're on the go!
More of Mexico to Discover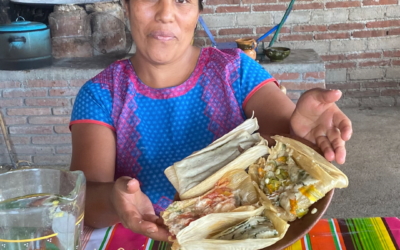 Enjoy all the fresh cuisine you can in Oaxaca, Mexico — from street food to upscale rooftop restaurants, you'll love every bite.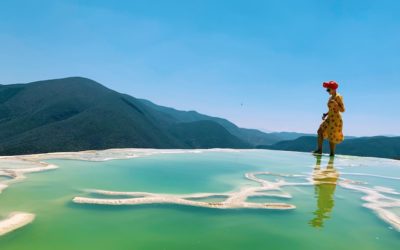 From Hierve el Agua to Monte Alban, Oaxaca, Mexico offers women magical experiences, a wide range of accommodations for all budgets.
Observations from four months in Mexico to help you enjoy the little differences including etiquette, tipping, driving and shopping.