Last updated on September 24th, 2023
Featured image: Get ready for travel with these solo travel tips from JourneyWoman readers | Photo by simonapilolla on Envato
Best Solo Travel Tips from June 2023
Curated by Marion Broverman, Facebook Group Moderator
Every month we curate solo travel tips from our readers, and this month's tips are all about getting out and exploring the world.  These tips include packing ideas, safety tips and advice to explore cities. Here is the shortlist of the best solo travel tips, culled from inbound emails and our private Solo Travel Wisdom Facebook group. We rely on first-hand solo travel tips from you — our readers — if you have one to share please do so!  (You can do that here!) 
Tip: You can download these tips as a PDF or print them using the icons above!
Tips on travelling solo: you can do it! 
1. I just completed my first solo trip to France. Solo travel is more than a vacation it's a journey of self-discovery! – Lori R.
2. Most important: try to be in the best physical shape you can be. It takes energy to travel, let alone travel solo. Make sure you can easily lift and or manage all that you take with you. – Noreen L.
3. When I solo travel I feel fully and totally connected with my true self and with the world around me. I feel as if pure life is flowing through me" – not a real tip but a line of wisdom based on a life of travel. May it inspire you all. – Kristel V.
Packing tips
4. Take half the amount of clothes you think you need and twice the amount of money you think you need. – Trang T.
5. I travel with a large scarf in my carry-on for chilly airplanes, overly air-conditioned restaurants and for coverage in more conservative countries. I also buy a multi-pack of socks from a dollar store to wear in temples when you have to take your shoes off, then dispose of them. – Marla A., Canada
6. I recommend carrying a pack of baby wipes to use for those in-between shower days. I figure if they are gentle enough for a baby's skin they are good enough for all sorts of body parts. – Roseanne Z., Australia
7. Hotels, apartments, hostels, whatever your accommodations will usually supply shampoo, conditioner and soap. In a pinch, shampoo/soap can be used to wash clothes! Leave yours at home and free up some space and weight in your carry-on!  – Theresa C., USA
8. I have a recommendation from my last trip: Stop buying wasteful travel-size tubes of toothpaste. Sanitize a small jar and fill it up from your regular tube. I wish toothpaste in general was available in bulk. – Deborah Q.
Editor's note: Try these toothpaste tabs from Bees Butter and other eco-friendly packing tips here
9. Foodstuffs that you can take to Europe have changed since the UK left the EU. EG: I can no longer take my powdered milk as dairy is no longer allowed. Check out banned foodstuffs online. – Anna W.  (Please note: This is not hard and fast; there are various exceptions to these rules, including powdered infant milk and infant food, plus "special food for the dietary management of a diagnosed disease, disorder or medical condition" or pet food required for medical reasons, according to the UK government website.)
10. A common-sense safety tip- carry a hurricane whistle. Light, cheap, and small. Much louder and shriller than a scream. It can be enough to scare someone threatening off or startle them for a moment so you can get away, or alert someone to your location if you are hurt or lost. – Shekinah M.
11. I still plan everything on paper, I use a travel journal and store minimal stuff on my phone. I thoroughly acquaint myself with every destination and carry snacks and water. I have a backup credit card and use mainly cash. – Anne F.
Get your very own JourneyWoman notebook right here!
12. Always carry a big stash of small cash! 1 dollar bills are invaluable. On several occasions when I handed over a larger bill I was ripped off as I was told I don't get the change because my bill was only a small one. Then they pulled out a small bill from their stash and insisted it was the one I handed them. – Michelle L., Canada
Note: Instead of bringing large amounts of cash, try the Wise app, which allows for multi-currency exchange in seconds at a low rate. Learn more about Wise here.

13. Think most ladies know to use shower caps as shoe covers so my main organization tool is to keep my bag packed with my travel-sized toiletries at all times. Petsitting now very last minute so simply grabbed my bag, threw in some clothes, and left my house! I know all is in there! – Aimee S.
14. A gardening vest makes a great travel vest. Check your garden store. But my favorite is from Duluth Trading Company. Nice colors and cute prints. – Marti S.
More Packing tips – Special thanks to Margaret S. who sent this along via email. What do you think of these ideas?
Accessible travel tips
These tips for travelling with assistive devices are courtesy of Tanzila Khan, our Solo Accessible Travel Writer. Read more about Tanzila here.
15. Assistive devices are as unique to us all as our personalities and disabilities and many airlines, airports and tour companies do not understand how they work and how they can be helped. A heads-up is very helpful and a conversation beforehand goes a long way.
16. Keeping the name and number of the manufacturer or supplier of the assistive device is very helpful in case there are questions by anyone that you don't remember. In my case, it's always the weight and voltage of the battery.
17. Navigate a cycle repair shop through Google Maps. They often have the tools to make simple repairs that are needed for free movement.
18.  Never be shy to let the airline know how and when you need your assistive device. The travel industry is evolving and needs constant feedback to understand the needs of passengers with mobility needs.
19. It's always better to be safe than sorry and ensure the safety of assistive devices by following all protocols of the airline, train or any other medium. These often include filling out forms. I always go one step ahead and drop an email to document my concern as an active traveller.
20. In case there is an emergency with the device, look up any disability organization in the city you are in. In most cases, the organization is linked with the ecosystem of the disabled population and they can guide about local repair or support. This came in really handy when we met a local start-up that repairs wheelchairs at the location.
21. I once broke my wheelchair upon landing in China and immediately had to purchase a new one. China does not accept USD and I had no chance of exchanging, so a little know-how on currency exchange is also helpful. I kept my passport at the shop until I could arrange the currency exchange.
22. During a visit to Japan, the powered wheelchair did not charge for the entire trip at the hotel because of the difference in voltage. This is also a question that can be asked beforehand to avoid being immobile.
23. In case of damage to the assistive device, most airlines can compensate and checking with your insurance company about it will also be helpful.
Safety Tips
24. Something that helps me is if I book accommodation in a foreign-speaking country over the Internet,  you can generally see the name and address in the local language and alphabet,  as well as translate it to English.  I print out a copy of the hotel name and address in the local language/script so I can show it to a taxi driver or other local person. – Sonia B., Australia
25. Never carry your phone and your cards together. In fact, get a phone neck strap holder to keep your hands free for luggage. Transport transfers are times when you are distracted and may drop or lose your phone easily, as happened to a travel companion. She lost both her phone and her cards are the same time, which was extremely distressing. Also, she did not know how to access essential data such as her email account and bank info, which rendered 2-step verification pretty useless. Important to be prepared for a scenario where you have no phone. Or rather avoid it in the first instance, of course. – Louise E.

26. I heard recently that an acquaintance visiting London, England had his phone snatched right out of his hand as he stood in front of a central underground station. It made me think, what info would I need if I was travelling and my phone was stolen or lost. Before you travel, go through your contact list and write down any important phone numbers you don't know by heart. Do the same with important e-mail addresses that you simply click on to communicate with friends, family or business affairs.  Make copies of the written information. Keep a copy with you, hide one in your luggage and leave one at home with someone who could help you sort things out. We rely so much on our phones. What would we do if they are gone? – Maxanne E. Canada
27. I use my outdated business cards that still gave the correct email and phone number, to make a safe address ring. I put the name, address and phone of each place where I will be staying on a card, punch a hole in the corner and put each card on that ring. Fits easily into pockets or purses so I always have that info with me. I often add things like train reservations etc.  anything that you need to know to get around easily. – Sandra K, USA
When you're there
28. Travelling to Valencia? You don't always have to eat Spanish food.  After two months, my taste buds needed some spice so I stopped at DoDo Mediterrasian. There is a menu del dia (menu of the day) if you want to eat Spanish amongst other local favourites but I challenge you to try the Korean food. It is delicious! They also make their own kimchi. The decor is beautiful and the owners are delightful. I was solo, so I sat at a table in the bar area where I had a lovely chat with the owners. Definitely worth a visit. – Donna R., Canada
29. I travel solo a lot. I am just back from Al Ula in Saudi Arabia where I visited alone, stunningly amazing place, with super friendly people – but go now before this becomes one of the more popular places to visit on the planet. Google it and you will see why!  I stayed in Shaden Resort which is also superb. – Lorraine R., UAE
30. When dining out in Spain, you will frequently receive a basket of bread, usually stale and sometimes individually wrapped in plastic. The plastic always makes me giggle. You can refuse the breadbasket and likely won't be charged, but not always. This usually happens in sit-down restaurants if ordering à la carte. The charge is usually between 1€ and 4€.  Remember you can refuse it. If you order the menu del dia (menu of the day), bread is usually included. Regarding tipping – check the menu to see if there is a 'servicio incluido'. If not, tipping is optional and usually, I just round up the bill. – Donna R., Canada
31. Don't ignore local buses. In Paris, a bus route can take you to every major site. It is only 2 euros for a pass card.  It goes in a great loop.  Louvre to Père Lachaise Cemetery. I jump on the number 69 and cover transportation for less than the cost of the hop-on hop-off bus. – Sandra K, USA
Click here to find endless things to do in and around Paris!
32. The weather in Lima, Peru is cold and cloudy despite being at sea level near the equator. Great restaurants though! – Michele R.
33. Whenever I go to a new city or town, I like to try a local beer from a small brewery. I recently returned from the Magdalen Islands in Quebec and enjoyed a few brews at A L'Abri de la Tempete. It's always good to support a small business. – Dianne B.
34. I am living near and then in Edinburgh for the next 2.5 months. I have been before for 5 weeks, but never had to stay so far away as now, since my Royal Mile ground floor apartment was cancelled last week. I found a Monthly Edinburgh Travel Card for Seniors (60+) including all in-city transit and trains out for £105 and £33 per week. You can buy them online, at any Lothian Buses or Edinburgh Trams ticket office, or from select newsagents. – Fetchin G.
35. For my recent UK trip I was able to get an online senior rail card (I take a great selfie) and get 1/3 off savings on all my train rides. I'm hoping I can get one for Irish and Scottish rail for my next trip.  – Judy Mac.
More Travel Tips From JourneyWoman Readers
Clothing tips from a plus-size solo traveller to empower women with a fashionable travel wardrobe that combines comfort, style, and confidence.
The best travel tips from JourneyWoman readers in February 2023, covering packing tips, places to stay, how to save money and safety tips.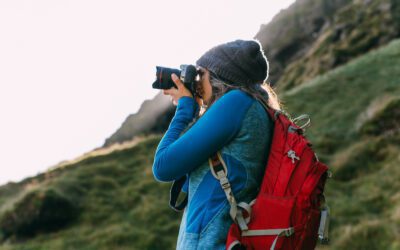 Our monthly curated list of solo travel trips submitted by JourneyWoman readers, featuring hotels, safety tips, what to pack, and more.