Last updated on February 20th, 2023
Featured image: You can live and work remotely! Get inspired with these ideas! / Photo by shiwork on Envato
Eight items to help me travel and work better
By Carolyn Ray, Editor, JourneyWoman
Living and working remotely isn't as easy as we might think, especially when you're trying to pack light and avoid checked bags. 
I learned a lot about living nomadically from my last trip to Mexico, when I stayed in Merida, San Miguel de Allende and Puerto Escondido for three months. Living and working remotely is challenging, and I didn't come prepared with the right equipment. 
Upon returning home, however, I changed all that and made sure I was prepared for my next trip to Oaxaca.  As a travel writer, I am always working, so having reliable technology and electronics is essential.  I've tried and tested all of the items listed below.  
(Please note: this article includes Amazon and other affiliate links, but we only ever recommend items we think are relevant for you and we've tried ourselves that will benefit you on your travels). If you decide to purchase an item through one of these links, we will receive a small commission that doesn't add any cost to the purchase of an item.)
1. Carry-on suitcase and packing cubes
As I said in this New York Magazine article recently, I'm a fan of Gregory backpacks because they are adjustable to women's bodies. In October, I used my 70 L Osprey backpack which held three months of clothes. But it was HEAVY – and I only wore a third of what I brought. 
I'd love to try a rolling version of this Away carry-on (dare I imagine a monogrammed version?) and Away's packing cubes.  This brand has been highly recommended on our private Facebook group! 
I'm also using Apple's RFI AirTag to keep track of my things if I am forced to check my bag. I put one in my computer case, a second on my daypack and a third in my carry on just in case I'm forced to check my bag. This device allows you to track missing items through the Find My iPhone app.  
3. Protective sun gear
I am terrible at keeping hats. I love them, but have now lost three in a row, most recently on my trip to the Bahamas. I need a new hat that is small, foldable and lightweight, along with a new pair of unbreakable sunglasses for sunny afternoons on Oaxacan rooftop patios.
I have my eye on a stylish bucket hat from Madewell and a pair of plastic Kate Spade square sunglasses that won't get crushed in my bag.
In our recent article on eco-friendly packing, our expert Nora Livingstone recommended reef-safe sunscreen, so I'm keen to try Badger Balm, made by a woman-owned business. (Read more of Nora's eco-friendly suggestions here.)
Of course, I'll have my JourneyWoman Sassy flamingo bandana with me, which is not only cute but practical.
4. Gotta have some bling!
Recently, I lost a treasured pair of earrings when my jewelry bag fell out of my carry-on. (My new travel tip is to always check the overhead compartment before you leave a plane!) Jewelry is one of those things you just can't expect to get back. 
I don't feel fully dressed without earrings, so I picked up these dangly moon earrings from Amazon because they don't have backs and will stay on when I remove my mask. Also, at $30, I won't worry too much if I lose them. They are a little bendy but otherwise very comfortable and fashionable!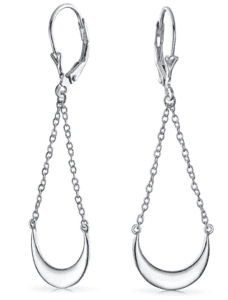 With longer stays dominating the vacation rental market, these 10 expert tips will help women find safe, cost-effective homestays. Don't forget to download our tip sheet with questions to ask when you're renting a homestay.