Last updated on September 16th, 2023
Featured image: Tanzila Khan completing a kayaking tour in Sweden | Photo by Tanzila Khan
Finding adventure in the canals of Stockholm, Sweden
by Tanzila Khan
What is your definition of adventure? Mine is looking for an accessible bathroom sign in the Sahara Desert. (Just kidding!) I found my newest adventure on a recent trip to Stockholm, when I discovered that kayaking is a super adventure sport for women in a wheelchair.
I found plenty of evidence online about kayaking being possible for wheelchair users, but since every disability and wheelchair experience is unique, I had to find out for myself. Stockholm, Sweden offered a perfect blend of choices, such as a canal route all the way to the Archipelago, but I decided on a smaller tour within the city to build my skills and muscle memory before getting too ambitious.
Why I tried kayaking
While daily life can sometimes be an adventure on its own, I feel it's also time to create new opportunities for women with disabilities in existing adventures. I will add one more rule on top of that: if it can be done using my hands. I must do it. This is because my legs are in another multiverse fighting the bad guys.
Kayaking is a sport where one has to fix themselves within a boat and use their hands to row to move ahead and maneuver the boat in the water. A major prerequisite for this is to know how to swim. I did know how to swim but I hadn't done it in three years due to the pandemic and I was unsure if I was confident enough in the water.
I shared all my concerns with Anton and Oskar from my host company, Stockholm Adventures. They assured me that I would be safe in a life jacket. Although this company does not offer specialized tours for wheelchair users, all their tours are inclusive as long as the guest is comfortable. They were happy to make adjustments for me. The entire trip cost around USD 60 and lasted for 90 minutes.
Preparing for my first kayaking ride
Preparation always begins with communication. First, in your heart with yourself on why you want to do this. The motivation and clarity of thought builds confidence because any sport or physical activity needs mental strength. For me, it was about building a case of possibility for other wheelchair users and making it a regular activity available for them. 
The second step was to communicate well in advance with the team over email to ensure all concerns are well documented in advance and measures can be taken. This team was really supportive which made me feel welcomed and safe. I also did some research on common kayaking jargons such as river signals which simply mean listening to the instructions and remembering the signals given by the instructor in case of emergency.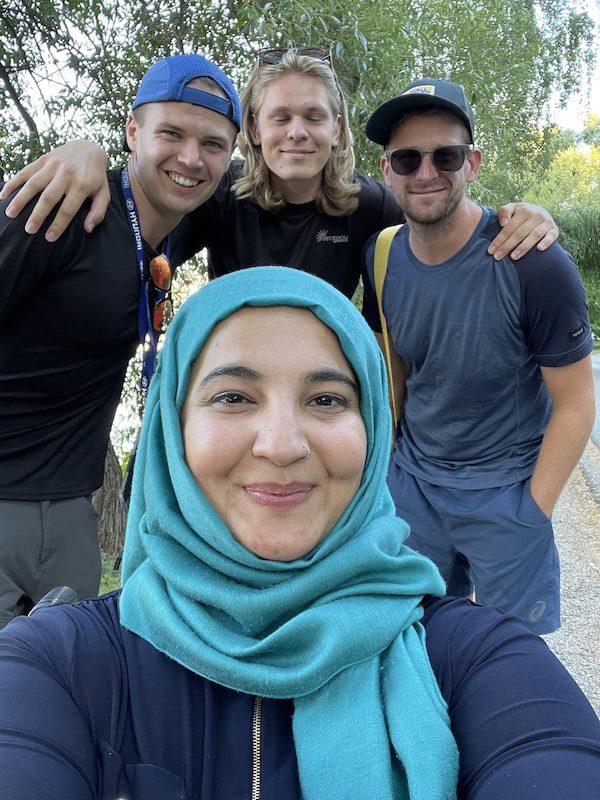 Tanzila with the Kayaking team, Anton, Oskar and Leo / Photo by Tanzila Khan
My kayaking adventure begins
My kayaking adventure actually began when I had to get down a steep ramp first to reach the dock. Not all stages are fully accessible, but with the right support, you can still cross them. 
Every journey is fun. Even if it's a journey towards a journey! I paused at least 100 places to question my decision and it's very normal for the brain to go into freeze mode and stop you from doing something so uncertain. But my will to create a position in a space where disability is not common was beyond any messages from the brain.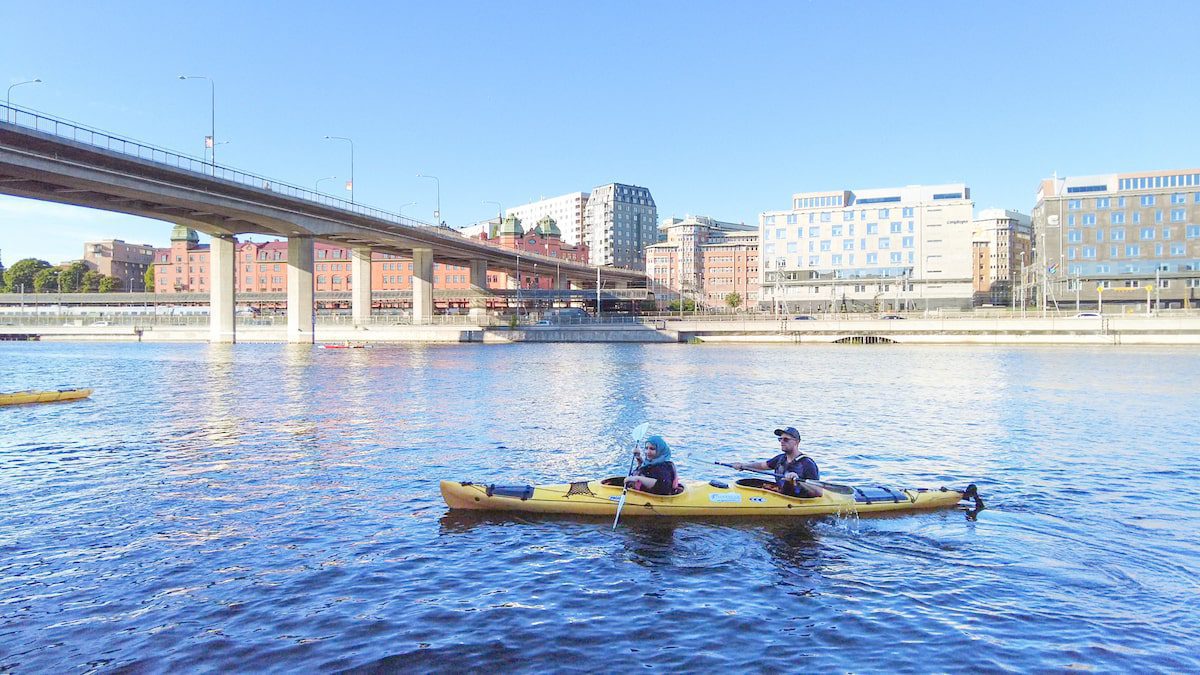 Kayaking through the Canal in Stockholm, Sweden / Photo by Tanzila Khan
First, there were some general instructions to all participants of the team. They did a demo of how to get into the kayak and how to get out considering we were in water. Then, they did a special demo with me to get in and out, which helped me develop a mind map. I was then put in a life jacket and helped to get in the boat. My partner, who sat in the seat behind me, was a tourist from Germany and he had kayaked before. He was kind enough to offer to support me in case I felt tired or needed help. 
One major instruction was to grip the paddle tightly. To make the matter easy, they drew a smiley face on the side which had to face me at all times. Otherwise, there could be a waterlock and your partner starts paddling towards each other. 
Facing my fears of kayaking
And then began an hour of excitement, focus and teamwork. We were a group in 5 kayaks following our leader, Leo, who helped us navigate the canal. The scariest moment of all was when a big ship would pass by, sending waves our way.
I learned that the trick was to stay calm and let the waves settle at their own pace. Leo would also instruct us to gather close by when we passed an interesting point to tell us a story. We could hold onto each other's boats in order to not let them get carried away by the water. It felt like a picnic in the middle of the water!
There were many moments when I did feel tired and regretted my decision. I almost dropped the paddle twice in the water. I paddled in the wrong direction causing a lock in the water and my partner had to help me. It was only after 15 minutes into it when I started to feel comfortable because I was truly living this and feeling the adrenaline. I was beginning to see what I had accomplished and I was now on my way back after my adventure. 
What I learned
I saw Stockholm in the afternoon's golden light and felt the golden light on me as well. To witness something as beautiful as this, it always starts with initiative followed by communication with the team, attention to all details and instructions and rest follows through. 
While these were the basic steps that I took to do kayaking, they are applicable to any experience that our abilities allow and in case they don't, that's when we unleash our inner JourneyWoman!
Celebrating teamwork post completion of the Kayaking Tour / Photo by Tanzila Khan

Read More on Accessible Travel
Can a woman in a wheelchair go on an adventurous hot air balloon ride? Definitely, if you are open to a thrilling journey in the sky.
As a solo traveler in a wheelchair, Tanzila Khan discovers that Istanbul is a true testament to inclusivity, with many attractions and public spaces designed to accommodate everyone.
Accessible solo travel writer Tanzila Khan explores the medieval city of Tallinn, Estonia, and lets the city guide her.