Last updated on June 16th, 2020
When Questions Lead to Amazing Travel Experiences
Have you ever been somewhere and have a question bubble up in you that cannot be contained and you find yourself asking it? Something as simple as "what is that?" or "where does that alley lead?" Sometimes that question is borne of necessity and other times it comes from a deeper place inside you.
In a second installment of this feature (your amazing stories continued to pour in), we explore the times that asking – or answering – a simple question steeped in curiosity has led you to an amazing person, experience or story on your travels.
I wonder if our van can handle driving on this bumpy dirt road?
Vancouver-based Gillian C. and her fiancé Andreas spent a year converting an empty cargo van into a tiny house on wheels for road-tripping. Their virgin voyage in the summer of 2019 was a three-week road trip from British Columbia through the Western United States – the culmination of a long-held dream, a ton of hard work, YouTube researching, mistakes and growth.
Monument Valley was on the couple's list of landmarks to see on this road trip – a bucket list item for Andreas, who grew up in Austria and had an image of what "America" looks like based on old western movies. As the trip progressed and they realized just how much driving was involved, and how out of the way Monument Valley was, they decided to cut that stop.
"We made the decision together, but I could tell how disappointed Andreas was to be missing it. That morning before we started driving, I did a little more digging into the map and the routes and decided to make the trip to Monument Valley after all. I decided to let go of my tendencies to control the itinerary and let practicality lead the way, and instead lead with my heart," she says. "When we got to the entrance of the monument, there were signs everywhere warning vehicles of how rough the road is, cautioning less sturdy vehicles and less sure drivers to enjoy the views from afar, rather than drive the hole-filled, sand-pitted, winding road between the monolithic rock faces and plateaus."
Gillan wondered aloud if their van could handle the road. She was the sole driver in the pair, and navigating would be up to her. Part of her was tempted to stay on solid ground and enjoy the view from the top of the parking lot. So, after observing other cars and recalling her teen years as a small-town girl in a 4×4 truck that was the envy of all the boys, she decided it was worth it to take that drive.
"The road was a scenic loop, winding through unbelievable rock formations like a Martian landscape. The kind of rocks that make you feel absolutely tiny and insignificant in the face of the power that wind, sand, and time can wield," says Gillian. "But, at the same time, I felt capable, powerful, and strong because I had made the choice to take my 2-wheel drive cargo van that we had assembled and converted with our own two hands, and drive it down that road as an act of love – the gift of fulfilling my partner's childhood dream. My partner who had only a couple of nights earlier become my fiancé when he proposed to me in Joshua Tree."
The experience taught Gillian that she's a hell of a lot more than she thinks she is, and that her doubts are usually wrong if she listens more deeply and dives in with her whole heart. The trip boosted her confidence in herself as a driver, and she now has dreams of making alterations to the van to give it higher clearance and better suspension so she can take it down even tougher untrodden roads.
The best thing about taking the road less travelled by?
"Realizing that grand, romantic gestures don't need to be linked to gender," Gillian says. "I was able to gift Andy that beautiful experience just by letting go of my own controlling tendencies and overcoming my doubts in myself."
Are you two having an argument?
As far as conversation starters go, "Are you two having an argument?" wouldn't be found on many lists. But that's exactly why it was so arresting when a stranger asked it of Linda H. and her boyfriend (now husband) Dan as they sat on opposite sides of him on a bench outside the Prado in Madrid.
The year was 1974. Linda was travelling through Europe with a group of friends, and she and Dan had taken to visiting the Prado every morning for a week during their time in Madrid.
"The museum is so large and overwhelming that we decided to pick a genre/period to visit each morning. We still do this when in Madrid. Four hours a day was quite enough for a visit," she says. "When we came out, we went to sit on a bench to digest what we had seen that morning. There was a man sitting in the middle of one so we each took a place at either end of the bench. He asked: Are you two having an argument? It led to Pamplona, the Fiesta of San Fermin and a lifetime of travel asking questions in a way that I would not have done had I not been asked this specific question by this specific person. He was no ordinary guy."
Turns out, the man was Lindsay Daen, a New Zealand-born sculptor who lived in Puerto Rico during the winter months and in Madrid the remainder of the year. He regaled the pair with tales about Hemingway and other ex-pats and whisked them away to several bars where writers and bullfight aficionados hung out in Madrid.
With their stay in Madrid coming to a close, the group headed west towards Portugal. Lindsay insisted they go to Pamplona for the feast of San Fermin, the most important traditional fiesta in Basque culture. So, after a three-week sojourn through the Iberian Peninsula, they did just that.
Linda's memory of Lindsay and her time in Madrid with him is still vibrant, in part because the man himself was. He knew novelist James Michener and people who were models for characters in Hemingway novels because he ran with that crowd of artists and literati. A member of Sydney's Royal Art Society, he passed away in 2001 at the age of 78.
"What I didn't know at the time was his fame as a sculptor. He had been invited by the U.S. Bicentennial Commission to do a piece for the city of Philadelphia. Called The Journeyer, it is situated in West Fairmount Park," says Linda. "A few years ago, I was in Puerto Rico and, wandering through old San Juan, I noted a statue that looked like Lindsay's style. Yep, it was his piece prominently placed near a section of the old wall. Titled La Rogativa, it was commissioned to celebrate the 450th anniversary of the city. We never saw Lindsay again, but I've been pleased to be reminded of him when I see his works."
The experience taught Linda that she should never hesitate to talk to strangers. Never hesitate to ask intriguing questions. Because sometimes, amazing experiences can be found on the other side of those conversations.
Curious about the first installment of this series? Click here to read it!
Planning a Road Trip? Check out these articles!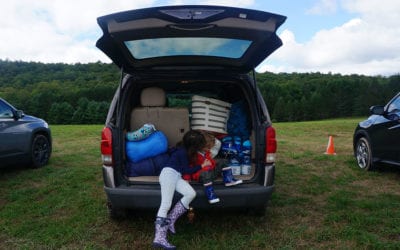 JourneyWoman's own Melissa Fox shares her tips to manage a road trip with small children-your kids or your grandchildren.