Last updated on November 19th, 2023
Kristina's story of service and surrender
By Amanda Burgess, Editor, JourneyWoman
Why do so many stories of renewal start with heartbreak? It's because sometimes, we need to break open to breakthrough.
That's how Kristina C.'s story starts back in 2010. She broke up with her boyfriend of five years, who she'd been living with for four of those years. She'd recently taken the leap into entrepreneurship with her own event planning business. She was 31, and suddenly couldn't afford to live on her own in Toronto.
"I was kind of embarrassed at the fact that I had to go back to hospitality to make things work," she says. "Whereas now I look at it with a different lens. I think it was probably one of the best things that could have happened to me."
Kristina's Habitat for Humanity team / Photo provided by Kristina
She started working at a new Portuguese tapas bar, learning about Portuguese wine and cuisine. She was hustling to jumpstart her business and working a full-time job at the same time. She wanted to take a trip – the only way for her to carve out time – to heal.
She wasn't sure what that looked like until a former colleague contacted her in January 2011 to ask for a donation towards his Habitat for Humanity build in Vietnam. That piqued her interest, and by March, she knew it was what she wanted to do. A way to renew herself and give back at the same time.
"I started research and the timing aligned for a fall build – a year after the breakup and starting this job. A symbol of getting myself back on my own footing," she says. "It happened to be in Portugal, so there was some nice synchronicity there."
Originally, she had a girlfriend who was interested in joining her but didn't follow through. Kristina was doing all the research and planning herself, so she decided she needed to do it on her own. She wanted to push herself out of her comfort zone.
She fundraised to support her journey, asking friends who would normally take her out for dinner and drinks on her birthday to support her cause.
"It gave me a sense of accomplishment and empowerment. I'm on my own, making my own choices," she says. "Another thing that gave me encouragement was that I was going alone, but I wasn't going to be alone. I was going to meet people, to become part of a team, and that was comforting."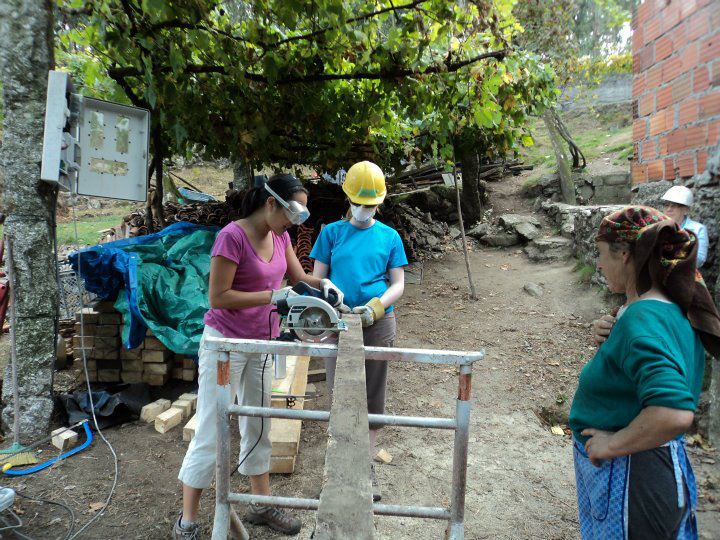 Kristina uses a power saw for the first time / Photo provided by Kristina
Working together to lay cement on the build / Photo provided by Kristina
The build was 10 days and to test the boundaries of her comfort zone, she tacked on another 10 days to travel solo throughout Portugal. While on the build, she looked for opportunities to push herself further and discovered a sense of strength in using power tools.
"I'd never used power tools before. It scared me, but I wanted to push through my fears to remind myself that I can do anything," she says. "There's that security blanket in a relationship where the guy does things like the barbequing and fixing items. We fall into those gender stereotypes. I was now a woman on my own and I needed to be able to do these things for myself. So, I did – and that was pretty cool. I loved it."
The build flew by and Kristina set out on her own in Lisbon, hitting all the key tourist spots. She kept seeing the same guy on his own and they'd offer to take one another's photos. It got pretty comical, to the point where the pair decided to do the tourist thing together.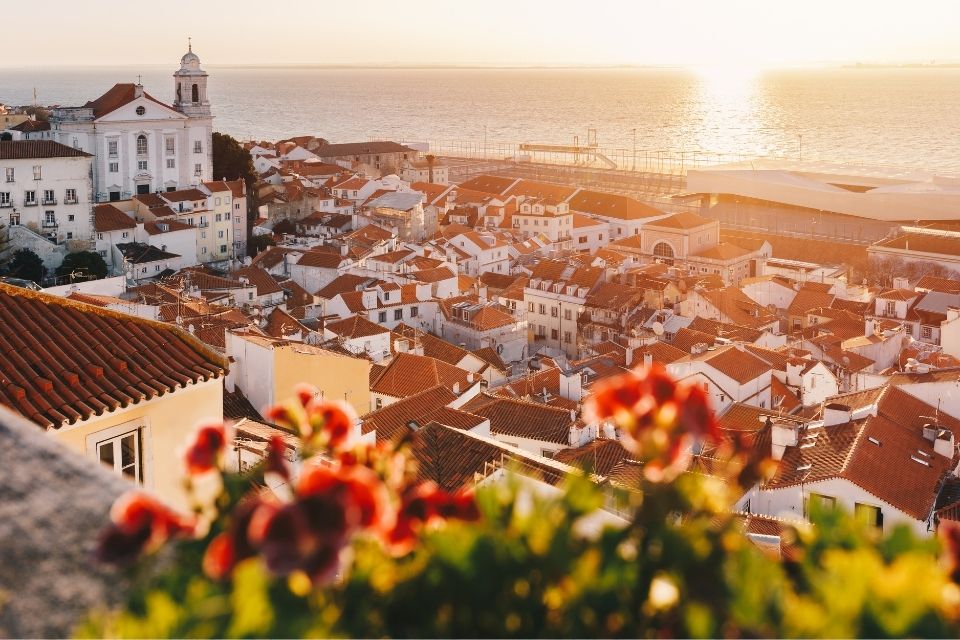 Expert recommendations for women to explore Lisbon, Portugal, home to an ever-emerging range of art and culture in Europe.
read more
"André is from Brazil, gay, and a lot of fun. We went out to dinner that night and to a drag show, making plans to meet up the next day," she says. "Well, I somehow got the location wrong. I was feeling a bit lost and upset that I missed him. When I went out on my own that night, I messed up the directions my hostel host gave me. Nothing looked open. It was dark and I'm a female, all alone. It didn't feel safe, so I turned around and went back feeling pretty deflated."
The next day, she'd planned to visit Sintra – home to pastel palaces that rival anything Disney could dream up, Moorish castles with panoramic views, and sweeping estates with secret tunnels. Because everything about Kristina's plan for that day felt hard, she decided to visit the beach area of Lagos instead. She told her host about her change of plans and in the way of kind locals who know what's worth seeing in their country, her host said she absolutely had to go.
So she did. She ended up meeting an amazing couple from New Zealand and enjoyed a full day touring this historic city. She also returned to a message from André, who'd tracked her down at her hostel.
Kristina and new friend Andre share a smile and a glass of sparkling in celebration / Photo provided by Kristina
"That taught me to trust that the universe is going to make things happen for you if you take things as they come," she says. "If I didn't go to Sintra and come back that night, I would never have crossed paths with André again. We were able to spend another day touring Lisbon together before parting ways."
She also rediscovered the magic of a flexible itinerary. Since this was her first solo trip in some time, she'd fallen back into her planner-driven comfort zone of having everything booked. The moments of serendipity she experienced on her journey laid the foundation for her future travels.
"It was a reminder to allow myself to be free and let things happen," she says. "So now, most of the time I book my first night somewhere just so I have a base to rest my head, and a few loose ideas of where I want to go. I allow it to sort of unfold a little more, but there's still that control piece of me that I work on. When you're somebody who is a planner at heart, it's a very hard thing to step out of in your own life, but it's so worth it."
[rev_slider alias="renewals"][/rev_slider]