Last updated on March 26th, 2022
Featured image: Amanda's tandem skydive was the biggest adrenaline rush our terrified-of-heights Editor has ever experienced / Photo credit: Amanda Burgess
Going Solo in the South Island of New Zealand 
By Amanda Burgess, Editor, JourneyWoman
I live for hair-raising, heart-pumping, active exploration and discovery, but since my husband Gabe died of cancer in 2018, the prospect of going through life solo fills me with dread. I know I need to be alone, a state I've actively avoided for almost two years.
These two weeks in New Zealand are one leg of a two-month solo journey designed to help me face some deeply uncomfortable feelings – grief, anger, loneliness. That's why I'm carving out pockets of solitude in between shared and solo hair-raising adventures.
Amanda and her fellow Haka Tours adventurers jump at the thrill of being in New Zealand.
Today is the day
Today is the day. The day in my Adrenaline Junkie tour itinerary that I've been equal parts thrilled and terrified to greet. No matter how you feel, the day still dawns, and this one dawns chilly but bright and sunny. I'm jumping out of a plane today. I expect the familiar buzz of nerves to course through my veins like a freight train as we drive to the airfield, but it appears I've sent inner naysayer into hiding after conquering her on The Gondola in Queenstown. All I feel is a strange sense of assured calm. That this is something I'm meant to do.
"May the wind under your wings bear you where the sun sails and the moon walks."
– J.R.R. Tolkien, The Hobbit
Day 3 – Queenstown: A lesson in acceptance
I still can't believe that I'm in New Zealand – on an Adrenaline Junkie Tour of the South Island at that. I can't believe I've only known this group of sixteen people (15 travellers and our guide Michelle, an American ex-pat) for two days. Haka Tours does small travel right – our little crew already feels like a family. In the way of seasoned travellers, we've gone from hello to deep sharing in record time.
Even so, after conquering the Queenstown Gondola and luge with the crew yesterday, I am thrilled at the prospect of exploring the Adventure Capital of the World for a full day on my own. A fact that surprises me a little.
Wherever I travel, I use the Happy Cow app to ferret out restaurants offering plant-based, healthy fare. A quick search sells me on starting my day with a healthy brunch at Yonder, an experimental kitchen focused on wholesome, seasonal food inspired by the owners' global travels.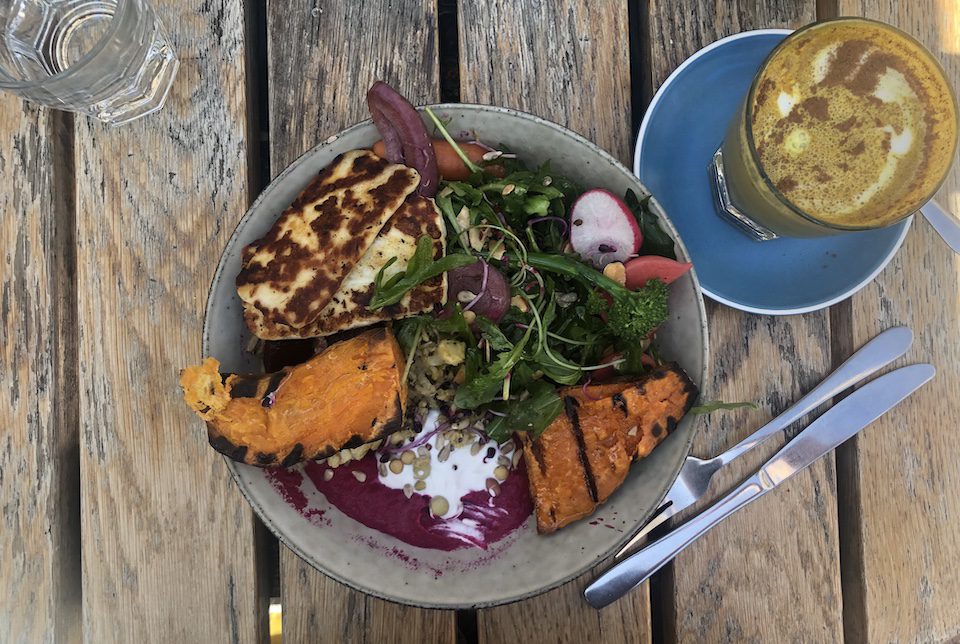 I revel the feeling of sun on my shoulders as I sit at a table on the huge, sun-drenched patio, sipping a turmeric latte and nibbling on a scrumptious bowl of grains, microgreens, roasted sweet potato and halloumi cheese. As I feast, I consider my adventure options: Paragliding over the lake, mountain biking on trails, canyon swinging, shotover jetboating and more. Before my fear of heights can serve me up all the reasons not to, I hit go on a tandem paragliding flight with G-Force Paragliding, which takes off from the top of the Queenstown Gondola. 
Hot Tip
When buying a Gondola ticket, the best bang for your buck is the Gondola plus six luge rides pass. If paragliding with G-Force (whose meeting point is at the top of the Gondola), you can combine the two activities and enjoy some luge runs before or after your flight for a one-two punch of adrenaline.
As I make my way towards the Gondola for my flight, I spot this quote painted on the side of a show. It stops me in my tracks. I snap a photo and keep going, knowing that it will fit into my journey somewhere.
I buy the Gondola plus six luge rides pass and enjoy two runs before I have to meet with the flight team. High and fickle winds make for unsafe paragliding, and just like that, my flight is cancelled. 
Instead of stewing in disappointment, I shake it off and head for the luge track. While the crew and I did this as a group activity only a day earlier, it's somehow a completely different ride solo. With no one but myself to compete against, I let loose and reconnect with my inner child. I race down the serpentine mountain track, mouth open in a laughing smile, hair flying wildly where it spills from the cocoon of my helmet.
This day is a lesson in acceptance. Whatever this journey serves me, I will greet it for the experience or lesson it is.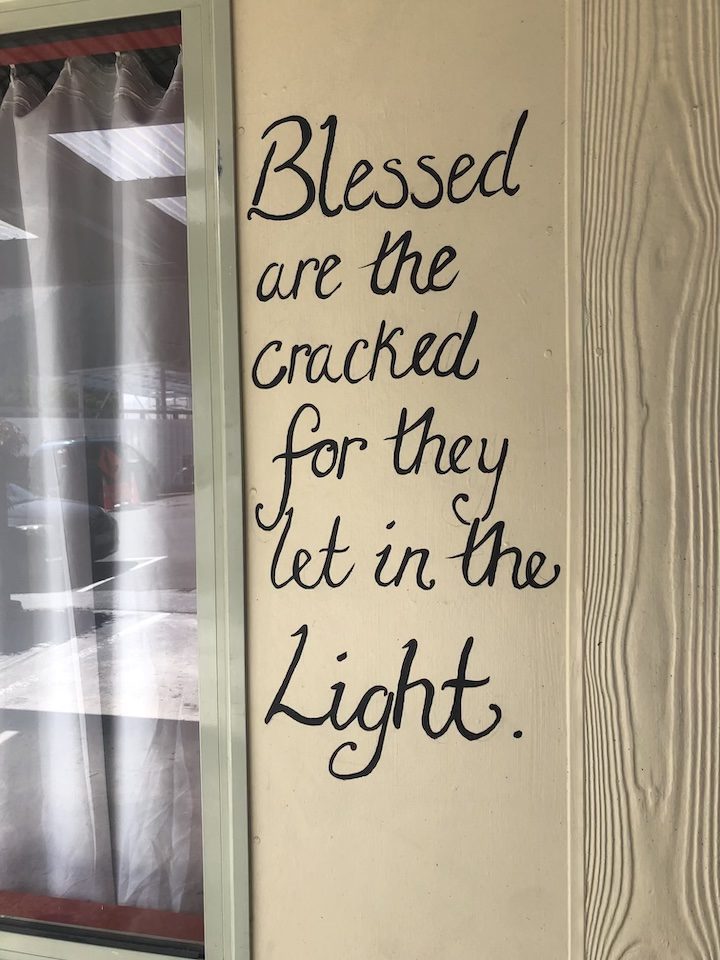 "There is nothing like looking, if you want to find something. You certainly usually find something, if you look, but it is not always quite the something you were after."
 

– J.R.R. Tolkien, The Hobbit
Day 4 – Queenstown to Wanaka
The lessons of Day 3 spill over into Day 4 as I discover that Milford Sound is flooded, cancelling the Lord of the Rings horseback trek that was to be one of the highlights of this trip for me. I hesitate over the replacement offer a 4×4 driving tour of Lord of the Rings filming sites. While the horseback riding would fuel my adventurer's imagination, I'm a bigger fan of the books than I am the movies. Still, something tells me that I need to do this, and I'm no longer questioning the prods my intuition is serving me. Plus, a few of our crew are doing this tour, and we manage to make the most mundane things fun when we're together.
Our tour stops at Paradise — a mountainous area ringed with farmland. Charmed by the grazing sheep, I wander over to a nearby fence for a look. A cow I mistake for security detail begins mooing loudly. I walk back over to where our group stands, but she only gets louder, staring directly at me.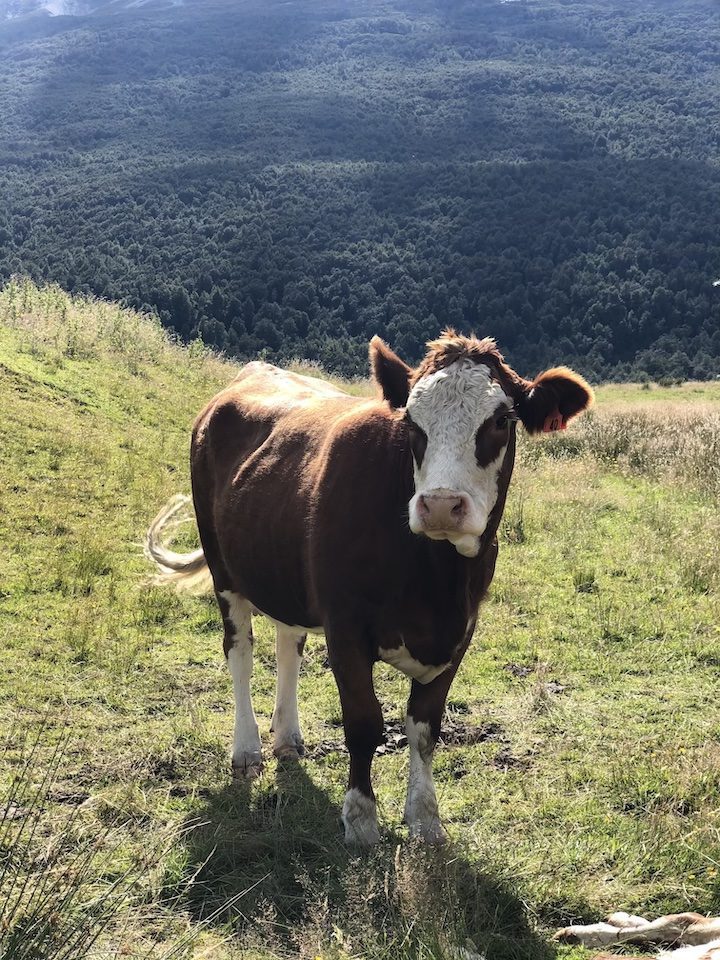 Feeling slightly foolish and fanciful, I answer her call. Something tells me I'm needed. As I walk up to her, the loud mooing immediately ceases. I speak softly to her, and I kid you not — she appears to gesture to her right with her head. I glance over and notice a dead calf in the long grass (you can see the wee thing's hooves in the foreground of this photo).
The sight of it literally steals my breath and a sound known to grieving humans and creatures the world over escapes my lips, which I can feel have frozen into a shocked-and-stunned O. I look up from the calf and lock eyes with the cow. We exchange a long look — mother to mother, grieving heart to grieving heart.
I tell her how sorry I am for her loss, and how beautiful she is. The words are inconsequential. I know the comfort they carry will transcend language barriers. Grief has its own language, as does empathy. This cow somehow knows that I feel what she feels. We both needed this exchange. I feel some of the heaviness in my heart dissolve. 
Maybe this low-key day is more about moments of connection than adventure, I think to myself. Until our guides at Nomad Safaris walk us into a forest glen and trot out LOTR swords and elfin cloaks. A frisson of excitement streaks down my spine. 
One member of our crew, Marc from Germany, is an expert swordsman. He instructs Brit Ellie and I in battle poses – her pitting Aragorn's sword against my elfin one. If you know me, you know I'm a Tolkien fan. I even have some of his best-known words — Not all those who wander are lost — emblazoned on my upper left arm as a tribute to my late father who introduced my brother and I to the Lord of the Rings books.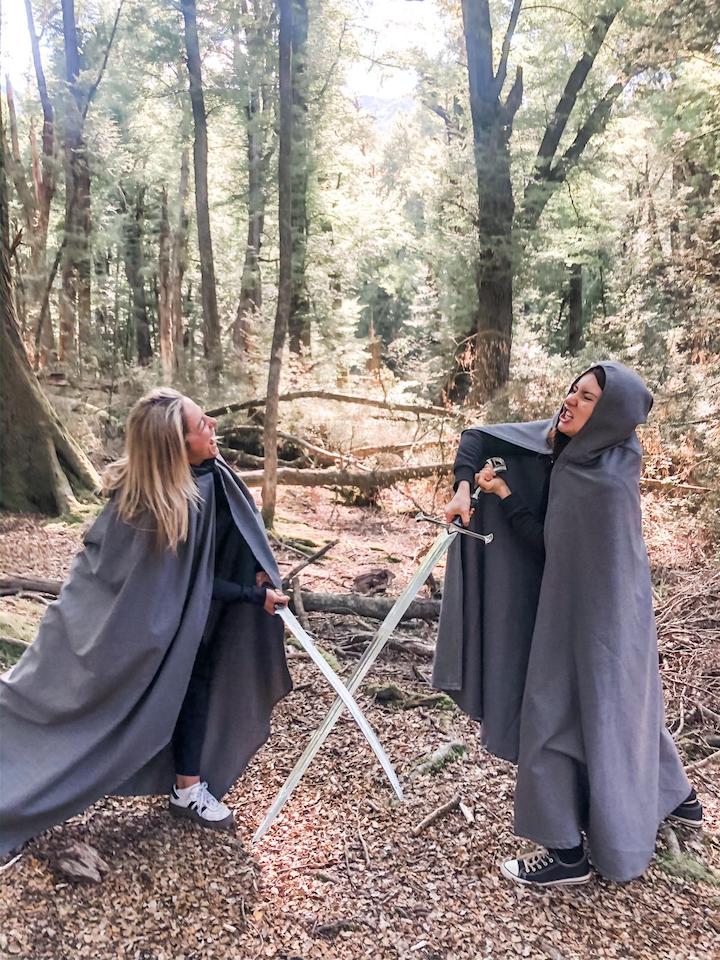 Amanda and Brit Ellie enjoy some LOTR swordplay in a forest glen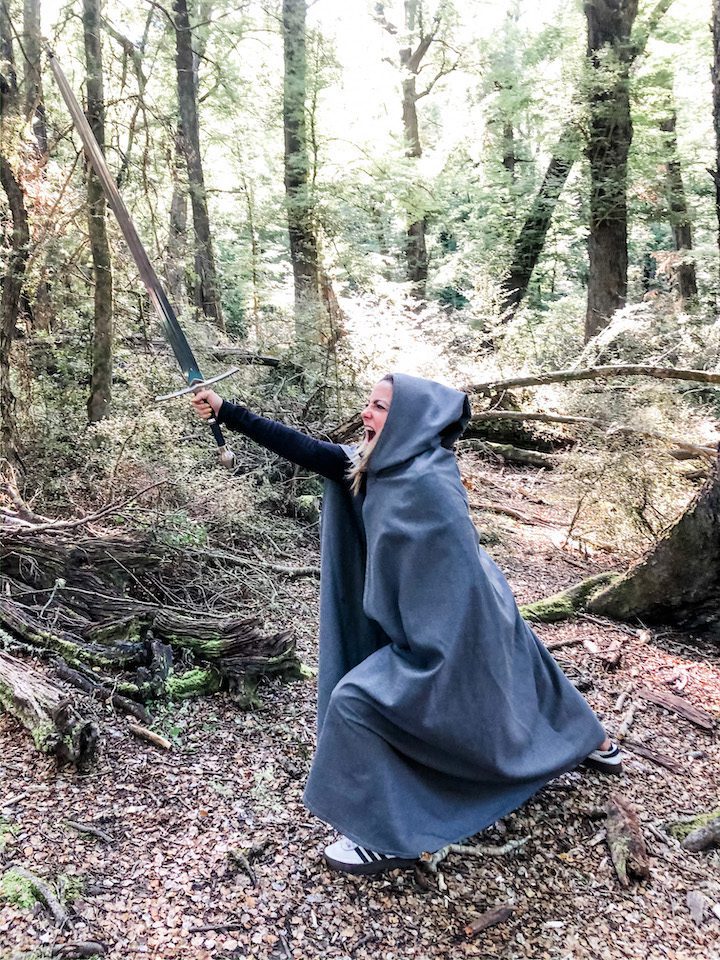 Amanda living out her elfin warrior princess dreams
As a young girl, I longed for a sword-slinging, cloak-flapping-in-the-wind adventure. I wanted to be the warrior, not the maiden saved. Today, the little girl in me is screaming 'yaaaaaaaas' as steel rings against steel in a forest glade. A reminder to give your adult self a sprinkling of the things and experiences that you coveted as a child. 
This day may not be a check off my Bucket List, but it's certainly filling my bucket. Adventure isn't all about adrenaline. Sometimes, it's about bringing the pictures an author's words have painted in your mind roaring to life. Not taking yourself too seriously. Understanding the importance of play to human existence, irrespective of age. Saying alright, yeah — hand me that sword.
"There are no safe paths in this part of the world. Remember you are over the Edge of the Wild now, and in for all sorts of fun wherever you go."
– J.R.R. Tolkien, The Hobbit
In the first installment in a new New Zealand series, Editor Amanda Burgess chronicles her two-week solo travel adventure through New Zealand's South Island – the crazy things she did on her 'Adrenaline Junkie' tour, the friends she made, and her insights about this breathtaking country, its people, and herself.
Day 5 – Wanaka to Franz Josef
Today is the day. The day in our Adrenaline Junkie tour itinerary that I've been equal parts thrilled and terrified to greet. No matter how you feel, the day still dawns, and this one dawns chilly but bright and sunny. Today, I'm jumping out of a plane with Skydive Wanaka, and I'm pulling two members of our crew – Kyra Smit from The Netherlands and Lucie Spurr from the UK – along with me.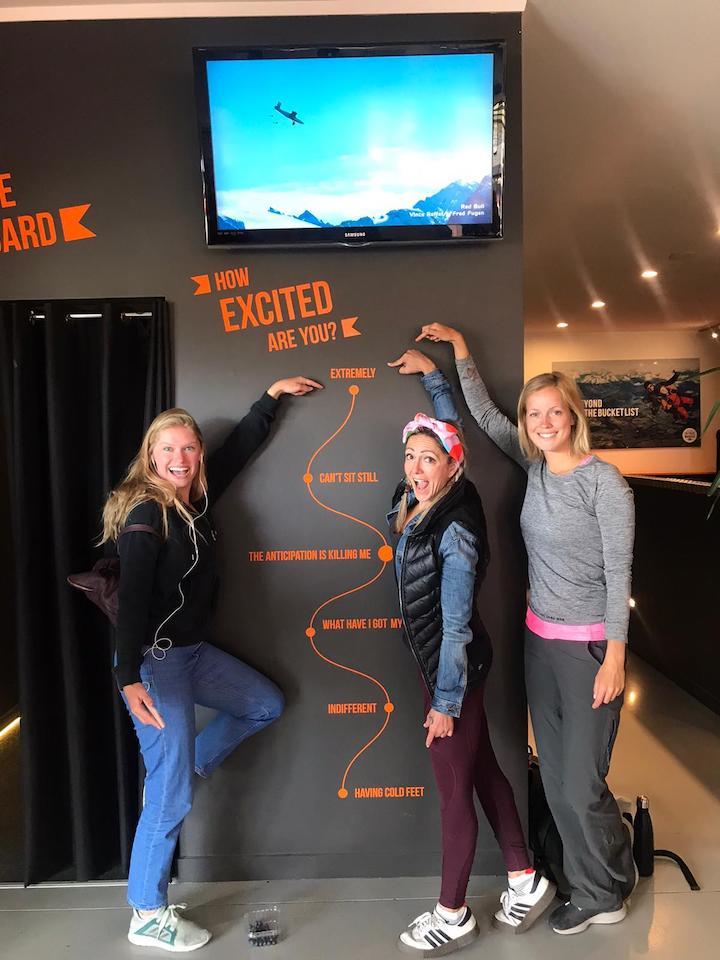 Amanda and new friends Lucie (left) and Kyra (right) show some excitement for their upcoming skydive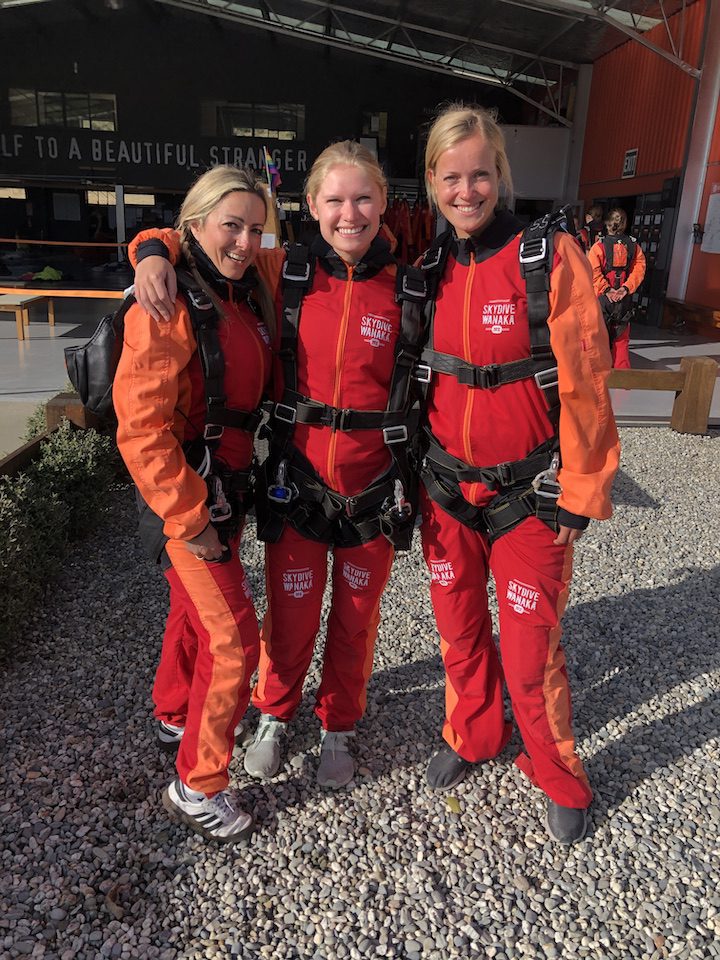 Amanda, Lucie (centre) and Kyra (right) all suited up to jump out of a plane in Wanaka, New Zealand
I expect the familiar buzz of nerves to course through my veins like a freight train as we drive to the airfield, but it appears I've sent inner naysayer into hiding after conquering her on The Gondola in Queenstown. All I feel is a strange sense of assured calm. That this is something I'm meant to do.
It certainly appears that way. The forecast had called for rain, and our guide Michelle asked if I'd like to skydive in Queenstown instead. Everything I've read points to Wanaka as the place to do it, so I took a gamble. Today, the weather gods have seen fit to grant me a boon.
That eerie sense of calm stays with me as my tandem master helps me secure my harness. I sheepishly admit that I am terrified of heights, and he glances back, saying: "Really? I don't get that from you. And you chose to skydive? Good on you."
Buoyed by his belief in me, I make a last-minute decision to jump from the highest point on offer that day – 16,000 feet with a 60-second freefall. A move that surprises some still-hesitant part of me. Perhaps the part that aims to keep me grounded. Yet I'm sure about this. I know this is the closest I will ever come to my lifelong recurrent dreams of flying, so I want to push it to the max.
Hot Tip
Go for the highest height available when booking a skydiving flight. There's not a ton of difference between 10,000, 12,000 and 16,000 feet when you're looking down, and the extra freefall time is worth every second.
There is a cringe-worthy moment as we march towards the plane when my guide reaches back to adjust something at my hip…and I mistake the move for him taking my hand as a safety measure, so I grab on to his. We both laugh. That levity brings the excitement and anticipation of what I am about to do rushing to the surface with the force of tidal wave. 
We all crawl into the plane and crouch on low padded benches. My tandem partner begins the process of securing my harness to his as we take off. An expert videographer, he is documenting every part of the journey, and keeps me entertained by introducing me to another jump expert from Toronto. Every so often, he gives my back or shoulder a reassuring pat I don't need but deeply appreciate. Human connection. 
At one point, as I stare out the window at some spectacular scenery, he tells me we are halfway there and laughs when I turn and say: "Only HALFWAY?!" As the 12,000-ft jumpers prepare for their exit, I get a blast of pure oxygen to give my blood a boost. Soon, we are at 16,000 feet and those left in the plane begin jumping. No turning back now. I'm really doing this thing.
My jump partner and I are the last to scooch forward to the open door. There's a moment as my legs dangle out the door where I close my eyes and take a breath. I'd watched the others topple out of the plane to the side but my partner, sensing a fellow adventurer, dive headfirst. 
The scream that wants to blast out when I open my mouth is pushed back down my throat with a mad rush of wind. And what bubbles back up is delighted laughter and a strong sense of holy-fucking-shit — which you can see me say in the video my guide captures. My wild eyes roam everywhere, drinking it all in. When I spread my arms in free fall, a feeling of freedom that I can't accurately capture with words washes over me. I've had some adrenaline-pumping adventures in my life, but this is a rush with no equal. 
Even the shooting pain I feel as my ears pop can't dim the magic of these long moments in the sky. When the parachute opens and our descent slows, I feel a deep sense of peace wash over me. Circling in the sky, overlooking mountains, lakes, rivers, forests and farmland, fills my bucket to overflowing. 
Even the landing is thrilling. I can't help but raise both arms in the air in exultation when I stand up. Kyra, Lucy and I all feel hollowed out and exhausted now that we're back on solid ground — that's how powerfully potent the adrenaline rush is. 
I'm still processing the experience I'm already itching to repeat. I don't even recognize the me who is showing up in New Zealand. All I know for certain is that a verse from Tom Petty's Learning to Fly will be running on a loop in my dazzled mind for days: "I'm learning to fly | But I ain't got wings | Coming down is the hardest thing."
Stay tuned for the third installment in our Destination: New Zealand series in an upcoming issue of JourneyWoman magazine.
Thinking about post-pandemic travel? Meet our expert panel of women-owned tour operators to learn about group travel for solo women.
Cultural expedition cruise company Swan Hellenic is offering incredible discounts for solo women on several expeditions in 2023.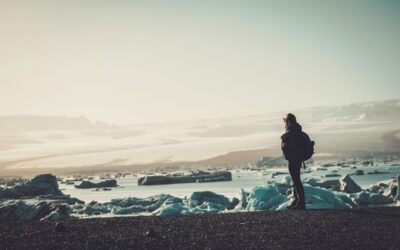 Ten books by women that will have you planning your next solo adventures, from Dervla Murphy to Cheryl Strayed.