Last updated on November 19th, 2023
Featured image: The Kerry Way's Winding Trails / Photo by: Pandora Domeyko
How a Woman Who Hadn't Hiked in Years Found Herself on the Trails
By Pandora Domeyko, Guest Writer
I sit on my bed, staring at the plan. It's exactly as I'd left it back in 2013: All 11 days of the hike outlined with the total kilometres, the time it takes, the difficulty, and lodging options. Five years later, I can't believe I've rediscovered it. Well, that's a lie: I've been hunting for it in the forgotten folders of my laptop.
The idea was born of exhaustion. Although I'd moved to Barcelona a year ago, I still have no set routine, am living paycheque-to-paycheque, and putting off all the self-work I know I need to do. In a word, I'm stuck. 
I need space to breathe, time to think, and freedom from distractions so I can clear my muddled head.
Luckily, I know the perfect place: The Kerry Way. Beginning and ending in Killarney, Ireland, it's a 214-kilometre (133-mile) long circular trail that takes eight to 10 days to complete. Exactly the challenge I need – mind, body, spirit. 
When you're a woman who hasn't hiked in years, you feel a bit foolish as you prep for such a journey – browsing boots, packing my backpack, unfolding trail maps and trying to decipher them (thankfully, I have a GPS map downloaded on my phone.) It all feels surreal. Am I really doing this?
A journey of 133 miles begins with a single step
Two weeks later, I step out of my hostel in Killarney, tighten my backpack straps, and start down the main road leading into the mountains. Not even 20 minutes in I see the first rainbow, arching gracefully over an emerald field by the road. I immediately forget about feeling foolish. I am actually doing this.
My first day is magic. Yes, I have twenty pounds on my back, my shoes are a bit tight at the toes and my thighs ache. But I am alone walking through wilderness, through ancient crumbling abbeys and around sparkling lakes. The scenery changes constantly. Every time I start feeling bored, hungry, or tired, along comes a waterfall or rolling mountain range to distract me. The visions I'd had in my mind for five years are finally roaring to life, forming solid shapes and filling with colour. I feel like a heroine in a fairytale.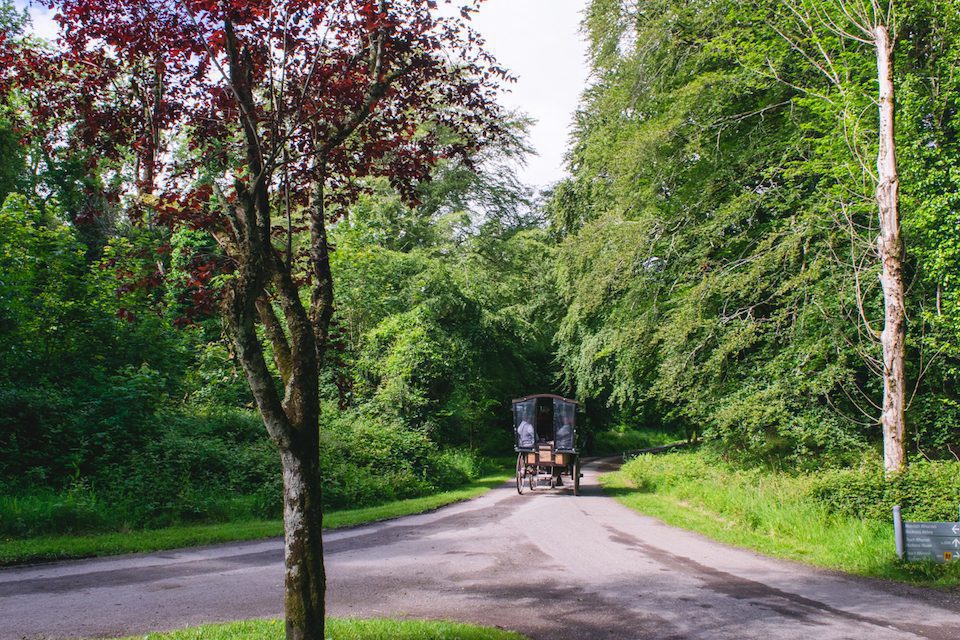 Horse-drawn carriages along the road make hikers feel like they've entered a fairytale
After hours of walking, I finally reach my hostel. My excitement is fading by this point. My feet feel like lead now, each step so painful that there is no way to move my feet along that doesn't hurt. I sleep like a baby that night.
Over the next few days, reality sets in. It's thrilling to wake up surrounded by new scenery every day: A lake here, a charming village there. I begin each day excited, if a bit bogged down by soreness. There are still so many days to go. I waffle between feeling at peace, exhausted, and thoroughly bored. I sing along with the music in my headphones. I talk to myself. I gape at some of the most stunning scenery I've ever seen: Monstrous mountain ranges, babbling streams, valleys dotted with fluffy sheep. Though I have so much left to go, I feel ready for whatever challenges I'm about to face.
The Camino de Santiago trail in Spain has been well-traveled for decades but guest writer Rebecca Brown reminds solo women adventurers that safety should always be at the forefront when traveling.
Finding rejuvenation in adapting to nature's rhythms
I'm getting into a routine. Wake up, pack bag, lace shoes, stuff face. I depart around 9 am each day, spend the first few hours enjoying the scenery and the last ones trying to ignore the increasing pain, checking my GPS every minute to see how much farther is left.
On the fifth day, I reach the bay. I stop for a moment and stare out at the calm, cerulean Atlantic and the mountains far on the other side. It's so beautiful, it brings tears to my eyes.
Nature is my biggest motivator. The stunning sights give me energy like an IV drip. But it doesn't last long. The trail quickly veers inland, away from the breeze and the blue, and into a vast mountainous area. It seems empty, and for the first time, I feel completely alone.
I've barely passed anyone on the hike so far, which, if I'm honest, I'm happy about. With nobody to talk to, my mind takes off on little journeys as I walk. It travels back to when I was a child taking my first hikes with my dad. It travels back to my first trip to Ireland, which was also my first time abroad. I was a naive 19-year-old with her grandparents, experiencing a totally new place with wide-eyes and a sponge heart. I absorbed every little detail to take with me back to the small-town I'd grown up in.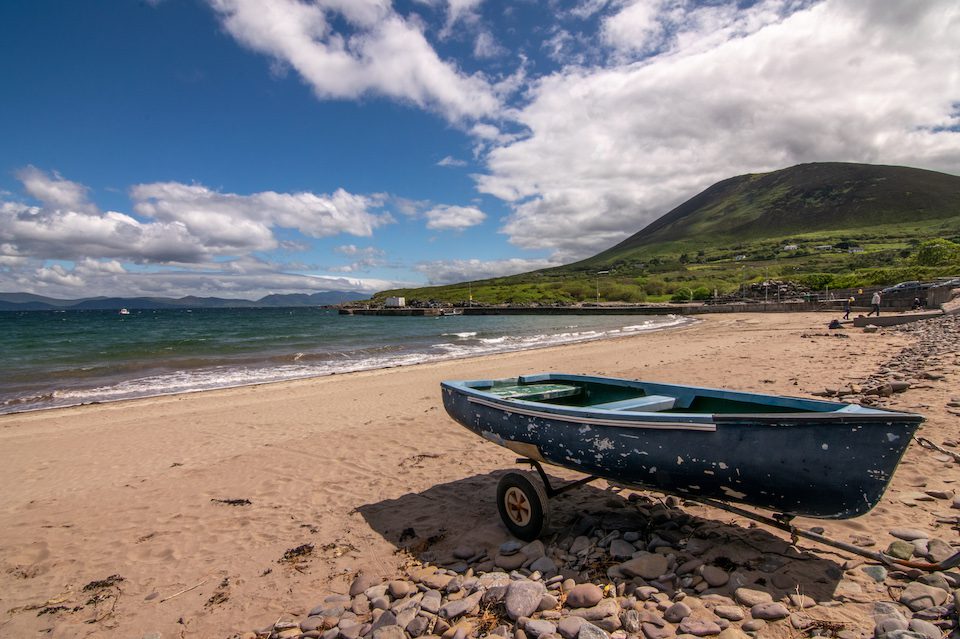 Kells Bay Beach, one of many small beaches along the Iberagh Peninsula's Atlantic coast
I travel back to the second time I visited – my first solo trip. I explored Dublin, making friends with people I'd met in bars and taking day trips to the Cliffs of Moher and Giant's Causeway. That was when I'd discovered the sheer bliss that comes with being alone in nature. There's nothing like it.
Soon, no mental journeys can distract me from the pain in my feet. I'm suddenly grateful that the terrain has become so dull. It may not be interesting to look at, but at least it will be easy.
Or so I think.
The end of the trail and beginning of a new me
Eventually the trail markers send me off the dull road. I climb over a fence and nearly stop in my tracks. The trail slopes upward at a 45-degree angle. Ughhh. I take a deep breath, tighten my straps, and start walking.
 My steps are slow and pained, but I push myself to continue. Finally, I reach the end and stand on level ground for a moment to collect myself. Then, I look up.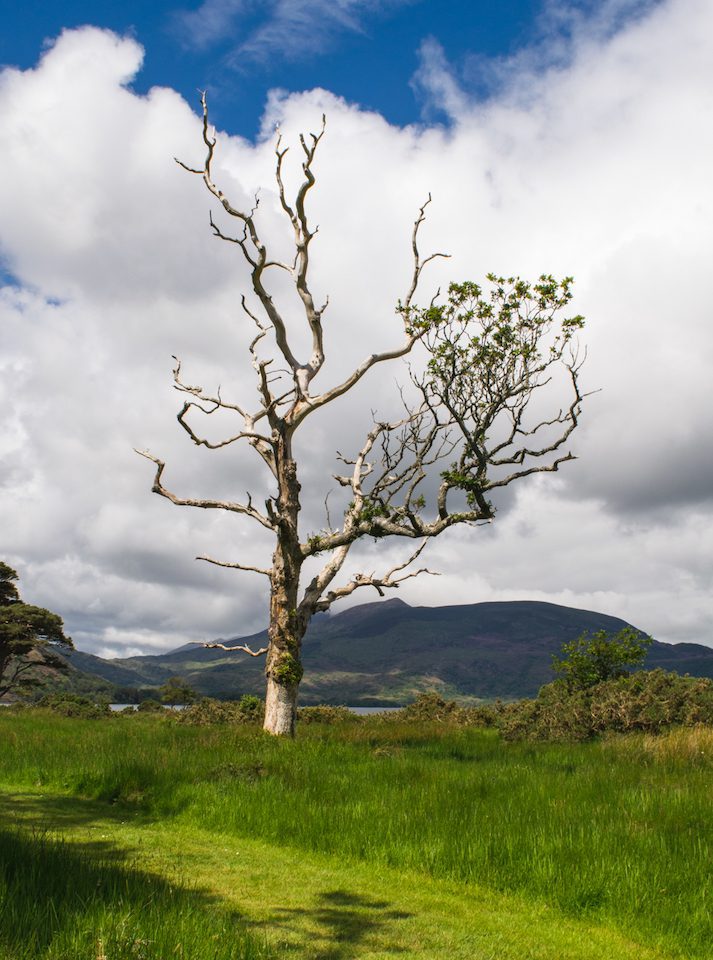 A twisted tree sits at the base of Muckross Lake in Killarney National Park
Ahead of me is a mountaintop. It's not steep, but it is vast and sloping, and the trail goes straight up and over the tallest part. Which means I now have to do the same. 
I curse and start walking again.
I finally reach the top. But again the nature I felt so in alignment with plays a cruel joke on me: I look ahead, and there's another mountaintop. My feet throb. My shoulders feel bruised. But I have no choice but to keep walking.
I lose track of time. With, each peak I summit, I face another, taller mountain. I realize I was at the top of a range and am now walking across it – over it. I can't think about how many are left. I can't think at all. 
The weather has turned. Mist stings my cheeks like needles. Wind howls in my ears and burns my eyes, so strong at times that it nearly pushes me over. I count as I climb: 5, 6, 7 mountaintops. Then I lose count. I don't know how I am still moving, but I know that if I think too hard about it, I will stop.
So I fight hard to shut off my mind and let my body take over. Walk, walk, walk. No stopping. Just take step after step after step until…
Finally. Panting, I look ahead and see a slow descent into a valley. It's over. Three hours of traversing mountaintops, and I can finally rest.
You may be a solo travel expert, but have you ever hiked Colombia on your own? Contributor Samantha Glauser shares what she learned on her solo adventure through the Colombian rainforest.
A lightness marks the last few days. There are difficult parts, sure: Long stretches in hot sun,  hills so boggy I nearly lose my boots. I even walk over a few more mountains. Nothing phases me. No matter what, I know I will keep going. The pain in my feet has become part of me. Perhaps it's the sheer exhaustion that forces me to accept it.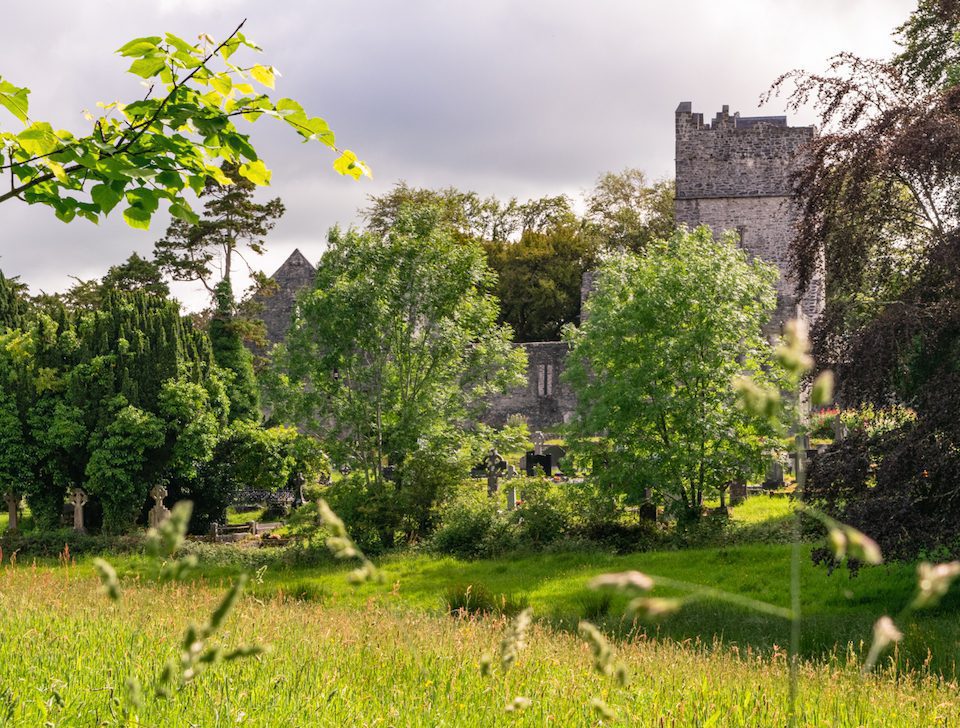 A twisted tree sits at the base of Muckross Lake in Killarney National Park
Finally, after 11 days of walking around an entire peninsula, I arrive back in Killarney. The end is as surreal as the beginning. I feel the same but totally different. Each day has been both a struggle and a gift: The memories will remain a constant reminder of what I am capable of. 
I conquered mountains. I conquered pain, and fatigue, and that inner voice telling me to quit. I am no longer stuck. I am free. I am me again. I walked all the way back to myself over 133 miles.
Biking for all ages: experienced women cyclists share bike safety tips, life lessons and benefits of being a member of the Ontario By Bike community. (Sponsored)
Tips to embrace adventure in the real Canadian Rockies on a six-day horseback riding tour in the backcountry of Alberta.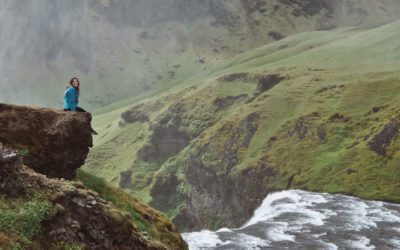 The JourneyWoman team selects their favourite off-the-beaten path travel destinations every woman should experience, from Ethiopia to Thailand.