Last updated on November 19th, 2023
How to Enjoy London in the Fall
Lead image: Richmond Park (all images by Claudia Eastman) 
By Claudia Eastman, Guest writer
London is my favorite city on the planet. Always changing, yet always the same. As an older Journeywoman who first visited London in 1972, my appreciation of what London offers has never wavered.
In 2021, I spent the entire month of November in London and felt blessed to have free accommodation staying at a friend's home in the lovely Richmond neighborhood.
Claudia's tips when visiting London
1. Fly Premium Economy
Left the insanity of LAX on a Virgin Atlantic overnight flight, landing at Heathrow the next morning at 10am. Booked my Premium Economy seat months in advance, choosing my favored aisle seat. Virgin Atlantic is my preferred carrier. A few years ago went from the frugality of an Economy seat to Premium Economy. Have never looked back.
Arrived early. No gate assignment so it was 15 minutes before cabin doors were opened and we deplaned. Again, civility was the norm. No complaining, anxiousness or rude behavior.
2. Plan ahead to navigate Heathrow Airport
Heathrow is huge and the walk to immigration is lengthy. However, there are people movers which aid in maneuvering the trek. So does packing light. Even for a colder month like November I've learned to pack a single roller bag and small backpack. It can be done!
Thankfully, the immigration process went smoothly. Had the passport and CDC vaccination cards in my well-worn neck wallet. Attentive staff. Walked through the arrivals door and began looking for the driver my friend had arranged to pick me up. Didn't see him at first, texted my friend, and within seconds the driver appeared.
Darren took my rolling bag and off we went to a parking garage. It's a 25-minute ride from there to my friend's home. Nice chat. He provided me with a set of house keys.
3. Have a credit card handy
 Once unpacked and replenished with water, I perused Google Maps on my iPhone. Wanted to get the lay of the land. Quickly understood if I turned left outside on the sidewalk I was headed to Richmond, right to North Sheen. 
 Certainties in life: things change and we all make mistakes. I always bring two credit cards and a debit card when I travel. What I failed to realize was my bank debit card wasn't a chip card. Thus, unlike in the states where I punch in a code, it worked like an " old " credit card where I had to sign for my purchases. A bit annoying but one adapts. 
 Following coffee and a nosh, I headed towards the Thames River Path. As I passed by I made a mental note of Teddington Cheese. Would return over the weekend to shop. 
Followed the river path to Petersham Meadows and slowly meandered back through Richmond Park to my friend's house. Weather was crisp, sky blue, and after a lengthy plane journey I was pleased to have the benefit being outdoors. Not to mention was thrilled to finally see a roaming herd of the park's fallow deer. 
Claudia Eastman enjoys a pub in London
4. Enjoy the many sights and sounds 
 Months before I left I'd made a list of things I wanted to see and do on this visit, including Crystal Park Dinosaurs, Bletchley Park, Whitsable, The Line, a public art walk between Queen Elizabeth Park and the O2, a panto (pantomime), Lord Mayor's Show and buy Christmas cards were a few items on the list. 
 Each day tried to accomplish something new and different, but in reality, I only checked off a few things on my lengthy list. London and its environs offer so much to experience. Not to mention many wonderful meals throughout my stay. 
 Tip: Still thinking of the King Prawns in sweet and sour sauce at Joy King Lau in the Chinatown district. 
Did see the Dinosaurs, a panto, the Lord's Mayor Show, got Christmas cards, and walked a good portion of the Line Walk art. Also enjoyed actor/director Mark Gatiss's Ghost Story at Alexandra Palace. That night provided the checking off of two items on my list; theatre and seeing Alexandra Palace. 
Jack and The Beanstalk, Panto Hackney Theatre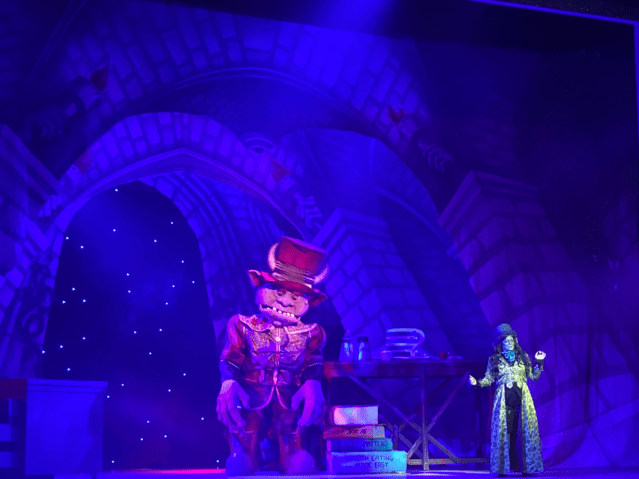 Jack and The Beanstalk, Panto Hackney Theatre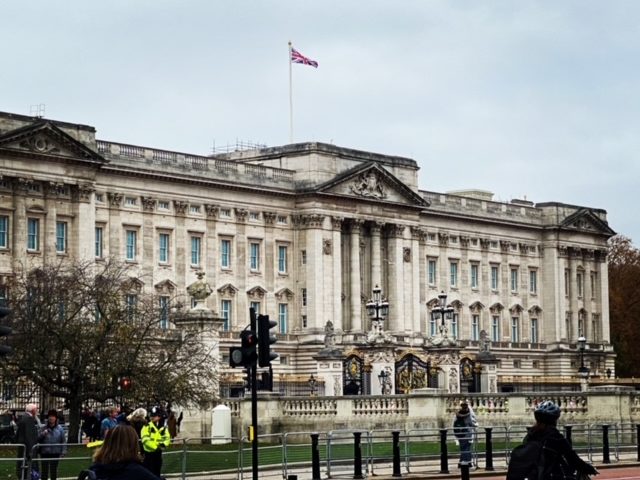 5. Visit Alexandra Palace
Alexandra Palace is far away from Richmond so a bit of a journey to get there. My grad school friend Rick who has lived in London for over 30 years met me at Crouch Hill. I'd ridden an Overground train from Richmond to Gospel Oak, then a second Overground train to Crouch Hill where he lives.
After a sit down with coffee at PlanB which is adjacent to the station we walked a few blocks and located the bus to Alexandra Palace. Double checked by asking the driver. Was a 15-minute ride and at least 25 steep steps up to the huge venue. It was very cold, we were early, and the doors not open. There are stellar views of the London's expanse from Alexandra Palace.
Cyclists riding through a street in Shere
A good number of iPhone photos were taken before we walked into the onsite Phoenix Bar and kitchen. Was too crowded, no tables so back out into the cold to stroll about the exterior. Discovered two groups of children learning hockey. Not on the interior ice rink which was closed but outside on the asphalt. One young player decked out in a Pittsburgh Penguin jersey. The universal language of sports always impresses me.
Heading back to Richmond you switch at the Gospel Oak station. Even with a mask, long coat and knit beanie I recognized Nathaniel Farrell waiting for the train. I thought "Wow now that's a commute to and from each performance."
My career was in film and television so been privileged to see many " stars." Rarely, very rarely interacted with them. I had my job, they theirs. Still, at that moment couldn't resist. Walked toward him and uttered through my mask" you were very good tonight." He was surprised, and replied, "Oh. Thank You." The train arrived, we boarded separate cars and rode back to Richmond station.
6. Bletchley Park
A favorite part of my month-long stay was finally visiting Bletchley Park. A country house in Milton Keyes, it was where the Allied code breakers worked and lived. I was there for nearly three hours. An area in the museum showed photos of some of the women who worked there and on the reverse their recollections of their days there.
The words of Marigold Freeman-Attwood of the Royal Navy Service made me smile. "They said…are you good at maths?" and I said 'hopeless,' they didn't seem to mind. But I realised subsequently they didn't give a damn what your qualifications were if you were a nice young girl from a good family who wouldn't be likely rat on them."
If you travel solo, as a married couple with a significant other or family, London is a city that never disappoints.
Exterior of the Bletchley Park country house
Claudia's 10 Places to Visit
Butterbeans coffee in Richmond
Crystal Park Dinosaurs
Bletchley Park
Whitsable
The Line Art Walk
Lord Mayor's Show
Joy King Lau in Chinatown
Claudia Eastman is a retired Film and Television Location who loves London. Been traveling there since 1972.  She's also been to Havana, Hawaii, NYC, Boston, Amsterdam, Dublin, Paris, Belfast, Munich, Zurich, Brussels and Copenhagen.  " Travel keeps me sane."
Views from a double-decker bus
Plan Your Trip to London
Get started with resources recommended by the JourneyWoman community
Book Your Flights
Use tools like Expedia or Google Flights to look up the best flight prices. Being flexible with dates can save you even more money.
Find Somewhere to Stay
Find a hotel on Expedia and earn points towards free stays. Hotels.com offers a free night stay for every 10 nights booked.
Looking for an apartment or something more long-term? Check out VRBO.
Insure Your Trip
Travel insurance is more important than ever. Compare plans and policies for the best coverage for your trip using Insure My Trip.
Traveling for an extended amount of time? SafetyWing offers ongoing coverage on a month-to-month basis, and World Nomads offers coverage for extended trips.
Looking for a Tour?
Head to the Women's Travel Directory to find a woman-friendly tour around the world.
Travel Extras
Get your train tickets and rail passes with Rail Europe here.
Don't forget your JourneyWoman branded accessories while you're on the go!
More to Explore in England
JourneyWoman readers share their recommendations for solo women to stay in London, UK, and tips for getting around the city.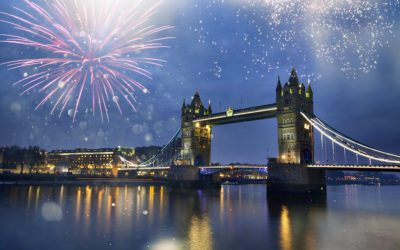 Beyond the Queen's Platinum Jubilee, there's an outdoor festival in 2022 to satisfy every interest in Britain: literary, arts, gardening and more.
JourneyWoman Joy Fox travels to England and Scotland to revisit her memories and heal her past.