Last updated on July 17th, 2023
Featured image: A herd of elephants spotted by Diana on one of her many game drives | Photo provided by Diana Eden
Planning an African safari takes time, but it's worth it
By Diana Eden, Women Over 80 Contributor
I spent an entire year looking forward to a safari adventure on my first time to Africa. And what an adventure it was! I chose the OAT (Overseas Adventure Travel) company because it is known to be very singles-friendly (they do not charge a single supplement). It also offers an immersion into the destination's culture along with the opportunity to see the animals in the wild. 
I traveled to Zimbabwe alone and wondered if I would feel scared or lonely, but far from it. The other 12 members of our tour were all North American, of similar age, and from divergent and interesting backgrounds. Before long, we were laughing together, gasping together as we spotted the wild beasts, and starting to form a unique bond that would last our 16 days. Five of us were single women. And I was not even the oldest! One of the group was 87 years old and had taken 46 trips with the same company! In truth, I felt safe, cared for, and never once felt alone.
The good news is, YES, older travelers, this is entirely within your capabilities if you are reasonably mobile and have taken care of your health. I never felt that any part of it was beyond me.
A leopard is seen through the grass on one of Diana's game drives / Photo provided by Diana Eden
Start with a plan 
I spent six months preparing for the trip, planning my packing and travel routes. 
The worst part of a trip of over 10,000 miles and nine time zones is getting there and getting back, with the inherent fatigue, lineups at TSA checkpoints, and the wait at luggage carousels. But I was prepared with a plan. 
I broke up my journey into three parts, a flight of five hours to New York, 14 hours to Dubai, and then 8 to my final destination of Johannesburg and I spent the two layover nights in airport hotels getting a good night's sleep. This also gave me a head start on jet lag adjustments. It is something I have advocated quite a bit recently for older travelers, though I still seem to be in the minority with this practice. However, I am happy to report that despite the extra days and costs, I arrived nearly fresh as a daisy and ready to start my safari rested and alert.
The most strenuous physical activity was climbing in and out of the jeeps, which was even easier with help from the able-bodied guides. The schedule allowed for afternoon naps and personal time, too, something I relish. 
Getting in and out of the safari Jeeps was made easier thanks to the strong guides / Photo provided by Diana Eden
Comfortable accommodations
Our safari started in Zimbabwe with a three-night stay in a "rustic but comfortable" camp in the Hwange National Park. The tent rooms were a lovely surprise – far from roughing it, I had a very comfortable bed with lovely linens and pillows. Good quality towels and bathroom accessories were set out, and power for lamps and charging our devices was provided by each cabin's own solar system. I had plenty of hot water, an ensuite toilet, and turn-down service with fresh filtered water every night provided in a pitcher with real glasses (no plastic!). I've had far less in 4-star hotels.
The adventure part of the night was provided by the sounds of animals in the night – lion calls, elephants trumpeting, hyenas, baboons, and more. But I slept so soundly that I didn't hear them most of the time and I sort of wished I had! 
The tent rooms were surprisingly comfortable / Photo provided by Diana Eden
Each camp has a main meeting area which is similarly a large tent but furnished with comfortable sofas, easy chairs, a small bar, and a long dining table to sit the 13 people in our group plus various key staff members. Food was plentiful and delicious, and our needs were attended to like we were in a Michelin star restaurant. Wine was available for the ridiculous cost of $3. No roughing it here, either!
Breathtaking game drives
Our game drives were twice a day by jeeps with three rows of seats and a cover to protect us from the sun. On the very first drive, we had been out for nearly three hours without seeing much more than guinea fowl and impalas when we rounded a corner, and there was a family of five elephants, drinking from a water hole and being, well, just elephants. It was breathtaking to be able to get so close and just observe these lovely gentle creatures. This is what I had come for!
How can I describe 16 days of extraordinary experiences in a few paragraphs? Every day was something different and filled with something unexpected. One evening our jeeps were down by the river when a family of elephants, with babies and teens in tow, came out of the brush, heading down to cross the river to a grazing area on the other side. But then more came, and more – a seeming unending column of elephants, quietly walking right past us and splashing through the river. The teens liked to play and splash and maybe even lie down in the mud until Mum Elephant would tell them to move along with the group. They were majestic, playful, and endlessly fascinating.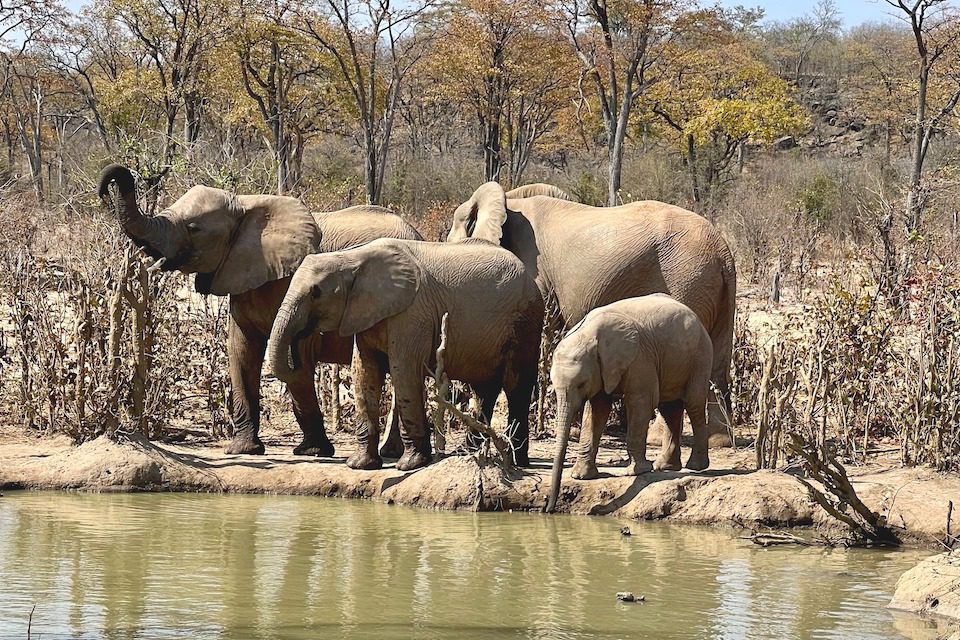 A family of elephants taking a drink at the watering hole / Photo provided by Diana Eden
How can I describe the feeling of sitting in a large swath of tall golden grass and suddenly seeing a leopard just 12 feet away from us with a recently caught impala? The beauty of this animal, its lazy rhythms, and the attitude with which he walked was breathtaking to watch. The way his spots made him near impossible to see in the tall grasses was impressive. And all this was just a few feet away from us!
And how can I describe the sight of a pride of lions, sitting on some rocks, their cubs playing around and peeking at us from behind Mama's haunches? How is it possible to get so near in our jeeps and not have them run away or, conversely, try and grab us for a meal? Apparently, they are used to the jeeps and see them as large dark objects that are not threatening to them. However, we were advised that if we stood up, waved our arms, and yelled, "look, there's a lion!" their behaviors would change quickly. At any rate, our lions had had a good meal and were ready for a nice long nap. They yawned and stretched out, content to be under the African sun.
Immersed in local culture 
Our trip was not all about the animals. OAT has an extensive program of cultural interactions with the local people and discussions about controversial subjects such as poaching and coal mining. We benefitted greatly from not always being the "other" but feeling an interaction with our staff and our guides, all of whom were good fun, generous, and extremely knowledgeable.
The 16 days roared by, and before I knew it, I was saying goodbye to 12 newly found friends, our tour leader whom I had grown to love and admire greatly, and to head back on my three-day journey home. My overnight stays once again proved the right way for me to make such a long trip, and once I walked in the front door of my home in Las Vegas and embraced my cat, I felt amazingly rested. I also felt enriched and changed by my experience.
Packing lessons
The things in my prep list that I valued the most were:
Diana wears her Coolibar sunhat while reading on African safaris / Photo provided by Diana Eden
The

t-shirts

I had packed as gifts for the locals were given away to a grateful few, leaving me space in my

duffle bag

for carved animals, African fabric, and a few other treasures.
 The things I could have left behind were:
My inflatable pillow

. The jeep was quite comfortable with its padded seats, even though we were going over bumpy terrain and off-roading.

My portable tripod

. What was I thinking? We were on the move so much I barely had time to focus my camera with moving animals coming in and out of the brush! I figured quantity was a good thing (thank goodness for digital) – out of 50 photos that were out of focus, a few were really special!
 Life isn't over at 80, and neither is travel.
Plan Your Trip to Africa
Get started with resources recommended by the JourneyWoman community
Book Your Flights
Use tools like Expedia or Google Flights to look up the best flight prices. Being flexible with dates can save you even more money.
Looking for a Tour?
Head to the Women's Travel Directory to find a woman-friendly tour to Africa.
Find Somewhere to Stay
Find a hotel on Expedia and earn points towards free stays. Hotels.com offers a free night stay for every 10 nights booked.
Looking for an apartment or something more long-term? Check out VRBO.
Insure Your Trip
Travel insurance is more important than ever. Compare plans and policies for the best coverage for your trip using Insure My Trip. Traveling for an extended amount of time? SafetyWing offers ongoing coverage on a month-to-month basis, and World Nomads offers coverage for extended trips.
Travel Extras
Why not brush up on a new language before your trip with Babbel.
Don't forget your JourneyWoman branded accessories while you're on the go!
More on Africa to Discover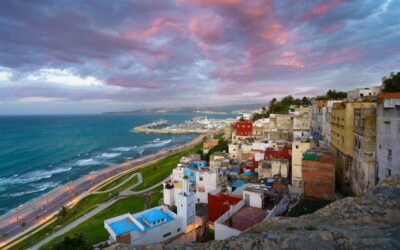 In Maria Duenas' "The Time In Between", we learn about the Spanish Civil War from the perspective of a seamstress turned skillful spy.
With 54 sovereign countries, the African continent offers solo women vibrant communities, a range of wildlife and diverse cultures.
As director of The Peregrine Fund-Africa, Darcy Ogada is working to save Kenya's raptors – from falcons to eagles – from extinction.